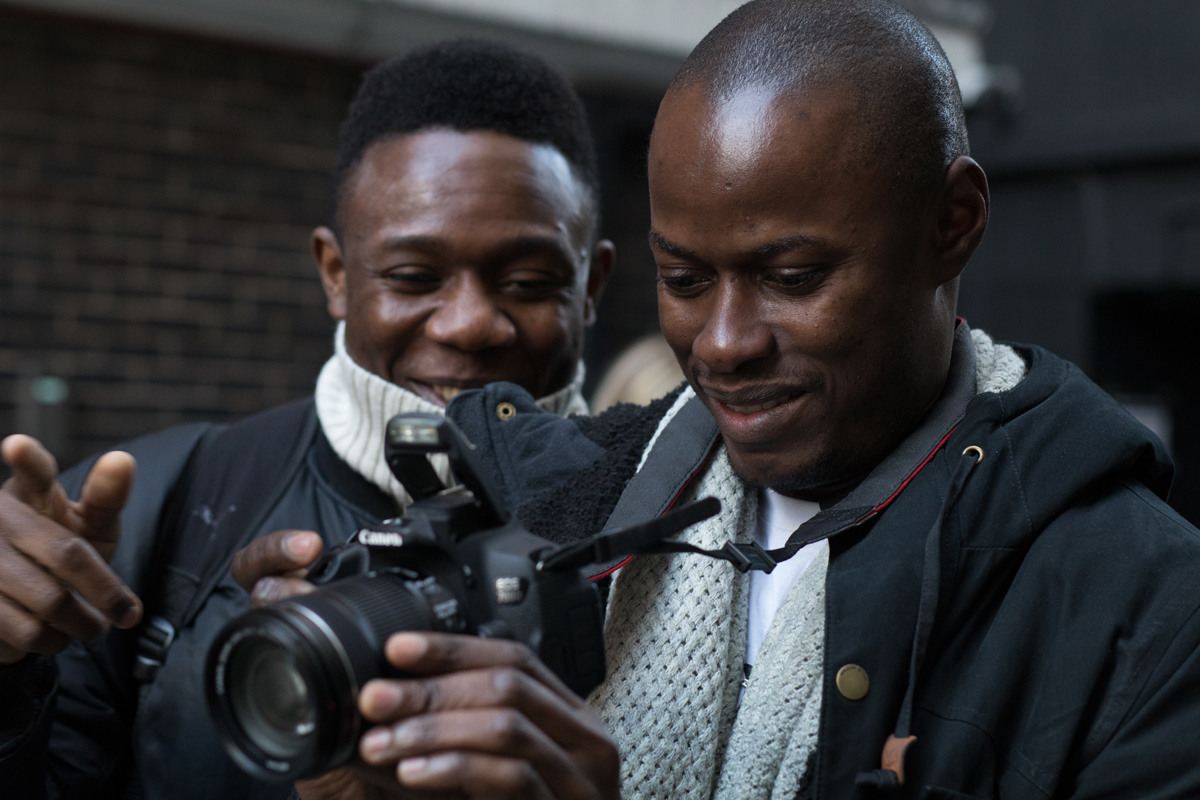 We support high quality projects across the UK and Europe, working with people who are affected by a number of difficult situations including homelessness, displacement and social injustices.
Through the Camera Amnesty we support the delivery of hands on workshops, exhibitions and print projects, enabling participants to express their ideas and creativity. We work hard to build confidence, develop transferable skills, and empower people to use photography to tell their own stories, creating outcomes that benefit them and the wider community.
Originally set up to connect homeless photographers with the equipment they needed, the project has continued to grow into something much bigger, providing a platform, funds and equipment to those who need it, across the world.
There are many people who often go unsupported, unseen and unheard. Our aim is to help them achieve their potential through a positive and supportive experience and have their voices heard through powerful visual conversations.
Every day we see for ourselves how photography can be life-changing. Aside from enabling access to photography for as many people as possible, we want to make sure that all photographers can carry on developing their careers and expressing themselves through their creative skills, whatever their situation. Can you imagine seeing the image but not being able to take the shot?
After working with the charity Accumulate and seeing the positive impact they were making on the lives of homeless people in London, we helped them to build a camera library and worked collaboratively with them on workshops, portfolio reviews, and exhibitions.
Since then we've gone on to support more inspirational charities and organisations, including Bright Youth Forum, Crisis, People of the Streets, Red Cross, Shelter, Single Homeless Project, Sirkhane Darkroom, VII Academy, and many others working with those experiencing social injustice, displacement, homelessness and mental health issues.
With a collective background in community development, supporting vulnerable people, and creative project management, we offer advice and support based on knowledge and understanding. Our projects are delivered with kindness as our first and foremost objective.
Do you have a camera or photography equipment you'd like to donate?
Thank you, we really appreciate it. Your support will change lives, and that's pretty spectacular!
We accept anything that could be of use to a photographer: digital and film cameras of any age, from D/SLRs to point and shoots, smartphones, tablets, laptops, film, memory cards, tripods, filters, video cameras and filming equipment,  film scanners, darkroom equipment, books and more.
Where an item can't be used by any of the groups (due to age, damage, unsuitability etc) rather than dispose of it, we will attempt to sell it on, and any income from this will go straight back into Camera Amnesty Projects funds.
You can send packages to us at: Shutter Hub Camera Amnesty, ℅ PCM Services Ltd, 1st Floor Office Suite, The Stable Yard, Ryston Hall, Ryston, Downham Market, England, PE38 0AA
Please note: PCM Services support Camera Amnesty Projects by volunteering their time, address and storage space, but cannot accept individual callers at their offices. We are hugely grateful to PCM Services for their kindness and ongoing support.
There is no need to register your donation or intention to donate, you can simply post the donation at the above address.
Got an unanswered question? Check out our FAQs here.
Are you in need of camera or photography equipment?
Please complete the form below to let us know more.
Camera Amnesty Project – Request Equipment
Thank you to everyone who has supported this project by donating equipment and spreading the word. Please know that your kindness is appreciated and that we are very grateful for your involvement.