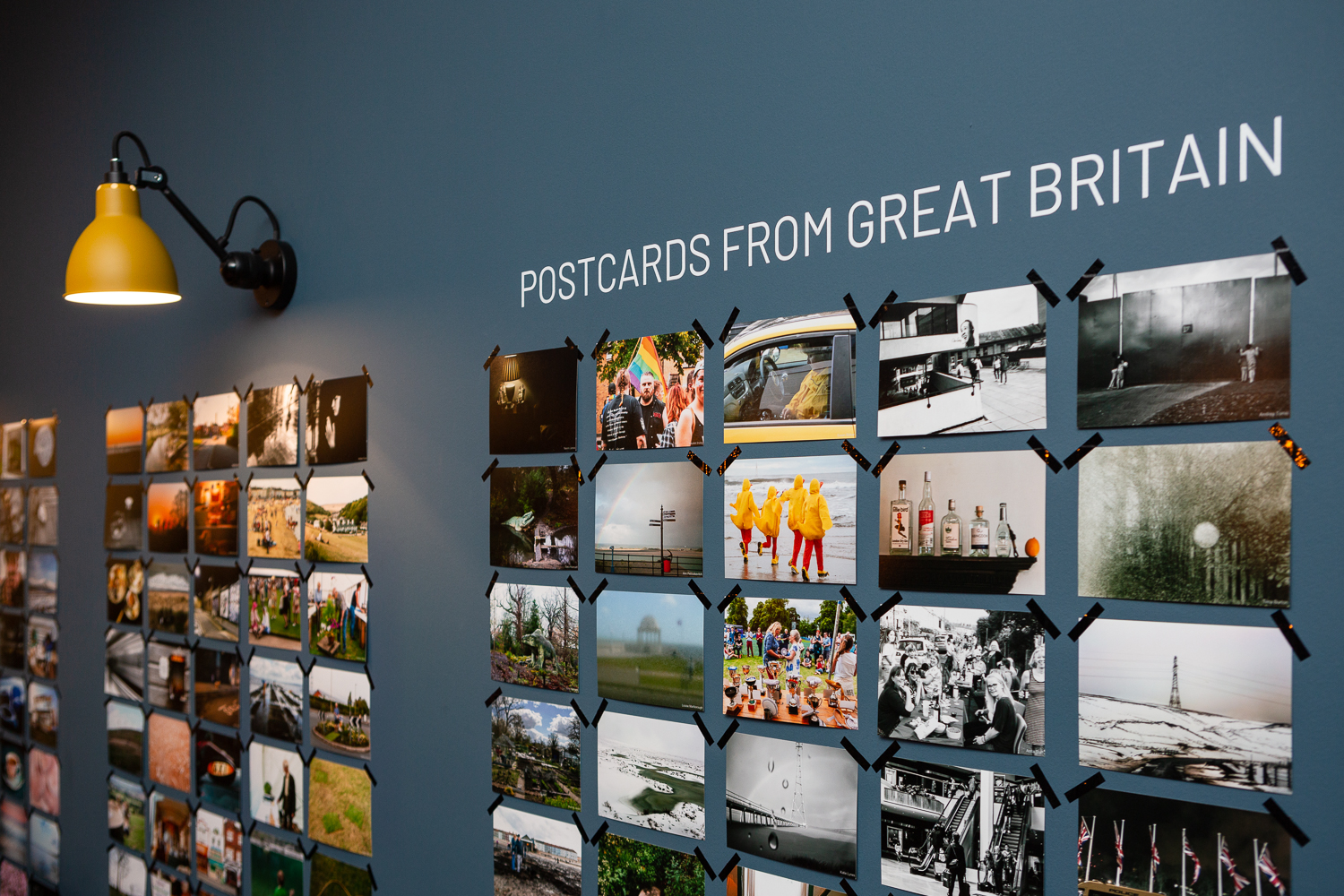 Postcards from Great Britain launched in Haarlem on 05 March 2020 and it was good – really, really good. People came from across the UK and mainland Europe to join us for the most lovely evening at the city's famous Hotel Lion d'Or. We welcomed guests from the British Embassy, FujiFilm, Foam, Amsterdam Partners, Netherlands Board of Tourism and Conventions, and the Dutch press; the sense of community was massive!
This exhibition is the first showing of photographs from the project, showcasing a whopping 326 images from over 100 photographers.
'At Hotel Lion d'Or it was a very exciting time leading up to the opening of the exposition. We have seen the project grow from a vague idea about two years ago, while talking to Karen of Shutter Hub, into a very professional exhibition. We feel honoured we could participate and hope the European tour will be a great success as well. We look forward to organising something with Shutter Hub again in the future.' – Helma Hin, Hotel Lion d'Or, Haarlem.
Like every exhibition, Postcards from Great Britain is primarily about the images, but it's more about what they can do, than what they are of. These images open up discussion and bring people together through memory, energy and engagement, and they help to create a genuine and positive community through telling stories, sharing, learning, making friends, and being nice!
Simone Sagi (Netherlands Board of Tourism and Conventions) gave a lovely speech about the importance of imagery as a cultural exchange (and wheelie bins!) and encouraged us to strike up conversations with the people standing next to us; sparking lots of discussion and connections that will continue way beyond the event itself. We feel very lucky to be able to create projects like this, and we can't wait to see where it will take us all next.
'It was an honour to open the Postcards from Great Britain photography exhibition at the Lion D'or Hotel. It was wonderful to meet so many of the participating photographers and discuss their work. The project is a catalyst for cultural exchange and it brings with it a warmth and energy that is very special.' – Simone Sagi, Netherlands Board of Tourism and Conventions.
'Collaborating with Shutter Hub has come very naturally and easy to us, they are a fantastic team who support photography with great enthusiasm.When first meeting Karen at our Fujifilm Factory in Tilburg, we could have talked forever about photography and Original Photo Paper. It was very exciting to witness the joy in her eyes when walking through our factory. For us, as Fujifilm employees, our factory is a fantastic innovative site where we work daily, however Karen saw the beauty in our production.
Producing the prints for Shutter Hub's "Postcards Great Britain" and seeing the opening event was fantastic. As Original Photo Paper we often visit trade shows and exhibitions. However, this exhibition felt very personal and it was a great meeting place for everyone involved in photography. When looking at the images I was instantly reminded of several memories from walking through Great Britain myself. They truly were a good representation of Great Britain.' – Judith van Linden, Fujifilm.
Postcards from Great Britain is a largescale project from Shutter Hub, inviting photographers to share their visions of British culture through photographic images and create conversations and exchange. Pop-up exhibitions will be held in locations across Europe, with related events, showcasing thousands of postcard-sized images. Every image submitted to Postcards from Great Britain will be collated into a digital and print catalogue, to be housed in libraries and archives around the world, and 100 images will be selected for a collectable postcard set. (See the up-to-date Project Overview here).
In a significant time in European history this project sets out to document and share aspects of British culture, spanning all genres of photography, and collating images which include social, political, historical, traditional and observational responses.
The selected photographers exhibiting in POSTCARDS FROM GREAT BRITAIN – HAARLEM are:
Adele Mary Reed, AJ Juston, Alessandra Bucci, Alexander Ward, Amanda Eatwell, Andrea Torrei, Anita Chandra, Anita Staff, Ann Petruckevitch, Anne Campbell, Ashley Erdman, Brian Human, Brian Coyle, Carli Adby-Notley, Cath Cartman, Chanel Irvine, Christine Walter-Saxena, Coco Petter, Coralie Datta, Craig Philip Szlatoszlavek, Daniel Staveley, David Morgan-Davies, Dayana Sharon Marconi, Debbie Naylor, Diana Serban, Edith Templeton, Elizabeth Brown, Ellie Laycock, Eric Boscia, Filipe Santos, Frankie McAllister, Gareth Surgey, Gemma Taylor, Gerard Francis, Gisela Szlatoszlavek, Giulia Simonotti, Heloise Bergman, Ian Pilbeam, Ilisa Stack, Ingrid Newton, James Holyoak, Janet Lees, Jason Yeomans, Jayne Lloyd, Jennifer Forward-Hayter, Jessica Datta, Jill Reidy, Jo Stapleton, Josephine Leroux, Josie Purcell, Julia Hawkins, Julie Cassels, Justin Carey, Karen Harvey, Kat Young, Kathleen Kirchner, Kathryn McGeary, Katie Lynes, Keifer Nyron Taylor, Kenneth Gray,  Kerry Curl, Kimberly Poppe, Krystina Stimakovits, Laura Ward, Lauren Irving, Lesley Peatfield, Loren McCarthy, Louise Hagger, Louise Ward, Louise Marlborough, Madeleine Waller, Madeline Reid, Mandy Williams, Marianne van Loo, Marie Smith, Marina Antoniou, Marisol Mendez, Mark Hobbs, Martin Skraban, Martina Jones, Matthew Dever, Michel Petillo, Michelle Markham, Mieke Douglas, Mike Williamson, Mike Cookson, Monica Glerean, Naomi James, Natalia Gonzalez Acosta, Nicola Parry, Nicola Gunwhy, Nikki Goldup, Orande Mensink, Parvathi Kumar, Patricia Borges, Peter Hook, Phillipa Bloom, Pippa Healy, Ray Knox, Roger Coulam, Rosie Barnes, Rosita McKenzie, Samantha Brown, Samantha Edgley, Sander Vos, Sara Hannant, Sarah Callow, Shannon Lee-Thompson, Sheila McKinney, Sonia Levesque, Sophie Skinner, Stephanie Wass, Sue Oakford, Susan Bittker, Susana de Dios, Tiina Burton, Tracey Sharpe, Wendy Aldiss, Werner Mansholt.
Thank you to everyone who believed in this project when we announced what we were hoping to do, and allowed us to lure them in to being part of it all!
Special thanks to Simone Sagi and NBTC for the great involvement and support (and bad jokes!), Judith van Linden and Fujifilm for the fabulous prints, Davenports Chocolates for the amazing British themed chocolates (tea, ale, and cake!), and to Helma Hin and the brilliant team at Hotel Lion d'Or for hosting us, welcoming us, and providing flowing drinks and Dutch food all evening.
Visit the Exhibition Overview page for an up-to-date list of Exhibitions, Events, Archives and more.
---
POSTCARDS FROM GREAT BRITAIN: HAARLEM 
Hotel Lion d'Or
Kruisweg 34-36, 2011 LC  Haarlem, The Netherlands
05 March – 20 May 2020
Opening times: 11am – 7pm, daily
---

Postcards from Great Britain is supported by: FujiFilm Original Photo Paper
---

Not a Shutter Hub member yet? Join here  for opportunities to promote your work online and in exhibitions, access selected opportunities, events, seminars and workshops, meet up and share photographic experiences, and become part of our growing community…