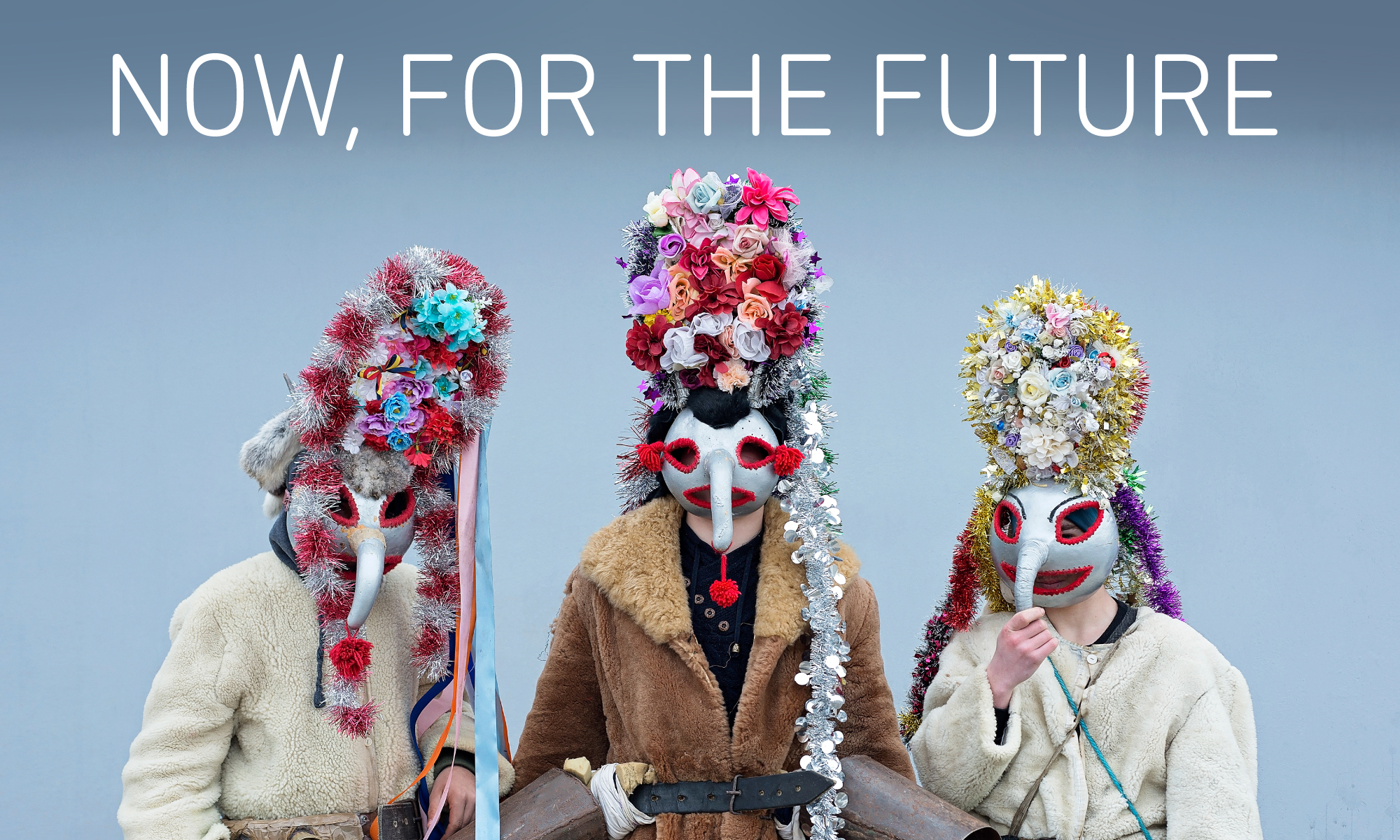 We would love you to join us on the evening of 01 November to celebrate the launch of Now, for the Future at Open Eye Gallery as part of  LOOK Photo Biennial with Open Source in their Digital Window Gallery.
Our perception of the world is influenced by our environment, our education, our history, and the stories we are told. Photography may be the most accessible and inclusive tool we have for communication. We can use it to share images that reflect on the world we live in, images that hold people together, encourage creative thoughts and provoke positive actions. The more we know and understand, and the more we find in common with others, the more likely we are to succeed.
Now, for the Future asks, can we create a visual language that draws from the past, exists in the moment, and sets a positive course for the future? International photographers examine the myths and fables of the now – will the stories we tell today survive to be the folklore of the future? And, could Now, for the Future be a visual handbook for our emotional survival?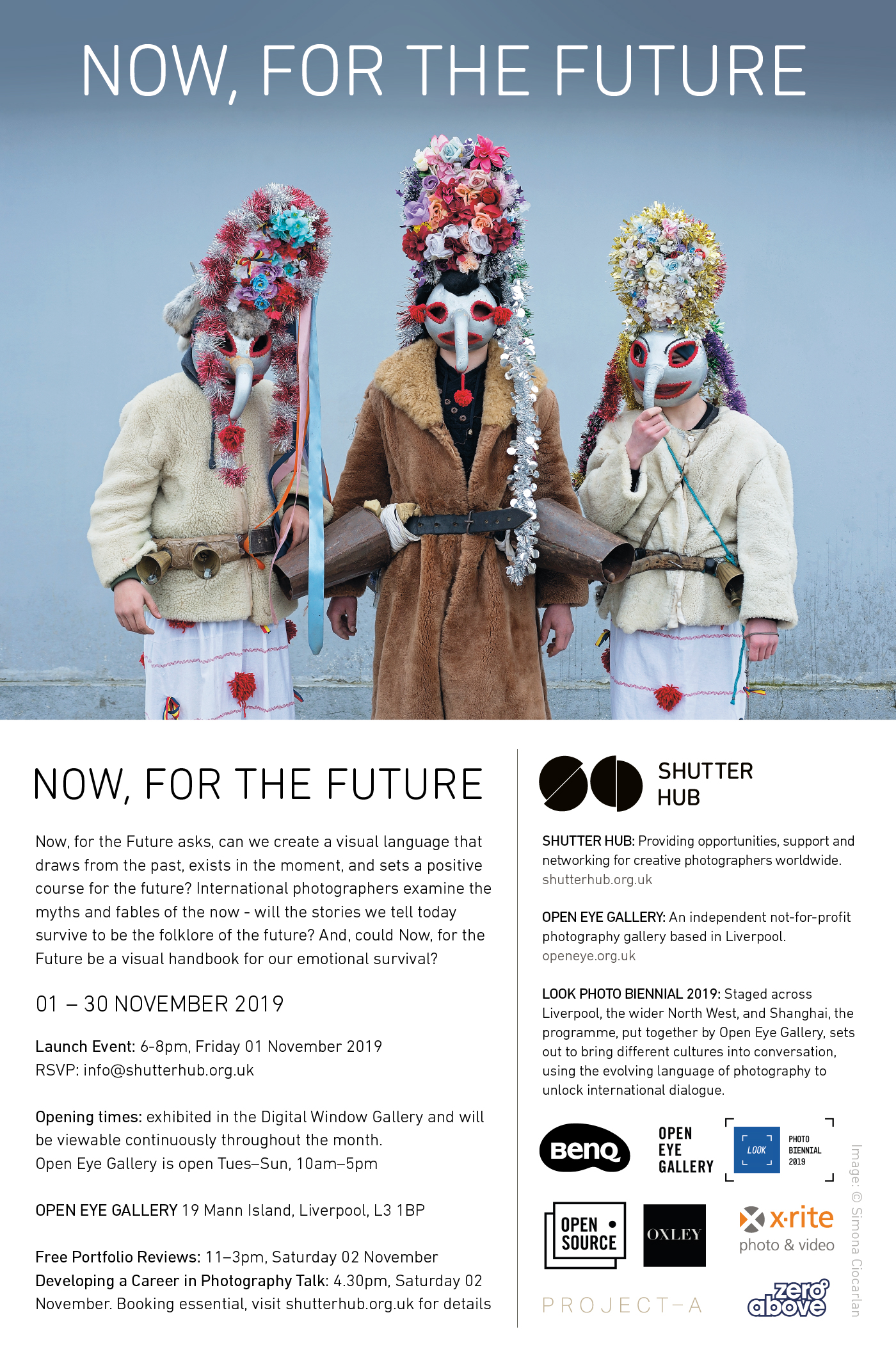 We're delighted to announce the selected photographers exhibiting in Now, for the Future are:
Andres Millan, Anna Katharina Zeitler, Annabel Fitzsimons, Atsushi Momoi, Brendon Kahn, Francesca Wilkinson, Francesco Merlini, Gemma Taylor, Indre Hilara Bylaite, Lucy Hayto, Luke Hurlock, Maria Oliveira, Marisol Mendez, Matjaz Tancic, Michel Petillo, Nicola Parry, Simon Isaac, Simon Beraud, Simona Ciocarlan, Tal Ben Avi and Valerii Konkov.
OPEN EYE GALLERY
19 Mann Island
Liverpool, L31BP
01 – 30 NOVEMBER 2019  
Opening times: Now, for the Future is exhibited in the Digital Window Gallery and will be viewable continuously throughout the month. Open Eye Gallery is open Tues- Sun, 10am — 5pm
Exhibition Launch Event: 6-8pm, Friday 01 November 2019 (RSVP here)
Free Portfolio Reviews: 11- 3pm, Saturday 02 November 2019 (Book here)
Developing a Career in Photography Talk: 4.30pm, Saturday 02 November 2019 (Book here)
---
NOW, FOR THE FUTURE is supported by:
BenQ  |  OXLEY  |  PROJECT-A  |  X-Rite  |  Zero Above
---
BenQ Corporation is a world-leading human technology and solutions provider aiming to elevate and enrich every aspect of consumers' lives. They are also the largest professional monitor manufacturer in the world, focusing on colour accuracy for photographers, filmmakers and graphic designers, alongside their consumer and gaming ranges.
OXLEY is a contemporary British-made brand producing timeless pieces that transcend the cyclical modifications of the fashion industry and seek to promote art globally.
As a responsible fashion brand, OXLEY was founded with ethical and philanthropic responsibilities embedded into its ideals by photographer Tom Oxley who'd seen first-hand the constant nature of disparity and change at the extreme ends of the men's fashion industry.
Innovative environmental engineering solutions and product development for the automotive, petrochemical, transport and water industries.
X-Rite provides colour management solutions to ensure accurate and consistent colour results from capture to print. Their calibration solutions are trusted worldwide by professionals and enthusiasts looking for colour consistency and accuracy in their photo workflow, to get predictable results from cameras under any lighting condition and achieve the perfect monitor-to-print match.
Formed in 2011 on carbon-balanced principles, Zero Above has grown to become a talented and respected integrated design and marketing agency with clients across multiple sectors including architecture, interior design, manufacturing, technology and renewables.
Working in partnership with our clients, we are both the heart and head of marketing, creatively led, results driven. This is how we work best with our clients, brought in to bring fresh thinking to marketing and communication challenges and improve the performance of their organisation.
---

Not a Shutter Hub member yet? Join here  for opportunities to promote your work online and in exhibitions, access selected opportunities, events, seminars and workshops, meet up and share photographic experiences, and become part of our growing community…