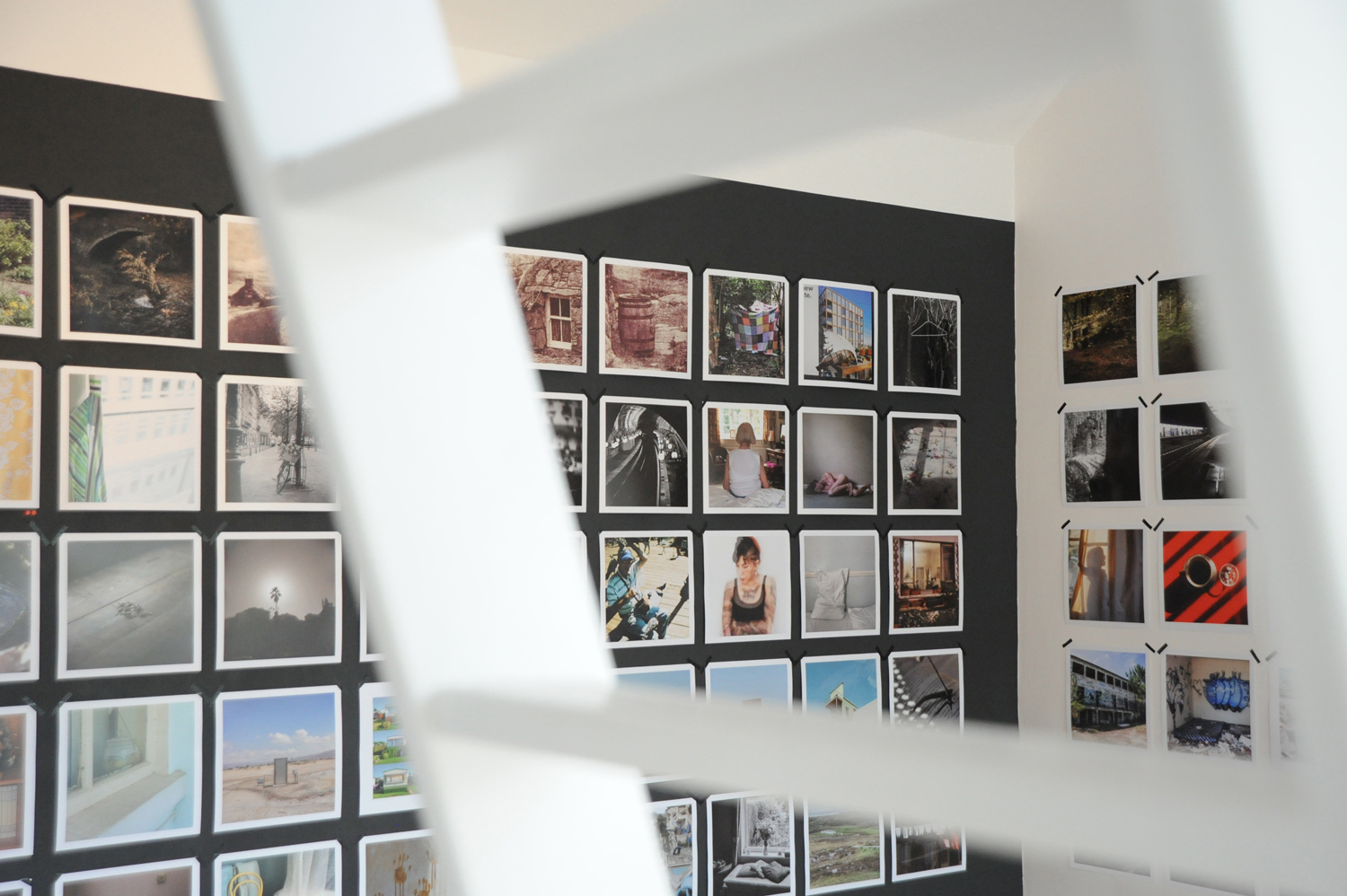 Over 200 images, 80 international photographers, 100+ private view guests, and over 30 print sales within the first 3 hours of the exhibition being launched. Not bad for a converted cow shed in rural Wales!
On Saturday 05 October the beautiful Gallery at Home in Usk, Monmouthshire, lit up with smiles as guests poured into the gallery (and prosecco poured into their glasses) to view HOME, a powerful selection of photographic images from 80 generous photographers who have kindly donated their work in support of homelessness charities across the UK.
It was a lovely afternoon. Guests and photographers travelled from across the UK (with different levels of ease!) and everyone gave positive feedback on the format, the quality of the images, the use of space, the democracy of it all. People stayed for hours, chatting and enjoying the space – indoors and out. The weather held off, and thirty sheep were delivered to the field next door. A very good day, and a beautifully homely event.
Home can be found in a person, or a memory. Scars and skin, pin boards of photographs with frayed edges. Freckled noses, specks of dust in the light, long dark shadows and perspectives. Home can be anything, anywhere.
What does home mean to you?
Enjoy the images below, and then head over to check out our print sales page to see which images mean 'home' to you. Prints from the exhibition are available to purchase for just £35 from Gallery at Home in person (until 19 October) and online (here) between the dates of 05 October and 05 December 2019.
'Thank you to all of the people who were involved in putting together 'Home'. It's a fantastic exhibition that looks stunning in a beautiful gallery, and we realise what a huge effort it takes to make these exhibitions great. The initiative led by you and your team to support homelessness charities and organisations in such a broad reaching and democratic way is truly inspiring. A big thank you to all those who attended the opening event, and those who have donated their time, money and effort to support Crisis, Toiletries Amnesty and Shelter by either submitting work or purchasing prints in support of such a innovative exhibition.' – Adam Ruck, Director, Toiletries Amnesty.
The selected exhibitors at HOME are:
Wendy Aldiss, Marina Antoniou, Trevor Attwood, Nick Banner, Rosie Barnes, Kat Bishop, Eliza Bourner, Toril Brancher, Elizabeth Brown, Samantha Brown, Tiina Burton, Sarah Callow, Anne Campbell, Ioana Cobzaru, Kristel Collison, Matthew Dever, Mieke Douglas, Savanna Dumelow, Juliet Ferguson, Farzin Forotuan, Monica Glerean, Nikki Goldup, Ella Gradwell, Vera Hadzhiyska, Louise Hagger, Katy Hammond, Lydia Hansen, Amanda Harman, Karen Harvey, Phil Harvey, Pippa Healy, Sukhy Hullait, Simon Isaac, Naomi James, John Kiely, Ray Knox, Magda Kuca, Parvathi Kumar, Terence Lane, Janet Lees, Joséphine Leroux, Jayne Lloyd, Dayana Sharon Marconi, Ioana Marinca, Jonathan Marsh, Lesia Maruschak, Frankie Mcallister, Loren McCarthy, Rosita McKenzie, Sheila McKinney, Orande Mensink, Sandy Miles, David Morgan-Davies, Nicola Morley, Ingrid Newton, Daniel Norwood, Alison O'Neill, Sue Oakford, Non Odell, Clare Park, Barry  Reid, Jill Reidy, Michael Roberts, Ally Robinson, Grant Simon Rogers, Harriet Rutter, Daphne Schnitzer, Diana Serban, Tracey Sharpe, Ying Ying Shen, James Sinclair, Svetlana Talanova, Gemma Taylor, Nik Taylor, Edith Templeton, Sally Tyrie, Marianne van Loo, Dineke Versluis, Rachel Wallace, Christine Walter-Saxena, Christine Wilkinson, Mandy Williams, Stephen Williams, Catherine Yemm, Kat Young.
HOME supports:
Crisis is the UK charity for homeless people. We are committed to ending homelessness. ​Every day we see the devastating impact homelessness has on people's lives. Every year we work side by side with thousands of homeless people, to help them rebuild their lives and leave homelessness behind for good. Through our pioneering research into the causes and consequences of homelessness and the solutions to it, we know what it will take to end it.
Shelter Cymru is the people and homes charity in Wales; we believe that everyone in Wales has the right to a decent, secure home. In the midst of the current housing crisis, we work with people facing the trauma of homelessness by offering free, independent advice and legal support, and we tackle homelessness at its root cause through our campaigning work, bringing about change to housing legislation, policies and practices.
Toiletries Amnesty works, across the UK and abroad, supporting homeless shelters and hostels, women and children's refuges, mental health services, food banks, and other organisations to alleviate hygiene poverty.
HOME a Shutter Hub exhibition in collaboration with Gallery at Home runs from 05-19 October 2019  and includes over 200 images from 80 international photographers.
Gallery at Home
Llancayo Court, Usk, Wales, NP15 1HY
Opening times: Tues – Fri, 10am – 4.30pm / Sat, 10am – 1.30pm
With great thanks Sonia Pang and her team at Gallery at Home for the lovely warm welcome, hospitality and vision.
HOME is kindly printed by MPrint, who provide quality portfolio and double-sided printing, with a hands on and personal approach. Look out for the November Shutter Hub Surgery with MPrint directors Mark and Matt if you'd like to find out more!
---

Not a Shutter Hub member yet? Join here  for opportunities to promote your work online and in exhibitions, access selected opportunities, events, seminars and workshops, meet up and share photographic experiences, and become part of our growing community…