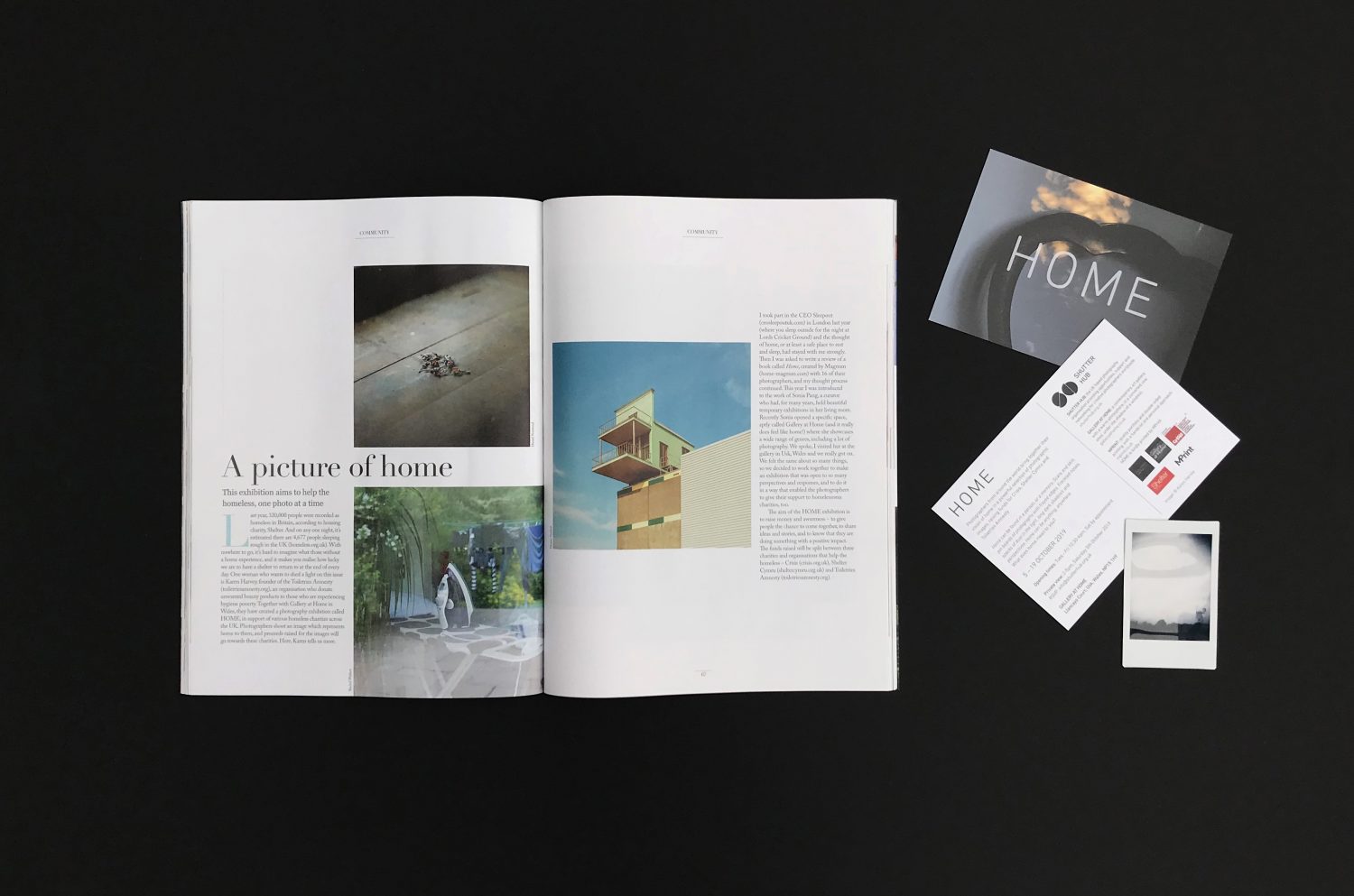 In the run up to the launch of the HOME exhibition at Gallery at Home, Shutter Hub Creative Director Karen Harvey was interviewed by BE KIND magazine. Read the full article to find out how HOME came about and the thinking behind it.
Prints from the exhibition are on sale until 05 December 2019 and can be purchased here for just £35.
The selected photographers who exhibited in HOME are:
Wendy Aldiss, Marina Antoniou, Trevor Attwood, Nick Banner, Rosie Barnes, Kat Bishop, Eliza Bourner, Toril Brancher, Elizabeth Brown, Samantha Brown, Tiina Burton, Sarah Callow, Anne Campbell, Ioana Cobzaru, Kristel Collison, Matthew Dever, Mieke Douglas, Savanna Dumelow, Juliet Ferguson, Farzin Forotuan, Monica Glerean, Nikki Goldup, Ella Gradwell, Vera Hadzhiyska, Louise Hagger, Katy Hammond, Lydia Hansen, Amanda Harman, Karen Harvey, Phil Harvey, Pippa Healy, Sukhy Hullait, Simon Isaac, Naomi James, John Kiely, Ray Knox, Magda Kuca, Parvathi Kumar, Terence Lane, Janet Lees, Joséphine Leroux, Jayne Lloyd, Dayana Sharon Marconi, Ioana Marinca, Jonathan Marsh, Lesia Maruschak, Frankie Mcallister, Loren McCarthy, Rosita McKenzie, Sheila McKinney, Orande Mensink, Sandy Miles, David Morgan-Davies, Nicola Morley, Ingrid Newton, Daniel Norwood, Alison O'Neill, Sue Oakford, Non Odell, Clare Park, Barry  Reid, Jill Reidy, Michael Roberts, Ally Robinson, Grant Simon Rogers, Harriet Rutter, Daphne Schnitzer, Diana Serban, Tracey Sharpe, Ying Ying Shen, James Sinclair, Svetlana Talanova, Gemma Taylor, Nik Taylor, Edith Templeton, Sally Tyrie, Marianne van Loo, Dineke Versluis, Rachel Wallace, Christine Walter-Saxena, Christine Wilkinson, Mandy Williams, Stephen Williams, Catherine Yemm, Kat Young.
Find all the HOME exhibition information here.
---
Not a Shutter Hub member yet? Join here  for opportunities to promote your work online and in exhibitions, access selected opportunities, events, seminars and workshops, meet up and share photographic experiences, and become part of our growing community…