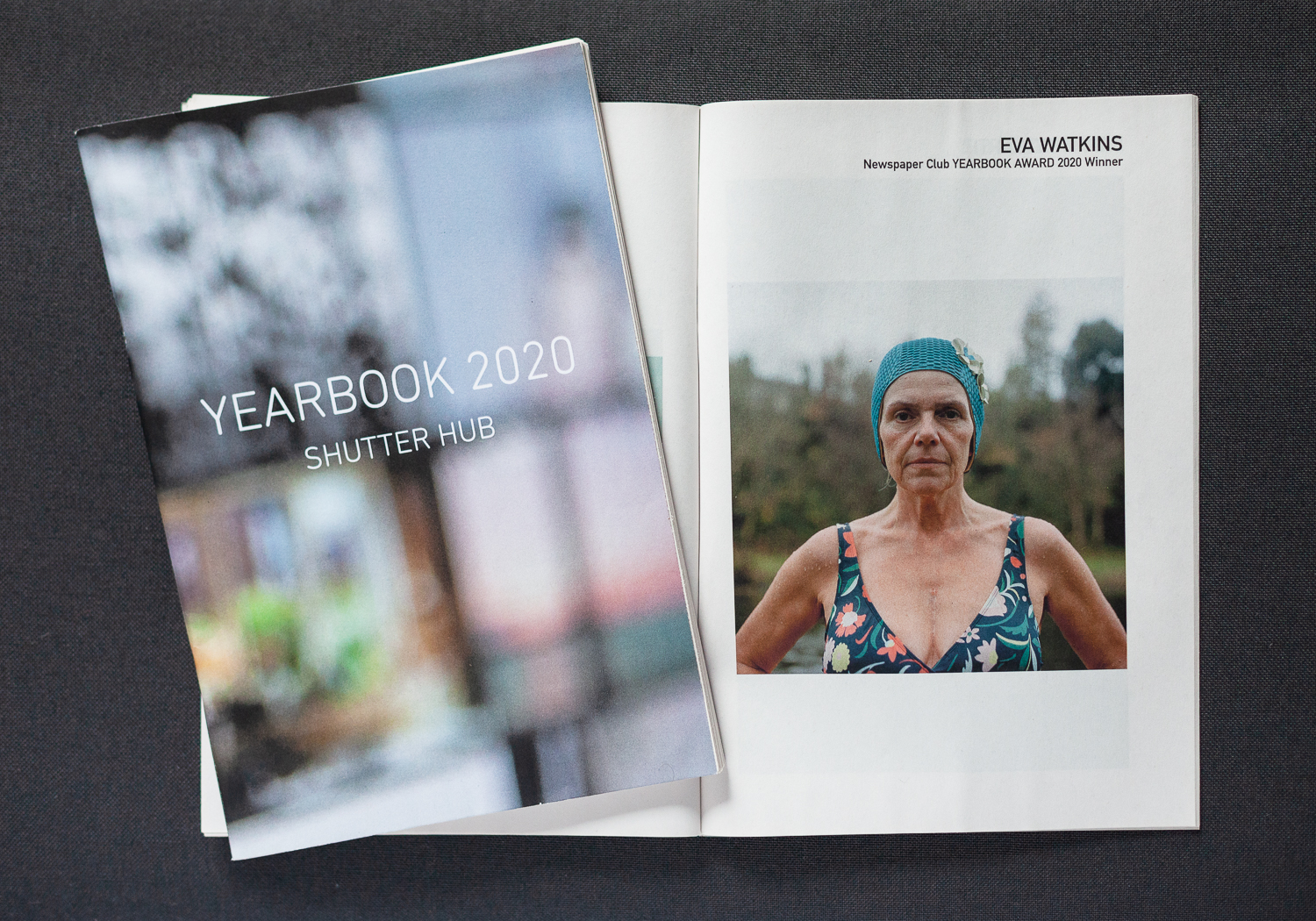 In August we announced the winner of the Newspaper Club YEARBOOK 2020 award – Eva Watkins, selected by Sarah Belfort from Newspaper Club. Eva received a £250 printing voucher for Newspaper Club and promotion through Newspaper Club's social media channels and their popular newsletter.
Newspaper Club recently shared a feature on Eva on their blog and newsletter and we'd like to share it with you here, too.
When the UK first went into lockdown, photo community Shutter Hub jumped into action to support photographers who would be affected.
With graduate shows across the country postponed, YEARBOOK is the project they came up with to try to fill the gap left by those shows "but for all photographers."
"Having been photography graduates ourselves we understood how upsetting that must be," says Jayne Lloyd, Shutter Hub's projects director. "And as working photographers now, we knew that it wasn't just graduates who needed extra promotion and a feeling of community at this time."
In July, YEARBOOK launched first as an online exhibition that was free to enter and aimed to reach as many people as possible. Shutter Hub received thousands of images from over 200 photographers around the world, and featured at least one image from everyone who entered.
This month they've released a digital mini featuring 100 selected images from YEARBOOK — it's "a beautiful printed element that people can hold in their hands and flick through to find new photographers to work with," as Jayne describes it. They're sending the newspaper to editors, agencies and other industry specialists to help the photographers make new connections.
"The response has been extremely positive," says Jayne. "The variety and quality of the work we received was astounding and we hope that bringing all these photographers together in this way will lead to the cross-pollination of networks that graduate shows are so good at, the discovery of new photographers to collaborate with and plenty of opportunities for work!"
As part of YEARBOOK, Shutter Hub asked us to pick one photographer to receive a special award. We chose London-based photographer Eva Watkins and her stunning photo series of a synchronised swimming group in Bristol. At a time when everything feels unstable, the project is a charming portrait of unity and poise.
Below, Eva tells us about her work, the joys of wild swimming and the importance of research in developing her ideas.
Where did you grow up and how did you get started with photography?
I grew up in a small village in Pembrokeshire, South West Wales. My dad was always taking photographs and videos, recording memories of our childhood. Seeing him so much with a camera, it felt natural to start taking photos myself.
Since I was around 7, I would take my dad's camera out of the study and take photographs – in the garden, in the house, of absolutely anything. From then, I studied it in secondary school, college and university.
What did you study?
I studied a BA (Hons) in Photography at the University of the West of England and graduated this year. Sadly, it was cut short due to the pandemic but the tutors and technical staff have continued to support the students throughout. It's an incredible university and a great course!
What are some of the projects that have led you to where you are now?
My project 'Circus' is where I believe I discovered what I like to photograph and my style. We were given a module in second year where we had to create a project based on a group of people we were interested in but didn't know a lot about. This was very nerve-racking for me as I used to be very shy.
I decided to base my project on circus performers after finding out about the circus university in Bristol. Through the project, I met some amazing people and really enjoyed getting to know them and the feeling of pushing out of my comfort zone. It was a fun process finding people, discussing ideas and then seeing those ideas come to life.
'Circus' influenced me to continue photographing groups of people. This then resulted in creating the synchronised swimming project. I have since won a mentorship competition by submitting both these projects. I will be working with Elisabeth Hoff for the next 3 months which I'm really enjoying.
How did you connect with the swimmers? Are you a keen swimmer yourself?
I am from a seaside village and wild swimming has been a normality ever since I was young. I swim every time I come home from the city – I miss it very much.
Due to my love of wild swimming, I was able to connect with the team quite quickly. I was luckily able to swim with the team recently. We performed some synchro together while they sang, it was truly magical and an experience I will always remember. I hope to swim with them again. I love the conversations I have with them and the atmosphere they seem to create.
Was everyone open to the idea or did you have to convince some of the swimmers?
To begin with, I met a lot of the team without my camera. I wanted to just talk to them about my ideas, how they felt about it, get to know them a little and talk about our mutual love for swimming. I then sent out an email to the whole team explaining my interest and thankfully I got a few emails back from some of the team.
I didn't want to make anyone feel uncomfortable so I worked with everyone who wanted to do it. Being in front of the camera can be hugely daunting but I think I was able to put them at ease due to my own discomfort of being in front of the camera. I was able to talk them through the process, just chat to them to relax them and assure them that they were doing a great job. They were always amazing on photoshoots and an absolute joy to be around!
Did you give direction for the portraits or did the swimmers come up with their poses?
I would usually come with a few sketches of different poses, ideas of how to interact with the environment and with each other and locations around the lake. But a lot of the time the lake was so unpredictable – it would flood a lot which made it fun to work out what to do next. I would also encourage the swimmers to suggest any ideas they had for the shoots. As I'm not a synchronised swimmer, they were able to show me movements and poses.
What kind of camera did you use?
The whole project is shot on a medium format 6×6 Hasselblad. The lake was often flooded so I had to tread very carefully which was very nerve-racking with the camera!
How long did it take to create the series?
The shoots were spread over 4 months, after which I sadly had to end the project due to the pandemic.There were around 5 shoots altogether. They were always very planned and thought-out shoots. I hope to do lots more when I'm able to!
How important was research to this project?
Research was definitely an important aspect of the work. The practitioner research allowed me to develop ideas, experiment and keep moving my project forward.
Throughout lockdown, because I couldn't photograph the team anymore, I took a lot of time reading about the benefits of swimming and swimming with others. The book 'The Mindful Art of Wild Swimming' by Tessa Wardley was one that really helped me understand the bonds that the synchronised swimmers created by swimming together in open areas. It also made me realise why I like swimming myself.
When I read about the way the water massages the skin, releasing oxytocin, I decided I wanted more detailed, up close body photographs as part of the series. I looked at some of the photographs I had rejected from the project and cropped in to create these. The research allowed me to drive the project to where it is now. I will be continuing my research in the hope that I am able to continue.
Do you have a favourite photo from the series?
I do. My favourite photograph is the swimmers on the ladder with the reflection (pictured above). This was on the first group photoshoot I did. I doubted my abilities often and knew photographing a group of people can be an extremely difficult task. When I saw the ladder photograph, I knew this project was going to work and it gave me confidence in myself and my work. It made me even more excited for the project than I already was, which I thought was impossible!
It also made me realise that I didn't necessarily need to take photographs of them performing to capture the essence of the team, I could go down a different route where synchronised swimming is more suggested than obvious.
For example, with the ladder, they are all doing the same thing in formation (standing on the stair lower to the person in front) and the reflection is creating a shape, as a performance in synchronised swimming would do at birds-eye. The photograph changed my ideas and approach to the project. It allowed me to come up with more creative poses.
Who are some photographers who have influenced your work?
I really enjoy Min Hyunsoo's work. I looked at her work for inspiration during this project. Her portraiture is amazing and I love how she photographs people in the water.
Another photographer that I always refer to in my research is Clare Hewitt. She approaches her work with a lot of empathy and understanding, her work makes me think about how I approach mine, the relationship and trust that builds during the project and how important that is.
Julia Fullerton Batten, I really enjoy how she takes photographs of multiple people, how she positions them and how they interact with the environment and one another.
And of course, my mentor, Elisabeth Hoff. She is a very strong and positive woman who makes me want to become better and believe in myself and work more.
How has Shutter Hub supported you as an emerging photographer?
I'm so grateful to Shutter Hub for putting on such a great online exhibition with YEARBOOK in these uncertain times. They've given my work a platform which is a great opportunity considering I won't be having a degree show this year.
The team at Shutter Hub are so friendly and I'm excited to enter another one of the exhibitions/competitions again. They've been great to talk to, always complimenting what I do which gives me a confidence boost. And I won Newspaper Club's YEARBOOK award which now allows me to print my first publication!
Can you tell us about any projects you have coming up next?
Due to the pandemic, I was unable to complete my synchronised swimming project but I'm really excited to continue it in the near future and hopefully swim with the team more.
My degree show has also been cancelled because of the current circumstances. The degree show has been something I looked forward to since my first year. But I set up a solo exhibition in Bristol to celebrate the work with the team and the public.
At the moment, my mind is stuck on the synchronised swimming project – I really want to continue that. In the meantime, hopefully another idea will pop up that I can start despite the circumstances. I definitely want to work with a group of people again, it's so great to share it with those I photograph.
Thank you to Newspaper Club for working with us on YEARBOOK 2020. It has been an absolute pleasure to partner with them on so many fantastic projects, and we're delighted that they are a Shutter Hub sponsor too, supporting many more exciting exhibitions as we go forward.
---
Not a Shutter Hub member yet? Join here  for opportunities to promote your work online and in exhibitions, access selected opportunities, events, seminars and workshops, meet up and share photographic experiences, and become part of our growing community…