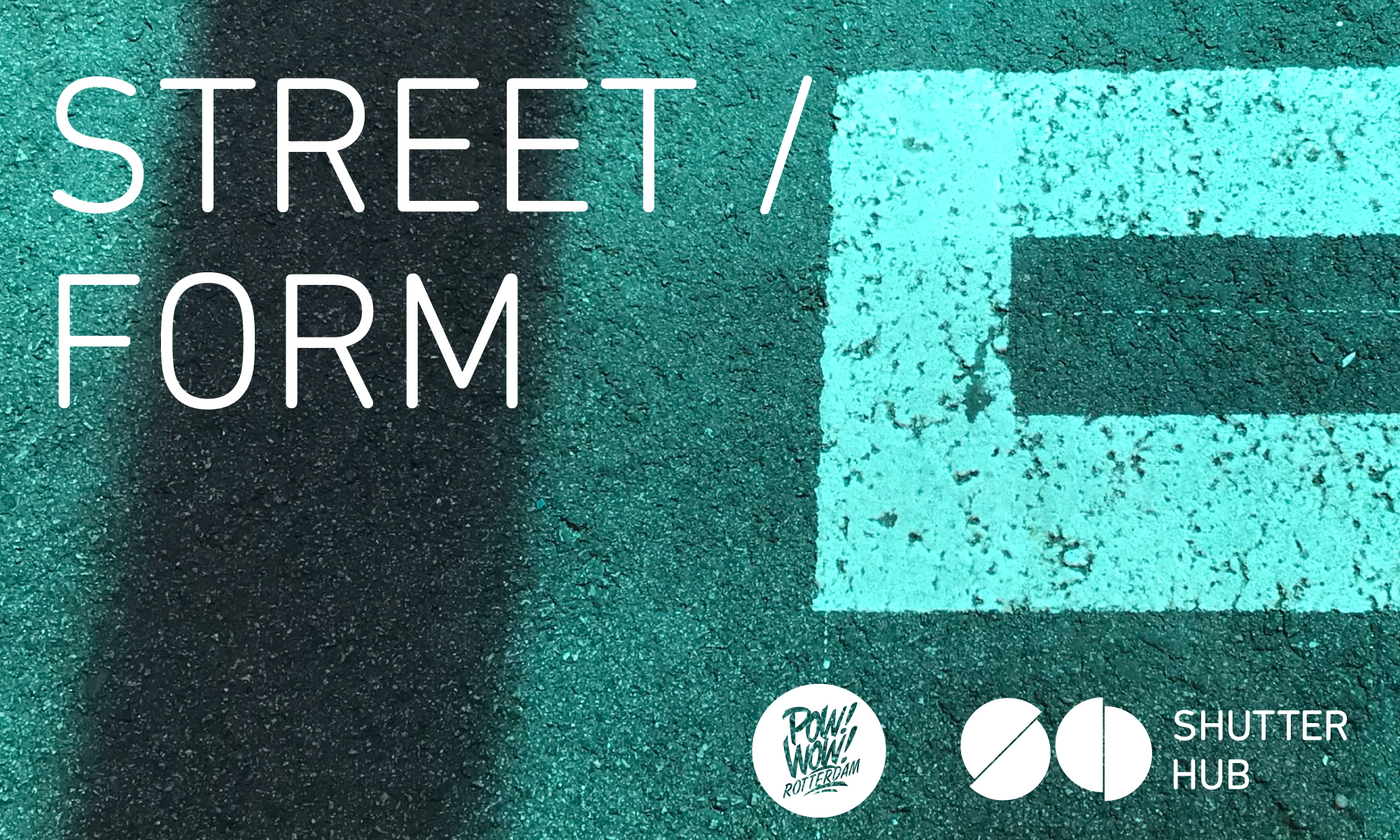 ENTRIES ARE NOW CLOSED
Shutter Hub are teaming up with one of the most exciting street art festivals in the world, and taking an exhibition of photography to POW! WOW! Rotterdam – Europe's leading street art festival, this Autumn.
As part of this world-class festival programme, we'll be hosting a week long exhibition, taking over an empty property in the Rotterdam-Zuid area and filling it with a mass of punchy and democratic full-bleed newspaper prints from Newspaper Club. (Want to know what these prints look like? Check out some of our previous exhibitions here and here).
STREET / FORM is about photography's relationship with the urban landscape and street culture. The juxtaposition of shape and form, the encounters with the unknown, the intimacy with strangers.
Find inspiration in the street: shape / form / colour / contrast / abstract / angles / architecture / portrait / cityscape / culture / juxtaposition / pattern / light / shadow / urban / landscape / art.*
POW! WOW! is the best known street art festival in the world. It started in the outskirts of Hawaii, transforming a grey suburb into a beloved open air gallery. After several successful editions on the island, the festival spread to locations in Los Angeles, Taiwan, Hong Kong and Japan. In 2018, its very first European edition was held to much acclaim, with Rotterdam as its host.
Rotterdam is a vibrant, proudly multi-cultural, and no-nonsense city that has always been uniquely equipped for an art form that doesn't wait for its audience or beg for acceptance.
STREET / FORM will run from 09 – 15 September 2019
Exhibition Launch Event – Evening, 09 September 2019
Free Photographers Portfolio Reviews – TBC, 09 September 2019
Exhibition Festival Event, 11am-7pm, 15 September 2019
Related events programme to be announced
Deadline for entries: 5pm BST on Monday 19 August 2019
ENTRIES ARE NOW CLOSED
STREET / FORM is supported by Rotterdam Partners and Newspaper Club.
Print your own newspaper with Newspaper Club. With no minimum order and fast worldwide shipping, it's easy to turn your ideas into a real newspaper. Join the creative community of designers and photographers who use Newspaper Club to share their work and stories. Get started at newspaperclub.com
*(Please don't directly photograph and submit images of other people's street art – but do work with it as the basis for an exploration of how street art interacts with its environment).
---

Not a Shutter Hub member yet? Join here  for opportunities to promote your work online and in exhibitions, access selected opportunities, events, seminars and workshops, meet up and share photographic experiences, and become part of our growing community…