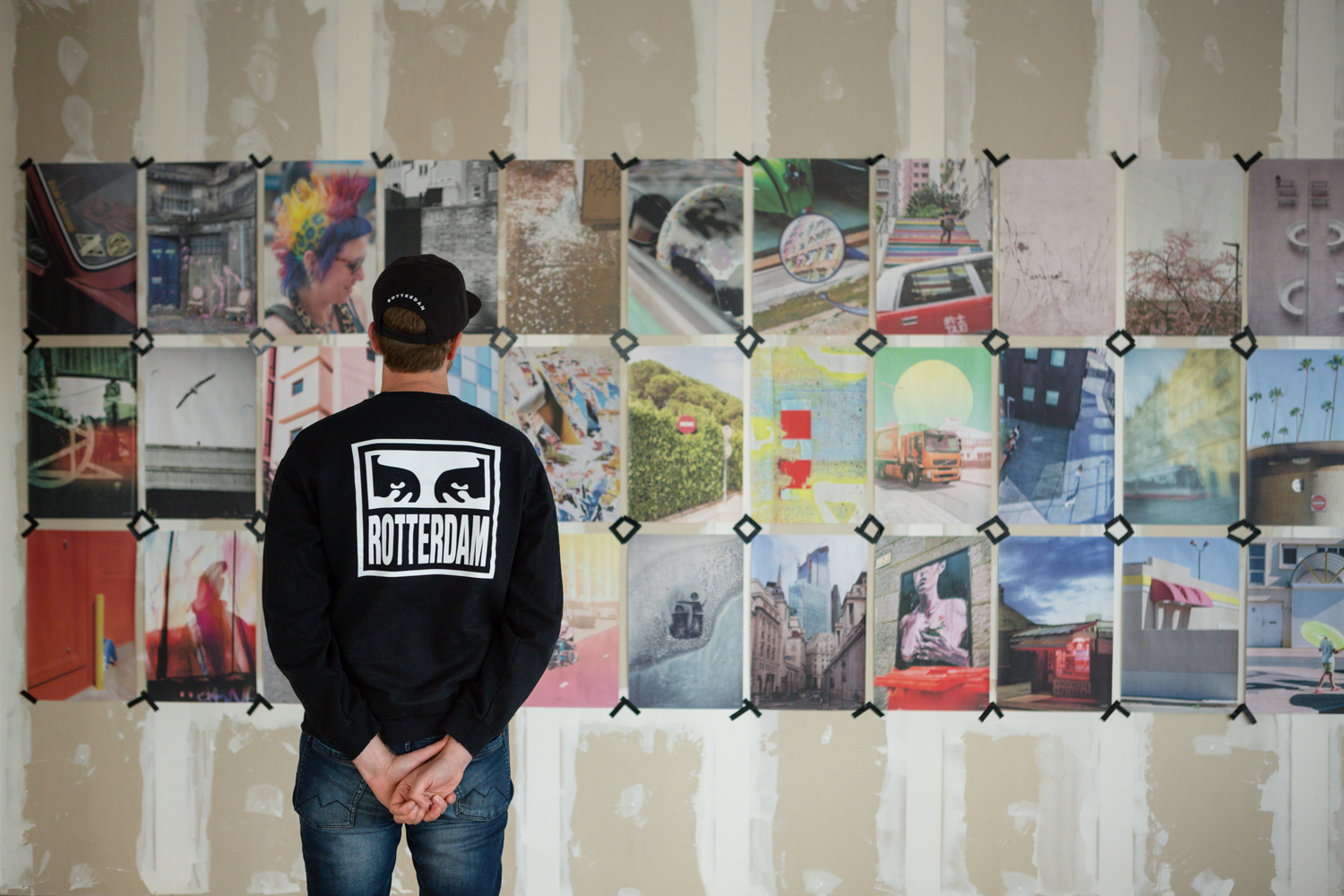 If you made it to Rotterdam for STREET / FORM then these views will be familiar, but if you couldn't be there, these photos are for you.
On launch day we previewed the exhibition to a VIP crowd of Kindergarten kids, who absolutely loved it! Seeing them running around, pointing and shouting about different images was a real delight – maybe not so for those who were there for the free portfolio reviews though!
The launch event was great, relaxed and friendly, and throughout the week exhibitors and visitors came from across the UK, the Netherlands, and beyond. It felt like something significant happened every day of the week. We met people from the neighbourhood (Karen got lent an umbrella from one of them, and offered some fish from another!), we chatted with street artists who'd come from all over the world, and one night we headed over to the KPN building to see the massive Pow! Wow! light installation (scroll down and be wowed!)
The week just got better and better, with the grand finale on Sunday, the festival day that accrued 10,000 visitors, and gave us a steady flow of enthusiastic guests who all said positive things about the images and the presentation of the exhibition (and loved the Ginger Beer – thanks Dalstons!)
We had been thinking it, but now we've been told so many times, by so many people – you just don't see Street Photography shown at Street Art Festivals – usually you see both separately, at different events, not brought together. It's been such a pleasure to collaborate with Pow! Wow! Rotterdam (they couldn't have been any better to work with) but to add to that we are really pleased to be helping to make moves by adding photography to the Street Art fold.
On Sunday Rotterdam Make It Happen had also organised an Insta Meet, so we gave an exhibition talk to 30 Dutch instagrammers (check out this awesome photo!) and although it was sad to take the exhibition down at the end of the evening, it was great to be able to see some of the rest of the festival – the amazing murals and installations, 20 vans 30 cans, hip hop performers and break dancing battles too! The creative community in Rotterdam is strong, and there are so many individuals and organisations working to collaborate and support each other, it's refreshing and inspiring, and we'll be back for more of that please!
'By exploring the various relationships photographers can have with their street surroundings, Shutter Hub added a whole new dimension of urban contemporary art to our festival. Some of the photos seemed to suggest an entire story within a single image, and the way they were grouped together only added on to that experience. POW! WOW! Rotterdam and Shutter Hub was a great partnership!' – Dave Vanderheijden, Festival Director, Pow! Wow! Rotterdam.
STREET / FORM brought together international photographers from Australia, Brazil, Canada, Germany, Hong Kong, Ireland, Italy, the Netherlands, New Zealand, North America, and the UK, in a selected exhibition, investigating photography's relationship with the urban landscape and street culture, at Europes largest Street Art Festival – Pow! Wow! Rotterdam.
The selected exhibitors were:
Kim Aldis, Wendy Aldiss, Harvin Alert, Marina Antoniou, Trevor Attwood, Liz Barker, Rosie Barnes, Kathleen Bishop, Susan Bittker, Elizabeth Brown, Susan Brunialti, Tiina Burton, Giulia Cerocchi, Simona Ciocarlan, Ioana Cobzaru, Danny Cozens, Matthew Dever, Mieke Douglas, Ximena Echague, Juliet Ferguson, Sarah-Jane Field, Alan Gignoux, Alper Goldenberg, Nikki Goldup, Debbie Green, Karen Harvey, Phil Harvey, Pippa Healy, Joachim Hildebrand, Sukhy Hullait, Simon Isaac, Naomi James, Ilona Kamps, Sarah Ketelaars, John Kiely, Kathleen Kirchner, Ray Knox, Oliver Krebs, Parvathi Kumar, Terence Lane, Janet Lees, Jayne Lloyd, Remco Mackenbach, Dayana Sharon Marconi, Frankie Mcallister, Kate McDonald, Sean McDonnell, Kathryn McGeary, Rosita McKenzie, Sue Oakford, Clare Park, Mark Phillips, Alinne Rezende, Joel Baptista Ribeiro Martins, Lola Romance, Filipe Santos, Diana Serban, Gareth Surgey, James Sykes, Gemma Taylor, Edith Templeton, Andrea Torrei, Marianne van Loo, Arjan van Woensel, Dineke Versluis, Louise Ward, Jasmijn Weenink, Saskia Wesseling, Oliver Wright, Edo Zollo.
STREET / FORM a Shutter Hub exhibition in collaboration with Pow! Wow! Rotterdam ran from 09- 15 September 2019  and included 140 images by 70 photographers, from 11 countries.
Supported by Rotterdam Make It Happen, Rotterdam Partners and Visit Holland.

Newspaper printing sponsored by Newspaper Club
Private view drinks sponsored by Dalstons

With massive thanks to the Pow! Wow! Rotterdam team too!
---
Not a Shutter Hub member yet? Join here for opportunities to promote your work online and in exhibitions, access selected opportunities, events, seminars and workshops, meet up and share photographic experiences, and become part of our growing community…