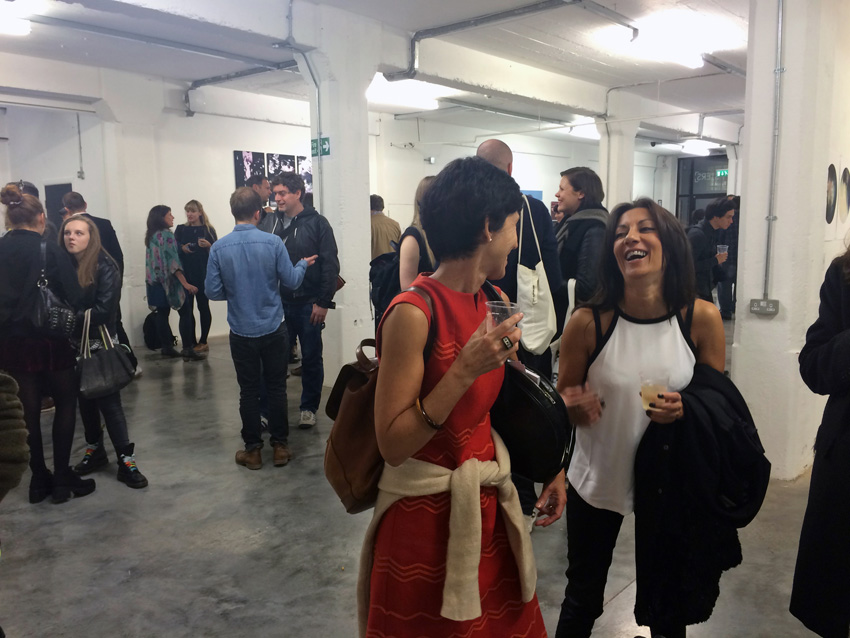 Friday night saw an excellent turn out at the launch of the PHOTOMASTERS exhibition, hosted by The Old Truman Brewery as part of their PHOTOBLOCK series. Over 300 people came along to view the work by an excellent group of emerging photographers, all recent MA graduates from across the UK. The exhibition looked great, a testament to organiser George Howard and her colleagues, and although there were lots of guest, there was still space to stand back and appreciate the work.
The photographers exhibiting were: Aimee McCaskie, Alisa Gokoeva, Ammar Syed, Dave Kent, Hazel Davies, Heath Brown, John Rovira, John Volynchook, Leonida Massimo Crisafi, Linna Gron, Luciana Giobellina, Marcelo Fiuza, Milo Newman, Nathan LaFrenais Vidler, Pietro Pravettoni, Sarah Dimmock, Sian Davey, Sinaida Michalskaja, Tim Mills, Tom Need, William Lawrence Arnold and William Henry Carter.
The exhibition continued on Saturday and Sunday, with thousands of visitors moving through the building in and taking in the show. The area was bustling and the sun was out, it felt like a good place to be. Lucky I felt like that really, because I was there to give a Professional Development talk for Shutter Hub!
I gave my talk to a small group of around 15 photographers, some of whom were exhibiting, and some who'd heard about the talk and come along to find out more. It was good to share thoughts and ideas, and lovely to talk to some of the photographers afterwards and see what we could do to help them on their creative career journeys.
I was really delighted that so many photographers took the time to come to the Shutter Hub talk. It was quite funny, as I heard later that Sian and Marcelo had been sitting talking and saying how what they really wanted now was to know what to do next – and then Lorraine came along and asked, 'Do you know where the photography talk about what we do next is?!' Timing!
We are looking forward to working with the lovely people at The Old Truman Brewery again in the future, they are really dedicated to doing a good job, nice to be around, and, I am sure that on the success of this exhibition, PHOTOMASTERS will be back again next year, with another excellent display of new photographic talent.