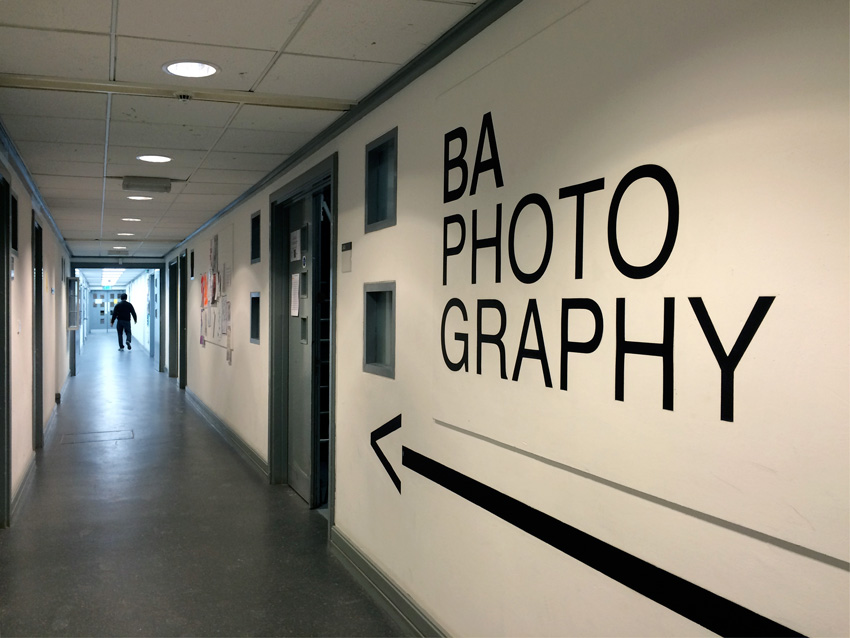 A couple of weeks ago I was invited up to Leeds College of Art to talk to students on the BA Photography course. I had a thoroughly enjoyable time and met a really great bunch of photographers, curators and film makers. It was a pleasure to see each student taking their own path, but under the expert guidance of their tutor Ross Williams. It's clear that the students have a great deal of appreciation and respect for Ross – so much so that they even said nice things about him when he went out of the room!
The feedback we got from Ross was lovely too – "Very informative presentation, structured to ensure relevancy to a broad range of lens based students (even offering opportunities to those considering a curatorial direction) Presentation style was relaxed, engaging and friendly (recognising the audience). Great visuals that illustrated what Shutter Hub is about and how it works. Some excellent examples of how portfolios have led to work being published and commissioned. In short an excellent introduction to how this community supports and represents photographers."
Alex and Natalie showed me around the College, and took me to see the department's extra special collection of photography books. If you're not wearing white gloves you're not coming in! The Photobook collection comprises of over 350 limited edition, signed and self-published photography books, all kept under lock and key, and available to view by all LCA students and staff. This superb collection represents a variety of photographers including: Nick Brandt, Cristina De Middel, Joan Fontbuberta, Lee Friedlander, Stephen Gill, Todd Hido, Rinko Kawauchi, Erik Kessels, Daido Moriyama, Anders Petersen, Martin Parr, Viviane Sassen, and Alec Soth.
The following day I had an appointment in Leeds to view an exhibition space for a Shutter Hub exhibition (more news on this soon!) and I invited alex to join me – she's interested in curating and I thought this would be a great opportunity for her to come along, see a space and find out what's involved in the early stages of exhibition planning. We talked a lot about different approaches to curating and we've invited Alex to get involved and assist with the exhibition production. Watch this space!