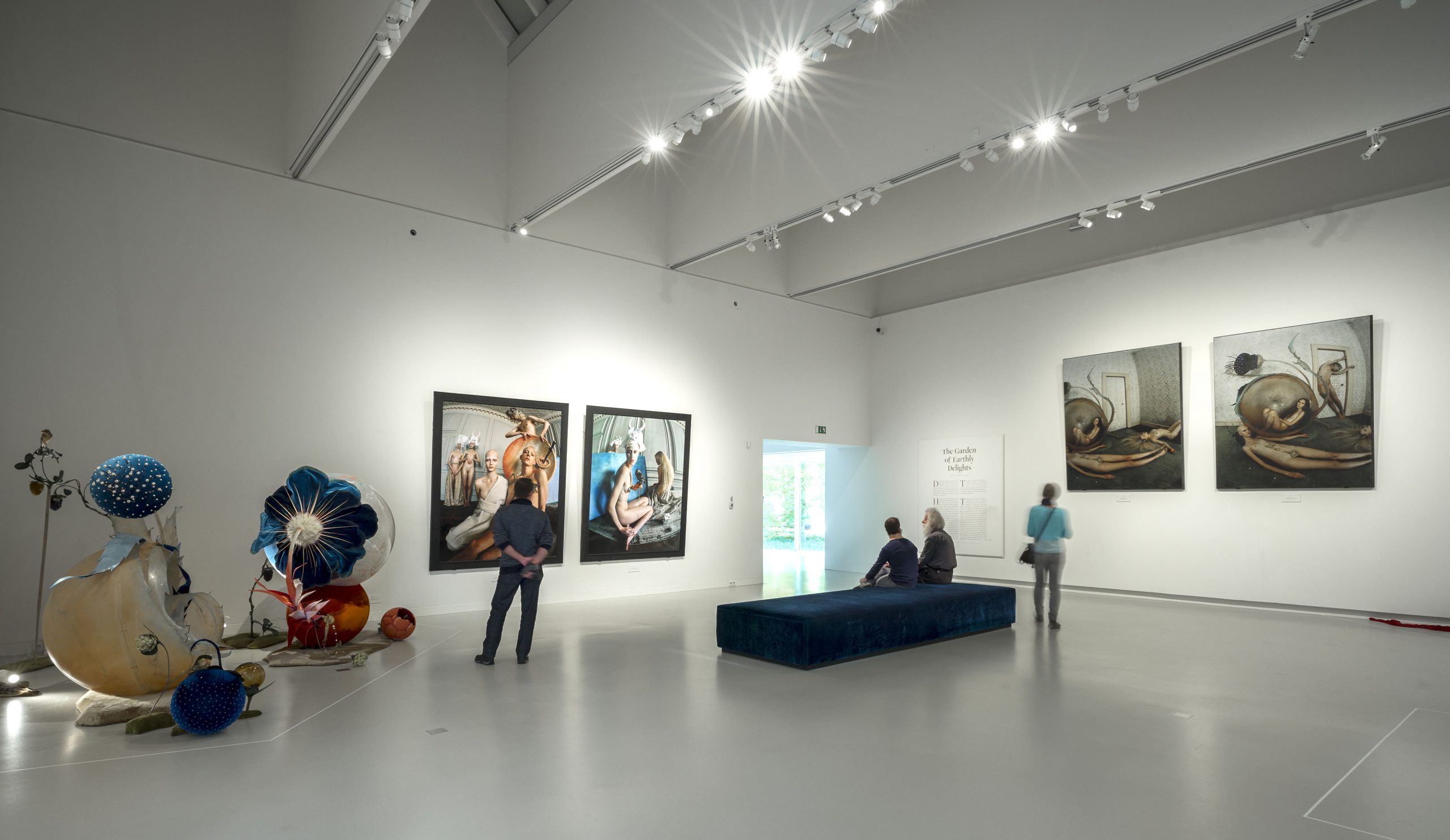 When Tim Walker was approached by Nicola Erni to create a photoshoot on a topic of his choice, the sky really was the limit. Known for his fashion photography, especially in British and Italian Vogue, you might have thought he'd choose something eccentrically British, harking back to his beautifully bonkers 'Chocks Away' editorial for British Vogue in March 2009. Or perhaps he'd hone in on a single model for a fairytale shoot, as he did when Kristin McMenamy became a mermaid in the 'Far, Far from Land' editorial for W magazine (December 2013).
Instead, he took his inspiration from an early 16th century triptych painting, The Garden of Earthly Delights, by Dutch artist Hieronymus Bosch. Walker has been fascinated by this painting since he was a child, and there's plenty to admire. It's a mish-mash of creation, heaven and hell, featuring bizarre creatures, plants and people, with many objects out of proportion – not dissimilar to Walker's sinister signature tableau photographs and his love of outsize props.
The original painting sits in the Museo del Prado, Madrid, but Walker's full-on 26-frame interpretation, published in LOVE magazine's Spring/Summer 2016 issue, has now become an exhibit in its own right, seen in Bosch's home city of 's-Hertogenbosch (or Den Bosch for short).
Het Noordbrabants Museum, in Den Bosch, previously staged a blockbuster exhibition on Hieronymus Bosch, and it's fascinating to see how far the painter's influence stretches. Centuries on, the original Bosch paintings still seem outlandish and disturbing, but they chime with today's nightmarish visions conjured up on television (Black Mirror, Inside No. 9, the Twin Peaks revival, and the scarily non-fictional Naked Attraction), in cinema (Dogtooth, The Lobster, The Hunger Games, and anything by Lars von Trier) and on Twitter (Bosch would surely have had a field day depicting Katie Hopkins and Donald Trump). Walker feels like a natural modern successor to Bosch, because he isn't afraid to stray from conventional beauty and comfortable scenes. He's okay with creating as many nightmares as he does dreamscapes.
Seeing these images in a museum setting, and being able to walk amongst the larger-than-life props created by set designer Shona Heath, is an entirely different experience. A seed pod becomes a luxurious object close-up, covered in velvet and studded with pearls. A mussel shell is big enough to curl up inside. A terrifying porcupine lurks up high, surveying the action below.
Walker famously refuses to Photoshop his work, so every single detail in the frame was truly there at the time. It therefore feels more honest, and perhaps zanier, than a manipulated image, because the magic has been hand-crafted, from oversized fruit to glistening bodies. Yes, a lot of it is explicit, but so was Bosch's triptych (and that was in the 16th century, long before Kim Kardashian broke the internet with a not-too-dissimilar aesthetic).
This exhibition will appeal to anyone interested in surreal photography series, fashion as art, and, of course, Walker's incredible career. It also shines a spotlight on a corner of the Netherlands you really should visit.
TIM WALKER: THE GARDEN OF EARTHLY DELIGHTS
4 November 2017 – 25 February 2018
Tuesday-Sunday 10:00 – 17:00; tickets €12 (covering entire museum)
Het Noordbrabants Museum, Verwersstraat 41, 5211 HT 's-Hertogenbosch, Netherlands
Images top to bottom: 1 – © Joep Jacobs; 2-5 – © Tim Walker, The Nicola Erni Collection; 6 & 7 – © Joep Jacobs