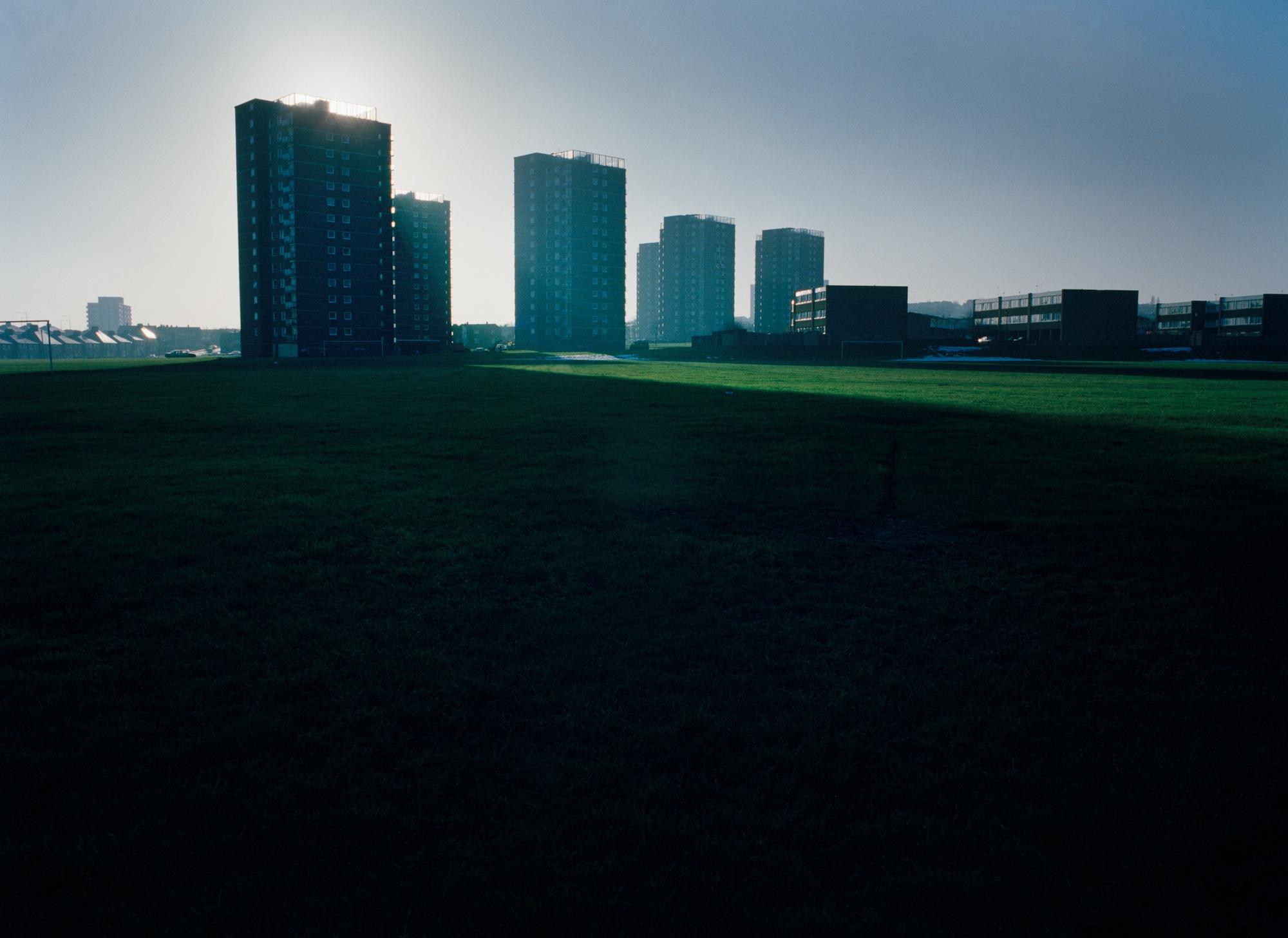 In the 1990s Robert Clayton began his social documentary series capturing life on a West Midlands housing estate. To coincide with the recent exhibition of 'Estate' presented by LA Noble Gallery at Four Corners in London, we find out more about the experience of shooting the series, and how the photographer feels about its meaning in today's world…
Who are you?
I am Rob Clayton and I am a photographer based in London. I have a freelance career that straddles both personal and commissioned work and recently published my first monograph, 'Estate' which has received widespread coverage. Although recent, the book is a body of work shot a generation ago and represents, amongst many things, a resurgence in my interest in pursuing personal projects.
Your recent 'Estate' exhibition (of the series 'Lion Farm Estate') captures a housing estate in the West Midlands in the early 1990s. What initially interested you in choosing this a subject for your photography, and what were people's reactions to the work at the time?
I recall I wanted to shoot a serious social documentary piece of work whilst in my final degree year and I was based in the West Midlands. I had always had an interest in urban landscape photography and this was to be my most serious effort that brought together my skills and abilities at that moment in time. Looking back, I think my inexperience was also a positive as the pictures have a rawness and immediacy about them.
I wanted to concentrate on an area and I always felt I needed to communicate something about my life. Returning to my own council estate to do this might have worked but it was too familiar to me and less sublime in nature, so I just drove around bits of West Midlands hinterland and spotted an assembly of towers in the distance one day and investigated further. I do recall seeing the estate for the first time – it had various elements but the most striking were the six sixteen storey blocks that stood alone surrounded by empty fields and concrete aprons. There was a solemnness and power about the aesthetic about this specific location that was both typical and extraordinary at the same time. I knew immediately that this location offered what I was looking for and probably more.
I worked for nine months and visited probably around twenty five times. Nobody from the estate saw the work in that period – one joy of film I suppose. Results are not instant, the pleasure (or disappointment) was delayed until processing etc. People's reactions' to my presence was overall positive and sometimes bemused, but generally accepting and indifferent. I don't recall any strong adverse reaction but I must emphasise, it was bloody hard work, just like street photography today. When trying to get the best people shots it took a lot of my cunning and streetwise background to decide when to go for it and get right in to take a shot and when to reluctantly but wisely back away from a possibility. Many years later, since my two exhibitions (Birmingham Library June 2015 and Four Corners, London, April/May 2016) I have been contacted by people who lived on the estate and had amazingly positive reactions – some very emotional and thankful.
The series shows us an area which can look a little bleak and run down in places, but also has a sense of space, light and community. In other words both the positive and negative aspects of life on the estate are represented and it seems like a balanced view. Was this something which you were conscious of during the project?
Good question! I have to think hard as can we recall accurately what we were considering 25 years ago? I know that I made a definite conscious decision to photograph what I saw with no intervention (or as minimal as humanely possible with some people shots). So indeed, both plus and negative were offered. I briefly squatted a few years earlier in my life on a very run down estate in London and I recall being quite angry at the shortcomings that poorer people had to endure that could very easily be fixed with little more care and compassion from government (local and national). It was less political for me then and more personal. So I did feel that I was on one hand saying "look, some of this is just not good enough" in possibly a traditionally reportage campaigning manner. I was influenced by Magnum photographers' work and the likes of Don McCullin etc. I had also happened to see Paul Graham's work (Northern Ireland and DSS offices). However, I also felt I was simply photographing my own people. I grew up on a low rise estate in Worcester called Brickfields and the people on Lion Farm Estate were very much the same – so it was easy to convey some humanity, kindness, spirit, humour etc. I could see it around me, it was normal and very typical of a happy working class childhood.
Have you visited the area since, and if so how has it changed? The notes to the series state that at the time the photographs were taken the estate was scheduled for demolition, so presumably it has another use entirely now?
Yes I have been back and fortunately about half of the estate remains and just as I remember apart from cosmetic changes. The six tallest towers were demolished and new housing built, yet three towers remain along with lots of other buildings: houses, shops, pub, church etc. This is bittersweet as returning is an odd feeling. I felt it most when viewing the estate from a distance whilst making the film about my work (which stars Jonathan Meades narrating his very fine introductory essay). The opening frame in the book, "View One" was shot from a nearby hillside with an old fencepost in the foreground. I was determined to find this exact spot with my film maker again and it took a couple of hours. I knew the correct spot looking at the landscape yet the post had gone and then I felt it underfoot, broken and buried in 25 years of erosion. I sensed my own mortality and just like 25 years ago was not fully sure why I was here, although it felt right and important to do so.
I have been commissioned by Multistory, in the West Midlands to return and produce new work in 2017. Quite a challenge but one I am keen to undertake.


Do you have any views on what has happened in the social housing sector in the UK since the 1990s, and if so what do you think 'Lion Farm Estate', and your current exhibition have to tell us about the situation as it is now?
How long have we got? I am incredibly angry at what the political classes have done to undermine the post war consensus on housing that was hard fought for and deserved by the people of Britain. I suggest for a deeper understanding follow my Twitter feed @robclaytonphoto where I interact with both the artistic community and the political / activism community where one can find out what is really happening. Main stream media have no interest in reporting the truth and depth of the housing scandal. For a very privileged few, the last thirty years of housing policy has seen many property riches transferred to them the detriment of the majority. My exhibition is timely as it illustrates a moment in time when this process was ten years old and getting into gear. By revisiting this work I have personally become more politically aware and active, a return to my youthful passion for social justice. I hope my work helps people debate housing and sheds some light on our recent history that allows a context that is being conveniently forgotten – for decades provision for all was a political given. Twenty five years later, government policy is to eradicate social housing and pursue a failed fiscal policy that will damage the standard of living for the vast majority whilst simultaneously asset transferring large swathes of land to those already bathed in riches. My only hope is that the growing young vote, disenfranchised, will eventually stand up and be counted. The above is the short answer, by the way!
What do you think about the impact technology has made on the world of photography since the 90s, especially digital and online tools for creating and publishing work? Do you feel that it's now easier or more difficult for a photographer to reach an audience?
It is easier undoubtedly. The networks one can develop and utilise to disseminate work are incredible. When I shot Estate, the only way people knew about it is if they physically viewed a print (gallery, personal visit with portfolio etc.) The idea of trying to publish a book then was not considered in any depth, however, maybe it should have been. Today reaching a wide audience is possible instantly but you still need to work hard to cut through the 'noise' of thousands of other projects competing for attention. Regarding social media it is essential. Currently I use Twitter the most, as I find I can develop networks of contacts that are not just photography based and these are keen to see my work from various angles: architecture, housing, political activism, social history, galleries etc. Like everything though, the more effort, the more gain – true then, true today, it is just a radically different dynamic. I would never have been able to self publish my book without today's technology. Be it contacting people that have come to support me such as Jonathan Meades and Laura Noble, to collaborating with designers and printers to the actually cost and marketing of the book. Just to add, I then went on to make a 15 minute film about my work and starring Jonathan Meades that has recently been shown in two galleries as an installation. On the back of this I curated a special event where I brought together six short films about UK housing for a sell out show in a cinema in London. All only possible by the technology of the day that allows great connections and possibilities – a process that was highlighted in my application for funding from the Arts Council England for my recent show.
Do you have any current projects or future plans you can tell us about?
Relating to Estate, the arts agency Multi-storey based in the West Midlands have agreed to commission me to return in 2017 to do new work on the estate which is very exciting and a little scary after all these years – but I am looking forward to the challenge. Apart from this I am working on a couple of architecture based projects that focus again on the post war period of consensus and provision that dominated those years – I believe Britain is heading down a very dangerous and difficult path and through photography I hope I can suggest we pause and consider what we might be losing. It's been a very busy eighteen months with Estate: book, three exhibitions, film and all the associated support work that you need to do to make things happen. I have met many wonderful people that have supported me so much and new contacts that I can communicate with going forward. Of course I have commissioned work too, as like the vast majority of photographers, we need to pay our way – so balancing that with series personal projects will continue to be an interesting challenge.
You can see 'Estate' presented by LA Noble Gallery at Four Corners London until 29 May 2016.
You can find out more about Robert Clayton's work at his website, and there is also a book related to this project available here.
Do you have photography news to share? Let us know at submissions@shutterhub.org.uk.