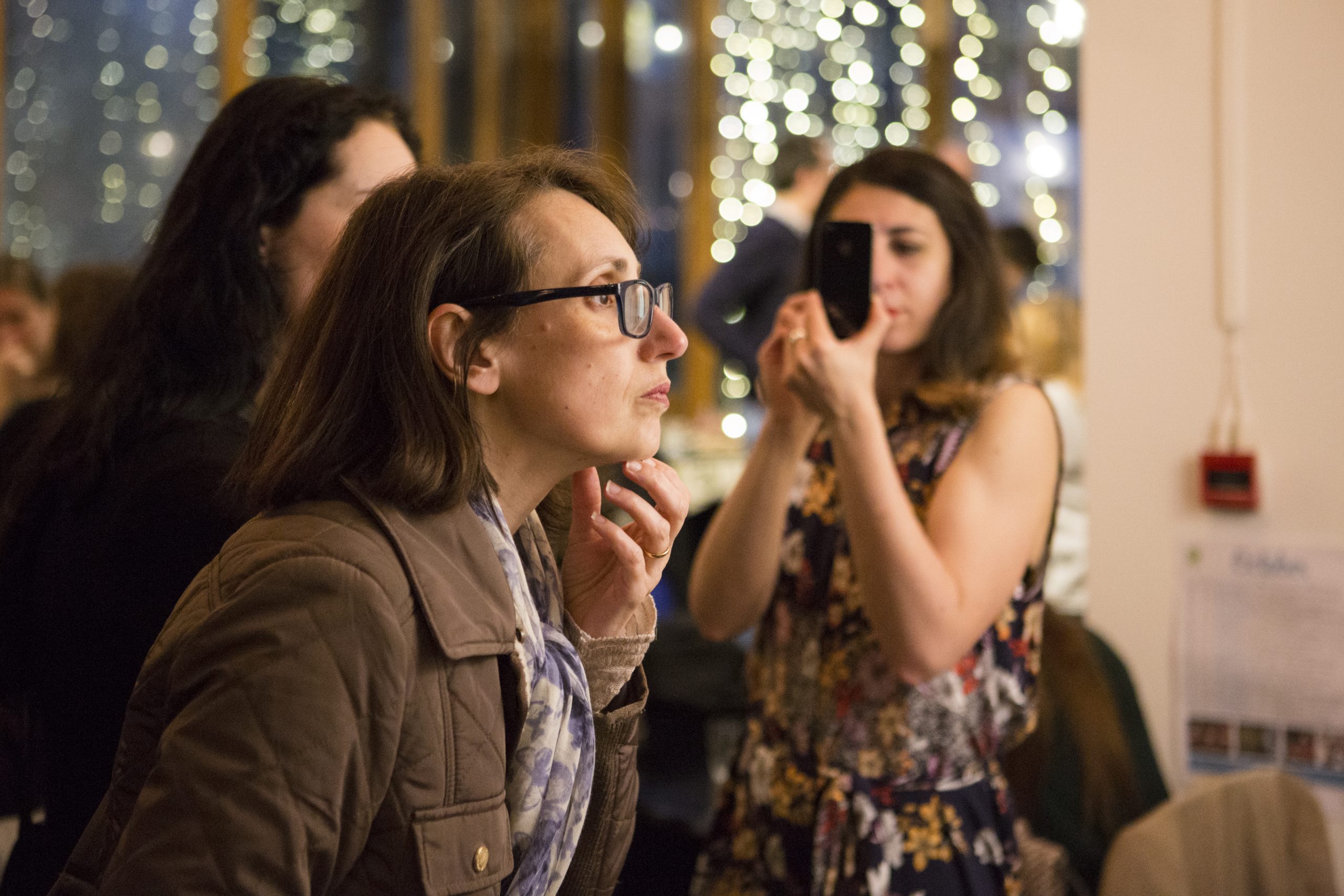 On Thursday 6th October, 2016, Shutter Hub and the Old Girl's Club launched GIRL TOWN at London Photomonth, and errr… wow! We knew it would be good, but we did not expect it to be epic! Yes, we're bringing out the big-guns, going all out and saying – it was totally EPIC! Thank you to everyone who made it so.
Over 150 people turned out to help launch GIRL TOWN, some exhibitors, some contacts, some friends, and some people who'd read about the exhibition in Whitechapel Gallery's recommended Top 5 exhibitions to see this month! Er… wow, again! London is heaving with excellent exhibitions all year round, and more so (we think) when it's Photomonth, so to click on the Whitechapel Gallery's website and see our exhibition heading up the Top 5 was a real buzz, and something we are really grateful for.
"This is by far the most talked about exhibition that we have had on our walls and easily the most successful opening night." We were told by St Margaret's House Events Coordinator, George Paris.
Just that afternoon we'd had a meeting with a curator from Israel, so we were able to announce, that evening, next year GIRL TOWN will be going to Tel Aviv. (See, epic, told you!)
We've worked really hard to bring GIRL TOWN together, 200 images from so many photographers across the UK and the world, and it's been a total labour of love. Late nights running into early mornings, and plans growing and developing into the Photomonth residency at St Margaret's House that is now underway. It's been an amazing experience (and one that we'll be talking about at the HARD FOCUS symposium in November).
The GIRL TOWN exhibition is on until 1st November 2016, and open every day. It's totally free to view, as are the awesome events that we've programmed alongside it. So, if you are interested in a Meet Up with other creatives, or keen to hear a talk on the fabulous photographer Jane Bown (by none other than Luke Dodd of the Guardian), a discussion and Q&A about women in photography (with the Director of Photomonth amongst a panel of awesome industry stars) or fancy an intimate photography film screening, then you need to head over here and get yourself booked in – it's all free, but you need to RSVP.
If you've got any thoughts about GIRL TOWN, the events, the exhibition, the concept, any ideas on taking the work to Tel Aviv, or elsewhere, then we'd love to hear your feedback. This is all about creating community and sharing our views, so get on board!
And finally, our thank you's. It's hard to cover everyone, because there've been so many great people involved, but our appreciation go to:
Thank you to all of the entrants and exhibitors, those who have helped promote and share the GIRL TOWN message, those who have got excited, and felt proud, and come together to share their work. We can even spare a little bit of thanks for the one negative person we've encountered on this journey, because, although they were incredibly rude, they gave us something to make a joke about!
Thank you to Maggie Pinhorn, Director of Photomonth, for suggesting, so many months ago, that we might be the right one's to work with a lovely venue that was making it's Photomonth debut. That we could be trusted to take care of the relationship and build on it, that we could just run with it and make it happen!
And thank you to George Paris and the team at St Margaret's House for allowing us to do just that – run with it and make it happen! It's George who has programmed the film screenings, and researched the films too.
Thank you soooo much to Kate O'Neill of the Old Girl's Club, and Courtney, Jess and Jackie, for getting onboard the train to GIRL TOWN and riding it to the station! Woo woo! This couldn't have happened without them.
Huge thanks to Metro Imaging for their massive support with printing, and with their People's Choice award – we can't wait to find out who got your vote!
And finally, thank you to Jayne Lloyd who took these photographs for us, so we'd all have a lovely record of the launch evening.
Enough thank you's?! Well, thank you!

All images © Jayne Lloyd