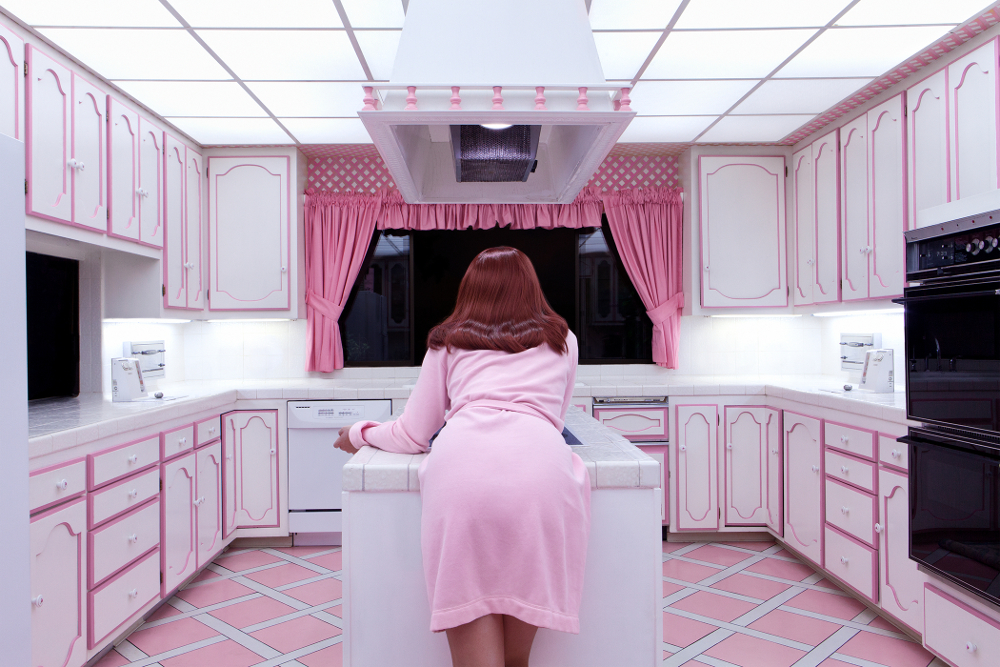 We are about to launch our call for entries for our exhibition Because We Can (coming very soon – watch this space!), which will take place as part of Festival Pil'ours, Festival international de la photographie pour les femmes photographes professionnels in France – an annual international festival of photography showcasing the work of ten female-identifying photographers from around the world. There are many fantastic exhibitions by, and about, women taking place this summer, so we decided we'd share our Top 5 with you…
Juno Calypso – What To Do With A Million Years
TJ Boulting are proud to present the second solo show at the gallery by Juno Calypso. Known for her iconic photographic series of self-portraits in 'The Honeymoon Suite', for this new body of work Calypso discovered a surreal and unique location – an underground house in Nevada, USA.
Built by Avon cosmetics founder Gerry Anderson in the 1960s, with the advent of the cold war he had decided to take the premise of a bunker in the back yard one stage further. The multimillionaire moved 26 feet underground into a 16,000 square foot luxury space, designed to withstand virtually any disaster and protect from almost any intruder. Above ground the original entrance is a cave-like hole but down below, as befits a Vegas home, there is an all-pink bedroom, crystal and gold fixtures in the bathrooms, a swimming pool, waterfall and hot tub, and hand-painted murals of outdoor scenery on the perimeter of the home and garden. As the interior had never been exposed to sunlight or outside air it was perfectly preserved, with no dust or sun damage on the furniture and wallpaper, and today the home remains intact and as Henderson and his wife Mary built it. A computerised lighting system simulates daytime, sunset, dusk and night, complete with stars and the moon.
After Gerry died Mary moved to a newly built house directly above ground but died herself shortly after. The underground house is now unoccupied but kept in immaculate condition by a caretaker living alone above ground.
As Calypso began her stay, sleeping and working alone downstairs, she immersed herself in the surroundings of the underground house and staged self-portraits in the different rooms. Whilst there Juno became aware that the current owners were in fact a mystery group with an enthusiasm for immortality. A stash of pamphlets found in the house detailing the latest innovations in cryonics from the 1960s to the present day served as inspiration, adding to the spirit of preservation running through the location's past and present. What began as a house built off the fortune of a well-known cosmetics company, incorporating the pursuit of beauty and preservation of the living, had since taken a disturbing detour to become an eerie trophy of those who were more concerned with eternal life.
For this exhibition Calypso has produced an accompanying limited edition booklet drawing on the found printed materials alongside her own photographs. That this house even exists is a far-fetched fantasy that even Calypso could not have possibly imagined, proving once again that truth is indeed eternally stranger than fiction.
Juno Calypso: What To Do With A Million Years

16th May – 23rd June 2018

TJ Boulting Gallery, London
Image: © Juno Calypso
Festival Pil'ours (incuding Shutter Hub exhibition Because We Can)
Festival Pil'ours, Festival international de la photographie pour les femmes photographes professionnels, will run from 8th July to 31st August 2018, in Saint Gilles Croix de Vie, France.
Festival Pil'ours is an annual international festival of photography showcasing the work of ten female-identifying photographers from around the world – Shiho Fukada (Japan), Yagazie Emezi (Nigeria), Maan Youssouf Ahmed (Djibouti) Alexia Webster (South Africa), Maika Elan (Vietnam), Shutter Hub member Sanja Knezevic (Serbia), Nadège Mazars (France), Maysun (Spain), Emily Garthwaite (England), and Hannah Reyes Moralex (Philipinnes).
The outdoor exhibition sites are spread throughout the Pays de St Gilles Croix de Vie and attract thousands of visitors day and night throughout the festival. Organised tours, conferences with photographers and of course, the private view, make the exhibition accessible to all.
This year, Shutter Hub have been invited to bring a group exhibition of female-identifying photographers work to the festival. We will be announcing our call for entries for our exhibition, 'Because We Can', very soon – keep an eye on the blog for updates.
Festival Pil'ours

8th July to 31st August 2018

Saint Gilles Croix de Vie, France
Image: 'Stuff "Happy Ever After" – I'm Off…' Real Princesses of Yorkshire featuring Susan Everett. © Maria Spadafora
'The Female Lens: 9 Contemporary Female Photographers'
This May, Huxley-Parlour are pleased to present The Female Lens: 9 Contemporary Female Photographers' at Photo London 2018 art fair at Somerset House, London. Huxley-Parlour's booth will focus on established and emerging photographer's including Valérie Belin, Cig Harvey, Jocelyn Lee, Amanda Charchian and Petrina Hicks. Huxley-Parlour are delighted to be celebrating the works of female photographers who explore femininity as a means to extend the narrative of photography within the context of contemporary society.
Each artist seeks to represent femininity in disparate ways. Valerie Belin, Tonje Boe Birkeland and Petrina Hicks focus on critiquing stereotypical depictions of women through their work to bring original perspectives on contemporary femininity. While Prue Stent & Honey Long, Amanda Charchian and Jocelyn Lee work within established tropes of art history, such as the nude, to create often surreal images that confront the concept of the gaze.
Huxley-Parlour gallery will be exhibiting at booth G09 at Photo London 2018 from 17th May 20th May.
Featured artists: Valerie Belin, Tonje Boe Birkeland, Amanda Charchian, Cig Harvey, Petrina Hicks, Jocelyn Lee, Kourtney Roy, Prue Stent x Honey Long, Johanna Stickland.
'The Female Lens: 9 Contemporary Female Photographers'

17th – 20th May 2018

Booth G09, Photo London 2018, Somerset House, London.
Image: Kirsten in Lake Megunticook, 2014 © Cig Harvey
Women in Focus is a year-long exhibition that explores the role of women in photography, both as producers and subjects of images. The exhibition draws on works from the permanent photographic collections at Amgueddfa Cymru-National Museum Wales and comprises two parts:
Part One: Women Behind the Lens celebrates the role and contribution of women throughout the history of photography, from the first pioneering women photographers in Wales, Mary Dillwyn and Thereza Mary Dillwyn Llewelyn, to emerging contemporary practitioners including Chloe Dewe Mathews, Bieke Depoorter and Clementine Schneidermann.
Part Two: Women in Front of the Lens explores the representation of women as subjects in photography, from intimate and playful 19th century staged family portraits by John Dillwyn Llewelyn and Robert Thompson Crawshay, to more contemporary depictions that capture the innate beauty of womanhood. Part Two also seeks to examine how photography has been used to mis-represent women through direct or indirect objectification, an issue that has particular currency in today's climate.
Women in Focus has been programmed to coincide with the centenary of the Representation of the People's Act 1918, which enabled some women over the age of 30 the right to vote for the first time. This Act marked a key moment in the fight for universal suffrage.
Women in Focus

5th May 2018 – 9th June 2019

National Museum Cardiff
Image: USA. Nevada. US actress Marilyn Monroe on the Nevada desert going over her lines for a difficult scene she is about to play with Clarke Gable in the film "The Misfits" by John Huston, 1960. © Eve Arnold/Magnum Photos
Part of BALTIC's Idea of North exhibition – an exploration of northern imagination, unpicking and revealing different voices within the idea of a 'northern' identity. Through artworks and narratives, a constellation of counter-stories and divergent lines through recent history will be explored, addressing our sense of community, place and belonging.
Women by Women, curated by photographer Sirkka-Liisa Konttinen, founder member of the Amber collective, is an intimate collection which explores the representation of women and girls in the North East by women photographers, moving back and forward through time, between the 1970s and the present.
Women by Women

11th May – 22nd September 2018

Level 4 Gallery, BALTIC Centre for Contemporary Art, Gateshead