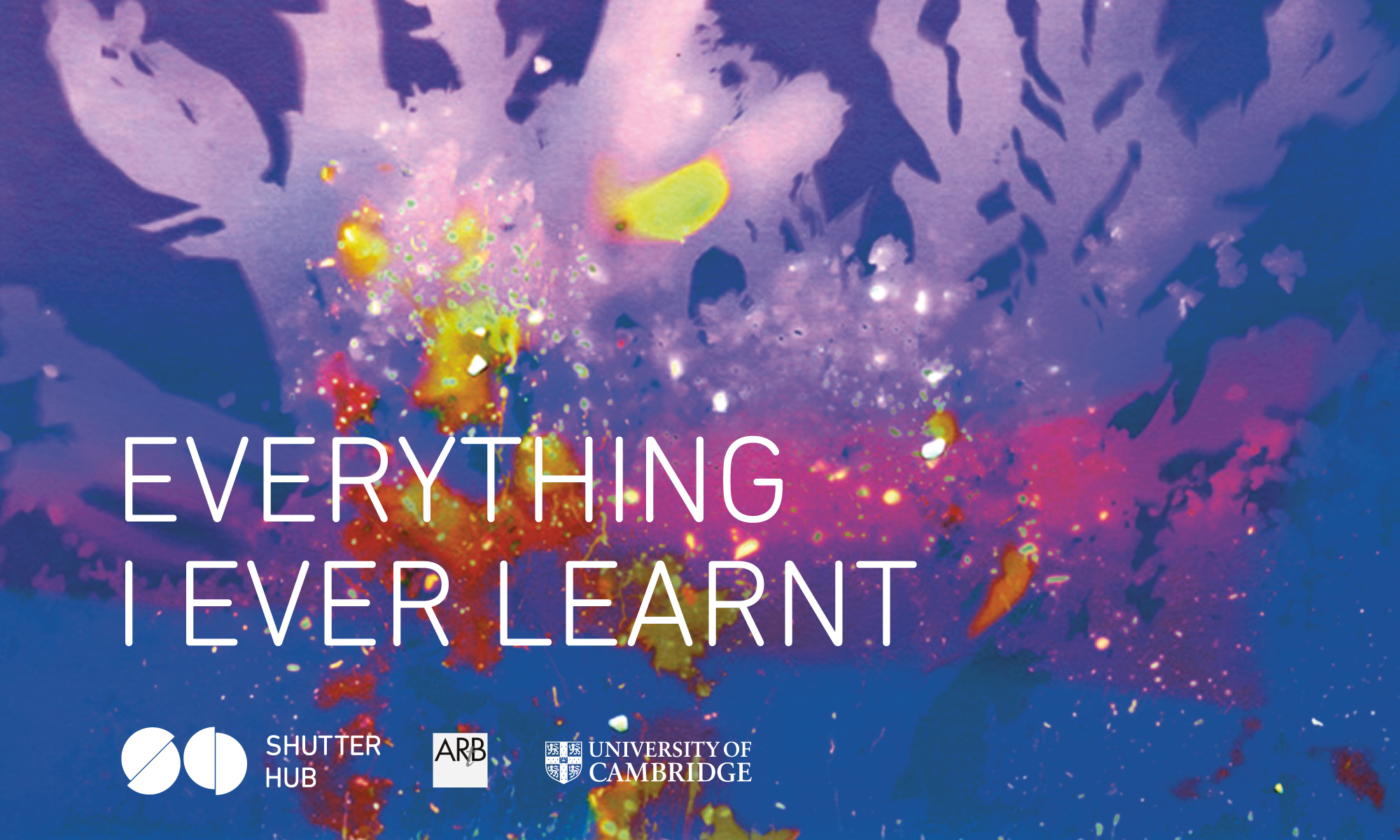 Almost 100 photographers have come together to show the world through their eyes in this Shutter Hub and Art at the ARB exhibition at the University of Cambridge.
That image reminds me of something. It ignites a small flame that lights my way through the filing system of my mind. It brings me eventually to the hint of a memory, and that memory guides my interpretation of the image, influences my reaction, connects my thoughts and feelings, and threads them together, binding them into a new collection, to be drawn upon the next time something familiar arises.
Everything I have seen, felt, remembered,
everything, influences and informs every thought I will ever have.

We're delighted to announce the selected photographers exhibiting in Everything I Ever Learnt are:

Austria Kovalenko, Sheryl Tait, Marina Antoniou, Heloise Bergman, John Jeffers, Diana Serban, Maria Soroniati, Clare Park, Jasmine De Silva, Sarah-Jane Field, Gavin Smart, Terence Lane, John Rovira, Jayne Lloyd, Ky Lewis, Camila Cavalcante, Coralie Datta, Anita Chandra, Mitchell Moreno, Kathleen Bishop, Martin Kelly, Tess Carpenter, Ben Altman, Ioanna Sakellaraki, Ilisa Stack, Ruoxi Liu, Ruth Campbell, Livia Fallarino, Matthew Dever, Lisa Mitchell, Inese Golde, Eliza Bourner, Marisa Vanschuyver, Joséphine Leroux, Angel Gurría-Quintana, Rachael Edgar, Fleur Olby, Nicola Morley, Jo Stapleton, Josie Purcell, Stefan Czemerys, Louise Ward, Susan Bittker, Sue Oakford, Myka Baum, Parvathi Kumar, Jonk, Roger Coulam, Helen Turnbull, Sukhy Hullait, Magda Kuca, Paola Leonardi, Brian Human, Sheila McKinney, Daniel Norwood, Tracey Sharpe, Nicola Jayne Maskrey, Kai Wai Wong, Tiina Burton, Christine Wilkinson, Rachel Wallace, Eileen White, Chris Bird, Sophie Ellen, Elizabeth Gleave, Marcus Bastel, Wendy Aldiss, Jamie Rogers, Claire Maxfield, Marisol Mendez, Mandy Williams, Sarah Brittain Edwards, Nathalie Vigini, Hyonchang Lee, Nikki Goldup, Raph Hurwitz, Bobby Salinas, Dayana Sharon Marconi, Mieke Douglas, Pippa Healy, Gemma Taylor, Tee Chandler, Kit Martin, Marie Smith, Samantha Brown, Grant Simon Rogers, Brittonie Fletcher, Nicola Parry, Paola De Giovanni, Ioana Mainca, Phil Harvey, Chris Byrnes, Janet Lees.
Everything I Ever Learnt runs from 28 March – 3 May 2019,
with a Private View on Thursday 4 April 2019
Everything I Ever Learnt
28 March – 3 May 2019
Art at the ARB, University of Cambridge, Alison Richard Building,
7 West Road, Cambridge CB3 9DT
RSVP: info@shutterhub.org.uk
Opening times: Mon – Fri, 9am – 5pm
Everything I Ever Learnt is supported by Newspaper Club.
Print your own newspaper with Newspaper Club. With no minimum order and fast worldwide shipping, it's easy to turn your ideas into a real newspaper. Join the creative community of designers and photographers who use Newspaper Club to share their work and stories. Get started at newspaperclub.com
---

Not a Shutter Hub member yet? Join here  for opportunities to promote your work online and in exhibitions, access selected opportunities, events, seminars and workshops, meet up and share photographic experiences, and become part of our growing community…