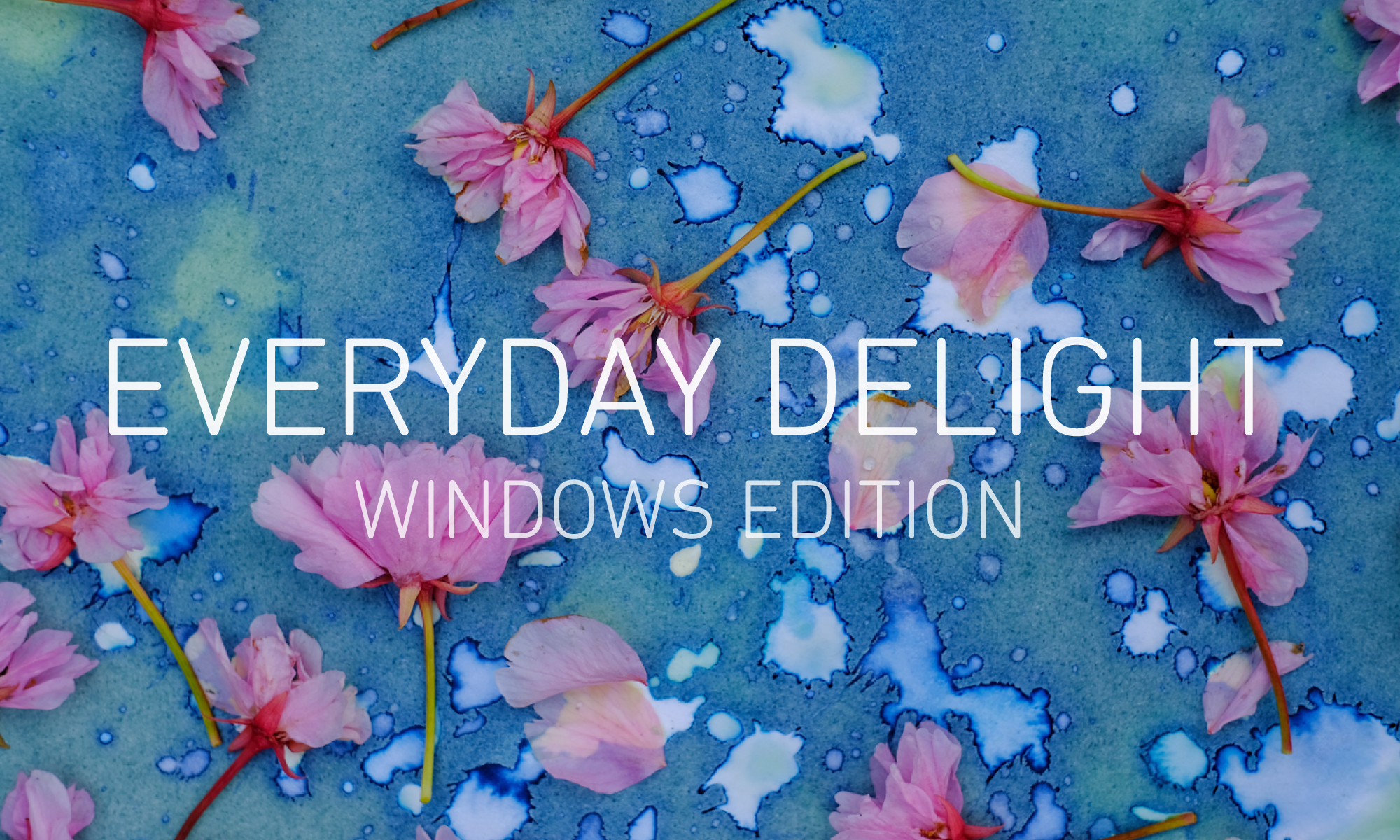 Our original EVERYDAY DELIGHT print exhibition was an amazing success, followed by EVERYDAY DELIGHT (Stay at Home Edition), where we created the most beautiful online exhibition. Now, to complete the trilogy, we bring you EVERYDAY DELIGHT (Windows Edition). Let's share more powerful photography that uncovers the beauty in the everyday, finds the magic in the mundane, and helps others look for the joy in the small things.
Over 80 beautiful big posters of selected works have been printed by our friends at Newspaper Club, and we're popping up in windows across the UK with photographs that we hope will provide a little bit of happiness – it's time to share the joy directly with the strangers on the street.
EVERYDAY DELIGHT might be something to be enjoyed between the rise and set of the sun, it's a prompt to look for joy, to appreciate the little things – flowers growing through cracked pavements, cake crumbs on a plate, rippled shadows, low sun through high trees, accidental colour schemes in the street, raindrops on roses and whiskers on kittens… hang on!
In a world where we seem to have more to worry about every day it's not always easy to find the positive view, but we are hoping that this revisit to the EVERYDAY DELIGHT theme will give viewers something to think about and to focus on temporarily, and perhaps to come away seeing things differently.
We're pleased to announce the selected photographers exhibiting in EVERYDAY DELIGHT (Windows Edition) are:
Wendy Aldiss, Paul Bence, Indira Birnie, Susan Bittker, Emma Booth, Sally Brodie, Elizabeth Brown, Kelly Bryan, Stonewall Burk, Tiina Burton, Sarah Callow, Kate Carpenter, Cath Cartman, Laura Chen, Charlie Clarkson, Kristel Collison, Amanda Denny, Davinia Diaz, Amanda Eatwell, Juliet Ferguson, Ray Goodwin, Ella Gradwell, Alistair Hamilton, Tamar Haytayan, Katie Hayward, Pippa Healy, Maisie Hill, Ottilie Hunter, Naomi James, Katerina Kalogeraki, Ray Knox, Parvathi Kumar, Julie Laing, Robert Law, Robin Lloyd-Jones, Frankie Mcallister, Karen Melvin, Orande Mensink, Harriet Moore, Pupak Navabpour, Sarah Newton, Carli Notley-Adby, Sue Oakford, Nicola Parry, Ann Petruckevitch, Rachel Rimell, Jane Ross, Diana Serban, Ilisa Stack, Jo Stapleton, Lance Tabraham, Marianne van Loo, and Madeleine Waller.
EVERYDAY DELIGHT (Windows Edition)
01 August – 31 August 2020
Popping up across the UK.
Click here for more information and updates on exhibition locations.
---
EVERYDAY DELIGHT is supported by: Newspaper Club
---

Not a Shutter Hub member yet? Join here  for opportunities to promote your work online and in exhibitions, access selected opportunities, events, seminars and workshops, meet up and share photographic experiences, and become part of our growing community…