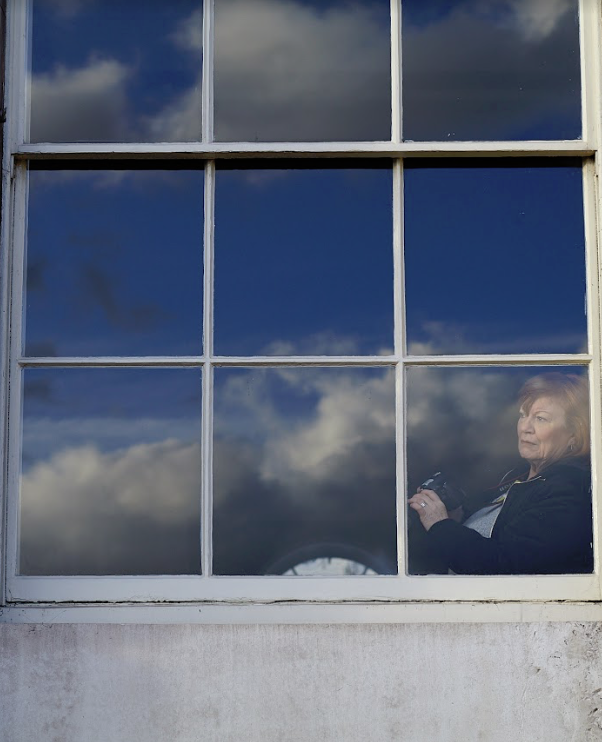 We've been working with Accumulate once again this year. Accumulate is an inspirational enterprise, founded and directed by Marice Cumber, that helps people living in hostels and temporary accommodation to develop their confidence and self-worth through creative projects.
Accumulate's photography exhibition 'Displacement' opens at The Guardian office in King's Cross on 18th May. Shutter Hub Project Manager Jayne Lloyd was invited to be one of the tutors on the Accumulate photography workshops this year. Here's what she's been up to…
This year I was invited to be one of the tutors on the Accumulate photography workshops, alongside Celine Marchbank, Othello De'Souza-Hartley, Accumulate founder Marice Cumber and supported by students from Ravensbourne.
Accumulate is a fantastic charity empowering homeless young people through creativity. You may remember that Shutter Hub supported Accumulate last year and did portfolio reviews at The Photographers' Gallery for their 'Made by Us' exhibition at The Guardian. This led to the #CAMERAAMNESTY, a Shutter Hub campaign to put old cameras to great use by sending them to Accumulate so the participants could continue their photography once the workshops were finished.
I was thrilled to be invited back this year and had the pleasure of being involved in three tutoring session as well as the final portfolio reviews. The first, at Somerset House, was an introduction to the course and the cameras – many of the participants had not used cameras, particularly SLRs before. I took a small group out and supported them in getting started – beginning on automatic and getting used to looking at the world through a lens. Somerset House is a wonderful location with plenty of scope for creative photographic opportunities and although it was absolutely freezing that day, the participants got exploring and experimenting with composition, the different light and beginning to translate what they were seeing and thinking into images.
Each week the participants had the opportunity to visit locations such as the Barbican, Tate Modern, Ridley Road Market and Elephant and Castle to shoot the locations but also to learn about and get inspiration from the great exhibitions such as 'Basquiat: Boom for Real' that were on at the time. They also learnt about film photography with Develop at the Photographers' Gallery, which gave them a deeper understanding of photography and more control of the camera.
I joined the participants again at Autograph ABP in Rivington Street, where they learnt about the collection and had access to some of the archive images, which was a wonderful opportunity. We then introduced the theme for this year's exhibition – 'Displacement'. We discussed what that could mean, themes they may wish to consider and looked at the work of other photographers exploring 'displacement'. We then all headed out with the cameras to explore Shoreditch with 'Displacement' in mind – in just a few weeks since the course had begun it was wonderful to see how much more confident they were with their cameras and with street photography in general!
For the third session I joined the participants back at Somerset House where they had a really inspiring talk from OOMK and a hands-on protest T-shirt designing workshop. Each participant created a T-shirt emblazoned with a statement about what Displacement means to them. Some stayed inside to photograph in a studio setting, while I took a group out to ask members of the public to model for them. There were nerves at first but with encouragement and a bit of practice they were totally at ease approaching people, explaining the project and directing them on how to pose for the camera. To see their confidence increase in the course of an afternoon was incredible.
My tutoring sessions complete, I re-joined the group a few weeks later back at Autograph ABP as part of the panel for the portfolio review sessions. We had a fantastic opportunity to have a guided tour by Faisal Abdu'Allah of his solo exhibition 'The Duppy Conqueror & Other Works', which was fascinating and really inspiring.
The images had already been edited down to 40-50 images from all the photographs taken across the duration of the course, but our task today was to review this selection, discuss what worked, what to think about in the future and make a selection of 10 images to be considered for the final exhibition, where each participant will show 1 or possibly 2 photographs. It was not an easy task to make a limited selection from such a strong set of images, but working together and discussing the images in terms of the strongest photographic images, how they reflected the exhibition theme of 'Displacement' and which would be most appealing to buyers, we managed it.
Working with the participants I could see the hugely positive impact the Accumulate workshops were having – new creative and communication skills were acquired and developed, confidence increased, friendships made and new challenges greeted with enthusiasm. It was a real pleasure to be involved and I can't wait to see the exhibition!
The Accumulate photography exhibition will be held at The Guardian building in Kings Cross, from 18th May until 15th June (10am – 6pm), where photographs will be available for purchase. Three scholarships will be awarded to selected Accumulate participants to be able to study on the Access to HE course in Digital Media and Design at Ravensbourne at the private view on May 17th.
All images © Nico Froehlich