Renaissance Photography Prize is an international award that showcases outstanding photography from emerging and established photographers, while raising funds to support young women with breast cancer.
The Prize was founded in 2007 by Fiona Gifford following her diagnosis with breast cancer at the age of 34. Since then it has raised over £250,000 for the Lavender Trust at Breast Cancer Care.
This year Renaissance Photography Prize celebrated its 10th edition with entrants from all over the world putting their work forward, with an exhibition of the selected finalists, and a prestigious awards ceremony in London in the autumn.
We supported Renaissance through portfolio reviews during their exhibition weeks in London, and are delighted to invite prize winner (and new Shutter Hub member!) Diane Meyer to talk about her experience of winning the single image category for 'Border' at the Renaissance Photography Prize 2017, and to tell us more about herself and her work…
I received a BFA in Photography from New York University, Tisch School of the Arts and an MFA in Visual Arts from the University of California, San Diego. I have lived in Los Angeles since 2005 where I am a Professor of Photography at Loyola Marymount University. My work has long been defined by explorations into the physical, social and psychological qualities that characterise place. These investigations have taken various forms throughout my career. Just as different locations have unique defining features, my approach to creating work changes in response to my explorations of each place and the conceptual framework of my underlying ideas. In this way, my work is generally experimental in nature as I am interested in using materials in new and intuitive ways. This reliance on experimentation has led me to produce a wide range of projects exploring the notion of place including a mixed-media installation based around the notion of the American West as an invented, mythological space; a large scale oral history project focusing on transportation issues in Los Angeles; several site-specific public installations in various cities related to local histories including an interactive trading post in Queens, NYC and a customized souvenir elongated penny machine in Bunker Hill, Los Angeles; and, most recently, a series of hand embroidered photographs exploring the traces of history and memory in the landscape of present day Berlin.
I read about the Renaissance Prize online and felt the single image category was a good fit for the recent work that I have been doing. I also wanted to participate in a program that supports such a good cause. The image I entered is from a larger series of hand sewn photographs taken along the entire path of the former Berlin Wall. Sections of the photographs have been obscured by cross-stitch embroidery sewn directly into the photograph. The embroidery is made to resemble pixels and borrows the visual language of digital imaging in an analog, tactile process. In many images, the embroidered sections represent the exact scale and location of the former Wall offering a pixelated view of what lies behind. In this way, the embroidery appears as a translucent trace in the landscape of something that no longer exists but is a weight on history and memory. I am interested in the porous nature of memory as well the means by which photography transforms history into nostalgic objects that obscure objective understandings of the past. By visually referencing pixelization, I am making a connection between forgetting and file corruption.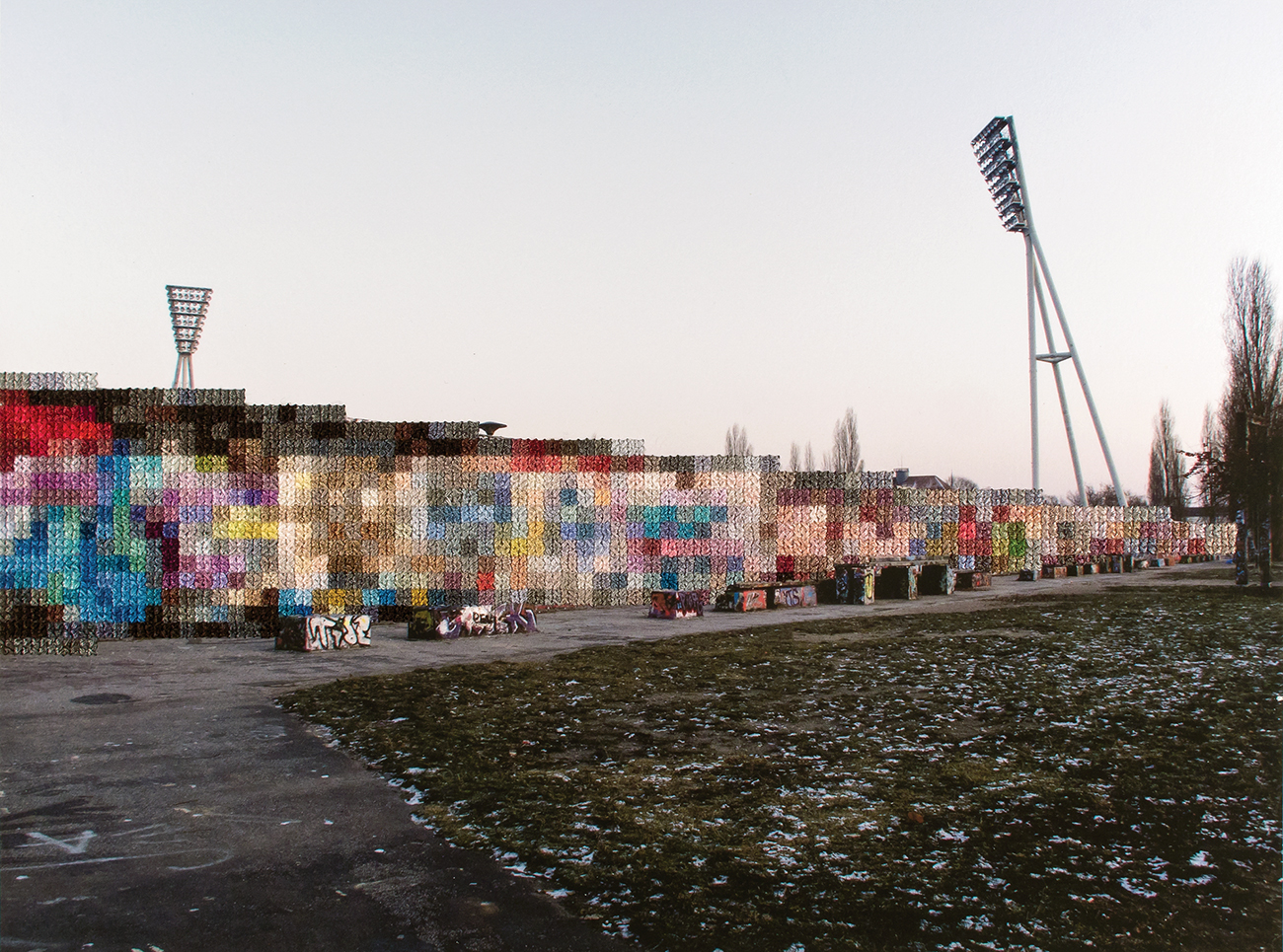 The images were taken in the city centre as well as the outskirts of the city where I followed the former path of the wall through suburbs and forests. I was particularly interested in photographing locations where no visible traces of the actual wall remain but where one can still see subtle clues of its previous existence. These clues include incongruities in the architecture that occurred as new structures were built on newly opened land parcels, changes in streetlights, or newer vegetation. Often the embroidered sections of the image run along the horizon line forming an unnatural separation that blocks the viewer. This aspect of the sewing emphasises the unnatural boundaries created by the wall itself. The sewing, which is soft and domestic, provides a literal contrast to the concrete of the wall and a metaphorical contrast to its symbolism.
Before this project, I had been working on a series that, although shot on film, was outputted as digital ink jet prints. I was editing the images substantially in Photoshop, and I think I started to feel disconnected from the work as I was just working with monitors and light, but not any tactile materials. It made me miss the physical process of art making and imperfections associated with it. I was also interested in creating something that was hand made, but borrowed from the visual language of digital imaging. Before this, I was working on a project in which I was using quarter inch squares of carpet remnant and assembling them as pixels into gigantic landscapes. I was interested in the materials and the way that the light hit the fibres. However, it was very messy and toxic and hard to work with. At the time, I had a studio, but I stopped working on this project once I started working out of my apartment. Visually, I think the sewn photographs grew out of the carpet remnant project.
I feel very honored to have won the Single Image category in the Renaissance Photography Prize. I was very excited to hear that the jury responded positively to the image and to have an opportunity for the work to be seen outside of the US. I am also very glad to have learned more about Shutter Hub and to have the opportunity to join and learn even more!
All images © Diane Meyer
Do you have a favourite photographer you would like to see featured in one of our Close Up features? Or maybe you have a series of work you'd like to share? Send us an email to submissions@shutterhub.org.uk
---
Not a Shutter Hub member yet? Join here for opportunities to promote your work online and in exhibitions, access selected opportunities, events, seminars and workshops, meet up and share photographic experiences, and become part of our growing community…