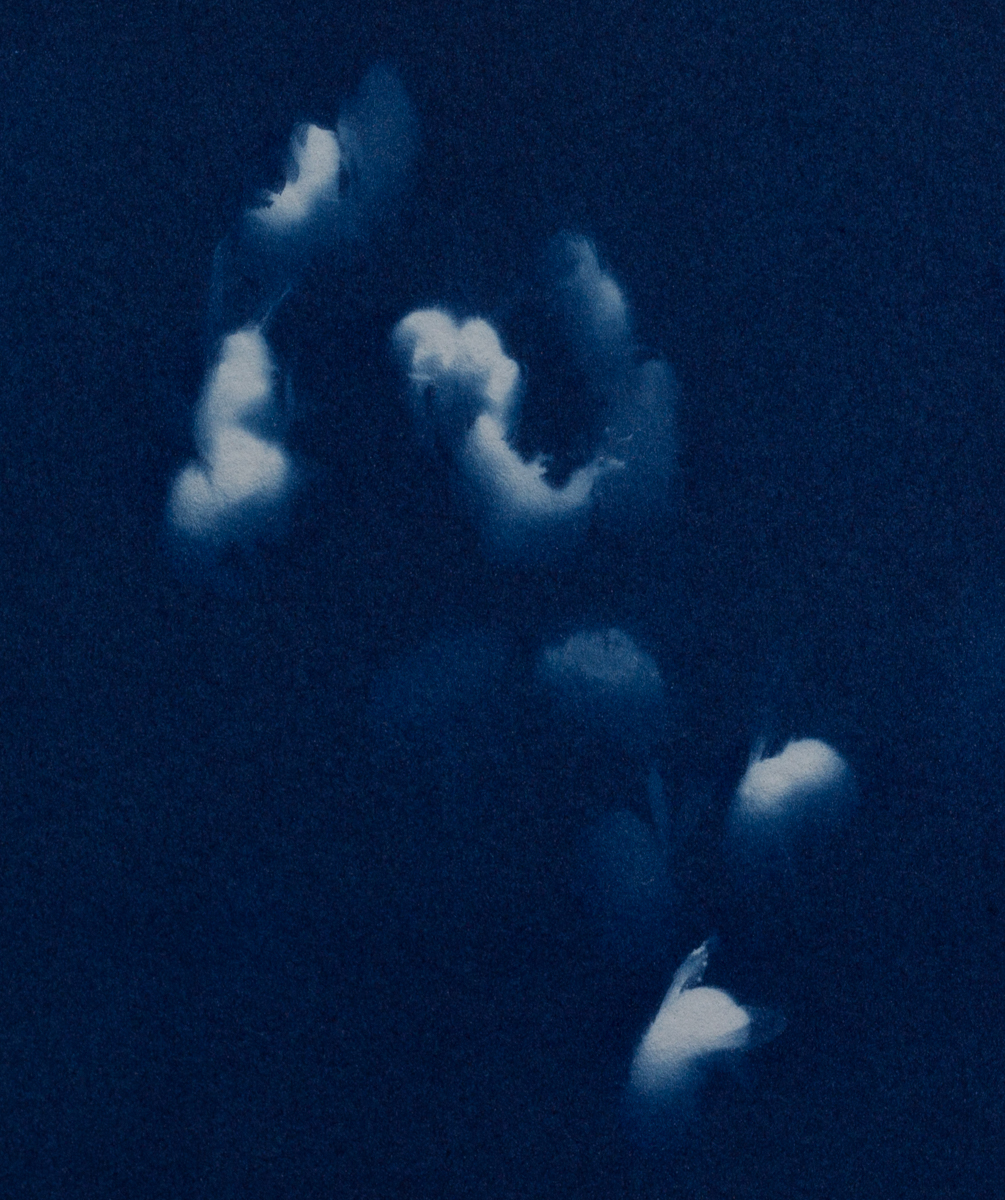 Myka Baum is a visual artist based in London whose work we first came across at FORMAT International Photography festival. A member of Shutter Hub, her work crosses boundaries between photography and installation and antiquated and modern practices. Her beautiful series Bonfire in a Beehive utilises cyanotypes often within three-dimensional physical frameworks to document and represent the collapse of a real hive. We take a closer look at this fascinating project and its origins…
After a decade in the office world Myka turned to study for a BA in Fashion where she discovered art and became a keen photographer. She went on to study Photography at Central Saint Martins (PG Cert 2008-2009) which resulted in her Lunar Mare series being selected for Bloomberg New Contemporaries 09. She has exhibited at Brighton Photo Fringe, Photofusion and APT gallery and will be studying on the MA in Printmaking at the Royal College of Art from Autumn 2015.
Myka works with photography, printing processes and installation.
Central to her practice is the concept of life cycles. Her ongoing investigation into the point at which nature becomes an image is manifested through a destructive production process. Centered on a microbiology of growing and developing living and rotting matter, which become implicated onto the surface of the image. Processes have included corrosion of film under compost, corrosion of prints in saltwater and planting crops into and through photographic prints. These processes are captured using ancient and modern methods such as Cyanotypes, Anthotypes and digital photography.
Made during a residency at Freightliners City Farm, London, Bonfire in a Beehive explores the collapse of the farm's beehives through the medium of cyanotypes.
Notes on the images above:
1. Falling Bees – detail
Made with honeybees collected from the farm's bee house
2. Falling Bees
The bees were carefully arranged on the paper and were stirred by a slight wind during exposure.
Cyanotype on watercolour paper; 300 x 580mm approx
3.Honeycomb
Made from a piece of honeycomb found in one of the beehives
Original Cyanotype on Fabriano paper, 115 x 155 mm
and
Pigment print on Hahnemuehle Photo Rag Satin, 420 x 307mm
4.Bee Cells
Made with a variety of bees found around Great Britain
5 original cyanotype on watercolour paper
Size: 18 x 24 cm
£350
5. Beehive
Cyanotypes of bees and chicken wire in supers.
Supers are the frames inside the beehives that hold the honeycomb. This is often man-made.
10 Cyanotypes on Fabriano paper, 95 x 428mm
Beehive, 500 x 500 x 1000mm, wood, honeycomb, metal;
6. Beehive – detail 1
Cyanotype of bees and chicken wire in super.
7. Beehive Super – detail 2
Cyanotype of bees and chicken wire in super.
8. Honeybee Cells
Photograph of a cyanotype at the end of exposure, constructed with chicken wire and found dead bees; made during a recent residency at my local City Farm, where I explored the collapse of their Honey Bee Colony. Archival pigment print on Hahnemuehle Photo Rag, 300 x 580mm
You can find out more about the work of Myka Baum at her website, and she will be giving a talk for the London Alternative Photography Collective on 6 August 2015, see here for details.
Do you have a favourite photographer you would like to see featured in one of our Close Up features? Or maybe you have a series of work you'd like to share? Send us an email to submissions@shutterhub.org.uk.