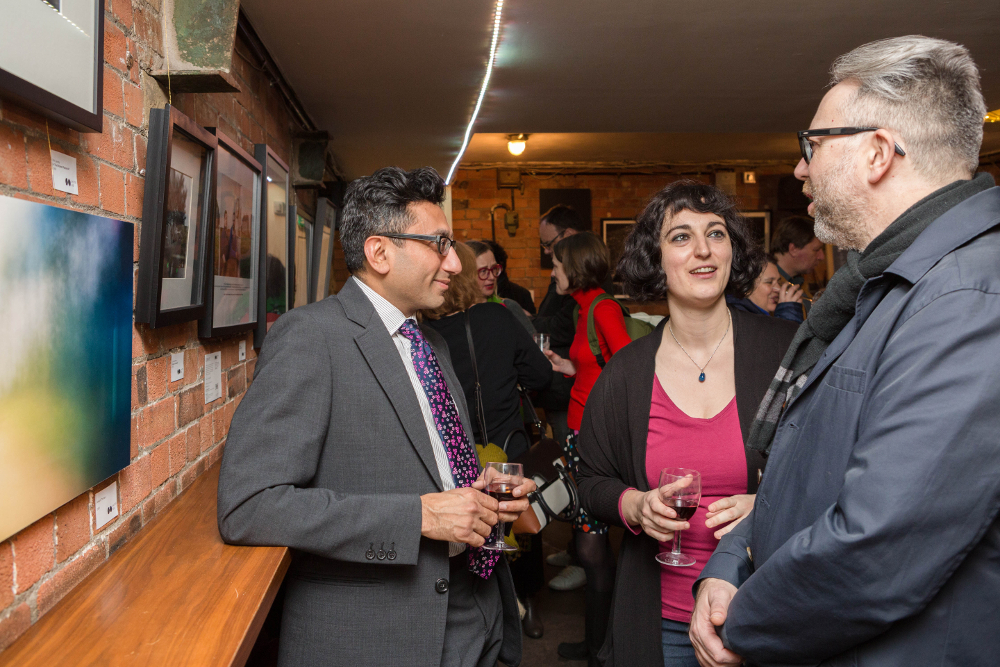 We launched our BORDERS exhibition on Friday 12th January, with a Private View in the Bridewell Theatre Bar. The room was a buzz of people enjoying the art, chatting and mingling, and we received some lovely feedback and comments about the show. A brilliant night all round! Thank you so much to everyone who came, and if you couldn't make it, do pay a visit another time – the exhibition is open until 16th April, so there's plenty of time to see the great work on show.
Thank you once again to John Rankin at Bridewell Theatre for inviting us to exhibit, and to Jayne Lloyd for the fabulous photographs below.
Read on to find out what people thought of the exhibition…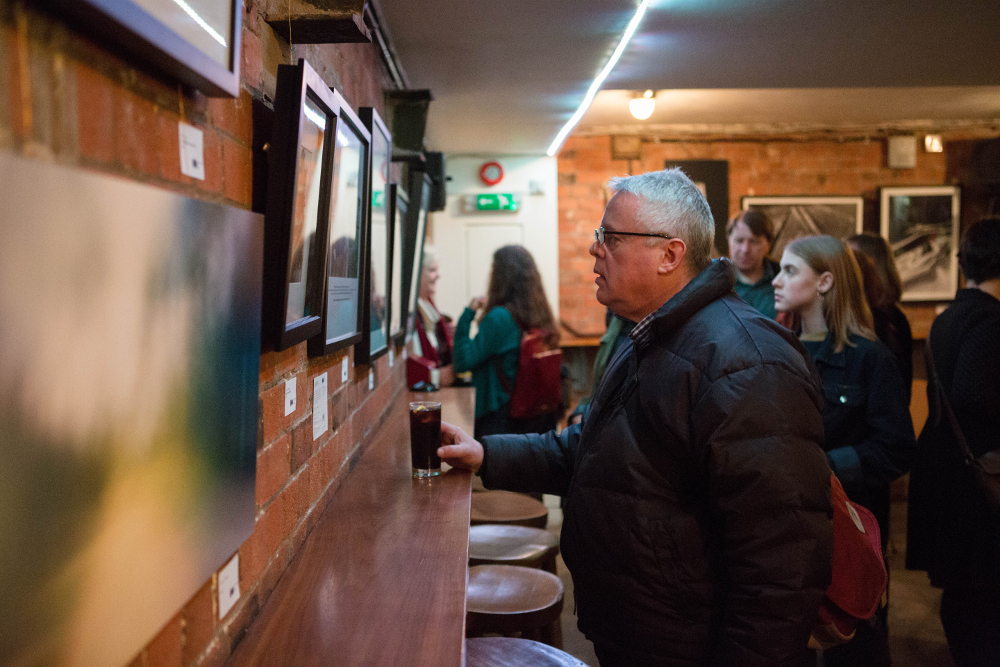 "It's a diverse and interesting exhibition, with a very broad range of interpretations on the theme. The PV was packed and had a comfortable and social atmosphere – I'm normally quite shy at events but this one was really good fun. I especially enjoyed meeting the other photographers and learning more about each other's work. Thanks to Shutter Hub for making it all happen!"
– Nicola Jayne Maskrey
"I thought the work exhibited had a wide and interesting response to the theme and that the venue was a really nice, intimate space."
– Becky Probert
"That was the nicest private view I think I've ever attended, with open photographers, interested friends and Shutter Hub members making the most of the opportunity to gather. Karen isn't so much curating individual works as creating a warm and welcoming movement bringing photographers and our work together. The show is – of course – beautifully balanced. Karen has such a talent for getting eclectic, challenging, interesting work to resonate. It really worked for me."
– Mal Woolford
"This was my first exhibition of 2018 and it was super nice to meet Karen and some of the Shutter Hub members, and the extended photography community; it felt a bit like catching up with people I've known for a while despite not having met before which is always nice. The show worked really well in a non-traditional photography venue, the theatre was a great choice of venue and I'm hoping to see more like this. Group shows are always great for discussions and healthy debate, as most people who attend have opinions about what works well and what are more controversial choices – which are of course all good things to chat about over a beer!"
– Michael Whelan
"It was a great evening and opportunity to talk all things photography. It's fantastic to see your own work being exhibited alongside work you find interesting and inspiring. I find Shutter Hub to be friendly and supportive, and this ethos very much extends to the other members I've met at Shutter Hub exhibitions.
The private view was a great opportunity to network and find out about other photographers and their work."
– Jo Stapleton
"The private view was buzzing from the start. Lots of interesting and interested people talking photography, making new connections and looking at the images on the wall. It was interesting to see the diverse response to the brief; 'Borders'. An excellent choice of work, they were well curated in a small space that set the images off well. Worth at least a couple of visits."
– Wendy Aldiss
"I liked the exhibition very much. The topic 'Borders' was deliberately not described in more detail in order to obtain the widest possible range of terms. And that is what makes the exhibition so exciting in my opinion. One stops in front of each individual image and searches for an interpretation of the term border. And the pictorial languages are just as different as the interpretations.
The theatre's bar has a nice atmosphere and the visitors of the Marchland events are certainly an ideal audience. In any case, I am very pleased to present here a photo from my series "Schengen", dealing with national identities in a Europe without internal borders."
– Ruth Stoltenberg
"Hidden away in London, the Bridewell Theatre is one of those places that's a joy to find – a slice of history amongst the skyscrapers. In the fascinating, quirky building, we followed the Shutter Hub signs to the basement where we discovered a bustling bar, busy full of people chatting and looking at the photography on display. One of those situations where it could've been intimidating, but everyone was so friendly and welcoming, we relaxed almost instantly.
The work on the walls was a diverse, yet clearly curated mix of photographers' interpretations of the theme 'borders'… which meant that everything felt cohesive, but each individual piece of work was individually interesting, from abstractions of landscape, to documentary style portraiture of those feeling on the border of British citizenship. This variety of responses was stimulating and inspiring – we found ourselves discussing the work and our responses to it for most of our journey home."
– Miriam Winsor
"Not far from the throng of Fleet Street I found the Bridewell theatre, and headed downstairs to a cosy space full of excitement and chatter. I got myself a tipple and weaved myself through lively groups of exhibitors and friends – it was hard to get a look at some of the pieces at first!
The cavernous space provided a certain charm for displaying a varied interpretation of 'Borders'. A couple of stand-out pieces for me were the photograph 'Julia, Border Serbia-Romania' by Paola Leonardi. And the Untitled images from Michael Whelan's 'Fragments' series – this image provoked a conversation with another visitor, which is always a good thing.
As with all Shutter Hub activities, it was a friendly affair, where I had some great conversations with new-found members of the photography community. Nice work!"
– Amanda Eatwell
Twenty two photographers from the UK and around the world are exhibiting a diverse and though-provoking range of work responding to the theme of BORDERS – at the Bridewell Theatre Bar Gallery in London from 15th January to 16th April 2018 – do check it out if you can!
BORDERS

Bridewell Theatre Bar Gallery

St Bride Foundation, Bride Lane, Fleet Street, London, EC4Y 8EQ

www.sbf.org.uk
Opening Times:

15th January to 16th April 2018, Mon – Fri, 10am – 6pm (viewed on request at St Bride Foundation reception), 6.30pm – 11pm during theatre performances. Closed Easter Weekend.
All images © Jayne Lloyd.
---
Not a Shutter Hub member yet? Join here for opportunities to promote your work online and in exhibitions, access selected opportunities, events, seminars and workshops, meet up and share photographic experiences, and become part of our growing community…