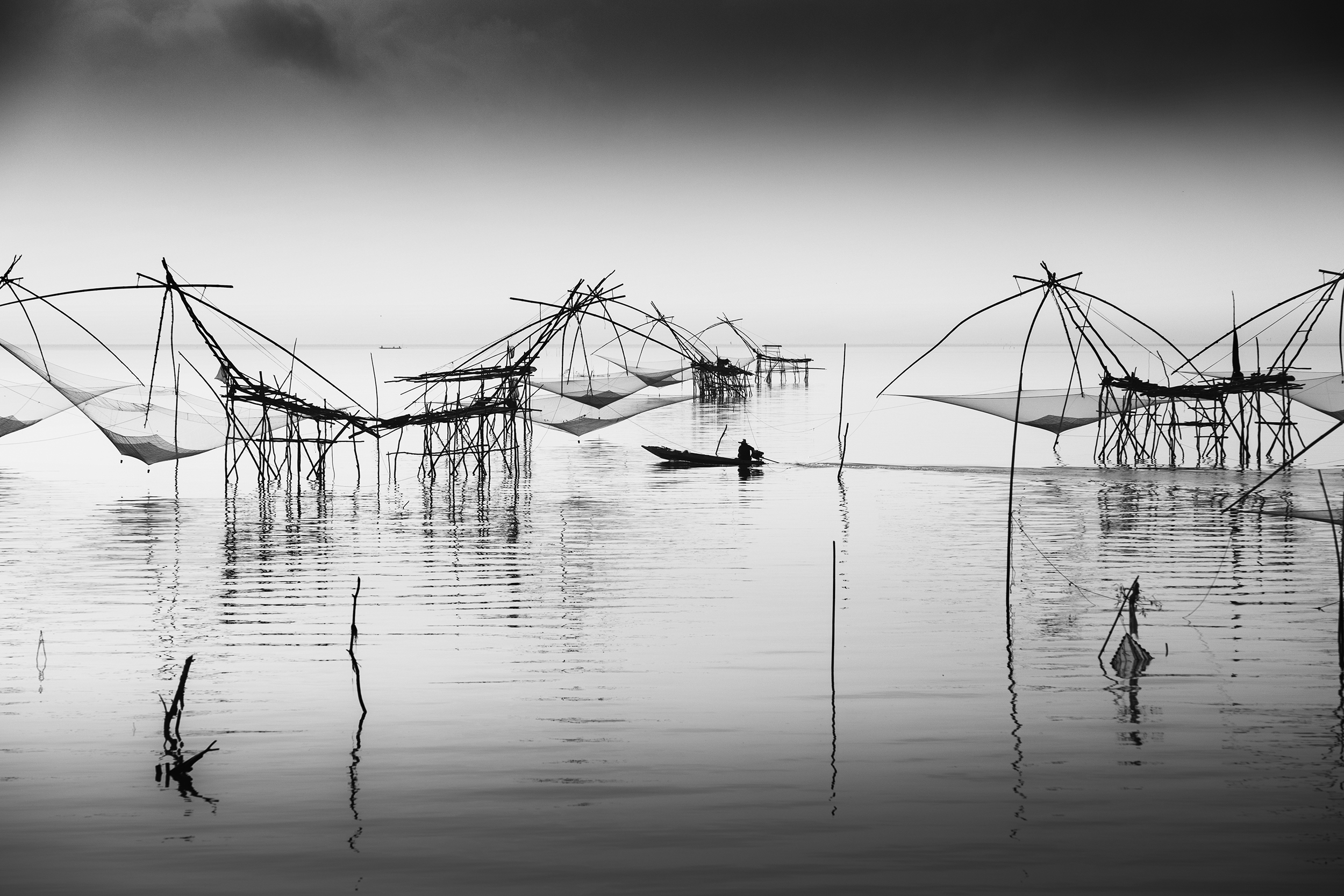 The inaugural Shutter Hub OPEN Exhibition earlier this year attracted some wonderful entries from the UK and around the world. The show received some wonderful feedback from those attending, and visitors were encouraged to vote (by ballot at the gallery and online) for their choice of Best in Show. The work chosen by the public was a work entitled Searching The Destiny (see above) by Swee Hoe Lim, a photographer based in Malaysia. The image is a rather mysterious scene of fishing nets and still water, which has a placid and yet strangely haunting aspect to it. We decided to find out some more about Swee Hoe Lim and his experiences as a photographer in Malaysia…
Who are you?
My name is Swee Hoe Lim and I am staying in Malaysia, an amazingly beautiful country in South East Asia. By profession, I am a certified IT project manager and currently managing an IT solution delivery team at one of the Oil & Gas companies in Malaysia. I am also a fine art photographer and I love to travel during weekends to scenic coastal areas to capture the beautiful mother nature.
What inspires your work?
The art of photography shows me the endless scenes of the beautiful world we are living in. I am recording the world I see using the camera I have in appreciation of this beautiful world.
Who do you admire?
After knowing the motives and efforts put-up by Sebastião Salgado in producing his most recent work, Genesis, I named him no. 1 in my list of most admired photographers. The quality of his works (despite the quantities of the photographs were taken) and the message carried by each photograph, are just so clear and loud.
Your work Searching The Destiny won the Best in Show award at the Shutter Hub OPEN Exhibition 2014. This was a public vote so your image clearly resonated strongly with visitors to the exhibition. Can you tell us a bit about the circumstances of how you came to take the photograph?
First of all, a big Thank You to all that voted for my photo. The shot was taken at the Phatthalung wetland in the southern part of Thailand. The villagers around the wetland are using the artistic Chinese fishing nets to catch fishes especially during raining season. To save time travelling from one end to the other, the villagers are using small boats to travel across the wetland. This shot was taken in the morning where a villager steered a boat passing by the fishing nets. The scene touches my heart and reminded me of how one is searching his destiny in life, going through good and not-so-favorable outcomes.
There are some beautiful scenic views and views of nature in your work; often coastal areas. How do you find your locations, and what do you look for?
I like nature and am always fascinated by the ever-changing waves which have endless patterns and shapes. The country I live in, Malaysia, is a peninsular surrounded by seas. I often travel by car with my photography friends using the coastal roads and constantly look out for best view points to photograph seascapes. Usually, places with beautiful rocks and bridges are my main focus.
You have won several other awards for your work, both nationally and internationally. Do you find that this is an effective way of promoting your work? And what advice would you give to up-and-coming photographers?
They are several reasons why I choose to participate in photography contests especially those at international level. First and foremost, I would like to take stock of my photography skill as compared to the international level. In the beginning, I failed to win in any contest when I first started participating in contests. After couple of months of trying, with the guidance from my photography teacher and also spending time on learning from others' winning shots, gradually I was able to win some awards in various competitions. By winning in competitions, it helps me to build up my profile which I can leverage on. Although I just started my competition journey not long ago, I believe it is an effective way of promoting my work and will definitely help in my photography career.
When did you first discover your interest in photography?
I first picked up an SLR when I was 17, a camera which I borrowed from my brother-in-law. Learning a little bit here and there and shot few rolls of film. It only lasted for a few months before I returned it back to him. That was my first encounter with photography and that experience burned deeply into my heart.
Where did it go from there, and how did you get to where you are now?
It was 23 years later when I was 40 that I decided to chase my photography dream which was buried deep into my heart. I followed a local photography artist, Adam Tan. His teaching is very different from others. He taught me how to see the world from different perspectives. His teaching is focused on cultivating one's aesthetic sensibility rather than on technical details and operating the camera. Gadgets and cameras are just the tools we have chosen to present our thought, messages and ideas to the audience. In fact, Adam has testified to his teaching by winning the 1st prize in the "Places" category of National Geographic Photo Contest 2013.
A quick search on the internet shows that you are one of three photographers who make up 'Yi Photo Station'. Can you tell us a bit about that project and how you came to be involved?
Yi Photo Station is a company founded by Adam Tan – my photography mentor. Its existence is to cultivate local talents by sharing his knowledge and experiences in photography. Advancing from teaching photography and also by-demand, the web site is created as a means of selling our artworks.
From the website, it states that one of the aims of Yi Photo Station is to 'encourage the adoption of photography in the main stream of art in Malaysia'. Do you feel that photography is struggling to be seen as 'main stream' in that part of the world? What are the particular features of working in Malaysia as opposed to anywhere else?
Perception of photography as a hobby rather than another form of art has been in the mind-set among the general public in Malaysia. The majority of the exhibitions conducted in local galleries are non-photographic related (mostly paintings and such). The reach out to art collectors, serious buyers and galleries are very limited at the moment. Nevertheless, the traces of elevating photography art are seen in a slow but steady growth. A positive and encouraging sign that I hope can grow stronger and stronger in Malaysia.
What next? Are you planning any new projects, exhibitions, etc?
There are 2-3 projects which I am working on currently. The point of interest is surrounding environmental issues encountered in my homeland. The immediate one is on target to complete by this year end. Hopefully by that time I could share with Shutter Hub community the outcome of the project. Regarding exhibitions, I am excited to be participating under Yi Photo Station's brand name in PhotoArt Convention at the end of Oct 2014. We will showcase about 30 to 40 award winning photographs including my artwork , Searching The Destiny.
Where do you see yourself in 10 years time?
In 10 years, I want to produce photography projects which could influence and create a positive impact among the general public on the social and environmental issues in my homeland. Through the lens, let the photos speak themselves on the issues the local community are facing every day. Let the photos stay as the reference point as long as the issues exist. Apart from that, it will be nice if I can have my solo exhibition of my artworks in a renowned gallery.
You can see more of Swee Hoe Lim's work and find out more about Yi Photo Station here.
Is there someone that you'd really like to see us interview on Shutter Hub? Drop us a line and let us know!