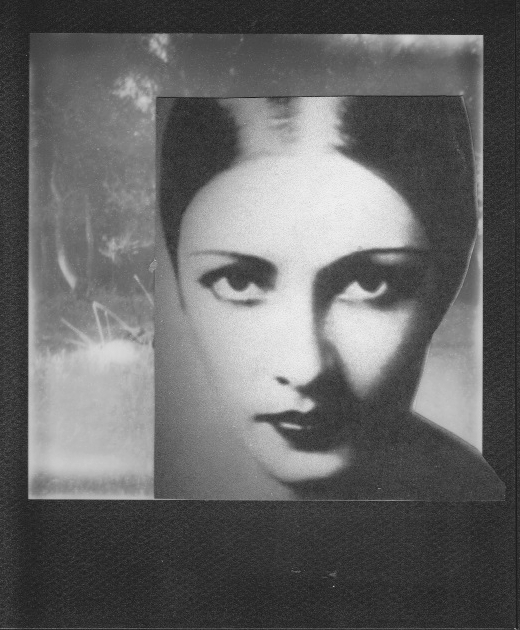 Our Alternative Process exhibition is still available to see at The Engine Room, Manchester (but only today and tomorrow – closes on 7th December!), featuring creative and innovative photography by artists working with Polaroid Lift, Wet Plate Collodion, Gum Bichromate, Photogram, Pinhole, Mordançage, Photogravure, Cyanotype and more. The show has prompted questions from visitors about the processes involved and the stories behind the works, so we thought it would be a good idea to meet the artists individually to find out more by way of some short interviews. This time we talk to Nieves Mingueza about her work…
Who are you and what do you do?
I am an independent and experimental artist, using my work as a way of communicating my feelings. I remember being passionate for arts since I was little. Throughout my childhood I always felt the necessity to tell stories, and loved to collect antique objects and images. Other sources of inspiration in my whole life have been cinema, books and music. All these influences shape the aesthetics of my work which is based in different experimental techniques using photography, collages, mixed media, poetry… For many years, I kept my work for myself, but a couple of years ago I started sharing it.
What did you exhibit?
In this exhibition I present two images from the Series 'eRnaRé'. This work originated casually, when I was organising some Polaroid failed shots and my table was full of papers, stamps, postcards and similar stuff; that is how the Polaroid-Collage-Hybrid was created. This combination of photos and pieces of paper is my tribute to the 1929 'Symphonie diagonale'.
What made you take part in this exhibition?
After moving to the UK six months ago, I learnt about this exhibition and thought it would be great to take part in it. It is also a good opportunity to meet other photographers working with alternative process.
Have you attended the exhibition in person and if so what did you think?
Yes, and it was a very exciting visit! 'The Engine Room' is an amazing space with a strong identity, and we were warmly welcomed. I enjoyed seeing the rest of pictures exhibited and felt proud to share wall with such a great group of photographers. I want to thank Shutter Hub and The Engine Room for offering me the opportunity to be part of this project.
You can see the exhibition for yourself until Sun 7th December 2014, Saturday and Sunday 10am – 6pm at The Engine Room, Mill 1, Woodend Mills, Manchester Rd, Mossley, Ashton under Lyne, Lancs, OL5 9RR.(Viewing by appointment during the exhibition, contact John at The Engine Room on 07736 849 388) For further information about the exhibition see our previous post here.
You can also read our previous interviews with fellow exhibitors Brittonie Fletcher, Melanie King, Charlotte Davenport, Anthony Carr, Andrew Chisholm, Anthony Firmin, John Brewer, Emma Graney, Amy Rockett-Todd, and Rachael Edgar.