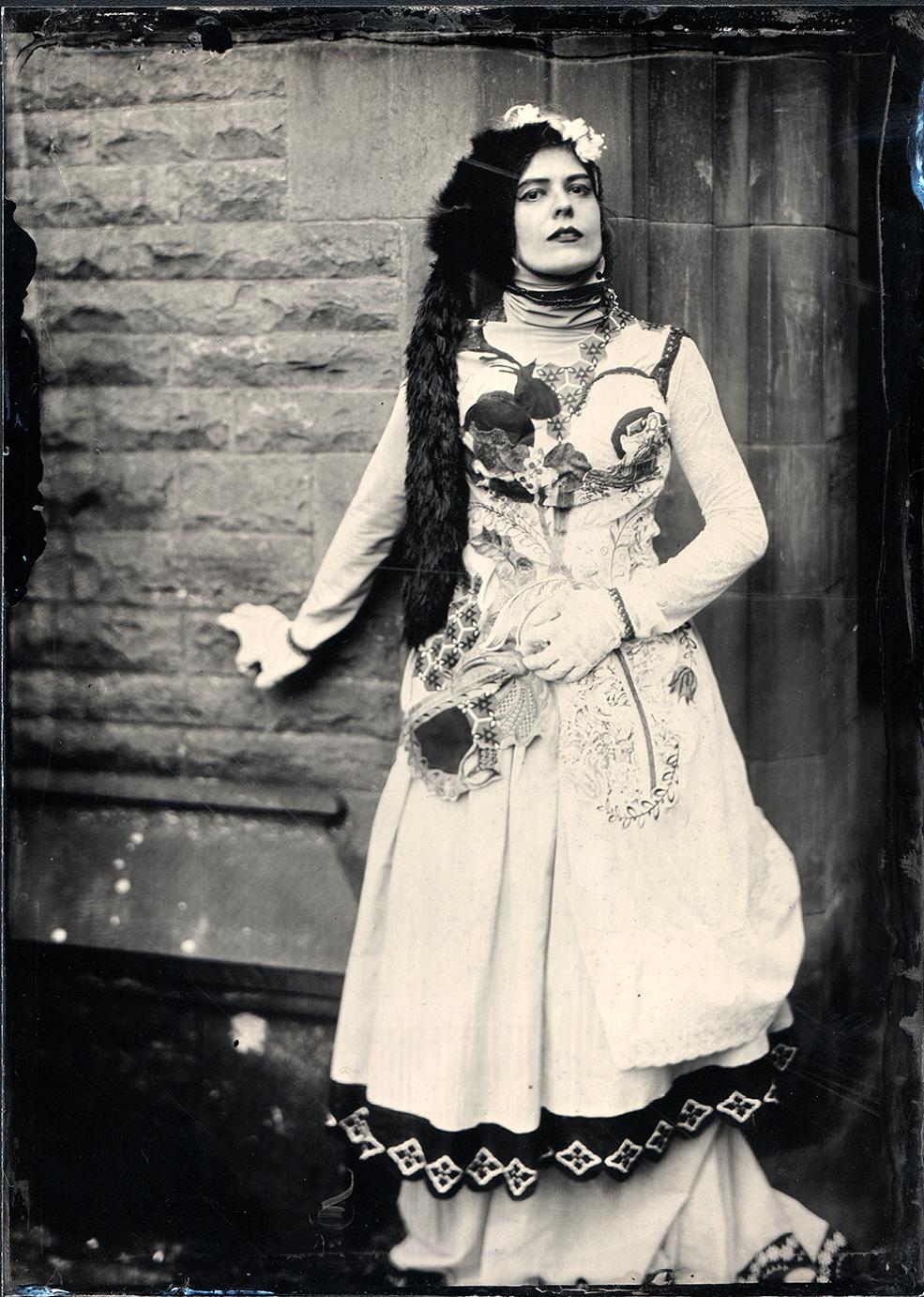 Our Alternative Process exhibition currently running at The Engine Room in Mossley, Manchester features some really creative and innovative photography by artists working with Polaroid Lift, Wet Plate Collodion, Gum Bichromate, Photogram, Pinhole, Mordançage, Photogravure, Cyanotype and more. The show has prompted questions from visitors about the processes involved and the stories behind the works, so we thought it would be a good idea to meet the artists individually to find out more by way of some short interviews. Our next interviewee in the series is John Brewer…
Who are you and what do you do?
I'm John Brewer. It was at the age of 11 in 1977 I got my first camera which my Nan bought me at the local shopping parade. It was loaded with black and white film. Before we had got home I had exposed the entire roll so it was back to the parade of shops to the chemist to get the film processed. No one hour express developing then, I had to wait a fortnight! Not long after I had bought my first enlarger, a Gnome, for the princely sum of £5. I would spend hours in the bathroom with the enlarger balanced on the toilet seat and developing trays in the bath. Sadly I don't have any images from that era of my photographic career any more.
Around the age of 25 I became a commercial photographer shooting pack shots and weddings.
In the 1990's I found a wonderfully titled book called 'The Keepers of Light' by William Crawford, probably the first contemporary book on historical photographic processes, in a library. Of all the processes in The Keepers of Light I was drawn to the gum bichromate process, a method of making watercolour paint light sensitive. The gum bichromate process is deceptively difficult however my first image was pretty good considering I used the wrong paper, didn't apply a size and used cheap paints! It went down hill from there, I couldn't make an acceptable print for some time afterwards. After eventually taming the process I wanted to try other historic/alternative methods of image making. Over time I had made images using cyanotype, Van Dyke Brown, platinum, salt, albumen, wetplate collodion and mordençage often using two or more processes together. Today I make images using both film and digital negatives.
For the last few years I have been teaching most of the processes I practice, particularly wetplate collodion and gum bichromate, the two processes closest to my heart. I teach from my 1000 sq ft studio which is dedicated to historic/alternative processes, at Double Negative Darkroom in London and I also run residential wetplate workshops in the South of France. I also supply virtually any chemical, raw or premixed, used in alternative photography at very competitive prices.
I have exhibited my work both nationally and internationally and my work is in public and private collections.
What did you exhibit?
For the Shutter Hub exhibition I exhibited a wetplate collodion tintype of and titled 'Vineta'. This image was shot a couple of months ago in a small town called Todmorden. Three of us were shooting there, my partner Kate Horsley and Michele Selway. The event was to celebrate English Heritage Open Day: Free to explore. Michele had organised us to shoot at the fantastic Unitarian church there and we spent two long days making plates. My model was Vineta Gailite, a Manchester based artist. The image was shot for the publicity of Kate's novel 'The Monsters Wife'.
What made you take part in this exhibition?
Any opportunity to exhibit historic/alternative photographic imagery is good! The UK gallery scene I think has been rather slow in recognising these processes compared to the USA and Europe. It's good to see Shutter Hub as well as a couple of other galleries now carrying the flag over here. This is particularly important to me as I only make images using these methods.
Have you attended the exhibition in person and if so what did you think?
Sadly I couldn't make the private view evening because of working abroad. However I decided to go after a workshop I was teaching and take some of my students along on the evening of 1st of November. Thanks to John Kiely for opening up for us! We were all impressed with the quality and diversity of work exhibited.
Other than your own work, which of the other works in the show appealed to you and why?
I'd better not pick my partner Kate or studio/events assistant Michele's work either I guess! The work that really struck me was Amy Rocket-Todd's contact printed wetplate collodion ambrotypes. While they may look simple they were beautifully crafted with obvious great thought, care, composition and the touch of gold paint really made them stand out for me. Oh, and I have no idea how she contact printed the ambrotype, what's Amy's email address…….?
You can see the exhibition for yourself until Sun 7th December 2014, Saturday and Sunday 10am – 6pm at The Engine Room, Mill 1, Woodend Mills, Manchester Rd, Mossley, Ashton under Lyne, Lancs, OL5 9RR.(Viewing by appointment during the exhibition, contact John at The Engine Room on 07736 849 388) For further information about the exhibition see our previous post here.
You can also read our previous interviews with fellow exhibitors Brittonie Fletcher, Melanie King, Charlotte Davenport, and Anthony Carr. Look out for more interviews with our Alternative Process contributors over the course of the exhibition!