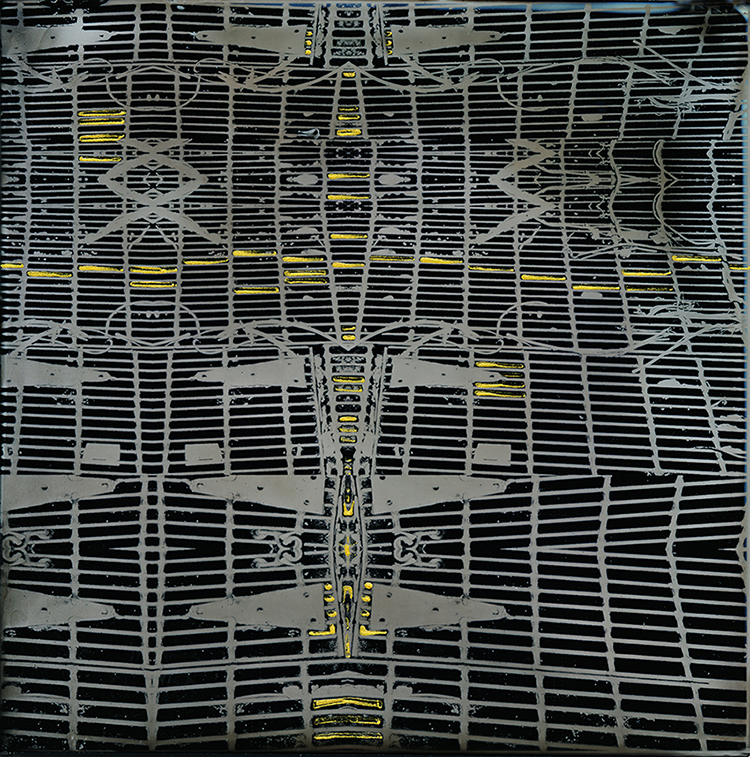 Our Alternative Process exhibition is still available to see at The Engine Room, Manchester, featuring creative and innovative photography by artists working with Polaroid Lift, Wet Plate Collodion, Gum Bichromate, Photogram, Pinhole, Mordançage, Photogravure, Cyanotype and more. The show has prompted questions from visitors about the processes involved and the stories behind the works, so we thought it would be a good idea to meet the artists individually to find out more by way of some short interviews. This time we speak to Amy Rockett-Todd.
Who are you and what do you do?
My name is Amy Rockett-Todd and I am an artist and photographer working in the middle of America; Tulsa, Oklahoma. While I cannot remember a time where art and photography was not a part of my life, my professional background is in Interior Architecture and Studio Arts from the University of North Carolina at Greensboro. My Studio Arts instruction included mentor and photographer, Arnold Doren (a student of Minor White in the late 50's while in Rochester NY). I began my professional life creating architectural illustrations and designing themed resort and casino signage and wayfinding systems. I have been a Studio Artist for the past 18 years and developed an obsession with Alternative Photography processes, studying the Wet Plate Collodion process at Maine Media Workshops + College in Camden, Maine under the instruction of Jill Enfield.
I think I have always been on a search for the perfect combination of Art, Architecture, and Photography.
During 2014, my work has been featured in The Hand Magazine, Kat Kiernan's "Don't Take Pictures", Art Focus Magazine, Charmed Magazine, Chris Keeney's DIY Pinhole online photography gallery, Kai Berhmann's "Top Photography Films" interview, HANDMADE exhibition at the Vermont Center For Photography, as well as a SOLO exhibition of my MANUS portfolio at TAC Gallery in Tulsa, Oklahoma, along with the current Alternative Process exhibition at The Engine Room Gallery with Shutter Hub.
What did you exhibit?
Included in the Alternative Process exhibition at The Engine Room Gallery with Shutter Hub, are two of my black opaque glass ambrotypes from the MANUS portfolio titled: "Below Grade Level" and "On The Surface". These two ambrotypes are derivative of architectural structure studies on an evangelist's corporate headquarters located in Tulsa, Oklahoma. The building interested me not only because of its unique faceted cladding and gold gilded accents, but because the 6-story building also has NO windows. Interesting for an evangelist, huh? The building has sat vacant and abandoned with rotting mildew smells escaping from what few openings have deteriorated over the years around the perimeter, including the rear grade level ventilation system … which is the visual basis for "Below Grade Level". "On The Surface" is derivative of the exterior concrete block base of the building. Both images are hand-painted with gold paint to symbolize the gilded cladding. The evangelist was also said to be color-blind and gold was the only true color that he could see.
What made you take part in this exhibition?
I love the creative comradery that is built around Alternative Process Photography and enjoy connecting to others who work in similar mediums. I am a lifelong learner as well and choose opportunities that allow me to grow as a creative person. As some would say, Oklahoma is in the "middle of nowhere" and I enjoy stepping beyond my own boundaries, both physical and creative.
Have you attended the exhibition in person and if so what did you think?
Unfortunately, I was unable to travel to England to see the exhibition due to a Solo Exhibition for the MANUS portfolio in Oklahoma, however, with the previously mentioned creative community that Alternative Process Photography affords, I was able to virtually meet some great artists and photographers also in the exhibition. Charlotte Davenport, Brittonie Fletcher and Karen Harvey were so kind as to share snapshots of the opening and the work. Much thanks to them!
Other than your own work, which of the other works in the show appealed to you and why?
Michele Selway's tiny portrait intrigued me, as I enjoy work that is small and "jewel-like". Tiny pieces have a sense of preciousness to them as if they are someone's personal secret or treasure. Her presentation of the portrait was also unique, as she framed the tiny portrait in a velvet lined wooden film holder.
I was also drawn to Karen Harvey's two pinhole images of burnt out cars. I love the vignette effect in her pinhole images, which creates such a strong focal right to each car. The images make me ask more questions … which I am always drawn to. Pinhole photography holds a special place for me as the pinhole is where much of my love for photography began … slowing down time, really taking the time to look … and SEE.
You can see the exhibition for yourself until Sun 7th December 2014, Saturday and Sunday 10am – 6pm at The Engine Room, Mill 1, Woodend Mills, Manchester Rd, Mossley, Ashton under Lyne, Lancs, OL5 9RR.(Viewing by appointment during the exhibition, contact John at The Engine Room on 07736 849 388) For further information about the exhibition see our previous post here.
You can also read our previous interviews with fellow exhibitors Brittonie Fletcher, Melanie King, Charlotte Davenport, Anthony Carr, Andrew Chisholm, Anthony Firmin and John Brewer.
Look out for more interviews with our Alternative Process contributors over the course of the exhibition!