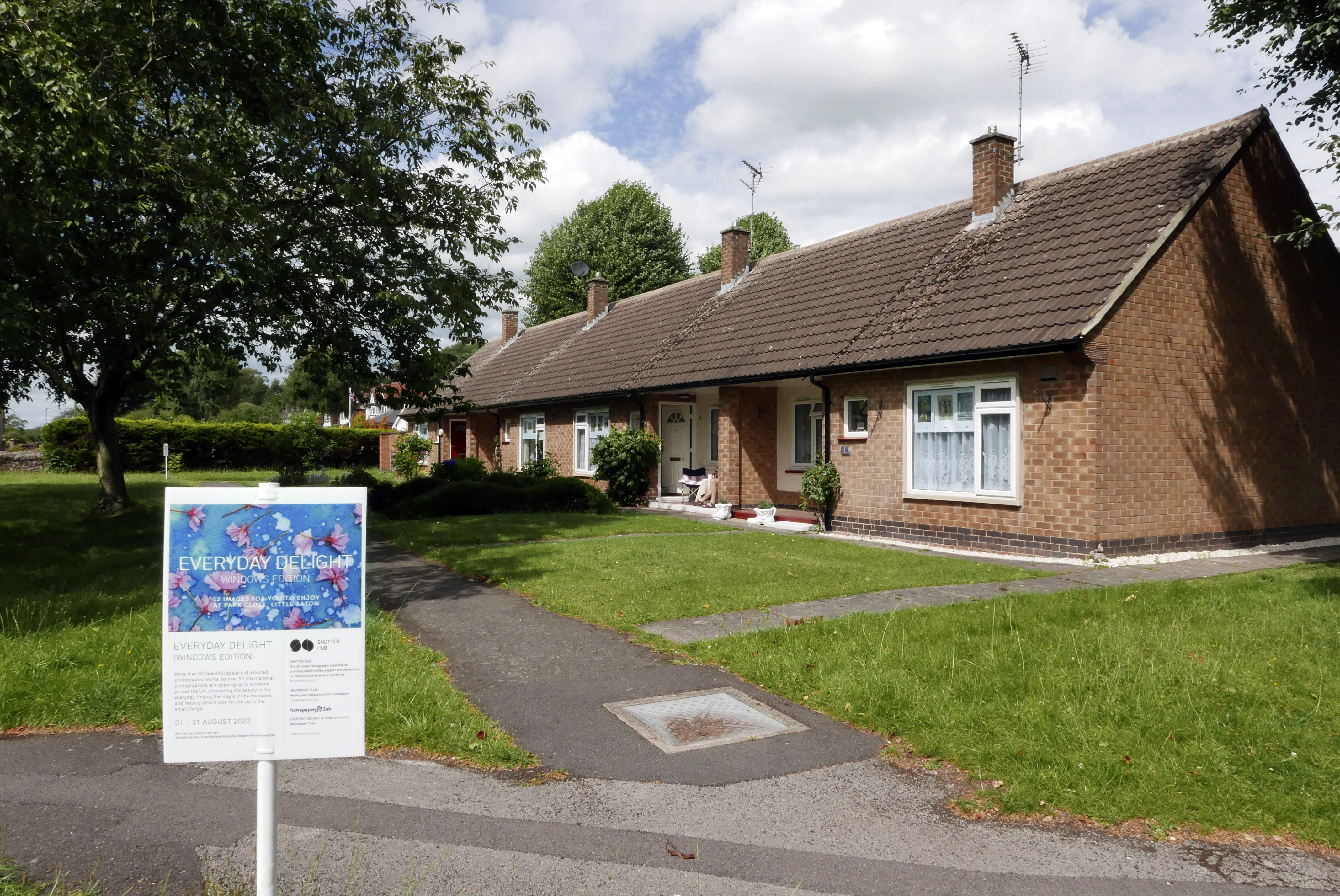 EVERYDAY DELIGHT (Windows Edition) has brought together over 80 images and popped up in 20 locations across the UK – from galleries and universities to living room windows (including Van Gogh's old front room!), it has been a really good mix of community spirit and creative activity. As an exhibition, and a project, it's been everything we hoped for, and more.
The team at Art at the ARB and CRASSH at Cambridge University liked the exhibition so much they asked if they could extend it and share it for another fortnight, (of course we said yes please and thank you!) and the feedback from everyone involved has been wonderful – from the venues, the exhibitors and the viewers, it's been such a truly joyful project, and very much needed it seems.
Over at The Mall, Luton, they couldn't find enough window space to use, but really wanted to share their support, so they invited us to take over some of their digital advertising panels and share over posters on a much larger scale. It's been brilliant.
One of the locations that really held our hearts from the get-go was the four bungalows in Little Eaton. Headed up by Shutter Hub member Sally Brodie, the neighbours got together to host 12 posters across their four front windows. They'd been shielding through the COVID-19 lockdown and all felt that their community had done so much for them, and so this cheerful exhibition became a way for them to be involved in giving something back.
When Sally told us that she'd been touched by her neighbour saying "We're making happy memories during the Covid crisis aren't we?" we felt it too. Here's Sally, and a few other lovely people, to tell us a bit more about their experiences…
"Each of my neighbours have been glad to take part, Audrey (in the first image and who lives next door to me) used to manage one of the village pubs, so the photograph by Wendy Aldiss, with the reflection of the pint, particularly resonates with her. She has seen people coming and having a look and taking photographs of the posters up, and a chap waved through the window to Rex, her brother, who was visiting. Marion, pictured here on the V.E day anniversary, thinks they are all beautiful and that it's a great idea; she was keen to find out more about the exhibition online. Margaret, pictured with her dog, Matty, especially likes Susan Bittker's Madonna and Child (and was really glad to be included).
I think the past few months have emphasised what it means to have connection and the deep effects of small kindnesses and care.
Some people have glanced across, others have come and looked more closely. The general consensus is that the posters have looked great along the block. People have enjoyed seeing the different images and the format is really original ( they've been beautifully produced by Newspaper Club). It's been good to share on social media about it happening and, on the local sites, to add our thanks to the village for their thoughtfulness and help during this time… which, as restrictions reverse for the general population, for most of us, they continue in varying degrees as we each assess our way forward.
Personally, I have loved the ethos of the exhibition, and photography being made accessible within a community setting. It was also really nice to see my poster up in a window in Croydon, on your website."
– Sally Brodie
"I was delighted to read that images from Everyday Delight Windows Edition were going to be on display in Little Eaton, just round the corner from where my parents in law live. By chance it turned out that one of my images "Concrete Jungle" was to be exhibited in Little Eaton. The Shutter Hub team arranged for me and Sally Brodie (who kindly agreed to display the images in her and her neighbours window) to swap phone numbers so we could meet up.
I was really excited on Sunday the 16th August to meet Sally and see the images in situ. It is just fantastic that Shutter Hub has come up with this innovative idea of displaying images in these challenging times. It was a real delight to see my image printed (such a different feel then seeing it on a computer screen) and meeting Sally was just great. We talked on her doorstep for an hour about photography and we could have gone on for hours.
Thanks Shutter Hub for the opportunities and for facilitating photographers to come together in the field!"
– Marianne van Loo
"We are extremely happy to extend Shutter Hub's 'Everyday Delight (Windows Edition)' exhibition for another two weeks this September. Another great project by this organisation – bringing beautiful images to the public by showcasing the work of many photographers and artists. Our windows have never looked so good!"
– Judith Weik, Art at the ARB and  CRASSH
"It's been really uplifting to have had my work included in each part of the Everyday Delight trilogy and I feel the finale of the Windows Edition has been an inspirational idea particularly in the current climate where many opportunities have been cancelled or postponed.
Although I haven't been able to travel to see any of the installations I've enjoyed following the blog and seeing work popping up in unexpected and quiet corners of the UK as well as in more populated areas.
I really like the fact that Shutter Hub consistently finds spaces outside of the pristine white walled gallery format. Mounting and framing work is an unaffordable luxury for me and probably many others surviving on a precarious income so I'm delighted to be part of an organisation which finds innovative ways of avoiding this. Thank you once again to the hard working and dedicated team at Shutter Hub."
– Kristel Collison
"One of the posters is in a window Teddy uses as his 'Neighbourhood Watch' vantage point so his barking had the added bonus of drawing attention to the images!
It was really exciting tracking down the posters in Swaffham while we were away and my niece went to take a look at the images in Bethnal Green. I've really enjoyed seeing images of the locations pop up on the website too. 
It has been such a brilliant concept and it's been wonderful to be a part of it."
– Naomi James
"The first Everyday Delight exhibition, in London, attracted the attention of The Guardian Review online, which was incredibly exciting. And then came lockdown. So – typically – Shutter Hub rose to that challenge, and reinvented Everyday Delight twice: first as a ravishingly displayed 'Home Edition', and then as a 'Windows Edition' with multiple venues all over the UK. 
I was delighted to have two of my images selected, along with 80 others, reproduced in the form of beautifully printed posters, and then distributed around the country to a wide variety of host venues such a private homes (including my own), university buildings, galleries, and cafes.
Finding locations in Edinburgh was tricky, because we remained in lockdown for longer than England did, and many venues which would have been delighted to host posters were closed. But the Poppy Cafe, which could only offer takeaway, had two outside tables, one of which was beside their big front window, and owner Kerrie was happy to display a poster there: the one she selected was by Kate Carpenter, showing her aunt's garden.
A few days later, I went to take photographs of the Poppy's window, and there was a young man having a cup of tea beside the poster. He told me that he was a community gardener, and had chosen that table because he liked the poster. I conveyed that to Kate, who was able to pass his enjoyment along to her aunt, who was delighted that a young gardener in Edinburgh was relaxing with a cup of tea in front of her garden. And when Kate mentioned to a school friend of hers now living in Edinburgh, she discovered that her friend lived around the corner from the Poppy Cafe, and she suggested that when her friend went to the Poppy to see Kate's Everyday Delight, that she pop along to my house, a few minutes' walk away, to see six more posters.
Shutter Hub: always forging connections."
– Susan Bittker.
EVERYDAY DELIGHT might be something to be enjoyed between the rise and set of the sun, it's a prompt to look for joy, to appreciate the little things – flowers growing through cracked pavements, cake crumbs on a plate, rippled shadows, low sun through high trees, accidental colour schemes in the street, raindrops on roses and whiskers on kittens… hang on!
In a world where we seem to have more to worry about every day it's not always easy to find the positive view, but we are hoping that this revisit to the EVERYDAY DELIGHT theme will give viewers something to think about and to focus on temporarily, and perhaps to come away seeing things differently.
The selected photographers exhibiting in EVERYDAY DELIGHT (Windows Edition) were:
Wendy Aldiss, Paul Bence, Indira Birnie, Susan Bittker, Emma Booth, Sally Brodie, Elizabeth Brown, Kelly Bryan, Stonewall Burk, Tiina Burton, Sarah Callow, Kate Carpenter, Cath Cartman, Laura Chen, Charlie Clarkson, Kristel Collison, Amanda Denny, Davinia Diaz, Amanda Eatwell, Juliet Ferguson, Ray Goodwin, Ella Gradwell, Alistair Hamilton, Tamar Haytayan, Katie Hayward, Pippa Healy, Maisie Hill, Ottilie Hunter, Naomi James, Katerina Kalogeraki, Ray Knox, Parvathi Kumar, Julie Laing, Robert Law, Robin Lloyd-Jones, Frankie Mcallister, Karen Melvin, Orande Mensink, Harriet Moore, Pupak Navabpour, Sarah Newton, Carli Notley-Adby, Sue Oakford, Nicola Parry, Ann Petruckevitch, Rachel Rimell, Jane Ross, Diana Serban, Ilisa Stack, Jo Stapleton, Lance Tabraham, Marianne van Loo, and Madeleine Waller.
Do you want to see all of the posters? We shared some video slideshows on instagram, and you can see them all here: 1, 2, 3, 4
---
Full details on all of the exhibition locations, with images: EVERYDAY DELIGHT (WINDOWS EDITION): UK EXHIBITION LOCATIONS, 01- 31 AUGUST 2020
More information on the exhibition, the exhibitors and the concept: EVERYDAY DELIGHT (Windows Edition)
Featured by the Centre for Research in the Arts, Social Sciences and Humanities at Cambridge University: Exhibition: Everyday Delight (Windows Edition)
---
EVERYDAY DELIGHT is supported by: Newspaper Club
---

Not a Shutter Hub member yet? Join here  for opportunities to promote your work online and in exhibitions, access selected opportunities, events, seminars and workshops, meet up and share photographic experiences, and become part of our growing community…