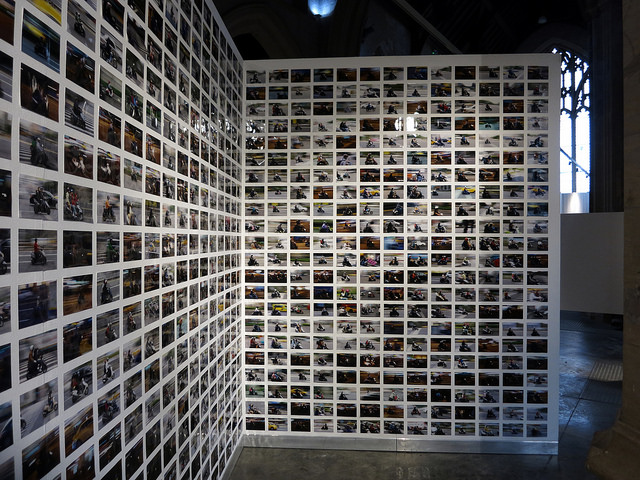 We Are Not Alone is a new exhibition at 20-21 Visual Arts Centre curated by artist composer and writer Michael Szpakowski featuring six very diverse friends and collaborators brought together by the internet.
Michael describes the selection as "six artists, influenced by each other, by everything around them, and by the fact that pretty much everything in the world is a click away".
Alongside exhibitors Ruth Catlow and Doron Golan, Michael has been exploring the creative possibilities of the internet since its early days. In this time the web has expanded from a territory explored by a few pioneers, to something integral our daily lives – a world where creative content is produced by professionals and amateurs alike, often on an even playing field – where the boundaries between 'artists' and 'non-artists' are blurred or simply meaningless – and where creative content is recycled, reused and re-presented in new and peculiar ways, to the point where this regurgitation becomes integral to the medium itself.
Joining these pioneers is Liz Sterry, an artist of the internet-native generation; and a veteran analogue press photographer, Robert Croma, whose practice has been transformed by the use of technology. Finally The Empress of Blanding – the Flickr alias of Medieval historian Geoff Humble, presents a mesmerising collection of over 700 images of motorscooters & their riders in Taipei, Taiwan.
Like the artists, the work is diverse, and mostly presented in 'traditional' art mediums such as photography and painting. In Liz Sterry's work visitors can select and favourite from a series of images in the same way they would on social media, but with real photographic prints in real life – Robert Croma's photographs are moving and heartwarming, especially when shown alongside his more recent and poetic works created with his iPhone – and Michael Szpakowski presents paintings 51 Paintings for Children and Adults.
Despite the proliferation of imagery and its inception through technology, the artists maintain that the world of internet creativity has human traits at its core – "all of us would place friendliness, generosity and collaboration before competitiveness or careerism".
In keeping with this spirit the artists invite visitors to go away and create new artworks using imagery and ideas from We Are Not Alone. Ten of these will become part of the completed exhibition – including inclusion in the We Are Not Alone catalogue along with a text for each by the curator.
We Are Not Alone is at 20-21 Visual Arts Centre from Saturday 23 January to Saturday 30 April 2016. We Are Not Alone is supported by funding from North Lincolnshire Council and The National Lottery through Arts Council England.
Exhibition Dates
23 January to 30 April 2016
Exhibition Venue
20-21 Visual Arts Centre
Church Square, Scunthorpe, North Lincolnshire DN15 6TB
01724 297070 20-21.epd@northlincs.gov.uk
Open Tuesday to Saturday 10am to 4pm
For further information and to find out how to submit your own work visit the website here.