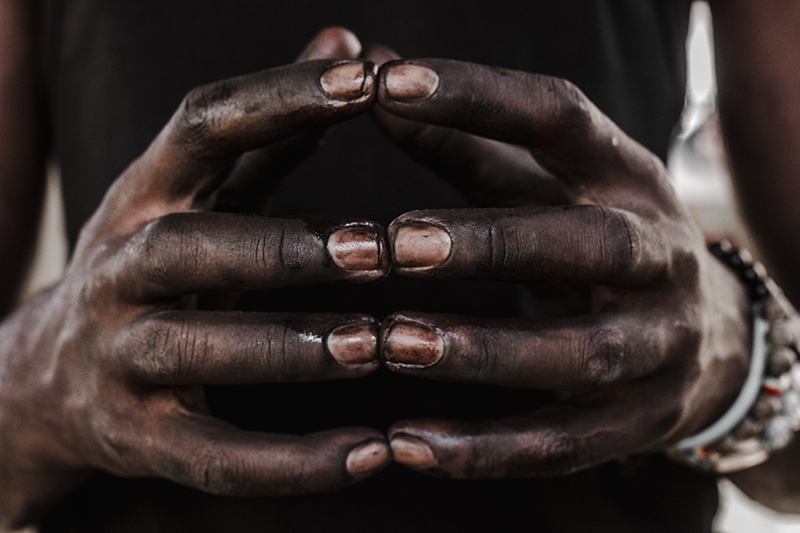 Cambridge School of Art is pleased to announce its symposium 'Telling our tales through ambiguous photography: Decolonizing the visual library of the African continent' as part of the Stories of Kalingalinga exhibition programme at the Ruskin Gallery. The symposium is designed to trigger conversations between academics, practitioners and students and external contributors about photography in, about and of Africa. It is a day of exchanging ideas and planting seeds for future collaborative research and practice.
Symposium Theme: Decolonizing institutions like libraries is often discussed in the context of the written word while visual materials, just as much produced from a particular perspective as texts, also contribute to an expansion of our understanding of the African continent when reframed or re-entangled. The symposium aims to showcase practitioners, practice researchers and theorists who are working towards renewed and diverse visual understandings of the continent. The speakers will highlight the importance of collective making and collaboration with partners from the north and south. Contributions from a wide range of approaches aim to facilitate discussion and innovation throughout the day.
The programme will run as a one-day event and will welcome international speakers (some via video conference) from or links with Germany, Ghana, Kenya, Mexico, The Netherlands, USA, UK and Zambia. The sessions will include presentations and video contributions by invited speakers, followed by discussion and a gallery visit to the Stories of Kalingalinga exhibition. During lunch there will also be an opportunity to view Kerstin Hacker's growing collection of photobooks from and about the African continent.
Book your ticket here.
Speakers Programme:
Dr. Andrea Stultiens
Andrea Stultiens (b.1974, NL) was trained as a photographer. She received a BFA from HKU University of the Arts (1998) and an MFA from AKV St Joost in Breda (2001). Her practice developed from relatively conventional documentary photography to academic research. She completed an MA in photographic studies (2012), a PhD at Leiden University (2018), and insists that her artistic practice is her research method. Stultiens' research deals with photographs in relation to the ways in which particular histories are presented. Since 2007 she mainly works with photographs made on the African continent. She thinks of her artistic and research practice as a non-hierarchical Collective Making that is necessary to explore photographic imagery in complex and potentially problematic post-colonial settings. Stultiens is a lecturer at Minerva Art Academy / Hanze University of Applied Sciences in Groningen and at the MFA program 'Photography and Society' at the Royal Academy of Art in The Hague (both NL).
Stultiens currently works on 'reframing' the photographic legacy of Paul Julien (1901-2001, NL) who travelled the Sub-Saharan part of the African continent extensively for anthropological research between 1932 and 1962. She will introduce her practice and perform an illustrated letter to Julien, updating him on recent encounters around the photographs and film footage he produced in 1947 of the Batwa in the border region of Congo, Rwanda and Uganda.
Msingi Sasis – live stream/skype/video
Msingi Sasis is a Kenyan is a transmedia and multidisciplinary storyteller and is the creator of Nairobi Noir. Nairobi Noir is an independent studio and a cultural enterprise focused on creating a transmedia and multidisciplinary body of work about the Nairobi night. Nairobi Noir has been in operation since 2012. The body of work created so far encompasses photography, graphic design, literature, cinema, and music.
Larry Amponsah
Larry Amponsah (b. 1989, Accra-Ghana) is a multi-media artist whose practice investigates traditional modes of image-making whilst employing unconventional strategies of production to look at the contemporary politics of imagery. He received his MA in Painting from the Royal College of Art, London (2018) after studying for an MFA in Chinese Traditional Painting at Jiangsu University China (2016) and gaining his BFA in Painting at Kwame Nkrumah University of Science and Technology (KNUST), Kumasi, Ghana (2015). Larry is currently a Trustee of The Kuenyehia Art Trust in Ghana, shortlisted for the 2019 Young Masters Art Prize, he is also shortlisted for the 2019 Dentons Art Prize, and recently won the Be Smart About Art Award in 2019.
Amponsah, traditionally trained as a painter, creates collages made of archival images, objects, and stories from various cultures in order to negotiate systems of power and create new ways of transcending boundaries. His interest in collage emerged from an early fascination with Ghanaian calendars, which are often stacked in many layers upon each other, year after year, in distinct contexts such as homes in less privileged communities and market stalls run by petty traders. Throughout his travels and upbringing across Ghana, Amponsah continued to perceive this need to collect, layer, and collage — a gesture of gathering not only images, but also historical documentation and socio-political reflection. Anything from political leaders and cultural festivals to popular advertisements and natural phenomena may grace the pages of these calendars, and thus their contents become at once accessible yet also reverential within the layers of their hybrid print hanging-cum-archive. Amponsah has since continued to embark on his own journey of collecting pictures and narratives, nurturing a creative practice where curiosity, chance, and conversation become modes not only to survive, but moreover, to thrive.
Natalia Gonzalez Acosta
Undergraduate Research Assistant for Stories of Kalingalinga
Kerstin Hacker
Kerstin Hacker (b. 1968, Germany) is a photographer, co-course leader and doctoral student at the Cambridge School of Art. She holds a BA Photography (1992) and MA Photography (1995) from FAMU (Academy of Preforming Arts), Prague, Czech Republic.
Her long-term research interests explore the changing perception, representation and strengthening visual self-governance in Africa. Her practice research explores the emerging affluent classes in Lusaka, Zambia. While working on her own photographic project, she also works with a group of Zambian photographers and academics, who are in the process of establishing a number of photography education projects, including a photography bachelor programme at the University of Zambia.
Hacker is a recipient of the Agfa/Emma Female Photojournalist of the Year Award, is an Alexia Foundation alumna and is a Fellow of the Research Centre for the Understanding of Sustainable Prosperity (CUSP).
Kerstin Hacker will give an introduction to the Stories of Kalingalinga exhibition.
Michelle Bogre
Michelle Bogre, Professor Emerita, Parsons School of Design, is a copyright lawyer, documentary photographer and author of three books. Photography As Activism: Images for Social Change, and Photography 4.0: A Teaching Guide for the 21st Century, were both published by Focal Press and Documentary Photography Reconsidered: Theory, History and Practice, was recently published by Bloomsbury Press. She regularly lectures, both nationally and internationally, about copyright and photography with a focus on the role of documentary photography in the 21st Century. She just completed a Master of Science in International Affairs at The New School, is working on two new books (one on copyright and one on photography) and trying to finish an on-going long form documentary project released as The Farm Stories on Instagram and Facebook.
When the Gaze Shifts: How Images Impact Collective Memory
In her seminal text, On Photography, Susan Sontag wrote: "Photographs furnish evidence. Something we hear about, but doubt, seems proven when we're shown a photograph of it."
Even though Sontag wrote this about film-based photography, and scholars have written volumes questioning the veracity and vicissitudes of the photograph, particularly the digital photograph, generally viewers still do believe in the evidentiary nature of photographs.
This belief underscores why we rely on photographs for historical record, and to form our collective public memories. A more problematic issue in the 21st century, when we understand how profoundly manipulative photography can be, even photography that is not "manipulated", when we speak of the "colonial" or the "male" gaze, is how inaccurate our understanding of cultures can be when we rely mainly on photographs made by outsiders. Africa is perhaps the most impacted and then misunderstand culture, based on historical photographic record. The Western view of Africa constructed through 19th and early to mid 20th Century images is that of a place of conflict, disease, poverty and game animals. That skewed perspective is being successfully challenged today by the proliferation of African photographers and photographs, available to everyone in part through the ubiquity of social media and projects. These include Everyday Africa, which seeks to reframe the collective memory of the African continent by combating Western clichés with images from African photographers who find meaning in the flux of the everyday; exhibits such as The New Black Vanguard at the Aperture Foundation in New York City, the commerative book, Mfon: Women Photographers of the African Disapora or Women Photograph which currently has almost 100 female African photographers in its database. This presentation will explore how the difference between the images from mostly Western white male photographers and current images from African photographers both creates and then shifts our perspective to one that engages in the idea of decolonizing of the visual library, and in turn, our collective memories.
Chanda Mwenya / Zenzele Chulu / Gerald Mwale/ Geoffrey Phiri roundtable – live stream/skype/video – tbc
Louise Fedotov-Clements, Director – FORMAT International Photography Festival & Artistic Director – QUAD, UK
Louise has been the the Artistic Director of QUAD, a centre for contemporary art, film and new technologies in Derby UK since 2002, and the Director/Founder of FORMAT International Photography Festival, since 2004. As an independent curator she has initiated commissions, publications, mass participation, and exhibitions of art, film, and photography. She is also a regular juror, portfolio reviewer, workshop leader, speaker, and award nominator throughout Europe, Africa, America and Asia. Fedotov-Clements has served as a curator for a number of international programmes, including Habitat Centre and Hauz Khas BlowUp, Delhi, India; Dong Gang Photography Festival, South Korea; Dali Photography Festival, China; Noorderlicht 20/20, Groningen, Netherlands; Seoul International Photo Festival, SKorea; LishuiPhoto, China; Photoquai Biennale,Paris, Photo Beijing, China, Les Rencontres Arles, France, Venice Biennale, Lagos Photo Nigeria, Shanghai Photo and Houston Fotofest. In addition to her curatorial work, she has contributed to and written for many publications including Hijacked III, Factory and Beyond Evidence; 1000Words; Editorial board for RVM Magazine Italy; OjodePez Spain; Unseen magazine Netherlands; PhotoCinema; Chinese Photographers Magazine and Archivo Magazine Portugal. Fedotov-Clements is on the advisory board of the WYNG Master Awards Hong Kong; PSC Photography MA Mentor Melbourne Australia; Camera Plus Festival Iasi Romania and the Artists Pensions Trust Global.
Current projects include Parallel a Pan-European and global development, mentoring and practice programme for new artists and curators working with photography, supporting 45+ International talents per year to make new work and exhibitions; and HTE (Here, There and Everywhere), a UK/Europe and Pan-African consortium programme supporting mobility and emergent cultural initiatives for artists and cultural leaders based in Africa, alongside African diaspora artists, through exhibitions, residencies, publications and events. Louise Fedotov-Clements will give an illustrated overview of the HTE programme and the projects inc the artists/partners so far. She will discuss FORMAT/QUADs involvement, as well as thoughts on the wider ethos and challenges of the programme over all.
Panel Discussion
Moderator of Discussion: Andrea Stultiens
Ruskin Gallery – Wine Reception
Stories of Kalingalinga
The exhibition, which will be on display at Anglia Ruskin University (ARU) from 16 January 2020, will feature the work of 11 photographers and visual artists who were invited by ARU and the Zambia National Visual Arts Council to take part in a workshop in Lusaka earlier this year.
The Stories of Kalingalinga exhibition will feature work by Edith Chiliboy, Danny Chiyesu, Zenzele Chulu, Natalia Gonzalez Acosta, Kerstin Hacker, Margaret Malawo, David Daut Makala, Dennis Mubanga Kabwe, Scotty, Muchemwa Sichone and Yande Yombwe, and will be on display at the Ruskin Gallery, at ARU in Cambridge, from 16 January until 13 February 2020.
Telling our tales through ambiguous photography: Decolonizing the visual library of the African continent
31 January 2020
10am to 5pm, afterwards you are welcome to join the wine reception
Part of the Stories of Kalingalinga exhibition programme
Anglia Ruskin University
Cambridge
Tea, coffee and light refreshments will be provided throughout the day.
For further information please contact the event organiser Kerstin Hacker at Kerstin.hacker@anglia.ac.uk
The Symposium is kindly supported by the Centre for African Studies at Cambridge University and Cambridge Africa.