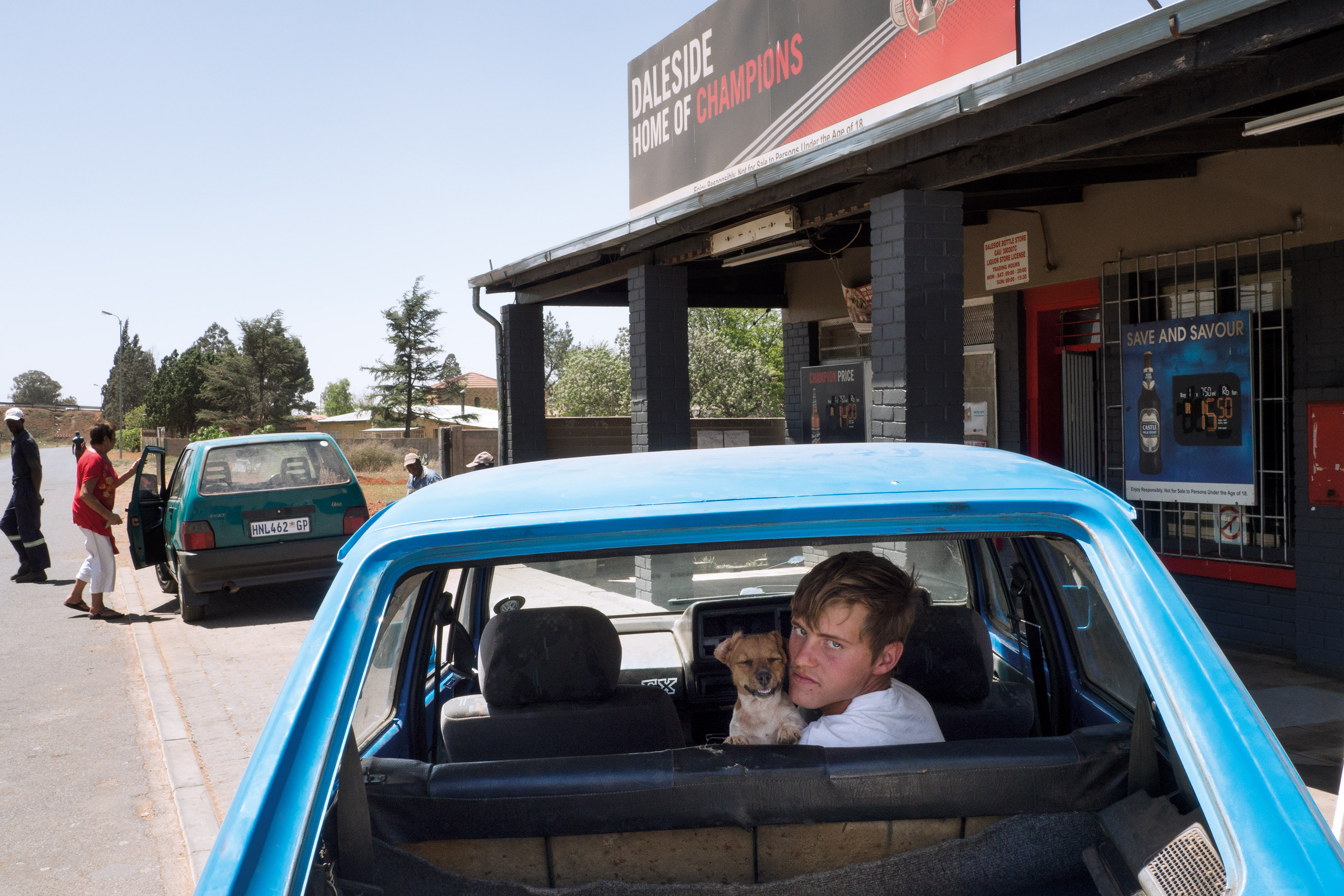 Daleside: Static Dreams by Cyprien Clément-Delmas and Lindokuhle Sobekwa, GOST
Since 2015, French photographer Cyprien Clément-Delmas and South African photographer Lindokuhle Sobekwa have collaborated to create a portrait of Daleside, a small Afrikaner suburb south-east of Johannesburg, South Africa.
Daleside, in the Gauteng Province, once had a predominantly white population and is isolated in the industrial outer suburbs of Johannesburg. Its separation has resulted in Daleside's residents becoming increasingly inward-facing, and in the space of a decade it has become an isolated ghost town with a dwindling population consisting of mostly mineworkers and smallholders.
The two photographers met through the Of Soul and Joy programme launched by Rubis Mécénat in Thokoza, a township in the suburbs of Johannesburg where Sobekwa grew up, only five kilometres from Daleside. Rubis Mécénat then commissioned this project, exploring Daleside in 2015. Clément-Delmas and Sobekwa accompanied each other to the suburb where they soon stood out and became recognisable on the streets as it was uncommon to see a Black and white man walking side by side. They struggled, especially at the start of the project, to gain access to personal spaces but gradually and patiently built relationships with their subjects. When Sobekwa returned to Daleside alone he came up with strategies to help build trust such as attending church or carrying round an album of the photographs he was making to show he meant no harm. It took Sobekwa a lot of time and energy to build the trust, which had been much easier when he was with his white French collaborator.
The resulting photographs provide a counterpoint—Clément-Delmas's images show dignified figures whose dreams are at odds with reality whereas Sobekwa's landscape portraits show no such escapism. Looking beyond the deep-seated Black/white binary, they depict the poverty afflicting Black and white residents alike as forgotten members of society stuck in a dead end. Contrary to his expectations of what he might find there, Sobekwa came face to face with the reality of Black and white residents experiencing the same poverty out of eyeshot of the tightly-guarded houses of the wealthy. In Daleside: Static Dreams, the images by each photographer are presented alongside each other in a foldout book so they can be read individually or as pairs.
'I first visited Daleside when my mother was employed there as a domestic worker. At the time, the white-dominated area seemed like an isolated place, a ghost town. It is a place I have always had unresolved issues with and a curiosity about since I that first visit. While growing up, the community was a place I always felt took so much from me—mainly my mother—who had to live there for her line of work. When I was a young boy and went to visit her, I was denied entrance at what to me felt like some kind of paradise. Going back there to photograph was a way for me to confront these feelings, and in doing so, I realized it was not what I expected it to be'. – Lindokuhle Sobekwa
'The families that stay in Daleside are mostly the ones who can't afford to go anywhere else. They can't escape from this place. I believe the people of Daleside dream of a better, different life. But, their reality wakes them up all the time. They are static dreamers, stuck in this town, in their lives and in their social class'. – Cyprien Clément-Delmas
The Of Soul and Joy programme is a lasting social and artistic initiative undertaken by Rubis Mécénat in 2012 in Thokoza, South Africa, that aims to empower youth in South African townships through photography. The book, Daleside: Static Dreams is in collaboration with Rubis Mécénat.
In collaboration with Rubis Mécénat
Additional text by Sean O'Toole
187 x 253 mm, 128 pages (2 books of 64 pages) 62 colour images,
Swiss bound Hardback
You can buy Daleside: Static Dreams here.
My Father's Things by Wendy Aldiss, Pannoval Press
The book is a beautifully designed selection from the 9,000+ images Wendy Aldiss took following the death of her father in 2017. Wendy realised that, in a way, she could continue to photograph him – by making images of his possessions: books, magazines, clothes, toys, paintings, furniture, receipts, photos, postcards, wine bottles, kitchen implements etc – he had even kept the bullet that struck him in 1945. This labour of love and grieving has resulted in a fascinating and complete catalogue of the items owned by a man of 92yrs; a writer, poet and artist- Brian Aldiss.
On seeing the draft Philip Pullman wrote, "This is a book to pore over and marvel at, beautiful and funny and moving. I loved it".
The universality of this body of work is undeniable. Having to sort out the things belonging to one's deceased loved ones is an experience that touches the lives of many. Separated from their surroundings, these images prompt the viewer to contemplate the intrinsic merits of design and utility in the objects we handle and to consider their own possessions; the importance they have attached to them and what will become of them after their own passing.
Neil Gaiman has written "When Brian (Aldiss) stepped off the stage, I am glad Wendy Aldiss was able to chronicle who Brian was and the space he had filled by the things he left behind him……..the cumulative effect is one of grief and remembrance, of celebration, and, at the end, of love. It's like being welcomed in. It leaves me wondering what I'll leave behind"
With an introduction from novelist Christopher Priest, and an essay "Dwelling in a Father's House: a Life in Photographs" by Dr. Margaret Gibson, the book contains full colour images and fold-out plates.
First edition (& 1st printing)
Oversize hardcover
256 pages (with a number of fold-outs)
Soft-touch laminated hardcover
Design by Maggi Smith
Copies signed by Wendy Aldiss also available
You can buy My father's things here.
Found, Not Lost by Elliott Erwitt, GOST
Over 170 previously unseen images by photographer Elliott Erwitt will be published for the first time in Found, Not Lost. Spanning more than sixty years, the photographs in the book, often taken during lulls or breaks between assignments in his prolific career, have been selected, edited and sequenced by Erwitt himself.
Now in his 90s, Erwitt began the process of revisiting his archives in 2018 after his first retrospective, Home Around The World, when faced with the burden and responsibility of being the custodian of his own archives and all they contain. Here began the exhaustive process of reviewing every photograph in his studio. Over the course of nearly two years, with the help of editor Stuart Smith and long-time studio manager Mio Nakamura, he viewed around 600,000 images—contact sheets and negatives—from those developed in his bathroom sink at home at the age of seventeen to those from recent assignments in Scotland and Cuba. The sea of imagery dominated every flat surface for months.
This book has been an opportunity for Erwitt to revisit the photographs he made in his early career and to uncover meaning upon second glance which was not apparent when the image was originally taken. The master of visual one-liners—bold statement images replete with humour, irony and acknowledged absurdity—the photographs selected for this book are quieter, more subtle and suggest Erwitt's increasing confidence in his own eye. By selecting these photographs he has begun to both examine and challenge how his younger self saw the world.
215 x 290 mm
232 pp
171 duotone images
Hardback
ISBN 978-1-910401-31-6
You can buy Found, Not Lost here.
The Moon Belongs to Everyone by Stacy Mehrfar, GOST
The Moon Belongs to Everyone by Stacy Mehrfar, is a response to the contemporary experience of migration – of shifting continents and mindsets. A multi-layered visual narrative set in a non-locatable landscape, the book reflects upon the loss of roots, and search for belonging in the wake of immigration.
The book progresses through an alternating landscape of both time and perspective. In photographs of portraits, still lifes, architecture, landscape, and nature, patterns and sites converge and return later in seemingly different positions. The solitary subjects of the portraits are unknown to each other and come from different parts of the world – yet they are caught in a similar liminal space — hovering somewhere between 'there' and 'here.' When viewed together they are experienced as a collective, sharing common grounds.
Published March 2021
165×225 mm,
portrait format
112 pages, 57 Images
Hardback
You can buy The Moon Belongs to Everyone here.
The Light of Day by Tony O'Shea, RRB Photobooks
The Light of Day is the first retrospective book of work by Irish photographer Tony O'Shea, published to coincide with a forthcoming exhibition of his work at the Gallery of Photography in Ireland, planned for early 2021. The photographs in the book span four decades of work from 1979 – 2019, a large number of which are previously unpublished. From city streets to the remote countryside, the black and white photographs in this book document the spectrum of public life, across Ireland and Northern Ireland. A majority of the photographs were taken in Dublin and County Kerry, and depict a sense of community in both mundane — the markets and bus journeys — and in the spectacle of religious processions and marches marking significant events of the recent past. The photographs, often warmly humorous, are unified by the dignity and lack of self-consciousness of his subjects of all ages. Collectively, they demonstrate O'Shea's ability to combine the bleak and the joyful.
Text by Colm Tóibín
RRB Photobooks & Gallery of Photography Ireland, 13 November 2020
Hardcover, grey cloth | 28 x 21cm, 112 pages | 90 black and white photographs
Edition of 1000 including 100 with signed and limited silver-gelatin print
You can buy The Light of Day here.
Fairy Tales and Photography, or, Another look at Cinderella by Jo Spence. RRB Photobooks and The Hyman Collection
Fairy Tales and Photography, or, Another look at Cinderella, a facsimile of Jo Spence's ambitious BA thesis will be published in full for the first time. Written in 1982 by Spence, a cultural worker and photographer, this landmark thesis aimed to untangle interconnected gender and class oppressions in historic fairy tales. Spence asks 'How do we take a story like Cinderella out of the archives, off the bookshelves, out of the retail stores and attempt to prise out its latent class content? Its political and social uses?'
Class Slippers, the sister publication contextualises the work of Spence for a contemporary audience and provides new insights into the dissertation nearly 40 years since its creation. It is written by Dr Frances Hatherley, writer and researcher at the Jo Spence Memorial Library Archive at Birkbeck, University, with a preface by writer Marina Warner. The publication of both these books coincides with the forthcoming retrospective exhibition of Spence's work From Fairy Tales to Phototherapy | Photographs from The Hyman Collection at the Arnolfini in Bristol which is part of the inaugural Bristol Photo Festival.
"This dissertation brings together subjects, both personal and political, that she grappled with throughout her life: social class, family histories, sexuality, representation of women and visual ideologies. Her work drew on her own lived experience of being a woman from a working-class background, her battles with cancer, mental health, education and her family history, but throughout she was always socially minded, with an eye on the structures of power that shape our lives… In this funny, scrappy, smart and insightful work, we are encouraged to take another look at Cinderella – and once we have, fairytales will never look the same again." – Dr Frances Hatherley
RRB Photobooks / The Hyman Collection
December 2020
30 x 21.5 cm
260 pages
Accompanied by sister publication Class Slippers by Dr Frances Hatherley, with a preface by Marina Warner
Limited Hardcover edition of 450 copies
You can buy Fairy Tales and Photography, or, Another look at Cinderella here .
---
Do you have a photo book, zine, or other publication that you'd like us to consider for our next PHOTOBOOK FAVOURITES? Share it with us here!
---

Not a Shutter Hub member yet? Join here  for opportunities to promote your work online and in exhibitions, access selected opportunities, events, seminars and workshops, meet up and share photographic experiences, and become part of our growing community…