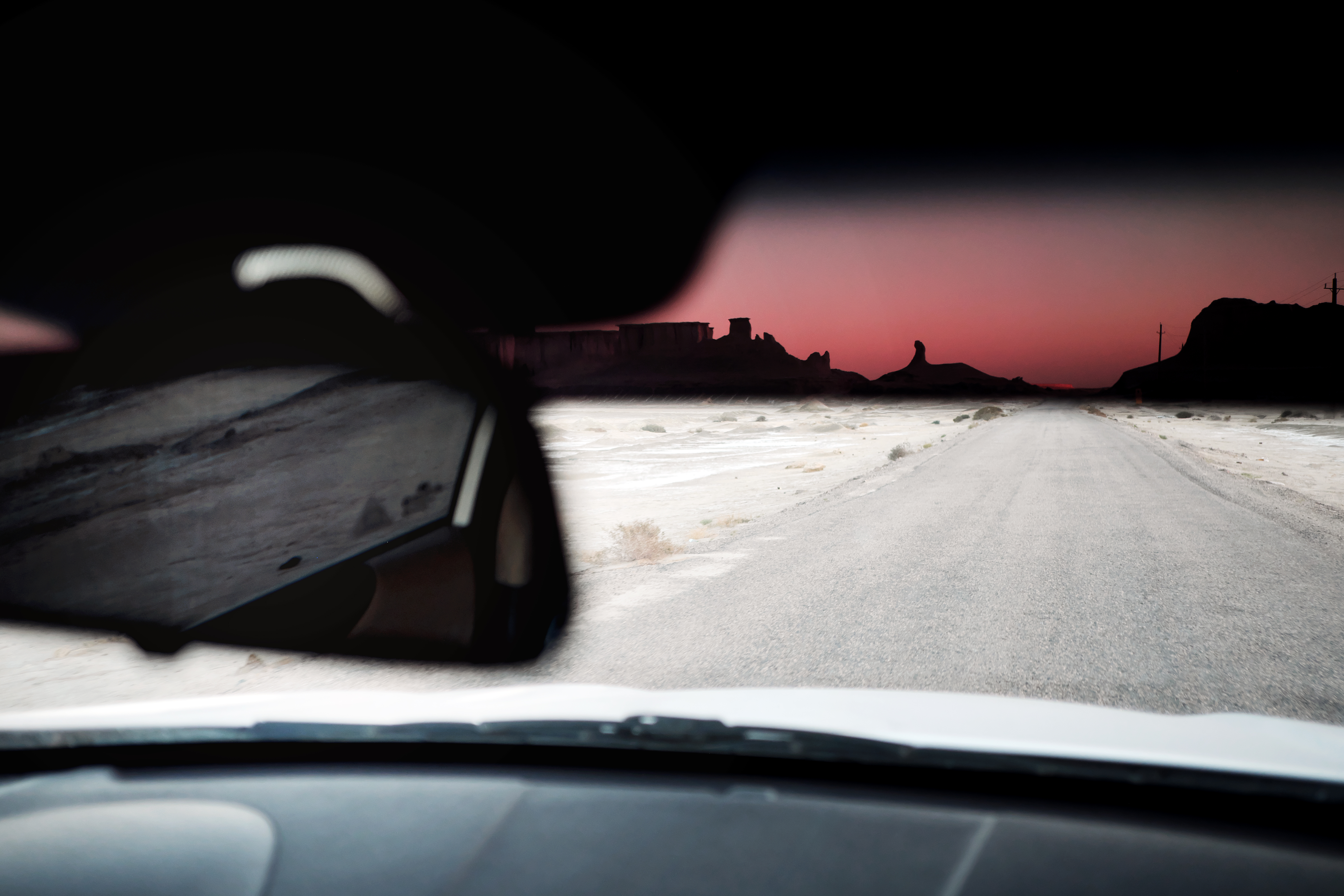 Paradise City by Sébastien Cuvelier, GOST
Sébastien Cuvelier's journey to Iran was inspired by a manuscript written on his late uncle's journey to Persepolis nearly fifty years ago. In Paradise City, photographs from Cuvelier's time in Iran are layered on top of his uncle's diary to create a conversation between the two travels. The book follows his search through both the contemporary and ancient landscapes of Iran to locate an elusive, dreamlike version of paradise.
The Iran depicted in his uncle's writings and photographs—which later surfaced in a briefcase—was far removed from that which confronted Cuvelier. The revolution of 1979 irrevocably transformed the country into a state in which citizens' lives are restricted. The country's young and connected population has had to constantly adjust its way of living in order to circumvent the limitations imposed by the government. As a result, the youth yearn to leave—they seek paradise but are unsure where to look.
Cuvelier attempts to reflect this pursuit of paradise in his photographs—metaphorical, fleeting and illusive—each image appears like a piece of an intangible jigsaw puzzle combining what once was or could be, with the present. The photographs depict views, gardens, people or buildings, often physically hidden or veiled by material, foliage, darkness, vantage point or shadow. They show glimpses of contemporary Iran through the eyes of Cuvelier and the people he met—at times romanticised, nostalgic or even utopian.
'The sheer concept of paradise is inherently Iranian. The word paradise comes from old Persian paridaida – meaning walled garden. It is therefore only natural that this word resonates in all corners of a country where history is full of nostalgia, people are deeply romantic and flowers are everywhere. Contemporary Iranian youth have also developed their own notions of paradise, and for most it is anchored in Persia. Its existence is linked to hope, the quest for change, the desire for a new beginning. These feelings bring with them an ever-present hint of nostalgia, seen in family tales, photo albums or through the fading memory of distant cousins who emigrated to find their own paradise city.' – Sébastien Cuvelier
206 x 290 mm, 128 pp
68 full colour images
Hardback
ISBN 978-1-910401-47-7
You can buy Paradise City here.

Nancy Floyd has been photographing herself since 1982, with the aim of taking a photo a day. The resulting project, compromised of over 2500 images, is a meditation on the passage of time, loss and the aging female body. Weathering Time is the winner of the inaugural ICP / GOST First Photo Book Award.
The uniform black and white self-portraits in this project record Floyd's body from head to toe, as well as her environment and sometimes family and friends. If she fails to take a picture, she advances the film in her camera, so a blank image is recorded, creating a visual calendar. For the first thirty-six years, Floyd used a film camera and last year she began to shoot with digital. In the book, over 1200 images are presented in grid format. They are grouped into categories such as Mom, Dad, Shirts with Words, Good Hair, Pets (all), and Evolution of the Typewriter—charting both the constants and the changes in fashion, technology, society and culture, as well as the people in Floyd's life.
'It's not just the body that changes: fashions and hairstyles evolve; pets come and go; typewriters, analog clocks, and telephones with cords disappear; and finally, film gives way to digital and the computer replaces the darkroom. While Weathering Time is a personal archive, and I am mining the archive to address issues of the female body, the family snapshot and loss, I am also interested in producing images that suggest some of the experiences of my generation. Indeed, the photographs underscore the cultural, technological, and physical changes that have occurred over the past thirty-eight years— from my youth to the dawn of my old age.'
Nancy Floyd (born 1956) was raised in Texas. She holds a BFA from the University of Texas at Austin, an MA from Columbia College Chicago, and an MFA from the California Institute of the Arts. She has been an exhibiting artist for over thirty-five years and is Professor Emerita in the Ernest G. Welch School of Art and Design at Georgia State University in Atlanta. The series 'Weathering Time' has been exhibited at Blue Sky Gallery, Portland, OR, CUE Art Foundation, New York, NY; Whitespace, Atlanta, GA; and Flux Projects, Atlanta. Her work has been included in exhibitions at Museum of Contemporary Art of Georgia, Atlanta; Thyssen-Bornemisza Museum, Madrid, Spain; the Atlanta Contemporary Art Center; and the California Museum of Photography, Riverside, CA amongst others, and is held in the collections of the Center for Creative Photography, High Museum of Art and Lightwork.
She was the recipient of a 2018 Aaron Siskind Photography Fellowship, a 2016 CUE Art Foundation Fellowship, a 2015 Society for Photographic Education Future Focus Project Support Grant, and a 2014 John Gutmann Photography Fellowship Award.
190 x 260 mm
257 pp
ISBN 978-1-910401-42-2
You can buy Weathering Time here.
Hayal & Hakikat: A Handbook of Forgiveness & A Handbook of Punishment by Cemre Yeşil Gönenli, GOST/FiLBooks
The photographs in his book depict the hands of prisoners from the early 20th century, drawn from the photograph albums of Abdul Hamid II, the 34th Sultan of the Ottoman Empire. Hayal & Hakikat (translated as Dream & Fact), by Cemre Yeşil Gönenli, takes the form of two booklets ⁠— A Handbook of Forgiveness and A Handbook of Punishment ⁠—which can be viewed side by side.
Abdul Hamid II utilised photography as a tool for documenting the modernisation of the Ottoman Empire at the start of the 20th Century. A photography studio was build inside the Yıldız Palace and albums reproduced and sent across the world as a testament to the progress of the Ottoman Empire. Abdul Hamid II himself rarely left Istanbul but commissioned photographs so he could become acquainted with his own country, otherwise invisible to his eye.
Amongst other things, Abdul Hamid II was obsessed with crime fiction and in the 25th year of his reign he ordered all murder convicts to be photographed with their hands visible, in preparation for a planned amnesty. He has been moved by pseudo-scientific information he had read in a crime novel that "any criminal with a thumb joint longer than the index finger joint, is inclined to murder." To this end, the photographs in this book show the subjects' hands for the purpose of classification. They are presented in the book in categories – those chained with iron bracelets and those without. Cemre Yeşil Gönenli, has cropped out the faces of the subjects so their emotional state is ambiguous. The 'Dream' of the title refers to the inmates' desire for release and the "Fact', their actual circumstances. The fate of the individual prisoners remains unknown as there is no record of the verdict of Abdul Hamid II after viewing the hands awaiting forgiveness.
The book is a result of the workshop 'Interpreting the Encyclopedia of Istanbul with Photographs' organised by Geniş Açı Project Office and SALT in May 2019. Cemre Yeşil Gönenli found the story this archive of crime photographs in this unfinished encyclopaedia by Reşat Ekrem Koçu. She then went on to investigate the images preserved in IstanbulUniversity's Library Collection of Rare Books within the albums of The Yıldız Palace Photography Collection.
Hayal and Hakikat is dedicated to those in contemporary times who are arbitrarily detained.
Cemre Yeşil Gönenli is a photographer, artist and visual story teller, is based Istanbul. She teaches and writes about photography, and runs a small publishing house and photobook shop called FiLBooks in Istanbul.
3 book blocks (160 pages + 64 pages + 16 pages)
210 x 157 mm portrait format
Ziczac hardcover bound
Printed on uncoated paper
112 images printed as duotone 500 print run
Co-edition with FiLBooks
You can buy Hayal & Hakikat: A Handbook of Forgiveness & A Handbook of Punishment here.
Lina Iris Viktor: Some Are Born To Endless Night — Dark Matter, Autograph
Accompanying Autograph's critically-acclaimed Lina Iris Viktor exhibition, this is the first comprehensive monograph showcasing the British-Liberian artist's work.
Published in a limited print run of only 750 copies, Some Are Born To Endless Night — Dark Matter is a beautifully produced, deluxe artist book with cloth cover, gilded page edges, embossed lettering in gold foil, and gloss varnished black-on-black endpapers. The book's design reflects the artist's intricate, labyrinthine patterns, her playful emphasis on different tonalities and densities of black, and ritualistic use of 24-karat gold.
In Viktor's artistic universe, black is conjured as a deeply generative force – the proverbial materia prima, the source, the dark matter that birthed everything. Her extraordinary figurative works – based on photographs, then painted over and gilded – are infused with the cultural, historical and material implications and multifaceted notions of 'blackness': as colour, value and socio-political consciousness.
The core of the publication comprises 48 works from Viktor's Dark Continent series, an imaginary riposte to the nineteenth-century myth of Africa as the 'dark continent'. In these works, a solitary female figure – naked, shrouded in black paint, her hair golden – inhabits an imaginary monochromatic landscape, its lustrous darkness punctuated by solar and lunar symbols. Each image is accompanied by a narrative title that collectively forms an extended poem.
Bringing together a curated selection of Viktor's exquisite black, gold and ultramarine blue colour works, Some Are Born To Endless Night — Dark Matter is enriched with photographs documenting Autograph's exhibition, and new texts by celebrated writers Christina Sharpe, Emmanuel Iduma and Yrsa Daley-Ward. An in-depth conversation between the artist and curator Renée Mussai is included in three parts.
This book invites you to become immersed in Viktor's meticulously crafted, bold visual cosmology – centring the black figure as the universal human form through which narratives are woven, histories entwined, and possible futures imagined.
Published to accompany Autograph's exhibition Lina Iris Viktor: Some Are Born to Endless Night — Dark Matter  (12 September 2019 – 25 January 2020).
Edited and introduced by Renée Mussai
Designed by Typographics EDT
With kind support by Mariane Ibrahim Gallery
Pages: 224
Images: 88
Dimensions: 280mm x 230mm portrait
Hardcover (black cloth)
Texts in English
ISBN: 978-1-899282-77-7 RPP: £48
You can buy Some Are Born to Endless Night — Dark Matter here.
An Attic Full of Trains by Alberto di Lenardo, Carlotta di Lenardo (ed.), MACK
At the top of Carlotta di Lenardo grandparents' house in Italy there is a room which houses the library. A hidden door amongst the bookshelves opens into a secret attic, a large room dominated by an enormous model railway, which her grandfather built and added to throughout his life.
Significant though it was for her relationship with him, one day during a family lunch he revealed her another of his not very secret passions – his enduring love for photography – and shared with her his archive of more than 8,000 photographs: a body of vernacular work capturing over half a century of life in vivid colour.
Unknown in his lifetime, Alberto di Lenardo's work offers a precursor to some of Italy's best-loved photographers, from Luigi Ghirri to Guido Guidi, with work made across Italy, the USA, Brasil, Morocco, Greece and beyond. In Carlotta's scrupulous sequencing, An Attic Full of Trains shows us a joyous cross-section of life in the 20th Century: one of beaches and bars, mountains, road trips, lovers and friends.
Swiss-bound paperback with flaps
Bilingual text (English, Italian)
21 x 14.8 cm, 232 pages
ISBN 978-1-912339-96-9
You can buy An Attic Full of Trains here.
---
Do you have a photo book, zine, or other publication that you'd like us to consider for our next PHOTOBOOK FAVOURITES? Share it with us here!
---

Not a Shutter Hub member yet? Join here  for opportunities to promote your work online and in exhibitions, access selected opportunities, events, seminars and workshops, meet up and share photographic experiences, and become part of our growing community…