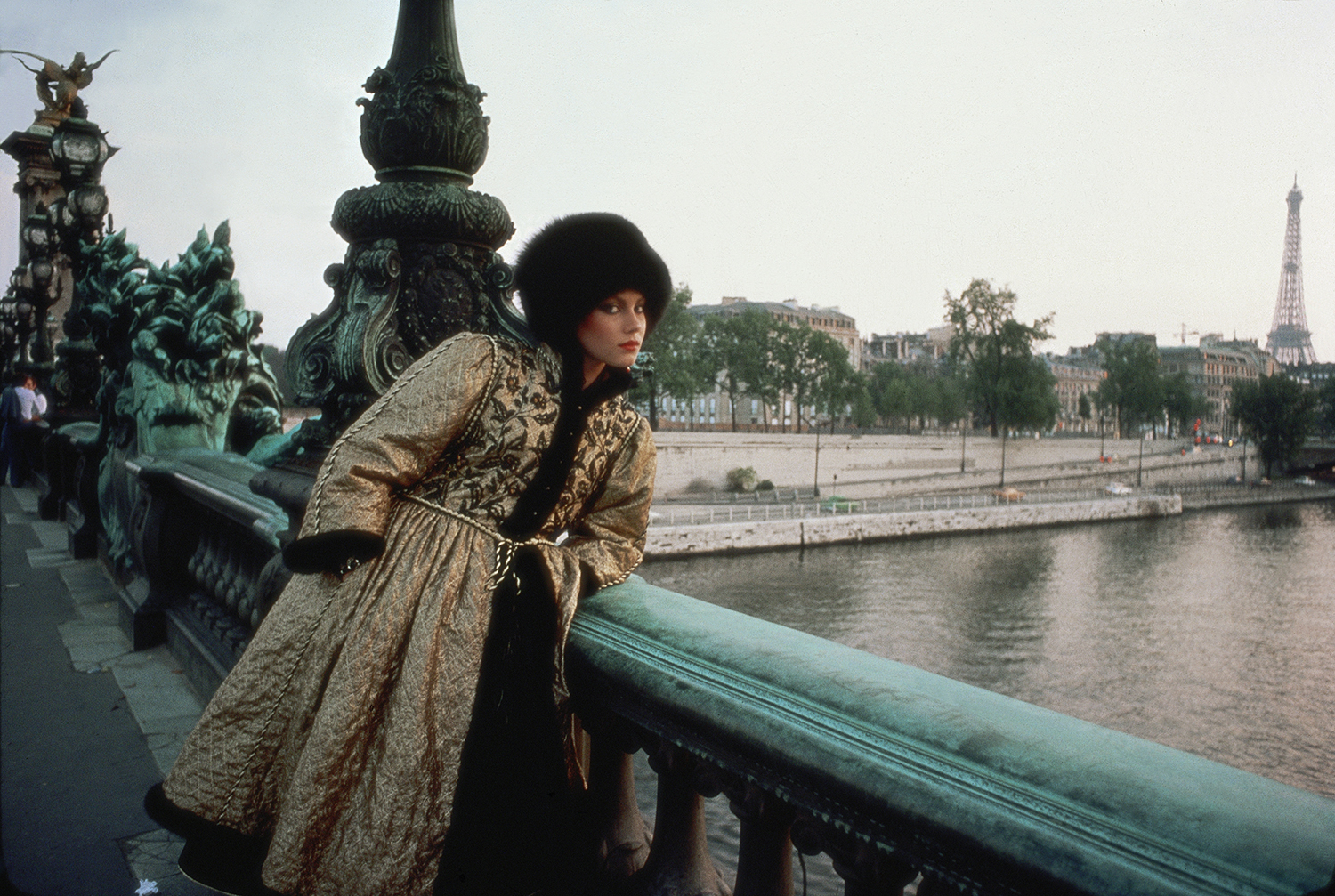 An incredible collection of Yves Saint Laurent's designs, beautifully captured by the leading fashion photographers of the 20th century
Yves Saint Laurent: Icons of Fashion Design & Photography is a gorgeous homage to the uncrowned king of haute couture. Originally published in 1988, the book traces the success of Saint Laurent's haute couture and readytowear designs from 1962 to 1988 through the lens of the world's leading fashion photographers, including Richard Avedon, Helmut Newton, William Klein, and more. Inside, 135 photographs document Saint Laurent's groundbreaking designs worn by the most beautiful women of the 60s, 70s, and 80s: Audrey Hepburn, Twiggy, Jean Shrimpton, Mounia, and Veruschka. Saint Laurent was equipped with an infallible instinct for reading the aesthetic signs of the times, and this enabled him to have a profound effect on fashion. With an introduction by Marguerite Duras, this classic volume documents Saint Laurent's ever-evolving artistry and the combined efforts of the world's most talented fashion photographers, and is as beautiful and rewarding as one of Saint Laurent's creations.
Hardback, 232 pages
ISBN-13 9781419744372
You can buy Yves Saint Laurent: Icons of Fashion Design & Photography here
Sackcloth and Ashes by Witold Krassowski, GOST
Sackcloth and Ashes is the result of a lifetime of work by Polish photographer Witold Krassowski. Although he has photographed major historic and political events which have helped shape societies across the world, he has always been drawn to photographing ordinary lives – his best-known images are the ones he took during the transformation of his native Poland following the end of communism in 1989. The disparate locations and subjects of Krassowski's work are unified by his choice to focus on the lives of common citizens rather than the elite or political entities.
This new book includes nearly 120 photographs, the earliest from the 1980s and many previously unpublished, depicting everyday lives from a diverse range of countries including Bulgaria, Tanzania, Peru, Russia, Afghanistan, Italy and Mongolia. His black and white photographs, all shot on film, show the universal markers of all our lives – the births, marriages and deaths; the grafters – lumberjacks, miners, tailors and chimney sweeps; the grit – the homeless, sick and imprisoned; and the joy – the festivals, the discos and catching of snowflakes on the tongue.
205 x 290 mm, 208 pages
117 images printed Tritone with matt inks
Hardback clothbound
ISBN 978-1-910401-40-8
You can buy Sackcloth and Ashes here
Reconciliation by S. Billie Mandle, Kehrer
For ten years S. Billie Mandle photographed confessionals throughout the United States. She visited churches in small towns and large cities, creating images that depict the visible – and invisible – traces of people, communities, histories and dogmas.
The images speak to the beliefs that define these dark rooms and shape this intimate yet institutional ritual. Photographing from the perspective of the penitent, she used a large format camera and available light, creating images that are more metaphorical than typological. As a queer woman raised Catholic, Mandle has long had a complex relationship to the Church; these photographs are part confession, part reconciliation.
»When you go to confession on a Saturday night, you go into a warm, dimly lit vastness, with the smell of wax and incense in the air, the smell of burning candles, and if it is a hot summer night there is the sound of a great electric fan, and the noise of the streets coming in to emphasize the stillness.«
– Excerpt from Confession from The Long Loneliness by Dorothy Day
Hardcover 22,4 x 28 cm
104 pages
40 color illustrations
ISBN 978-3-86828-951-0
You can buy Reconciliation here
Early Sunday Morning by Peter Mitchell, RRB Books
Early Sunday Morning by Peter Mitchell comprises of nearly 100 colour photographs of the city of Leeds taken in the 1970s and 1980s. The images, a majority previously unpublished, reveal the layers of the city's urban and social history, exposed by the rapid changes in the landscape, captured in Mitchell's singular style.
Hundred-year-old terraces and cobbled streets sit flanked by concrete flats, with newly cleared ground to either side presented with Mitchell's typical graphic framing. The images depict corner shops, betting shops, pigeon shops, factories and pubs — many adorned with archaic adverts, painted signage, or are boarded up, revealing the opens seams in the brisk transformation of the city. Each modest image is filled with detail and a sense of humanity whilst avoiding the nostalgic. Edited and sequenced by John Myers, this new book focuses on his intuitive use of colour and shows a different Leeds to his past books and the sombre ruins and rubble of Momento Mori or the detached view of The Man from Mars.
Hardcover, 250 x 300 mm, 180 pages
You can buy Early Sunday Morning by Peter Mitchell here
Photography: The Unfettered Image by Michelle Henning, Routledge
We live in a time in which photographs have become extraordinarily mobile. They can be exchanged and circulated at the swipe of a finger across a screen. The digital photographic image appears and disappears with a mere gesture of the hand.
Yet, this book argues that this mobility of the image was merely accelerated by digital media and telecommunications. Photographs, from the moment of their invention, set images loose by making them portable, reproducible, projectable, reduced in size and multiplied. The fact that we do not associate analogue photography with such mobility has much to do with the limitations of existing histories and theories of photography, which have tended to view photographic mobility as either an incidental characteristic or a fault.
Photography: The Unfettered Image traces the emergence of these ways of understanding photography, but also presents a differently nuanced and materialist history in which photography is understood as part of a larger development of media technologies. It is situated in much broader cultural contexts caught up in the European colonial ambition to "grasp the world" and in the development of a new, artificial "second nature" dependent on the large-scale processing of animal and mineral materials. Focussing primarily on Victorian and 1920s–30s practices and theories, it demonstrates how photography was never simply a technology for fixing a fleeting reality.
Softback 204 pages
ISBN 10: 1138782556
You can buy Photography: The Unfettered Image here
Theory of the Art Object by Paul Crowther, Routledge
Meaning in the visual arts centers onhow the physical work makes its content or presence visible. The art objectis fundamental. Indeed, the different object forms of each visual medium allows our experience of space-time, and our relations to other people, to be aesthetically embodied in unique ways. Through these embodiments, visual art compensates for what is otherwise existentially lost, and becomes part of what makes life worth living. The present book shows this by discussing a range of visual art forms, namely pictorial representation, abstraction, sculpture and assemblage works, land art, architecture, photography, and varieties of digital art.
Hardback 164 pages
16 Color Illus. | 35 B/W Illus.
ISBN: 9780367209476
You can buy Theory of the Art Object here
---
Do you have a photo book or zine that you'd like us to consider for our next PHOTOBOOK FAVOURITES? Share it with us here!
---

Not a Shutter Hub member yet? Join here  for opportunities to promote your work online and in exhibitions, access selected opportunities, events, seminars and workshops, meet up and share photographic experiences, and become part of our growing community…