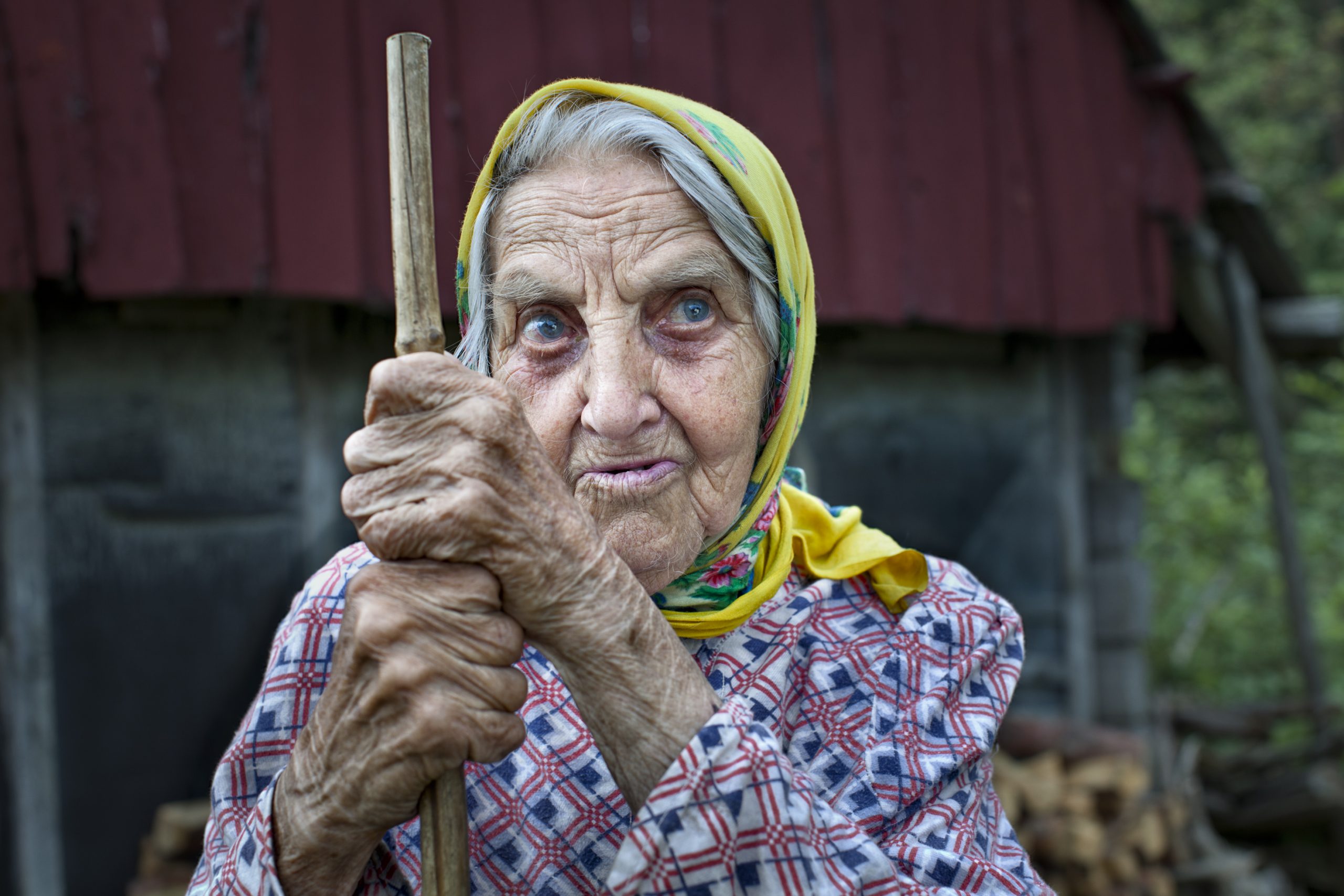 Big Heart, Strong Hands by Anne Helene Gjelstad- Dewi Lewis
Big heart, strong hands is the story of the women on the Estonian islands Kihnu and Manija in the Baltic Sea. Geographically isolated, over centuries a strong sense of community spirit and a steadfast attachment to their ancestor's customs has developed. Often viewed as the last matriarchal society in Europe, the older women here take care of almost everything on land as their husbands travel the seas.
Gjelstad has photographed the daily lives and activities of the women, their clothing, bedrooms, kitchens and farmhouses as well as the surrounding landscape – even a ceremony in a deceased person's kitchen only three hours after she had passed away. She has also interviewed the women about their lives, struggles and losses and their thoughts on the future. We learn of the development of this unique society, the harsh conditions it endured over many decades as part of the Soviet Union, as well as its culture and folk dressing customs. These are the hushed voices of culture bearers who need to be heard, for this is a small society rapidly moving towards western standards, and where traditional culture and identity is inevitably slipping away.
Anne Helene Gjelstad is a Norwegian award-winning photographer and educator whose work has been exhibited worldwide. Her passion is photographing people and for the last eleven years she has portrayed the lives of the older women on the Estonian islands of Kihnu and Manija in the Baltic Sea. For her, Big heart, strong hands, is her contribution to record and help preserve the future of this unique culture.
Hardback 256 pages
148 colour plates
Text in English and Norwegian
ISBN: 978-1-911306-56-6
You can buy Big Heart, Strong Hands here
hyle | curtain | backdrop by Anni Leppälä, Kehrer Verlag
Anni Leppälä's motives derive from memories, loss, longing, and early adolescence, seeking for an experience of connection and closeness but also for the act of recognizing something vaguely familiar through the images. Things are often veiled, hidden or turning away, but are in their own sphere of intense, remote closeness. Photographs transform their subjects and evoke a feeling of sudden recognition, that is not visible on the surface. The connections between the images are essential for Anni Leppälä's work. The narrations are not linear but can proceed to various directions and dimensions. The layout of the book refers to this way of working – images are overlapping each other, covering and intersecting with each other.
Softcover 128 pages
16,5 x 24 cm, 71 color illustrations
ISBN 978-3-86828-942-8
You can buy hyle | curtain | backdrop here
Yves Saint Laurent: Icons of Fashion Design & Photography by Marguerite Duras, Abrams & Chronicle
An incredible collection of Yves Saint Laurent's designs beautifully captured by the leading fashion photographers of the 20th century.
Yves Saint Laurent: Icons of Fashion Design & Photography is a gorgeous homage to the uncrowned king of haute couture. Originally published in 1988, the book traces the success of Saint Laurent's haute couture and ready-to-wear designs from 1962 to 1988 through the lens of the world's leading fashion photographers, including Richard Avedon, Helmut Newton, William Klein, and more. Inside, 135 photographs document Saint Laurent's groundbreaking designs worn by the most beautiful women of the '60s, '70s, and '80s: Audrey Hepburn, Twiggy, Jean Shrimpton, Mounia, and Veruschka. Saint Laurent was equipped with an infallible instinct for reading the aesthetic signs of the times, and this enabled him to have a profound effect on fashion. With an introduction by Marguerite Duras, this classic volume documents Saint Laurent's everevolving artistry and the combined efforts of the world's most talented fashion photographers and is as beautiful and rewarding as one of Saint Laurent's creations.
Hardback, 232 pages
ISBN-13 9781419744372
You can buy Yves Saint Laurent: Icons of Fashion Design & Photography here
Photographs from Another Place by Alan Ward, Dewi Lewis
In 2014 Alan J. Ward purchased a collection of 'quarter plate' glass negatives on a whim, from an Ebay seller in Brighton, that had no provenance. There are about 230 in total, dating from 1914 through to the 50s. Through a few clues offered up in the images and the original boxes they came in, he pieced together the beginnings of a substantial lost family history, that seemed strangely to parallel his own.
Through a forensic research process and an almost voyeuristic obsession with this collection, new photographic work evolved in response to the locations, subjects and objects in the images. Intrigued by the odd, and easily overlooked elements and repeating motifs of the collection, Ward explores the forgotten, lost, ordinary, and extraordinary distant voices and still lives of the archive.
The book includes a companion text by author George Szirtes, 'Gearing: a coincidence', and an interview between Alan Ward and archivist David Govier 'Unlocking the boxes' which explores the role of research in contemporary artistic practice.
Ward is an artist, designer and collaborator based in Manchester, UK. His personal projects and photographic works are based around the subject of 'place' and 'loss'. His published works include: Breaking Ground (Axis Projects) at the abandoned football ground of Bradford Park Avenue, short-listed for the William Hill Sports Book of the Year 2017; Citizen Manchester (Manchester University Press), a two year artist residency with Dan Dubowitz investigating the importance of Manchester Central Library during its refurbishment; and Telling the Fractures (Axis Projects) a collaboration with poet Helen Tookey. He has recently completed a major sculptural public art commission with artist Neville Gabie for Cambridge City Council, celebrating the birthplace of the '1848 Cambridge Rules', which helped establish the modern game of football.
Softback, 240 pages, 240mm x 170m
38 colour and 78 b&w archival photographs plus numerous contextual images
ISBN: 978-1-911306-52-8
You can buy Photographs from Another Place here
Vivian Maier: The Color Work by Colin Westerbeck, Harper Collins 
The first definitive monograph of color photographs by American street photographer Vivian Maier.
Photographer Vivian Maier's allure endures even though many details of her life continue to remain a mystery. Her story—the secretive nanny-photographer who became a pioneer photographer—has only been pieced together from the thousands of images she made and the handful of facts that have surfaced about her life. Vivian Maier: The Color Work is the largest and most highly curated published collection of Maier's full-color photographs to date.
With a foreword by world-renowned photographer Joel Meyerowitz and text by curator Colin Westerbeck, this definitive volume sheds light on the nature of Maier's color images, examining them within the context of her black-and-white work as well as the images of street photographers with whom she clearly had kinship, like Eugene Atget and Lee Friedlander. With more than 150 color photographs, most of which have never been published in book form, this collection of images deepens our understanding of Maier, as its immediacy demonstrates how keen she was to record and present her interpretation of the world around her.
Hardcover, 240 pages
ISBN: 0062795570
You can buy The Color Work here
Oliver's Birds by Oliver Hellowell
Oliver doesn't only snap birds; his camera shutter also clicks closed for the play of light across rippling water, the mist rising off a wood in early spring and the rolling Somerset hills where he was raised. But birds are a favourite subject of his, and his camera never fails to do them justice. Oliver's sensitivity to lighting, colour contrast and mood imbues each picture with a unique atmosphere, resulting in precise shots of professional quality. The birds' glossy eyes, their beaks, the intricate patterns on their feathers and the texture of their down have all been captured with a patience and skill that is admired by dedicated fans from all across the world.
Meet Oliver – a twenty-two-year-old photographer with a brilliant eye for bird photography, who also happens to have Down Syndrome. First picking up his camera at eleven, he has since sold photographs at exhibitions, collaborated with personalities such as television presenter Iolo Williams, and BBC Wildlife cameraman and photographer Richard Taylor Jones, gained a following of 60,000+ on Facebook and won the National Diversity Award for a UK Role Model for Disability.
175 mm x 215 mm
Hardback, 156 pages
ISBN: 9781788840101
You can buy Oliver's Birds here
Best Buildings Britain by Matthew Freedman, Luster
Best Buildings Britain is the third title in the Best Buildings series, following Best Buildings Belgium (2018) and Best Buildings Holland (spring 2019). In this guide, Matthew Freedman presents 75 buildings completed after 1918 in Great Britain, each accompanied by a photo and a short text. The selection is based on the top ten lists of renowned British architects and architecture critics, including great names like Norman Foster, Piers Gough, Charles Holland, Jonathan Meades, Alice Rawsthorn and Richard Rogers. From their lists comes a surprising mix of 'best' buildings, from applauded contemporary projects such as the London Aquatics Centre, to impressive must-sees such as Highpoint in Highgate (London) or Marine Court in St Leonards-on-Sea, up to brutalist gems such as Preston bus station and the National Theatre. The book also features the full lists with all of each contributor's ten favourite buildings.
---

Not a Shutter Hub member yet? Join here  for opportunities to promote your work online and in exhibitions, access selected opportunities, events, seminars and workshops, meet up and share photographic experiences, and become part of our growing community…