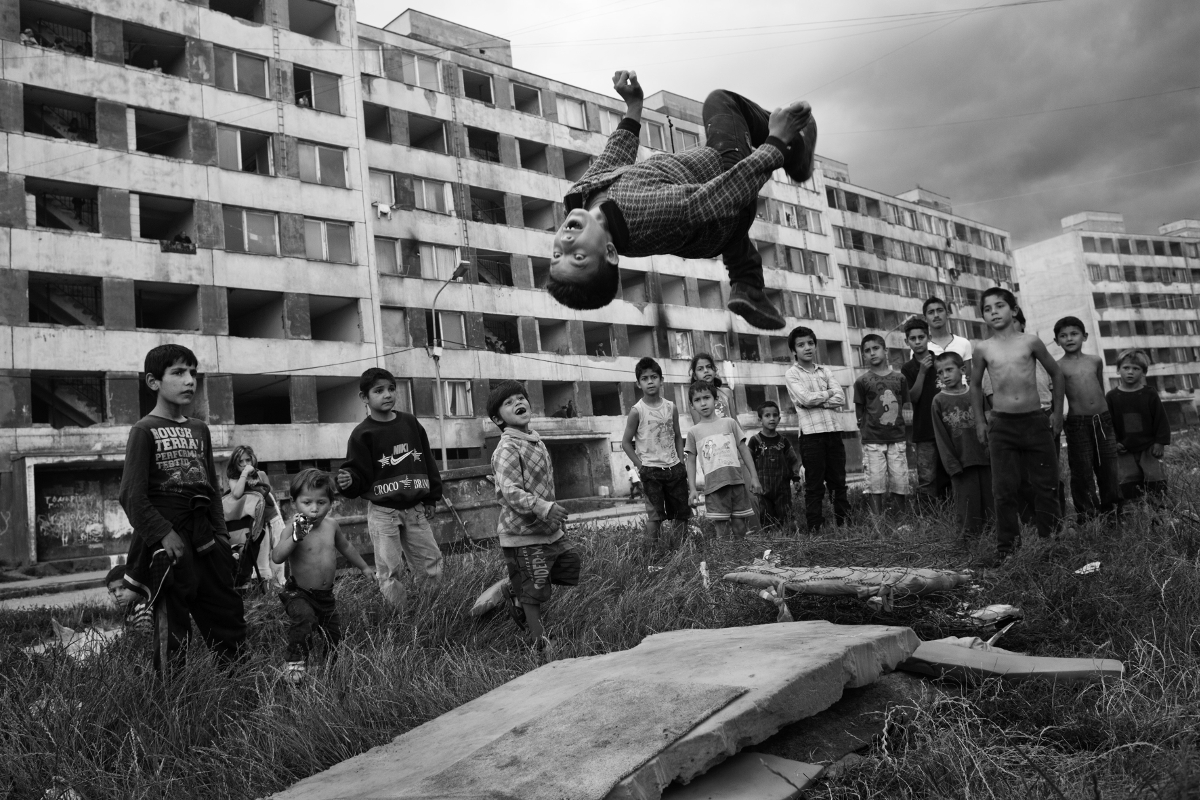 Summer is well and truly here, and it's time we shared some of the wonderful photo books we've been reading over the last few months.
Whether you're looking for a good holiday read, or you're after some photographic inspiration, read on to find out about our latest favourites, with some descriptions from the publishers and some thoughts from us too…
Non Grata. Åke Ericson. GOST Books
THEY SAY:
Since 2009, Swedish photographer Åke Ericson has been documenting the everyday lives of Roma people across Europe. The resulting photographs create an honest portrait of a community 'Non Grata'. Latin for "undesirable" or "not welcome" Ericson's title suggests the discrimination many Roma face in daily life due to their last name or complexion. These photographs will be published for the first time in this new book, Non Grata, to coincide with an exhibition of the project at Atelier für Photographie, Berlin from 26 April – 24 May 2018 and at La Moulinette Gallery, Paris from 20 September – 7 October 2018.
'In the summer of 2009 I found myself in the city of Breclav in the south of the Czech Republic. Here I learned that the mayor had evicted two Romani families from their homes – in a city where they had lived for several generations – to make space for a new shopping mall in their neighbourhood… This was the beginning of my documentary photographic project about the Romani people of Europe and their living conditions. They often live outside of society without human rights: social, political, cultural and economic. My aim with this photographic series is to reach beyond the clichéd image of the Romani. I do not only want to show the repression and misery under which great numbers of Romani live. My story is also about the Romani who are integrated in European everyday life.' Åke Ericson
The Romani people have held a long fascination to photographers and countless series of work have been produced on the estimated 10-12 million Roma population of Europe. Ericson's project differs from the many through its scope, duration and ambition. So far, Ericson has documented the lives and struggles of the Roma people in France, Serbia, Kosovo, Romania, Sweden, the Czech Republic, Slovakia, Hungary, Spain and Switzerland – twice the number of countries included in Josef Koudelka's landmark photographic essay on the Roma 50 years ago.
Non Grata journeys from settlements such as Lunix IX outside Kosice in Eastern Slovakia to areas of Spain where Romani children attend regular school and can climb the socio-economic ladder, and Romani culture is large accepted by much of the population. Ericson attempts to show not only the reality of a displaced community but also the positivity and creativity which exists within.
WE SAY:
Ake Ericson's work in Non Grata covers a timeframe of over eight years, during this time he photographed the everyday life and events of the Romani community across ten different countries. The title itself reflects his desire to be inclusive and look at the lives of displaced families and communities, Non Grata is Latin for undesirable or not welcome.
The images are gritty, close up, often blurred, there is an immediacy and rawness to the work. His approach gives the feeling of urgency in capturing a moment, of being there with him which enables the telling of this story as it unfolds. Images are often at odd angles, awkwardly framed, snatched moments which bring the viewer right into the scene.
The book itself carry's the weight of its message, it's materiality has substance with the use of heavy weight matte paper, fine printing and a saddle stitched spine.
The longer timeframe of the project gives a sense of depth to the book, a sympathetic selection of images from what must have been a challenging editorial process. This is a journey you take alongside him to observe and experience something of a marginalised culture.
Non Grata by Åke Ericson
Published by GOST
Hardback clothbound
230 x 305 mm portrait format, 140 pp, 67 tri-tone illustrations
ISBN 978-1-910401-18-7
Non Grata was reviewed for Shutter Hub by Lynne Connolly.
ObjectImage. Sarah Tulloch. Daylight Books.
THEY SAY:
ObjectImage is a poignant approach to the physical material of a photograph and a re-imagination of it into new forms.
ObjectImage roots itself in album collections of the artist and others that are linked to the social tradition and history of documenting family. Through collage, Tulloch maintains a thread between past and future with her ability to form new connections within the image composition. The work continues to evolve, including through its usage of contemporary newspaper images. Tulloch's use of photomontage allows her to refocus the media, recompose the image and ultimately to rediscover and repurpose the photographic subject.
WE SAY:
ObjectImage by Sarah Tulloch is very much a special 'object' in its own right – with its exposed spine and long, bold stiches running throughout, and back cover 'cut out' segment, this incredibly tactile book is designed and constructed perfectly to compliment Tulloch's work.
Working with found images, Tulloch uses scalpel incisions to deconstruct and reposition the elements to create new objects and images from them. ObjectImage beautifully catalogues Tulloch's work as it develops, initially using her own family archive, then historic postcards and now newspaper cuttings. Complete pieces are shown alongside blown-up sections where we can really see the detail and get a sense of the texture of the pieces, and consider – why were the incisions made where they were? What was removed? Why were they placed together in that way?
Accompanied by insightful text from Matthew Hearn and an in-depth interview with Sarah Tulloch by Marjolaine Ryley, this is a fascinating exploration of Tulloch's practice and a stunning work of art in itself.
ObjectImage by Sarah Tulloch
Published by Daylight Books
Paper Over Board
7 X 9 1/2 In, 128 Pages, 40 Colour Photographs
ISBN 9781942084372
ObjectImage was reviewed for Shutter Hub by Jayne Lloyd.
Wild West. Joachim Hildebrand. KEHRER.
THEY SAY:
What better way to approach an American myth than through a road trip? Joachim Hildebrand traveled through the seven states of the American Southwest, in which the Wild West is located both geographically and in our imagination. The title of the book inevitably evokes images full of clichés and stereotypes. Today, where the wilderness has been displaced by civilization, Hildebrand discovers entirely different scenes than those generally associated with the Wild West and the American frontier. He sets his sight on blurred contours, contradictions, borders, and transitions: from architecture to nature, from urbanity to landscape. The archetypes of the American West have become mere platitudes. Here, the myths of the Wild West and the "manifest destiny", which are so essential for the self-understanding of the USA, are deconstructed. For Joachim Hildebrand, however, the West continues to fascinate as a visual adventure.
WE SAY:
A chubby hedge takes shelter under a concrete porch and tall trees stretch their necks to peer over a fence, whilst palm leaves create bird-like shadows on walls.
Everything suggests that there is human life here: there are lights on, cars parked, clues of existence, but at the same time, I'm reminded of those images of manmade disasters where eventually nature reclaims the land.
This is the American Southwest like you've never seen it before. Only the illusions of cowboys and the pioneers of the frontier remain.
Each page turned gives us a new juxtaposition of colour, form, scale. The wealth of space and the ability to create in any size leads to disproportion in isolation – as if there's nothing to measure against, apart from the vast skies. 
Nature mimics the human-built arrangements and sneaks its way into spaces, bringing curves to straight lines and softness to the harsh contrast of manmade construction. The manmade and the natural create borders, distinctly merging with each other before nature re-stakes its claim and man moves on to the next city.
Pictures with people in them are scarce in this book. Very occasionally we're offered an image and a perspective on human interaction, albeit a rather awkward and ungainly one. In one image a man photographs a woman atop a mountainous rock, whilst behind her another man stomps his way to the edge to take his own photograph of the view. In another image, two couples stand, behind a fence, sheltered by, or perhaps drawn to, a wide palm tree. In the vast landscape people still gather together.
The simplicity of Joachim Hildebrand's images are what makes the story so complex. There's something recognisably neat and orderly, whilst eerie and surreal, on every page. This is the Wild West.
Wild West by Joachim Hildebrand
Published by KEHRER
Half-cloth hardcover
24 x 32 cm, 128 pages, 81 colour illustrations.
Available in English and German
ISBN 978-3-86828-866-7
Wild West was reviewed for Shutter Hub by Karen Harvey.
Orbit. Renato D'Agostin. IIKKI Books.
THEY SAY: 
IIKKI  is a french edition project which is the result of a dialog between a visual artist and a music artist. The books are focused on a fine art book which work as series with three publishings by year.
Each publishing works in two physical imprints, a fine art book and a disc (vinyl/cd). 
It should be experienced in different manners : 
the book watched alone

the disc listened to alone 

the book and the disc watched and listened to together. 
Renato D'Agostin was born in 1983. He started his career in photography in Venice, Italy in 2001. The atmosphere of city life nourished his curiosity to capture life situations with the camera. For this, in 2002, he journeys through the capitals of Western Europe. After a period in Milan where he worked with the production studio Maison Sabbatini, he moved overseas exploring photography in New York. In the dynamic city life he had the chance to meet photographer Ralph Gibson and later on become his assistance.
In 2007, he presented Metropolis at the Leica Gallery in New York. Other exhibitions followed in The United States, Europe and Asia in the years after. His works have been published in numerous books and some of his prints have in the years become part of public collections such as The Library of Congress and The Phillips Collection in Washington DC, the International Center of Photography in New York, as well as LACMA in Los Angeles, the Center for Creative Photography in Arizona and the Maison Europeenne de la Photographie in Paris among others.
Dislocating subjects from their realities, he depicts his perception of the space around him, the relationship between the architecture and people, opening a new portal in the spectator's imagination.
Scott Worthington is a double bassist and composer based in Los Angeles. As a performer, he plays in chamber ensembles, orchestras, recording studios, and as a soloist. His music has been commissioned by the Library Foundation of Los Angeles, Loadbang, the Ekmeles Vocal Ensemble, and numerous soloists. As a performer-composer, Worthington has released two albums to critical acclaim on Populist Records. The most recent, Prism, features his own music for solo bass with electronics and bass ensemble and was named one of The New Yorker's top ten classical albums of 2015 by Alex Ross. In 2017, Worthington became the principal bass of the Redlands Symphony and the Artist Teacher of Bass at the University of Redlands.
Initiated by IIKKI, between September 2017 and January 2018, Orbit is their dialog.
WE SAY:
Orbit is the 5th edition in the series by IIKKI books which brings together a visual artist and a musician in dialogue, creating a book and accompanying vinyl.
Previous books in this series have been things of beauty, and Orbit doesn't disappoint. The cover has a gorgeous grainy texture, and the subtle, minimal image intrigues the reader. I say 'reader', however, there is very little reading here – the images are left un-captioned and un-described, allowing the viewer to form one's own interpretation, to come to one's own conclusions, to have one's own unique experience.
And what an experience it is. On opening the book I am immediately struck by the composition of the images – images that are defined as much by space as by subject. There is a gentle minimalism, a delightful harmony between shape and space, light and shadow. There is a sense of expansiveness, of huge empty skies and wide horizons. Humans feature, but faces are obscured, blurred, people appear as tiny silhouettes or shadows, swallowed by the landscape and atmosphere.
Abstracts nudge against more recognisable images, but regardless of subject matter, each photograph is astonishing in it's composition. I could happily spend hours just looking.
The accompanying music, by Scott Worthington, adds a further layer of depth to the experience. As minimal and understated as the images, the long, drawn out notes encourage a slowing down, a lingering. There is a timelessness to this work, a sense of something deep, and profound, and endlessly expansive. For a while, I forget about time, and just look, and listen, and let my heart resonate with the beauty of it.
Orbit by Renato D'Agostin
Published by IIKKI Books.
Hardcover book
Limited edition to 700 copies, hand numbered & hand stamped
16.5cm x 24 cm on Munken Print, 96 pages, 59 photos, printed on Amber Graphic 150g/m2, duotone/bichromy processing, logo, slot and circle embossed.  
Orbit was reviewed for Shutter Hub by Rachel Wright.      
London Nights. Anna Sparham and Inua Ellams. Hoxton Mini Press.
THEY SAY:
In the glow of the night, the vibrancy of London meets a quiet stillness.
This collection of historic and contemporary images features work from over 60 photographers who reveal the city after hours: unnerving, beautiful, eerie, energised – sometimes all at once. Step into the night and discover a darker, richer side to the capital.
The book contains essays by Museum of London's Curator of Photographs, Anna Sparham, poetry by award-winning poet and playwright Inua Ellams, and over 100 images from the exhibition that span the genres of architectural, documentary and portrait photography. Includes work by Bill Brandt, Bob Collins, Brian Griffin, Tish Murtha, Tim Peake, Rut Blees Luxemburg, William Eckersley, Dougie Wallace, Nick Turpin and many more.
London Nights is published in conjunction with an exhibition of the same name, running 11 May – 11 November 2018 at Museum of London, 150 London Wall, EC2Y 5HN.

WE SAY:
London is a mythical place in many ways, inspiring fascination and loathing in almost equal measure, often within the same person. A chaotic amalgam of history and cutting edge modernity, tradition and trend-setting, clichéd Britishness and heaving multiculturalism, London is a city of many faces. It's easy to overlook the fact that many of these faces are only seen at night, when the city takes on another character entirely. You know this instinctively of course, as you hurry home late through the park after work in a way that belies the Sunday morning strolls you enjoy along the same paths, your steps quickened by an implicit fear of what might be lurking in the shadows. The night is a stage for the telling of stories that are too personal, too fragile to survive in the glare of daylight. The hopeful lover on a first date, the creeping graffiti artist and the nurse pacing the ward while her patients sleep, are all players in this nocturnal drama. In a city as infinitely diverse as London how do you begin to collate the visual surfaces of these tales to tell a coherent story of this great city?
This challenge is jointly taken up by this book and the exhibition it accompanies, of the same title, which is currently showing at the Museum of London until November 11th. The book brings together a collection of historic and contemporary images from more than 60 photographers who all seek to reveal something of this city after dark.
In their own way, using a variety of photographic techniques through the years, one of the most striking themes is of the permanence of the city itself. Famous landmarks stand firm, captured first by the tentative efforts of late 19th century photographers boldly seeking to stretch the parameters of photographic practice at the time, and still form the backdrop to nocturnal imagery created today, silent witnesses to a century of London nights. By including images from seminal night photographers such as Paul Martin and Bill Brandt, alongside modern work from the likes of Blees Luxemburg, David George and William Eckersley, the book persuasively illustrates that these modern practitioners have built on foundations that were laid years ago and also does a great job of representing the variety of styles of work created by those who have chosen the night as their primary visual language. As such, London Nights is not only interesting from a historical perspective, but also as a potent advocate for the practice of night photography itself, in its many forms.
As always with Hoxton Mini Press, the book is a handsome object. Beautifully-bound and printed, the evocative poetry of Inua Ellams welcomes you to each of the book's three sections with the interpretative text of the show's curator Anna Sparham interwoven throughout. The images are given enough space to do them justice, while also I would say leaving you wanting to see them in their richest glory. For that of course you'll have to visit the exhibition and I would urge you to do so, because together the book and exhibition make an eloquent pair telling the captivating tale of the eclectic cultural and aesthetic complexion of the capital at night.
London Nights by Anna Sparham and Inua Ellams
Published by Hoxton Mini Press
Book design by Frederike Huber
208pp hardback, navy cloth spine, yellow foil, 228 x 173mm
ISBN: 978-1-910566-34-3
London Nights was reviewed for Shutter Hub by Justin Carey.
The Illusion of Purpose. Victoria J. Dean. Another Place Press.
THEY SAY:
Technology is restructuring our communication methods, transforming our perceptions and interactions with our environment, and rendering the physical realm comparatively cumbersome and slow. Disconnected from the modern digital world, these material structures and the systems in which they once functioned are obsolete. With the simplicity and directness of a symbolic form, each structure withholds its message, alluding to a relic from a forgotten language.
The Illusion of Purpose explores ideas of materiality, monumentality and the sculptural, questioning the relevance of the physical in our increasingly virtual age, and in a world of communication hijacked by technology.
WE SAY:
I knew immediately I saw the images, they should be a book. The Illusion of Purpose, a family of shapes and forms, linked together like second cousins. Communicating through their own language, a dialect almost lost, almost unrecognisable.
The structures will age, their once importance will fade and they'll become relics of something long gone. The language will be lost forever.
One of the first photo books I ever bought was Bernd and Hilla Becher's Basic Forms. I'm fascinated by structure and scale, I'm in love with cement works and factories on docks with huge pulleys and everything sized in giant proportions.
I spent my childhood admiring left over constructions; playing in pillboxes and bunkers, trying to work out how I could turn a grain silo into a home. As an adult I tried to buy a water tower and lusted after an underground nuclear bunker (until I realised someone might block my escape hatch and I'd be stuck down there eating beans and recycling my own water).
These images are for me. These structures with their strange language and quirky nature make my heart sing. This book speaks to me – but I wish it would speak more, or perhaps, that I could understand more of what it's saying. The visuals bring me great joy, the almost dunce's hat cone, the columns and pillars, and choices of brick, or stone, and paint. I'd like to know more.
I don't want their address, or directions, I want an ordnance survey coordinate and an adventure. I want to know their purpose, their date of commission, who built them, their use and when or if they were decommissioned. Are they listed? Will they stay forever? Do they belong to someone, or to each other?
What kind of story will they tell the future generations when the dialect is unrecognisable, and the language is lost forever?
The Illusion of Purpose by Victoria J. Dean.
Published by Another Place Press.
Softcover, Fedrigoni papers: 350gsm Satin cover, 170gsm Uncoated text
Edition of 150
48 pp / 230 x 190mm
ISBN 978-1-9997424-8-5
The Illusion of Purpose was reviewed for Shutter Hub by Karen Harvey.
Big Brother. Louis Quail. Dewi Lewis Publishing.
THEY SAY:
An estimated 1 in 4 of us will suffer from a mental illness during our lifetime. Those suffering have to face a wall of stigma and stereotyping which can often make their condition worse.
Big Brother is an intimate photographic portrait of Louis Quail's older brother, Justin, and his daily struggle with schizophrenia. The condition is severe and Justin has been sectioned three times in his life. Yet, as the book shows, there is much more to him than his illness. He has interests, hobbies (painting and poetry and especially birdwatching). He also has love; he has been with his girlfriend, Jackie, for over 20 years.
By showing the person beyond the illness, Big Brother challenges stigma head on. It reveals a system in crisis; under resourced and creaking under the weight of its own bureaucracy, but it also discovers important truths on the nature of resilience. At its heart, though, Big Brother is a love story.
The book includes extensive texts to tell Justin's story. The complexity of his life is reflected in the complex structure of the book which incorporates a number of inserts that provide a deep insight into Justin's world through extracts from medical reports, police records and from his own notebooks. The book also includes many of Justin's drawings and paintings as well as a separate booklet featuring both these and his poetry.
WE SAY:
Louis Quail's Big Brother gifts us a beautifully crafted insight into the world of schizophrenia via his elder brother Justin, 59 from south London. Shot over the course of six years, the project began after the death of his mother who also suffered from the condition. Like a lot of mental health disorders, schizophrenia is often misunderstood but is known to display symptoms such as false beliefs, 'abnormal' social behaviour, inability to think clearly and the hearing of voices.
There are some particularly stand-out portraits in the book, such as Justin re-visiting a closed mental health centre where he was treated for 20-odd years. The impact of Government cuts to services like this can't help but make you think of how families cope daily with the realities of people requiring social care and mental health facilities.  Justin's long-term girlfriend who likes 'a bit of a drink' also appears several times in striking images depicting her vulnerability and fragility. Despite her best efforts, she doesn't overshadow Justin.
As well as yoga and meditation, Justin Quail commits a lot of his time to the pursuit of bird watching, making him what's known as a 'twitcher' and a poetic and artistic twitcher at that. Scattered throughout the portraits of Justin are drawings and sketches of birds (and later a self-portrait), all spilling with colour, comprehensive notes on his bird spots, poems and touching quotes such as his response to why he loves bird watching; 'the birds that you see reflect the earth back inside of yourself, they reflect the earth back in you' .
Extensive police and health care notes, all obtained via the Data Protection Act, are essential elements of the narrative. Louis's story-telling is sensitive, full of trust and eye-opening. It's easy to see why this series of images won him several plaudits and prizes before finding its way to the printed page. You will effortlessly find yourself being drawn to Justin and his story, just as much as Louis' delicate and poignant photography. This book is something that stays with you for quite some time.
Big Brother by Louis Quail
Published by Dewi Lewis
Hardback
196 pages, 36 pages inserts, 16 page booklet, extensive texts, 146 colour photographs drawings and paintings
260mm x 197mm
ISBN: 978-1-911306-31-3
Big Brother was reviewed for Shutter Hub by Laura Ward.
The Portraits. John Myers. RRB PhotoBooks.
THEY SAY:
Myers work was shot throughout the 1970s in the West Midlands, and his pictures have a uniquely British feel to them. The Portraits will be the only complete collection of Myer's portraiture work ever published, and we are excited to be bringing this master of portrait and setting to a wider audience. The Portraits is limited to 450 copies; each copy of the book will include a 5×4" original silver gelatin print. In addition, copies 1-50 will also contain a 10×8" silver gelatin print. There is a separate portfolio edition of 8 with accompanying presentation box of 12 9.5×12" silver-gelatin prints. Both the 10×8″ print and the set of 9.5×12″ prints are selenium-toned.
John Myers was born in 1944. His photographs were taken between 1972 and 1983 using a 5 x 4 inch Gandolfi plate camera.
WE SAY:
John Myers – The Portraits is collection of black and white portraits taken by Myers on a 5x4in Gandolfi plate camera (and a few on a Mamiya C220) in and around Stourbridge in the West Midlands, between 1972 and 1983.
Understated but elegant, the design of this cloth-bound book is well thought out and filled with beautifully reproduced photographs at the perfect size for picking up and flicking through or for examining the finer details.
The portraits are presented with extremely limited information – a name or a job title and a year. We know nothing about these subjects other than that they were all captured within walking distance of where Myers lived – some he knew, some he met on his travels. It gives a great sense of mystery, making us use the visual clues in their surroundings to imagine who they were at that time, glimpses into the sitters' worlds – the style of clothes and interiors so much of that time, magnificent houseplants, a rug so treasured that it adorns the wall as well as the floor, a shop Santa Claus with a cotton-wool beard. A wonderful record of a section of Middle-English life in the 1970 and 80s.
The Portraits by John Myers.
Published by RRB PhotoBooks
Hardcover
250 x 285 mm
176 pages
ISBN 9781999727512
The Portraits was reviewed for Shutter Hub by Jayne Lloyd.
Touch Dissolves. Yusuf Sevinçli. IIKKI Books.
THEY SAY: 
IIKKI  is a french edition project which is the result of a dialog between a visual artist and a music artist. The books are focused on a fine art book which work as series with three publishings by year.
Each publishing works in two physical imprints, a fine art book and a disc (vinyl/cd). 
It should be experienced in different manners : 
the book watched alone

the disc listened to alone 

the book and the disc watched and listened to together. 
"Yusuf Sevinçli does not linger. He walks, he explores, he observes, he shoots and he leaves again. He collects almost obsessively scraps of reality which are always different, but they can finally find an analogy and eventually become a series of images. It 's a picaresque concept of photography, almost homeless, which rejects the stability and serenity of a home, albeit virtual, embracing instead the road and the people, animals (from dogs to insects), objects that live in it and make it alive. Subjects become patches that eventually assemble together to reveal a texture, which is the representation of reality through the artist's eye. Emotionality digress the beaten tracks and take the street, returning us its true essence."
(Santi Oliveri | Filles Du Calvaire)
​Aaron Martin began his musical life at age 11, switching between guitar and drums. At the age of 17, he decided to change paths and learn how to play cello, which he went on to study in college. While earning his music degree, he began to experiment with recording. After creating several self-released collections of music, and graduating from college, he recorded Almond, which caught the attention of the Australian label Preservation, and became his debut release. He has gone on to record two more albums for Preservation, River Water and Chautauqua, as well as one album for Experimedia called Worried about the Fire and most recently Comet's Coma forEilean Records, and A Room Now Empty on Preserved Sound. He has also collaborated with a variety of other musicians, including Machinefabriek, Part Timer, Dawn Smithson (as Winter's Day), Dag Rosenqvist (as From the Mouth of the Sun), and Christoph Berg with releases on Type, Dronarivm, Facture, and Under the Spire Recordings. Aaron Martin lives and records in Topeka, Kansas. 
​Initiated by IIKKI, between January 2018 and May 2018, Touch Dissolves is their dialog. 
WE SAY:
Touch Dissolves is edition 006 of the collection from IIKKI, which brings together a visual artist and musician to exchange in a dialogue, creating a book and accompanying vinyl/CD.
At first glance, Touch Dissolves looks very much like Orbit, reviewed above. Both are part of a series of three books within the IIKKI collection, focusing on black and white photography, and have a very similar outward appearance – beautifully tactile cover with subtle and intriguing imagery. However, on opening the book, I quickly become aware that I am entering a very different world. Where Orbit is gentle, minimal, composed; Touch Dissolves is raw, vibrant, and at times quite unsettling. There is a jolting juxtaposition between dreamy, abstract images, and striking, unnervingly real portraits that stare unflinchingly out of the page. The images are strange, and beautiful, and mysterious, at times uncomfortably intimate. Nothing sits still here. All is movement and motion and unrest, fleeting moments captured. I'm left wanting to know more – who are these people, where are these places? As ever with IIKKI books, text is at a minimum, and it is left with the viewer to simply look, and wonder.
The accompanying music, by Aaron Martin, adds to this sense of movement, but also brings a lightness that the imagery alone lacks. Viewing the images alone felt slightly uncomfortable at times, but with the music alongside, this discomfort transforms into a feeling of expansiveness; brooding melancholy gives way to a feeling of hope and possibility.
As with the previous books in the IIKKI collection, there is an intangibility to this work, that allows space for a unique and individual experience.
Touch Dissolves by Yusuf Sevinçli
Published by IIKKI Books
Limited edition to 500 copies, hand numbered & hand stamped.
Hardcover book (24 cm x 16,5 cm) on Munken Print, 96 pages, 66 photos, printed on Amber Graphic 150g/m2, duotone/bichromy processing, logo, slot and circle embossed, matt laminate soft touch finish.  
Touch Dissolves was reviewed for Shutter Hub by Rachel Wright.