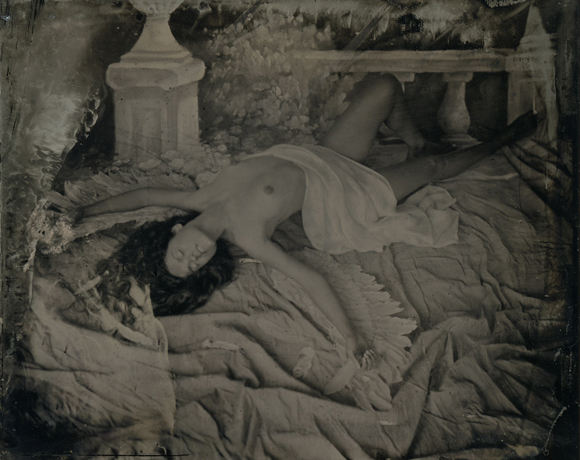 The 7th Passion For Freedom art festival will open in London on Monday 21 September at its new home in the Mall Galleries. The exhibition will showcase uncensored art from the UK, Europe and around the world which aims to promote human rights, highlight injustice and celebrate artistic freedom of expression.
Amongst the artists taking part is Shutter Hub member Nicolas Laborie, who is nominated for his wet plate collodion series ICARUS (image above The Fall is one of the works nominated). He said:
I'm very excited about being involved. Last year I was nominated for my Lilith`s Spell series on wet plate collodion – a work about the first feminist on earth and the series was very successful. I'm lucky enough to once again been selected to this year Passion for Freedom award for this new work.
The series is inspired by the Greek mythology of Icarus and looking at the price of female freedom in today's world, as Laborie explains:


Icarus was the son of Daedalus, a master craftsman, who dared for fly too near to the sun on wings made of feathers and wax. After building the Labyrinth for King Minos with his father, they both were imprisoned in fear to reveal its secret. Daedalus warned his son Icarus not to be too ambitious and fly too close to the sun but the wax melted and he fell into his death.


The Icarus complex is very much still alive and after completing my previous series "Lilith Spells" inspired by the first feminist creature on earth; I saw many female forms and bodies suppressed by social media censorship. Many movements were created out of it like free the Nipple, Topfreedom, Femen calling for freedom of expression against sexism and for equality. In art, nudity has been depicted for centuries from the beginning of time….Lilith and Adam both were nude in their representations. The nipple has been outcast, suppressed, denied and misunderstood…such a beautiful creation now outlaw falling sky high from a so call free society.


Passion For Freedom was started in London by a small group of friends who shared a goal of achieving basic human rights for every person in the world and decided to use art as both their weapon and their shield. Predominantly young women, they also seek to highlight the hypocrisy in the West when it comes to the female body. Over seven years the festival has shown works from over 600 artists representing 56 countries. This year at the festival there will be collection of 12 films, 6 books, 6 journalists and around 75 artworks from all over the world.
Every year there is a Gala Ceremony which will this year close out the event. Three artists will be nominated for General Awards and three films will receive Freedom Film Awards. The audience will vote for their favourite piece of art for the People's Choice Freedom Award during the Gala Ceremony.
The festival Director Marianna Fox said:
Every day around the world, artists risk their lives for freedom of expression. Many of the artists we feature are in hiding, in jail, or are forced to create their work under a pseudonym to protect themselves and their families. They bravely continue to produce works of art that challenge us despite constant threats.
The exhibition will take place at Mall Galleries, The Mall, London SW1 between 21 and 26 September, and the Award Gala Ceremony will be on the Friday 25th September.
You can find out more about the festival here.
You can see more of the work of Nicolas Laborie at his Shutter Hub profile.
Do you have news you want to share? Drop us a line at submissions@shutterhub.org.uk.