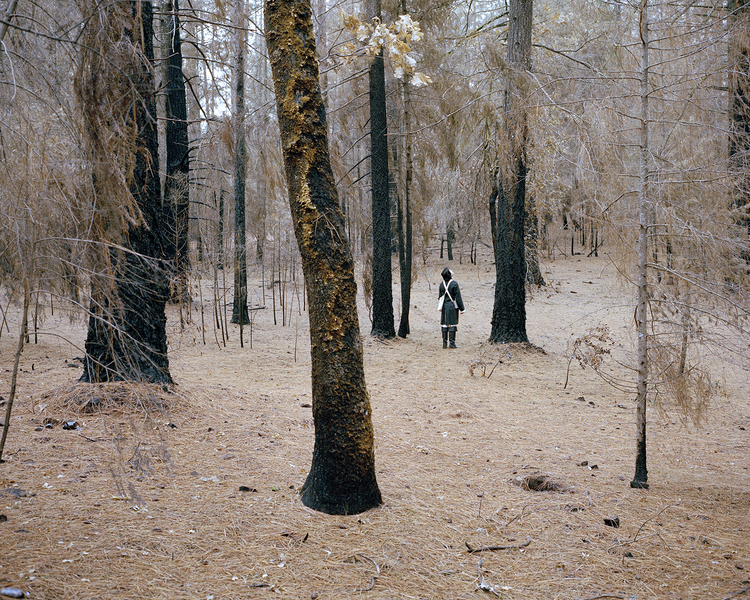 Occupied Landscapes draws together the work of four photographers whose work is concerned with the human occupation of the land. In a series of talks and conversations, the symposium will consider how our relationships to place can defne us, how places contain our memories and stories, how they seize our imagination, how they bind us and how they implore us to move on.
In following Leo Goddard's peregrinations through the East Midlands, Clare Richardson's exploration of distinct but marginal communities in the US and Romania, David Spero's documentary photographs of sustainable settlements around Britain and Melanie Eclare's examination of a community coping with the aftermath of forest fre in California, the symposium will reveal diverse experiences of landscape and ongoing dialogues with nature that continue to shape contemporary cultures.
Occupied Landscapes is convened by John Spinks (photographer and PhD student) and David Chandler (Professor of Photography,) and organised by the Photography Research Group.
This free event will take place at Plymouth University on Wednesday 27 April 2016, 1pm to 5-30pm. It will be held at Jill Craigie Lecture Theatre, Roland Levisnky Building, Plymouth University. Free event, no booking required. You can find out more about the Photography Research Group here.
Do you have photography events to share? Let us know at submissions@shutterhub.org.uk.