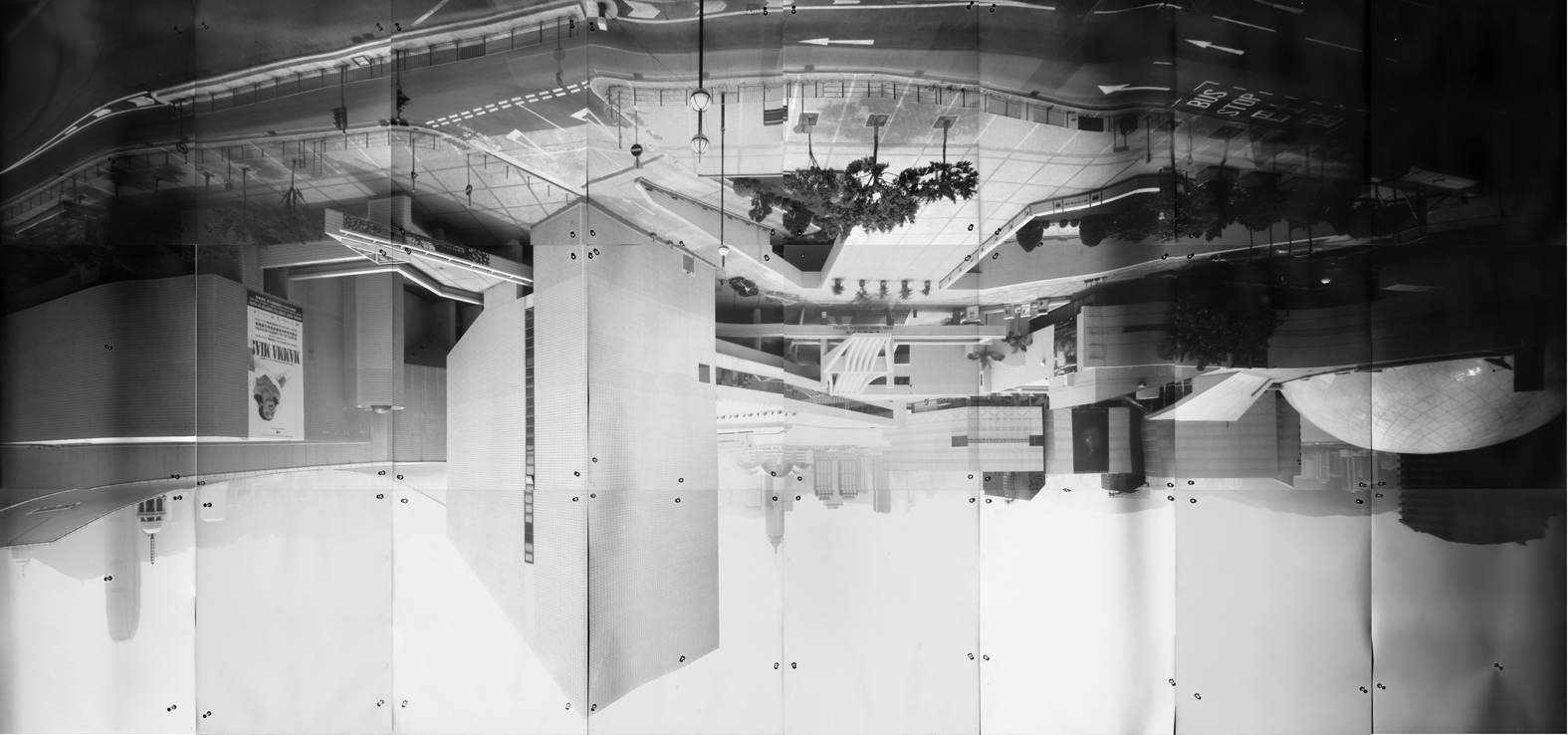 .
LOOK/17 – Liverpool's international photography festival – takes place at venues across Liverpool from 7th April to 14th May 2017.
Returning in its tenth year, this year's LOOK festival is exploring Cities of Exchange. The festival, the largest photography festival in the North, this year commissioned new works from a number of artists based in the UK and Hong Kong, exploring various themes including urbanism, social housing, architecture, commerce and colonialism.
Working with Hong Kong based curator Ying Kwok and in close partnership with Open Eye Gallery – one of the UK's leading photography spaces which this year celebrates its 40th year – the festival is twinning Liverpool and Hong Kong, exhibiting images taken in both cities, each of which are places with a long history of exchange.
Photography is increasingly part of how we talk about our cities. From our own streets to new spaces, we use social platforms to tell the stories of our cities. Billions of photographs of urban life are shared each day. LOOK/17 invites artists to consider that perspective in a new city, to see what the shared experience and connections are from place to place.
(Image above © Luke Ching)
EXHIBITIONS
Culture Shifts: Global
Open Eye Gallery
7 April – 18 June
Luke Ching
Room 118, Titanic Hotel, Stanley Dock, Regent Road, Liverpool, L30AN is a series of photographs created during a 10-day residency in Liverpool in January 2017. Ching transformed a newly refurbished hotel room into a pinhole camera capturing the historic dock area in transformation. A 200-year old warehouse is transformed into a modern hotel, serving people and the city in a new way. Like a warehouse, a hotel is transient by nature, providing a short accommodation.
Wo Bik Wong
The exhibition presents newly commissioned work made in the Port of Liverpool building alongside interiors and buildings of Hong Kong. Composite images of old colonial buildings are made to explore continuous shifts between dereliction and redevelopment towards a new identity. Through the medium of photography, Wong continues her journey of revealing cultural and artistic issues.
Derek Man
Derek is Hong Kong born but has lived in London for the last 6 years. His project can be viewed from the perspective of an expatriate returning to his homeland to record how rapidly Hong Kong is changing. His work explores the housing landscape in Hong Kong – at once a basic human need and private imperative, the housing issue is one that affects people in Hong Kong, Liverpool and the world over.
Space: Digital Window Gallery
The digital world is where most of our exchange through photography now happens. Work by Yan Preston, Virgile Bertrand and other LOOK/17 photographers is presented alongside a response to the festival themes by photography students at the University of Salford, a micro-commission made in Hong Kong by Declan Connolly and work from the open call.
Hong Kong Break by Michael Wolf
The Forest I, Mann Island
7 April – 14 May
Michael Wolf
Hong Kong is known for its glamorous night scene and highly efficient transport system, however none of these interested German born Hong Kong based photographer Michael Wolf. He is more interested in the backstage scene – the back alley. Hong Kong Break reveals the untidy, chaotic hidden part of the city, and how people find a moment of relaxation in this hectic city that never stops.
Building the Civic
Victoria Gallery and Museum
7 April – 7 October
Lau Chi Chung
Lau Chi Chung's work engages with the past through fictional re-presentation. He creates a new story from the daily life of unrelated ordinary people in Hong Kong in the format of a family album, by juxtaposing carefully selected old photographs of anonymous residents – discovered through treasure hunts in various flea markets – with new photos made by Lau in abandoned sites in Hong Kong.
South Ho
The Umbrella Salad is a series of black and white photographs and videos capturing scenes of the Occupy Movement in Hong Kong. Unlike the documentary approach taken by most photographers to record the events, Ho used an indirect method filled with symbols and metaphors to represent his personal experiences and the forces involved in the movement.
Yau Leung
Yau Leung used photography to record the essence of Hong Kong from the 60s to the 90s, as it evolved into a global hub of exchange. Born in 1941, Leung is considered one of the most significant and accomplished documentary photographers in Hong Kong who continued with his lifelong project photographing the city until the time of his accidental and unfortunate death in 1997.
Forest II
In this series, Michael Wolf draws our attention to Hong Kong's urban corners and buildings that are often overlooked in this high-density metropolis. Elegant yet understated, these mixed use residential – commercial buildings have been articulating the street corners quietly since the 1950s. The urban chaos manifested on their facades give Hong Kong its endearing quality.
Liverpool & Hong Kong Reflections
Museum of Liverpool – Skylight Gallery
7 April to 2 July
Selection from the Open Eye Gallery archive alongside Ho Fan
Hong Kong photographer Ho Fan uses patience and an eye for 'the decisive moment'; often a collision of the unexpected, framed against an urban background of geometry and texture.
His works are premiered alongside a selection of photographs from the Open Eye Gallery archive, selected by curator and illustrator Charlotte Tsang, reflecting on growing up in Liverpool as a second generation Hong Kong person.
Now and Before
Liverpool ONE – Outside Caffè Nero, 7 April – 18 June
Museum of Liverpool – Media Wall, 7 April – 14 May
Yan Preston
British-Chinese photographer Yan Preston has made a series of photographs with the contemporary Chinese community in Liverpool. Her project is accompanied by an online WeChat platform, where we encourage and host a photographic exchange between China and Liverpool. Photographs & text from the account will be shared across digital sites in LOOK/17, search for Subscription Account LOOKphotofest.
About the Size of Dartford
RIBA North, 7 April – 14 May
Open Eye Gallery, Space: Digital Window Gallery
Virgile Simon Bertrand
Photographer Virgile Simon Bertrand joins Curator Davina Lee to consider the urban geography of Hong Kong housing. The project takes its title from the origins of the public housing estate, Choi Hung built in 1959 to house, according to the British colonial government's yardstick, a population of 43,720 "about the size of Dartford" in just 11 ultra-high density apartment blocks.
The project will be released digitally across social media and screens throughout the course of the festival.
#RIBANorth – Please follow on Twitter for the latest updates.
(Image above © Michael Wolf)
EVENTS
UK/China Cultural Exchange
Fri 7 April – Fri 14 April
10.00am – 4.00pm
Tate Exchange at Tate Liverpool
UK/China Cultural Exchange Lab
Fri 7 April
11.00am – 3.00pm
Leggate Theatre, Victoria Gallery & Museum
Here/There/Now: Housing in Chinese and UK Cities
Sat 8 April
11.00am – 1.30pm
Tate Exchange, Tate Liverpool
Haze and Fog
Sat 8 April
2.30pm – 3.30pm
Tate Exchange, Tate Liverpool
Open Cities
7 April – 14 May
Open Eye Gallery
His Tender Heir – Artist Talk by Michael James O'Brien
Sat 8 April, 4.00pm – 5.00pm
Sun 9 April, 3.30pm – 4.30pm
The Gallery Liverpool
WORKERS 工人 – Artist Talk by Helen Couchman
Sun 9 April
2.00pm – 3.00pm
Tate Exchange, Tate Liverpool
Portfolio Reviews | Urbanism and Exchange
Tues 11 April
11.00am – 3.00pm
Tate Exchange, Tate Liverpool
Architectures of Displacement: Planetary Gentrification – China/Liverpool
Fri 14 April
11.00am – 1.30pm
Tate Exchange, Tate Liverpool
The Grid Project
Sat 22 Apr – 11.00-4.00pm
Sun 23 Apr 2.00pm-4.00pm
Bluecoat
Cities of the Future – Talk
Wed 26 Apr
6.00pm
Bluecoat
UK/China Cultural Exchange II
Mon 8 May – Sun 14 May
10.00am – 4.00pm
Tate Exchange at Tate Liverpool
Beyond The Camera: Exploring Models for Exchange Exhibitions In China
Mon 8 May
2.00 – 3.30pm
Tate Exchange at Tate Liverpool
Portfolio Reviews – Urbanism and China
Tuesday 9 May
11.00am – 3.00pm
Tate Exchange, Tate Liverpool
An Era Without Memories: Chinese Contemporary Photography on Urban Transformation
Fri 12 May
2 – 3.30pm
Tate Exchange, Tate Liverpool
Commissioning for Change Lab with Redeye
Sat 13 May
10.00am – 5.00pm
Leggate Theatre, Victoria Gallery & Museum
Photographers Tour: Edward Chambre Hardman
Fridays Fri 7 April – Fri 12 May
11.00am–12.00; 12:30–1:30pm; 2.00-3.00pm
Hardmans' House
Shaping the City – Artist Talk by John Davies
Sunday 14 May
2.00pm – 3.30pm
Tate Exchange, Tate Liverpool
(Image above © Derek Man)
FRINGE
The fringe programme combines photographers that LOOK has worked with in the past, with up and coming photographers we have discovered through their recent open call. Please keep checking the LOOK/17 website for up to date exhibitions and events.
Alec AARONS
A Change of Scenery
A vernacular documentation illustrating my observations on the people of Shanghai, China. The constantly developing urbanisation of the city is changing a once traditional culture and creating vastly different standards of living for its inhabitants, however whilst there are similarities between Asia and Europe there are also expediential differences.
Venue: A Small View
Robert BATTERSBY
Making China
This project considered China's over reliance on construction to maintain levels of economic growth. Pumping billions of dollars into the construction of shopping centres, commercial and domestic properties. This work presents the enormity of transition taking place in some of China's most rapidly developing cities.
Venue: Constellations
James H BOLLEN
Wallpaper
Stripped of anything of monetary value, the wall decorations of empty homes awaiting demolition in Shanghai are mostly left untouched. Wallpaper, a photographic record of these forsaken decorations, includes excerpts from William Morris' lectures, placing his views on themes such as aesthetics, architecture, history, and art in the context of contemporary China and capitalism.
Venue: Constellations
Geoff BROKATE
On the Perimeter
Xinjiang means 'New Frontier' and is a province in western China. It is the homeland of the Uyghurs, a Muslim ethnic group. Over the last decade the Chinese government have been pushing a development scheme that encourages young Han Chinese to 'go West'. The result is an increasingly isolated Uyghur population whose traditional culture has made way for modern urbanisation.
Venue: Constellations
Edward CHAMBRE HARDMAN
Edward Chambré Hardman Photography
Discover NEW photographs taken of Liverpool more than half a century ago, seen for the first time this year. Rolls of film have been developed revealing cityscapes taken by celebrated photographer Edward Chambré Hardman. Throughout 2017 a new roll of pictures will be revealed after each is carefully tested and then developed using techniques Hardman himself used.
Venue: Hardmans' House
CHAN Hong Yui Clement
Z-Axis
Z-Axis aims at documenting the type of multi-level urban design in Hong Kong. Through Z- Axis one can gain more understanding of (i) how the topographical factor impacts Hong Kong people's habitation and (ii) to what extent the land has been altered in an attempt to adapt to the natural environment.
Venue: Egg Cafe
Jasmin CHONG
Reframing identity: Hong Kong
These photographs form part of a photo book that I created on Hong Kong and were taken using my father's 35mm camera on my first and only visit to the city. They seek to capture both the spirit of the city itself and those that inhabit it. My work focuses primarily on a quest for identity, both personal and collective, and how place can shape our understanding of ourselves and of those around us.
Venue: Constellations
Adrian DAVIES
Veins
The city veins of essential service wires and pipes expand as a city evolves. The photographs depict aspects of a city that are not a part of an architectural design for urban utopia. The expanding wires and pipes depicted strangely mimic the organic growth of nature.
Venue: A Small View
Shira GUTGOLD
Spaces For Living
Spaces For Living examines design solutions that provide people with space of their own within a shared environment. These solutions try to balance community and privacy, take into account considerations such as cost of land, security and style, and reflect trends and culture.
Venue: Constellations
Michael KIRKHAM
Urban Goals
A stirring memento of lost youth and a stark reminder of the social inequalities still faced in Britain today. Within its stout frame lies football's romance; breathing in a different realm to astronomical TV deals and Sepp Blatter. A place where the game is still beautiful.
Venue: Central Library
Chris LEE
Made in China
'Made in China' is a snapshot into the daily lives of the Chinese people. The book project has been created by photo collective Tripod City, who document people and places from 3 perspectives to form one story. Chris Lee takes candid photos isolating people in their environment like characters on a stage to create stories, Charlie Kwai uses his up close, candid style to magnify emotions and inject drama, and Paul Storrie focuses on portraiture, engaging directly with his subjects to create intimate moments.
Venue: Constellations
Benjamin MCDONNELL
Open Cities
Open Cities is an interactive piece of music. As the participant walks around a short loop of Albert Dock, eight movements, each based on the dimensions of colonial buildings on a corresponding route in Hong Kong are heard. The music disrupts and punctures, revealing the city in a new way.
Venue: Open Eye Gallery
Peter MEARNS
What You Imagine You Create
The urban environment is becoming China's most prolific creation with nearly 60% of its population living in cities. In 1949 the communist party declared the state to be the new church and banned religion for 30 years. Today worship is permitted and growing, one way of coping with life's urban pressures.
Venue: Egg Cafe
Michael James O'BRIEN
His Tender Heir
A selection of images spanning the last 30 years of O'Brien's career. On-going projects such as 'Girlfriend' and 'Portrait of a Young Man' will be shown alongside collaborations with artist Matthew Barney. O'Brien's most recent project 'Liverpool Summer of '16' will be shown, comprising of over 30 portraits of people from Liverpool. This exhibition is curated by DuoVision – Martin Green & James Lawler.
Venue: The Gallery Liverpool
Kate PETERS
One Child Policy
The series One Child Policy shows the tiled murals promoting the controversial policy introduced in China in 1979 to slow the population growth rate, it is estimated to have prevented 400 million births and has had countless knock on effects. Photographed in rural China the murals also promote the benefits of having a girl. The policy ended in 2016 where couples may now have two children but the long term effects of nearly 40 years of population control will remain to be seen.
Venue: Egg Cafe
Tristan POYSER
Automation
Set in Jiuzhaigou National Park, Sichuan Province, China. A UNESCO world heritage site, Automation documents how Western and Eastern cultures interact with the landscape, whilst questioning the relationship between the 'need for nature' theory and the recent phenomenon of mass tourism that brings urbanisation to once remote wilderness.
Venue: Constellations
Marc PROVINS
#808080
This body of work is an attempt to find new ways of reading and responding to the city using photography. It also plays with the way much of our contemporary life is turned into data, even our emotional and personal responses to the world around us.
Venue: Constellations
Gemma THORPE
Near and Far
An insight to Chinese life in Sheffield, Near and Far acknowledges the history of migration from south China and Hong Kong to South Yorkshire, while exploring how the community is changing as it caters for Chinese international students and the growing influence of the mainland.
Venue: Constellations
Daniel WALLIS
The People Below
My project focuses on the locals who live and work amongst the urbanisation of Hong Kong. With a population of over 7 million people, Hong Kong is expanding to the skies to fulfil accommodation for all. I attempted to explore the different surrounding area's from markets to residential blocks to see it for myself.
Venue: Egg Cafe
Michael WALLS
The Book of Squares
Using a generic map book, drilling directly through the book, then responding to those hollow circles as points of departure or a start and finishing point for a journey. The random intervention with maps takes on a conceptual approach to negotiating a way round a place instead of following a certain path. Along the way documenting the social and political issues embedded within the urban landscape.
Venue: Constellations
Bertha WANG
Trace of British Colonial Hong Kong
The formation of identity is closely related to lived experiences and subjective feelings associated with everyday consciousness. According to Stuart Hall, "cultural identity reflects the common historical experiences and shared cultural codes" that provide individual becomes "one people". It gives a hint that the colonial history and the colonial cultural codes are important in shaping Hong Kong's identity. The aim of this project therefore is to gain insights of Hong Kong identity through and connecting the shared colonial cultural codes in both Britain and Hong Kong.
Venue: A Small View
Carlton Douglas WATT
Urbanism
Making my way through the eclectic mix of sounds, smells, cultures and shapes I am a modern day flaneur, armed with a camera. It is my role to revisit, to relook and then to reveal. To make visible that which is often overlooked, the everyday. To discover a beauty in the banal.
Venue: Constellations
Jon WYATT
Huangshan Ltd
The iconic mountains of Huangshan are a potent Chinese cultural and spiritual symbol. Yet this UNESCO World Heritage Site is owned and managed by one company and listed on the Shanghai Stock Exchange. These images use Huangshan's cyclical mists to suggest a growing rift between a nation and its landscape.
Venue: Constellations
(Image above © Yan Preston)
---
LOOK/17
Liverpool, UK
7th April – 14th May 2017