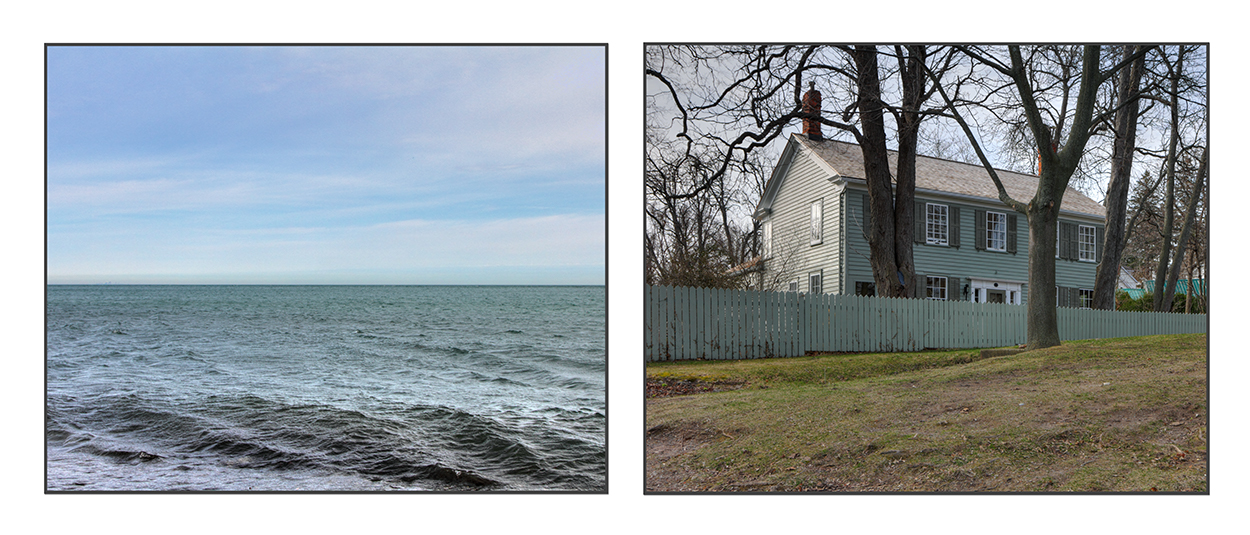 Lake Shore Drive is the latest book by Shutter Hub member Holger Martin, which presents pairs of photographs taken at a particular location (the shoreline of Lake Ontario) but facing in different directions. Each diptych shows us a view facing out to the water, and another view inland, so that both aspects specific to that location are represented at the same time.



He explains further about his thought process in creating this project:

''The camera captures what is physically in front of its lens. Most commonly, the resulting artefact is a 2-dimensional representation (whether digital or as a physical print does not matter here) of whatever a photographer decided to frame. This is not just concerned with selecting from an existing scene, but it is concerned with all aspects of photographic production that involves capturing something, whether it is found or created. There are many aspects of the physical world that cannot be captured with a camera in this way. There are many things that a photograph does not show, even if those things were essential parts of a given situation.

The discussion of what is and what is not included in an image pervades photographic practice and discourse. It might be connected to what it is possible to capture and Dianne Arbus states '… I've been struck with how I really love what you can't see in a photograph. An actual physical darkness.'1. There is also much discussion of the importance of context, where Thomas Ruff argues that 'To understand a photograph, one must know its context, as the camera only records what is in front of it.'2. David Hockney's 'Photographing Annie Leibovitz While She Is Photographing Me' 3 pulls in the situation, while oftentimes context is not available, as in Richard Long's work, who did not publish the intricate details of how his work was created 4. Even if context was described, it might not be accessible as Susan Sontag insists that we must have lived through a depicted situation ourselves, before we can be touched by an image 5.

Lake Shore Drive applies a simple methodology to address the above and captures what is visible in the 'other' direction. Diptychs of photographs are taken at each location along the shoreline of Lake Ontario, one looking out to the water and one looking at the land. No primacy is given to either of the images but each diptych captures two linked aspects of a particular location, linked by a line that is perpendicular to the shoreline.''



1. Interview in – Diane Arbus: An Aperture Monograph, 2011 2. Susan Bright, Art Photography Now, Edition Braus, 2008, translated from German by the author 3. http://www.hockneypictures.com/photos/photos_collages_05.php 4. Clarrie Wallis, Richard Long – Heaven and Earth, 2009 5. Susan Sontag, Regarding the Pain of Others, New York: Picador/Farrar, Straus and Giroux, 2003″

We have covered the work of Holger Martin here, notably his previous book Durban-Corbières, and he has also been part of our own exhibitions including Place and our 2014 Open.

You can buy Lake Shore Drive here, and you can see more of the work of Holger Martin at his Shutter Hub profile here.