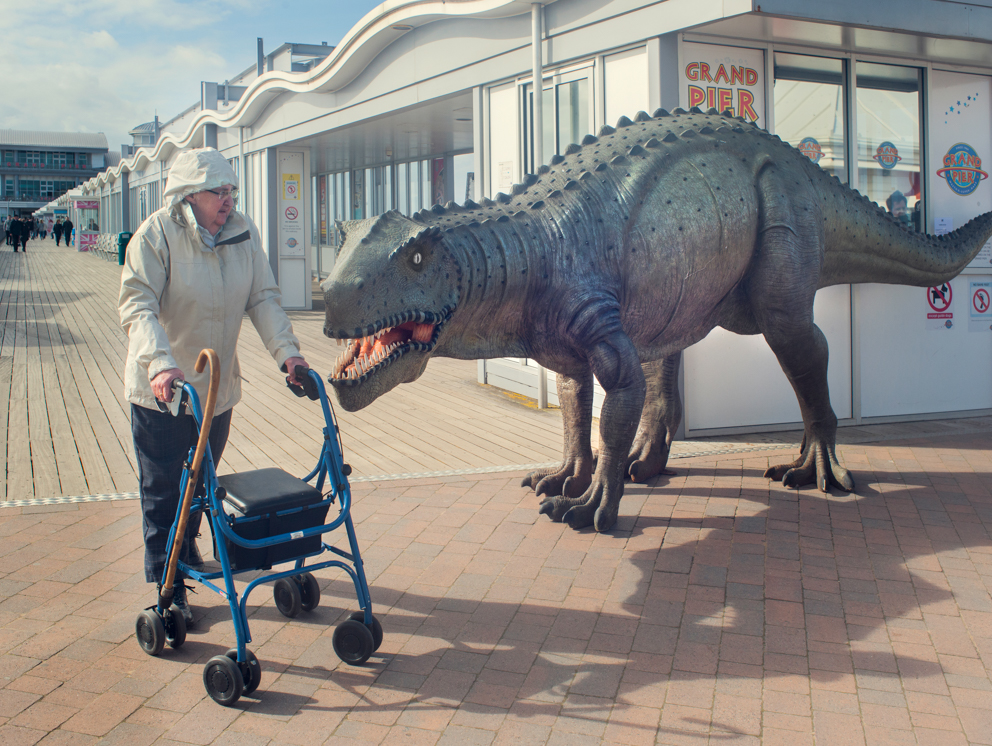 Shutter Hub member Barry Cawston is launching his book Are We There Yet? with an exhibition private view at One Poultry in East London on Thursday 28th September – and would love to invite you along!
Are We There Yet? A Day Trip to Banksy's Dismaland and Other Stories juxtaposes pictures from Banksy's Dismaland art project with others from the Victorian seaside town of Weston Super Mare. As it has developed, the project has become less about Banksy or indeed street art, but has taken on some of the themes which Banksy and the other artists visualised at Dismaland, and realises them in photographic form. It picks up these threads in and outside the doors of the once abandoned Lido on Weston's seafront to produce what Barry Cawston describes as 'a series new fictions.' The exhibition follows a similar format, with pictures from Dismaland and Weston in separate spaces, but with the lines between them blurred.
The show will run from 26th September – 7th October, Tuesday-Saturday, 12noon – 8pm, and will feature beach paraphernalia from Weston Pier and a sandpit with buckets and spades, alongside large scale prints from the book. Visitors are encouraged to make and bring a seaside picnic to eat in the space (any groups doing this will receive a free signed copy of the book!)
The private view runs from 6 – 9pm on Thursday 28th September, with a Mexican food stall, live video link to Weston Pier, plus free sticks of rock with one 'golden ticket' for a free print from the exhibition – not to be missed! RSVP to the Facebook event here.
26th Sept – 7th Oct, Tuesday-Saturday, 12noon – 8pm

Private View 28th Sept, 6pm – 9pm

One Poultry, London, EC2R 8EJ

Exhibition sponsored by The Printspace and curated by the Drugstore Gallery, Hopper Projects and Freeny Yianni at Close House.
All images © Barry Cawston
---
Not a Shutter Hub member yet? Join here for opportunities to promote your work online and in exhibitions, access selected opportunities, events, seminars and workshops, meet up and share photographic experiences, and become part of our growing community…