Shutter Hub has created an Annual Sponsorship Programme to invite businesses to get involved with the work we do, and offer support and exchange. Our goal is to develop networks, strengthen connections, provide relevant information, and make more good things happen! Building these connections not only helps with funding, but enables us to widen our horizons and bring people together from all sections of the industry for a positive impact.
Here we introduce our first sponsor, BenQ.
One of the reasons we wanted to bring BenQ in was for the technical knowledge that they can share. Whilst we know every business wants to gain customers, we think that some are doing it more innovative ways than others. BenQ really believe in providing education whilst promoting their products, and we are happy to learn from them.
If you don't know BenQ already, they're the world's largest professional monitor brand, specialising in the photography, film and design markets. They focus on the quality and specification of their monitors, enabling consistent colour accuracy across their ranges, and are one of only a few brands to be officially validated by Pantone.
This is a sponsored post in collaboration with BenQ.
---
Investing in a high-quality photography monitor should take just as much consideration as your new lens or camera. Why spend thousands on your shooting equipment to then edit on a subpar screen? No one wants to end up with lacklustre images after splashing out on expensive camera gear…
Your monitor is what you spend your day looking at when editing, so it makes sense to find one that's suited to your workflow and your lifestyle. Moreover, if your monitor (and printer) produces accurate colour then the results ought to be predictable even though the images are not identical. The device-independent solution? To buy a monitor with an accurate colour profile.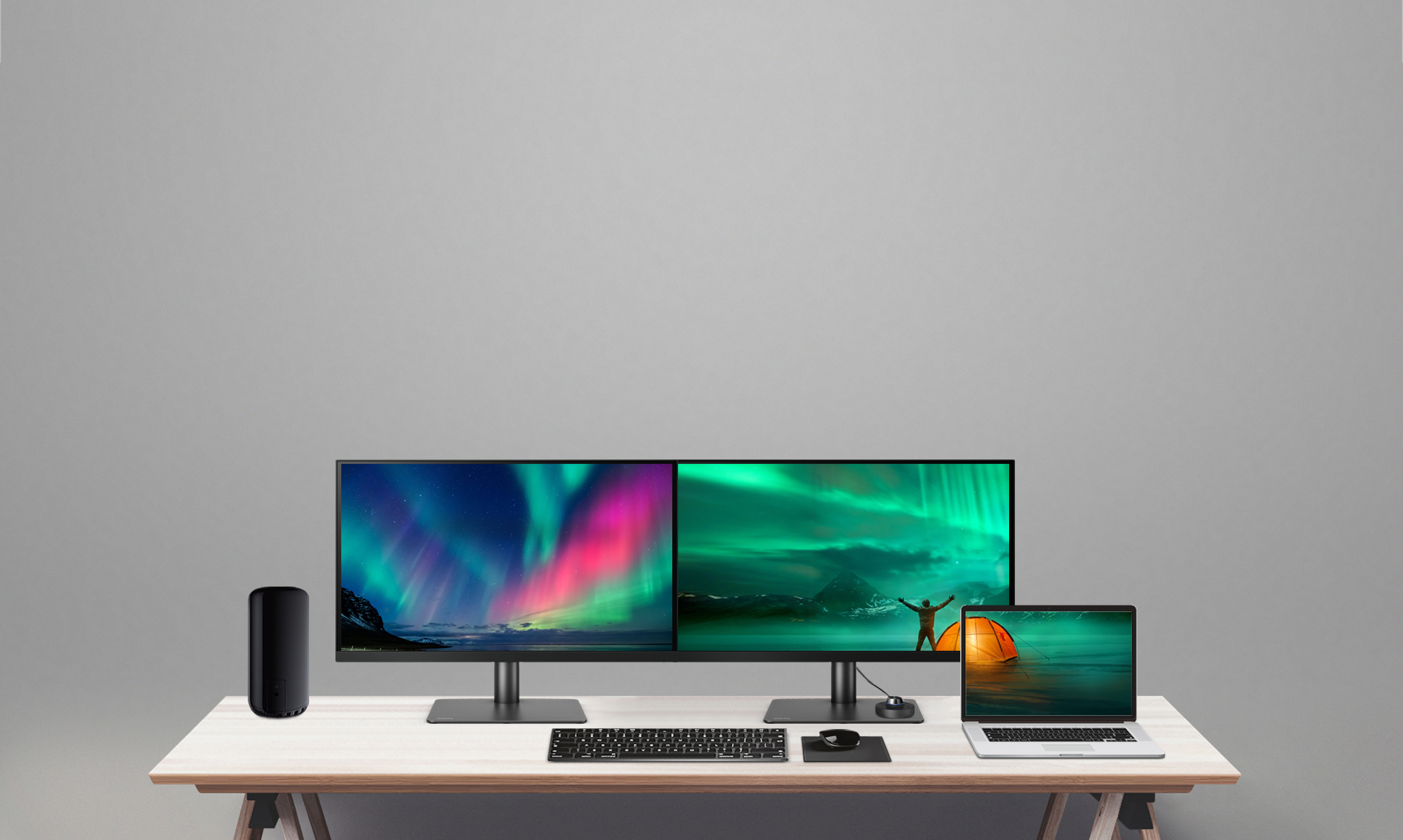 Here's what you should be considering to get the best out of your creative workflow:
Monitor Size and Resolution
Whether you work in a studio or your home office, there are quality monitors from BenQ that suit all surroundings; ranging from 24" to 32", with IPS technology and resolutions up to 4K UHD. 24″ and above will help you comfortably edit your images. If you are searching for something productive, then you can never go wrong with a dual monitor setup either. 27" is your most commonly used and probably the most ideal screen size, with 32" usually being used in studios or those with enough desk space and the 24" for those who don't/prefer something a bit smaller.
Colour Gamut
When looking for the best monitor for photo editing, you need to consider its colour gamut. Just in case you're new to this and wondering what colour gamut is? Well, it's the set of colours that the human eye can see; the broadest range of hues of colour; however, monitor technology has come a long way so that colours can be seen in different ranges. The average monitor should be capable of showing all colour in the sRGB range. Higher-quality monitors such as BenQ's PhotoVue Photographer Series go beyond that with their own colour space that supports 99% Adobe RGB and 100% sRGB. This will allow your photos to look closer in tone to what you see in real life, and your prints and uploaded photos will match those you see on the screen in front of you. BenQ monitors also use a 14-bit (3D) LUT (Lookup Table) and upwards to enable hardware calibration and store the colour profiles that the calibration creates. Some also include High Dynamic Range (HDR 10), which increases the overall dynamic range between black and white, so that the resulting image appears closer to what your eyes see in the natural world.
Devoted to meet the latest professional colour standard, BenQ has developed AQCOLOR technology to uphold the concept: "Accurate Reproduction". BenQ has invited colour experts to lead the team, and also actively participated in ICC (International Color Consortium) and ISO (International Standard Organization) to establish colour-related standards and implementation to provide consistent and accurate colours.
Hardware Calibration
Hardware calibration allows you to adjust the image processing chip in the monitor
without changing the graphics card output data. It keeps images consistent with your original copies, without being affected by graphics settings. Each BenQ monitor is hardware calibrated upon production, thus what you pull out of the box is pretty accurate (they even come with a certificate to prove this). However, the colour will shift on all monitors over time, so hardware calibration brings it back to completely accurate colour, which is why they're compatible with X-Rite i1 Display Pro to keep the monitor as accurate as when it was new. The X-Rite i1Display Pro accurately colour profiles your screen and allows for direct adjustment of the 3D LUT without interference from systems graphics settings. These calibrated settings are then stored directly in the monitor under one of the preset modes to save time during your edit process.
Panel and Screen Type
Ideally, you should be looking for a matte screen with IPS panels to reduce glare. Only IPS panels allow a very wide viewing angle (close to 180°) without seeing the image appearance change in contrast and brightness. Fortunately, BenQ covers both of these features and 10-bit HDMI pixel depth for even finer detail.
Connectivity
Making sure that your monitor has the latest and suitable connectivity for your needs might not spring to mind as something crucial to look for, but you don't want to spend hundreds of pounds to then not even be able to plug in your devices. BenQ uses the latest USB Type-C port to transmit video and data with only one cable, smoothly displaying brilliant 4K and QHD content on the SW271 and new SW270C models. You will also be able to connect via HDMI, DisplayPort, Mini DP and DVI-D, where the relevant cables all come with the monitor itself.
BenQ have recently announced the newest addition to their photography range, the SW270C PhotoVue monitor (the names make it easy for you to ascertain the size of the display (27")). It was important for the new monitor to achieve high industry-standard colour as photographers work with such great demand for colour accuracy and so their images can portray the real-life colour. The BenQ SW270C meets high colour standards by covering 99% of Adobe RGB, 100% of sRGB/Rec.709, HDR-10 and 97% of DCI-P3/Display P3; resulting in a more realistic colour representation for outdoor and nature photography. Additionally, the SW270C features something new for BenQ: achieved via a delicate process to meticulously fine-tune the colour and the brightness on the entire screen, BenQ Uniformity Technology offers screen-wide precise colour from corner to corner for an even more consistent (and pleasing to the eye) viewing experience. Popular USB-C charging is also a new addition (Mac users rejoice).
Post-production tends to fall behind when it comes to photography equipment (bar the usual pro laptop and software), but a lot can be said for a final, colour-accurate piece of work. Don't ever underestimate the amenity and satisfaction of knowing you've edited everything to the finest detail, with the confidence that what you're seeing is true and faithful to the moment that you shot.
Want to know more? Find out about BenQ, their monitors, and educational resources, here.
---
This is a sponsored post in collaboration with BenQ.
Shutter Hub are dedicated to only sharing content that we feel is relevant and of interest to our readers. For full details and our disclaimer please refer to our Terms and Conditions here.
Would you like to connect with our creative community, promote your brand, and help support the future of photography? Become a Shutter Hub sponsor: to find out more, email sponsorship@shutterhub.org.uk