Oh goodness! Where to start? Perhaps there's too much to say? We're going to have to give it a go anyway!


We've been super busy, as usual, making things happen. Karen was at FORMAT International Photography Festival giving portfolio reviews and awarding the FORMAT Festival Shutter Hub Prize (more on the winner, Isabel Flores, here) and we all hot-stepped it down to The Photographers' Gallery to support our friends at Accumulate with portfolio reviews ready for their epic exhibition at the Guardian (more on that to come!)
We'll be off to Belfast Photo Festival, and Retina Scottish International Photography Festival (where we'll be presenting our OPEN exhibition – look out for the call out!) and then we'll be taking GIRL TOWN to Tel Aviv before launching our collaborative exhibition, Artificial Things, at Cambridge University (call for entries, here). There's so much happening, it's exciting and it makes us proud!
So, over to our wonderful Shutter Hub members. Our photography gang. They are an amazing bunch of people and it's a joyful (and slightly stressful!) task to gather together some of their recent news. Here goes!
You must have heard, Jenny Lewis has launched her new book Hackney Studios, published by Hoxton Mini Press.
Jenny Lewis spent four years in and out of studios across Hackney, photographing a tribe of artists who over time have de ned the area. Painters, illustrators, lmmakers, jewellers, ceramicists and fashion designers invite us into their studios and share their private thoughts about the creative process.
It's a fascinating book, and you can find out more about it here. You can also watch this fabulous 'behind the scenes' with Jenny talking about her new book.


Dawn Woolley did something amazing and broke the selfie cycle! Winning the #SaatchiSelfie competition, judged by the likes of Juergen Teller and Tracey Emin, and pipping 14,000 others to the post, with her image The Substitute (Holiday).
"Primarily my artwork is a selfie, but not in the traditional sense. In the work I create a photographic copy of myself and place it in the real world instead of me. By creating artwork that establishes me as an object it could be argued that I produce photographs that reinforce stereotypical images of the female body, but with apparent exhibitionism I create a substitute that renders my real body invisible. There is a suspension of disbelief taking place in the viewing public, as they want to see image and body simultaneously. This wilful delusion is inherent to the medium of photography – the desire to look at a 2-dimensional photograph and believe in the integrity of the 3-dimensional objects that are suggested by the surface." Dawm Woolley.
From Selfie To Self-Expression will run at the Saatchi Gallery in London until May 30th 2017.
Image above: Dawn Woolley


Being part of the FORMAT Festival and giving the Shutter Hub Prize is always an absolute honour, but this year we were doubley (maybe tripley?) proud that of the six other awards given at the Portfolio Review Weekend, two of them went to Shutter Hub members! Big congratulations to Bharat Patel for winning the Street Level Photoworks Award, and Alexandra Lethbridge for winning the Affinity Photography Award. Brilliant work, and well deserved.
Image: The Caravan Gallery at FORMAT International Photography Festival


Steve MacLeod has been working on a wonderful project, Hospital Rooms, with artists such as Sophie Clements, Nick Knight, and charity founders Niamh White and Tim A Shaw. The project set out to bring artistic renovation, engagement and support to a psychiatric ward at a London hospital, but has proved such a success and opened up so many possibilities for exchange and development, that we're sure we're going to be sharing much more news about this.
You can read more about the project in this Guardian article.
Image: Steve MacLeod in the Hospital Rooms booklet


Tim A Shaw and Niamh White will discuss their Hospital Rooms project, at the Feeling Images: Photography's Relationship with Illness, Mental Health and Wellbeing Symposium in Bristol, alongside Shutter Hub members Sian Davey and Heather Agyepong.
Heather Agyepong discusses how her self-portrait re-enactments of a Victorian-era women channeled into her own experiences of trauma and depression. Sian Davey speaks about her own acclaimed photographic practice in relation to photography, health and wellbeing, and how it is informed by her background as a trained Psychotherapist.
Image: Sian Davey


We also spotted Sian Davey's book Looking for Alice in SHUTR.photo magazine when we were in Amsterdam, which was a pleasant surprise!




Elaine Duigenan received an Honourable mention for 'Blossfeldt's Apprentice' in the Tokyo International Foto Awards. It's wonderful to see the attention that this work is getting is still growing (and rightly so!)
Image above: Elaine Duigenan
Roger Coulam's image "The Heads of the Little Brothers" was also awarded an Honourable Mention in the Tokyo International Foto Awards. This image was also part of a group of 5 from A Grain of Sand which earlier in 2016 was Nominated in the Fine Art Photography Awards.
Image above: Roger Coulam
Seb Camilleri has undertaken a new venture with his close friend, Duncan Woods.
The duo have set out to create a platform, SATORI, where inspiring words and images can live. A community where people who may have different religious beliefs, scholarly pursuits or cultural backgrounds can come together and share in their love for thought provoking content and stimulating artwork.
Issue one of the publication is now available.
Alongside the original written works, they are showcasing projects by some brilliant photographers. SATORI have pledged that a 100% of all proceeds will be donated to the charities CALM and The Meditation Trust.
Justin Carey was featured on The Week, they shared a beautiful selection of his stunning night photography.
"The nighttime brings a closer proximity to danger, threat, and menace, than during the day. That feeling of slight unease, of something lurking in the shadows, is both unsettling, but also quite exhilarating. That sense of unease resonates with me. That sense of never being quite comfortable, never feeling entirely able to let your guard down or feel totally secure in your position. In shooting these places, I think I'm at least partly hoping to connect with the person who might share similar, often unspoken feelings." Justin Carey.
Image above: Justin Carey
Mo Grieg's Children of the Illam has been featured on the PhotoVoice blog, it's a fascinating story (and well worth a read!) of how Mo managed to fulfil the brief she went to India with by really immersing herself into the culture and working closely with the children she was there to document.
Inspired by the PhotoVoice training, Mo Greig collaborated with young people of the Dhan Karanui IIlam children's home in India to campaign through photography and raise funds for a new dormitory building.
Image above: Mo Grieg
Jim Carrington is exhibiting at Hot Numbers, one of our favourite Cambridge coffee spots. Cambridge – A Different View runs until 16th April 2017, and showcases Jim's photographs of atmospheric story-telling street scenes and details only a local will recognise!
Image above: Jim Carrington
Amanda Eatwell and the London Independent Photography, Crouch End satellite group held their annual exhibition The Original Gallery. Amanda's image (which was chosen for the publicity material) was shot from Tokyo Skytree: the world's tallest free-standing communication tower. She was 350m above ground, and says she got a little mesmerised by the views!
Image above (and top): Amanda Eatwell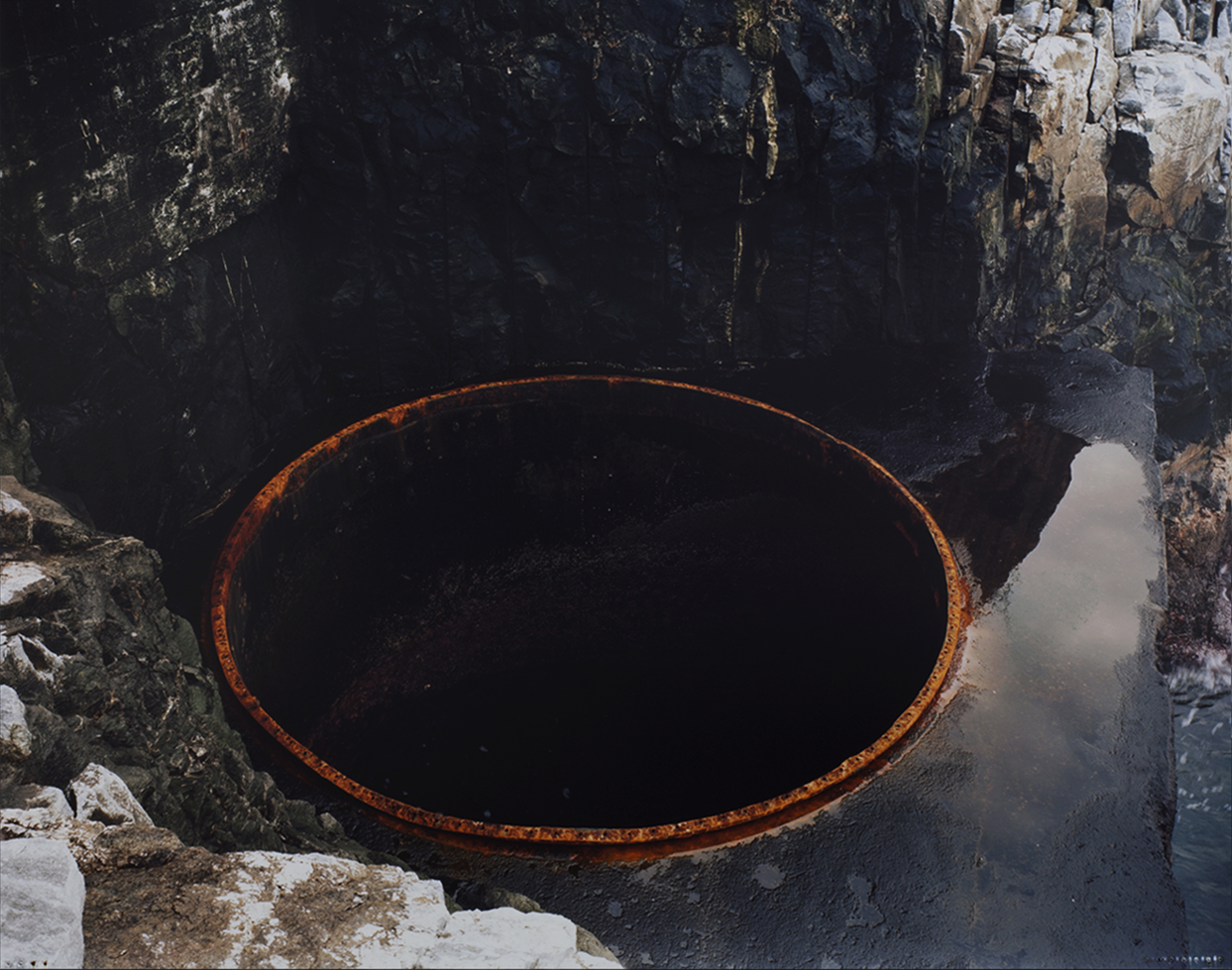 Silje Lovise Gjertsen (our 2016 FORMAT Shutter Hub Award winner) had three pieces exhibited at the London Art Fair with Anise Gallery. She also gave an artist's talk.
Image above: Silje Lovise Gjertsen, Shrouded by Stone.


Margaret Mitchell has been very busy! Currently she is exhibiting work from 'In This Place' in Ambit: Photographies from Scotland at Street Level Photoworks (see our 8 Great Exhibitions To See for our feature on this show)
Earlier in the year Margaret presented a lecture at Edinburgh Napier University about her work and her interests in people and their stories, with childhood, youth, place and belonging – often explored in the people and places photographed.
Margaret Mitchell is also April's featured photographer on Firecracker, a platform dedicated to supporting women photographers. You can see Margaret's feature here, and you can read a wonderful interview with Margaret Mitchell, by Document Scotland, here.
Image above: Margaret Mitchell


Phoebe Kiely was nominated for the Mack First Book Award by Julian Germain. The first publication Phoebe has ever made, it's titled They Were My Landscape. Some of the images in the book were shown in our exhibition GIRL TOWN at London Photomonth (and will be coming to Tel Aviv with us!)
"The way I live, the way I am able to make work is to keep moving forward. To not see any path as the wrong path, they are simply decisions. The photographs I present in They Were My Landscape are moments from an ordinary life, they present moments in a dream like edit, with no indication of place or time. The people in the edit have no name, the cities I show are never identified. There is a lot of secrecy in the work, not everything is clear. It is the story I was never able to find the words for, the written diary I could never commit to. However, this does not stand as just a diary. It's a constructed reality, with a dream like sense, giving the viewer a chance to see a fraction of a life. My compulsion to collect photographs is fuelled with my curiosity with the world. Through my work I wish to find answers, to find some kind of peacefulness with what the meaning of life is. I always feel like a sense of self is presented within the images. A reminder of mortality." Phoebe Kiely.
Image above: Phoebe Kiely
Caroline Thake exhibited at Leyden Gallery: Platform for Emerging Arts #13, with her image Interzone, which was made in Tangier, Morocco in 2015. You can read more about this project in our CLOSE UP with Caroline Thake.
Image above: Caroline Thake


Anneleen Lindsay has her first solo exhibition 'All The World's A Stage' from 3rd-29th April 2017 at Jeelie Piece Cafe and Arts Space in Edinburgh.
The exhibition focus's on Anneleen's creative portraiture images inspired by literature, theatre and film. Anneleen's work has been exhibited internationally and has been featured in the New York Times and the London Evening Standard.
Congratulations to Anneleen Lindsay for winning the Fixation AOP Junior Assistant Competition too!
Image above: Anneleen Lindsay


Anila Hussain and Adam Lucy exhibited together at espacio gallery in Bethnal Green, London, in the Lumen exhibition, along with photographers from Brazil, Chile, Cyprus, Greece, Italy, Nigeria, Poland, Portugal, Romania, Slovakia and UK. The exhibition explored light, image and concept, using mobile phones, digital and manual cameras.
Image above: Adam Lucy

Image below: Anila Hussain
Myka Baum has been busy exhibiting her recent work in London: Rogue Seed Red Tape at the Royal College of Art Kensington; Output – the Royal College of Art MA Print annual event, which mixes students from the first and second year MA in an exciting showcase with a broad interpretation of printmaking today; and in the Merz Barn Residency Exhibition at The Crypt, St John Bethnal Green.
Want more good news?
We've been working with the amazing charity Accumulate. If you'd like to find out more about what they do, there's a lovely interview with Accumulate's founder Marice Cumber over here.
Congratulations to our friends at Hoxton Mini Press just won the award for best newcomers at the Independent Publishing Awards. We love their books, as you've probably noticed, so it's exciting to see them getting the recognition they deserve.
The Photographers' Gallery, in partnership with Amnon and Armon Bar-Tur and Bemojake publishing, are delighted to announce that the recipient of the 2017 Bar Tur Photobook award is Monica Alcazar Duarte.
GRAIN is delighted to have awarded the Format Portfolio Award to Jessa Fairbrother for her work 'Armour Studies'. This is the second time GRAIN has awarded a special prize at Format International Photography Festival.


Got your own good news to share? Drop an email to: submissions@shutterhub.org.uk​