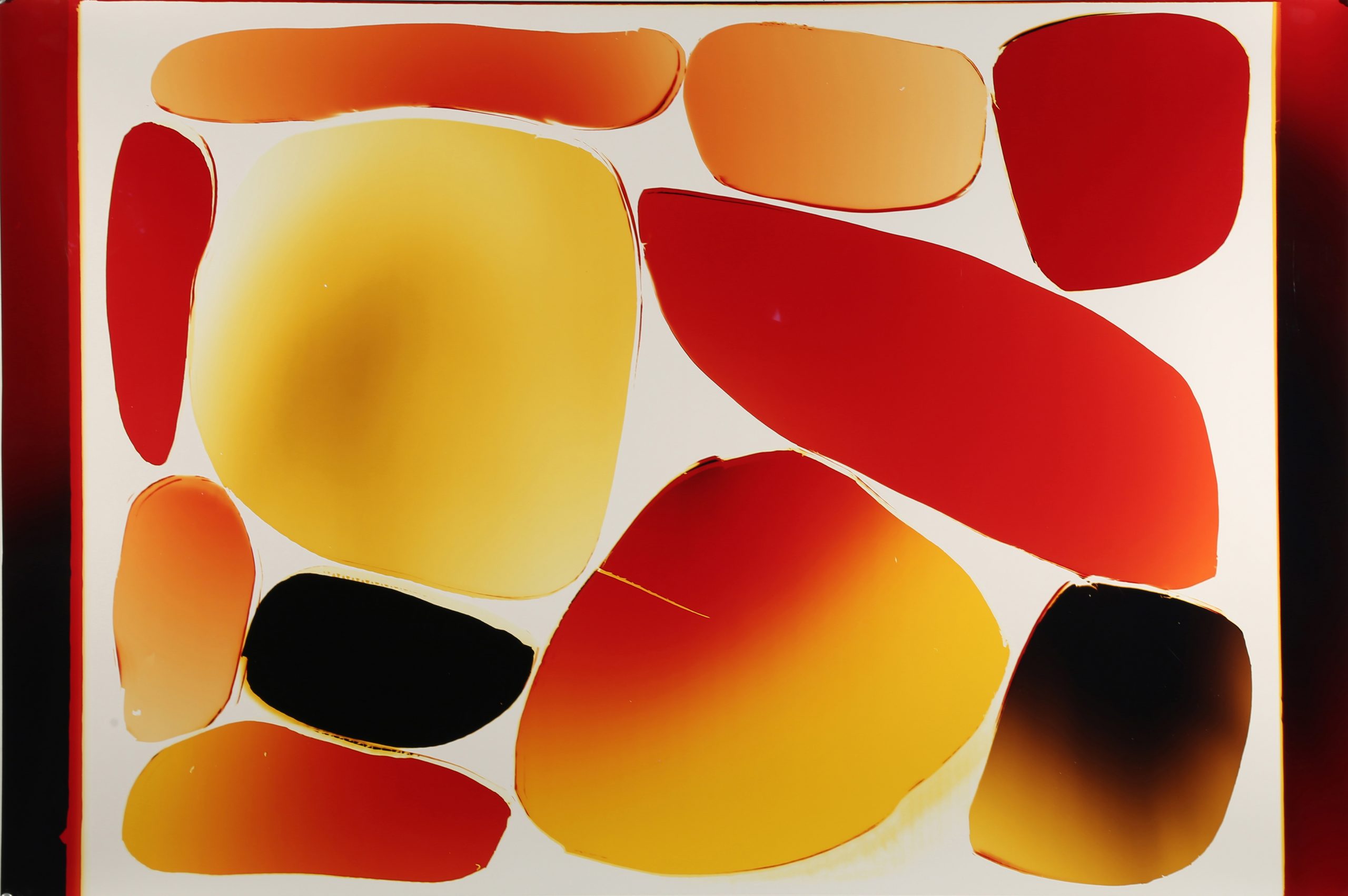 The Arrival
Liz Nielsen
Twenty-five new colour photograms will go on display in the first UK solo exhibition by contemporary artist Liz Nielsen. Her work is a contemporary application of one of the best-known avant-garde photographic processes – the photogram – which was first mastered by Man Ray and Maholy-Nagy at the beginning of the twentieth century. Each unique image is created without a camera by placing objects directly onto photographic paper and exposing them to light.
Nielsen started her career as a painter and is a colourist at heart. She calls her work 'painting with light' which refers to the performative nature of its creation. Nielsen replaces the traditional negative with a handmade matrix, built with multiple layers, found light sources and harnessing different wavelengths of the colour spectrum to create rich hues. Creating these pieces can take up to 12 hours per session and up to 100 exposures. The paper she uses is negative rather than positive, reversing the colours and often creating surprising new combinations.
Unlike her previous work which was made in her studio in Brooklyn, the works in 'The Arrival' were made during the summer of 2018 in the California hills where she drew inspiration from watching the same view change with the light, creating almost a completely new image. For the first time in her practice, Nielsen has re-used her 'negatives' with different exposures and layouts to create works which have a dialogue with each other yet remain distinct.
"In this work, I wanted to achieve transcendence through abstraction. I was searching for anomalies: objects with superpowers or landscape hotspots with vortexes. I looked for shapes and symbols, for mathematical connections that give order to disorder. The images are compositions of these collected shapes, placed strategically in alignment with the cosmos, with the intention of opening channels for quantum vision, creative breakthroughs, or places for collective consciousness to emerge." Liz Nielsen
Black Box Projects, 10 Hanover Street, London, W1S 1YG
1st March 2019 – 10th March 2019
Tate Britain presents a comprehensive retrospective of the legendary British photographer Don McCullin
This exhibition includes many of his iconic war photographs – including images from Vietnam, Northern Ireland and more recently Syria, often captured at great personal risk. But it also focuses on the work he did at home in the UK, recording scenes of poverty and working class life in London's East End and the industrial north, as well as meditative landscapes of his beloved Somerset, where he lives.
Sir Don McCullin was born in 1935 and grew up in a deprived area of north London. He got his first break when a newspaper published his photograph of friends who were in a local gang. From the 1960s he forged a career as probably the UK's foremost war photographer, primarily working for the Sunday Times Magazine. His unforgettable and sometimes harrowing images are accompanied in the show with his brutally honest commentaries.
With over 250 photographs, all printed by McCullin himself in his own darkroom, this exhibition will be a unique opportunity to appreciate the scope and achievements of his entire career.
Tate Britain, Millbank, London SW1P 4RG
5th February 2019 – 6th May 2019
Fragments
Giulia Berto
The Darkroom is proud to present for the first time in Ireland Giulia Berto's solo show 'Fragments'. The exhibition will open on Thursday March 7 with a reception for the artist from 6pm – 9pm. The show will be on view until Sunday March 17.
Berto's work focuses on long-term projects; her medium of choice is photography and she uses purely black and white film for this project.
'Fragments' investigates the emotional aftermath of lovers in a long-distance relationship. Berto's photographs capture ephemeral moments within a relationship. By expressing the feelings and sentiments explored throughout her journey, she invites the viewer to be transported to three cities, four countries and two continents.
Going from an apartment in New York City to a small caravan in Wexford, Ireland, passing by Italy, her homeland, and UK, where she met her partner in 2012. With 'Fragments' she
takes us into an intimate and moving peregrination of longing, separation and reunion.
Berto belongs to a generation that sees beyond the boundaries of borders, moving freely from one country to another with openness and confidence. This attitude is reflected in her work, where she is unafraid of exposing the frailties and uncertainties faced during her personal journey, making it into a brave and poignant representation of the world we live in now.
She captures each moment of the voyage rooted in the emotions, time and space she is experiencing. This is expressed in her photography where you will find, fine grain detailed portraits combined with soft grain landscapes. Images that become abstract merging into the film grain instinctively and elegantly infusing the visual imagery with her own feelings.
Giulia Berto is an Italian photographic visual artist. She has lived in Turin, London, Berlin and New York and is now based in Dublin. Her work has been published and exhibited internationally.
After she graduated in 2013 from the International Center of Photography in New York, Berto through photographing moments in her life, began to see a pattern emerging in her work, this became 'Fragments'. The project is created with a Yashica film camera, shot on Ilford HP5 Plus 400 film and printed by the artist on cellulose-based Hahnemühle FineArt Baryta 325gsm paper.
The Darkroom, 32 north Brunswick street, Dublin 7,  www.darkroom.ie
March 7th 2019 – 17th March 2019
A Journey Home, Hastings
Tom Hunter

Hastings is a coastal town that has many historical layers forged by the flow of people. To construct a contemporary photographic document of this region, internationally renowned artist Tom Hunter has collaborated with taxi drivers from 247247, whilst referencing the Museum's collection. An audio landscape of the drivers voices accompanies the images made in collaboration with Hanna Wiebe. Curated by Lucy Bell and David Rhodes.
This commission has been supported by Arts Council England, Scott Mead, Metro Imaging, Hastings Borough Council, 247247 Taxis, Chalk Cliff Trust, Lucy Bell Gallery.
Hastings Museum and Art Gallery, John's Place, Bohemia Road, Hastings, TN34 1ET
Opening Times
April – October : Tuesday – Saturday 10am – 5pm, Sunday 12noon – 5pm. Last admission 4.30pm
November – March : Tuesday – Saturday 10am – 4pm, Sunday 12noon – 4pm. Last admission 3.30pm
Reception: Saturday 9th Feburary 2–4pm. Gallery Talk: Saturday 18th May 2pm
9th February 2019 – 2nd June 2019
Arpita Shah's Nalini is an ongoing photographic series that focuses on her mother, her grandmother and herself. It explores the ancestral intimacies across space and time, and how their histories, memories and bodies are intertwined.
"My grandmother was born in India but grew up in Africa for 12 years before moving back to India. My mother and I were also born in India and have lived in multiple other countries before settling in the U.K. Although I visit my grandmother every couple of years in India, I have realised how little I really know about what she was like as a young woman, her memories, experiences and what her relationships were like with her own mother and her daughter."
Developed across India, Kenya and UK, Nalini is a personal journey for Arpita, which has allowed her to reconnect with the past through her maternal lineage. The process includes discoveries of old forgotten family photographs, shared and individual memories of objects, places, and family stories. The portraiture process itself also physically connects Arpita to her mother and grandmother allowing her to visually explore how connected their lives really are.
Arpita Shah (b. 1983, Ahmedabad, India) is an artist based in Edinburgh, Scotland. She works between photography and film, exploring the fields where culture, heritage and identity meet. She graduated from Napier University in Edinburgh in 2006. Her work has been exhibited internationally, including at the Detroit Center of Contemporary Photography (2013); Tramway in Glasgow (2014); Focus Festival in Mumbai, India (2015); Chobi Mela IX in Dhaka, Bangladesh (2017); and Autograph APB in London (2018). She is the recipient of the 2019 Light Work + Autograph ABP Artist-in-Residence programme which she will undertake in September 2019 to develop her series Nalini into a photobook.
Arpita undertook a residency at Street Level in 2011/12 from which she produced the series 'Nymphaeaceae', premiered in 2012, and the series 'Dear Green Place' shown recently on The Travelling Gallery (2018) and as part of an exchange with Photofusion, London in February 2019; her series 'Portrait of Home' a Festival 2014 commission was shown at Trongate 103 and as part of Street Level's 'Commonwealth Family Album' in public sites during the Commonwealth Games in 2014, then touring to a number of community venues in Glasgow.
Street Level Photoworks, Trongate 103, Glasgow, G1 5HD
9th February 2019 – 7th April 2019
This year marks the 25th anniversary of South Africa's first democratic elections, and the inauguration of Nelson Mandela as president.
South African photographer Santu Mofokeng (b. 1956) famously documented daily life during and after apartheid. Foam presents a large-scale retrospective, containing a selection of his most important visual essays and featuring many unpublished works from the artist's private archives.
The exhibition Santu Mofokeng – Stories brings together a number of important photographic essays by Mofokeng made in his native South Africa. Amongst the series on show is his first and most celebrated visual essay Train Church (1986), portraying the spontaneous religious rituals that occurred on the Soweto-Johannesburg commuter train. Other (many yet unknown) images portray life in the townships of Soweto and Dukathole; political protests leading up to the abolition of apartheid, and the historic election of Nelson Mandela as president in 1994. Together, the series narrates how the rapidly changing political climate in South Africa affected daily life across the country. Raised in the township of Soweto, Mofokeng photographed South African communities from the inside, painting a nuanced and dynamic portrait of a complex society in transition.
Foam Fotografiemuseum, Keizersgracht 609, Amsterdam
15th February 2019 – 28th April 2019
Polaroid Pictures
Andy Warhol

BASTIAN is pleased to present »Andy Warhol Polaroid Pictures«, the inaugural exhibition at the gallery's London space running 2 February – 13 April 2019. A series of over 60 portrait and self-portrait Polaroid photographs by Andy Warhol – some of which are exhibited for the first time – depict artists, actors, politicians and friends of his eccentric Factory entourage. The exhibition offers an intimate portrayal of New York in the 1970s and 80s during the establishment of a new visual culture. Positioning Warhol as both subject and spectator, the series highlights the artist's prolific capacity as a chronicler of his time.
Central to the exhibition is »Self-Portrait« (1979). Measuring 81.3 x 55.9 cm, it is one of the few large-scale Polaroid portraits produced by Warhol. In this work the artist's face, grimacing and strained, looms closely into the camera lens, producing a highly personal yet seemingly estranged encounter with the viewer. Echoing this idea of a fictitious surface, where reality is just an illusion, is the artist's series of celebrity portraits. Alongside other friends, clients and Studio 54 dwellers, these photographs – initially preparatory works for Warhol's iconic silkscreen portraits – reveal a lack of pathos or individuation, underlining the artist's notion of an era where »everybody looks alike and acts alike, and we're getting more and more that way«. The exhibition features figures such as David Hockney, Jane Fonda and John Lennon, alongside photographs on view for the first time including Richard Hamilton and Joseph Beuys.
The Big Shot camera was an integral tool of Warhol's from the early 1970s until his death in 1987. Created by Polaroid for portrait use only, the camera's simple design of integrated flash, viewfinder and fixed focus allowed the artist to instantaneously capture his subjects without sensibility. Using different Polaroid films and procedures, Warhol's prolific output reflects his wider practice and ongoing fascination with consumer culture. At the same time, the photographs portray the beginnings of an era and society defined by image and illusion.
Bastian, 8 Davies Street, London W1K 3DW
2ndFebruary 2019 – 13thApril 2019