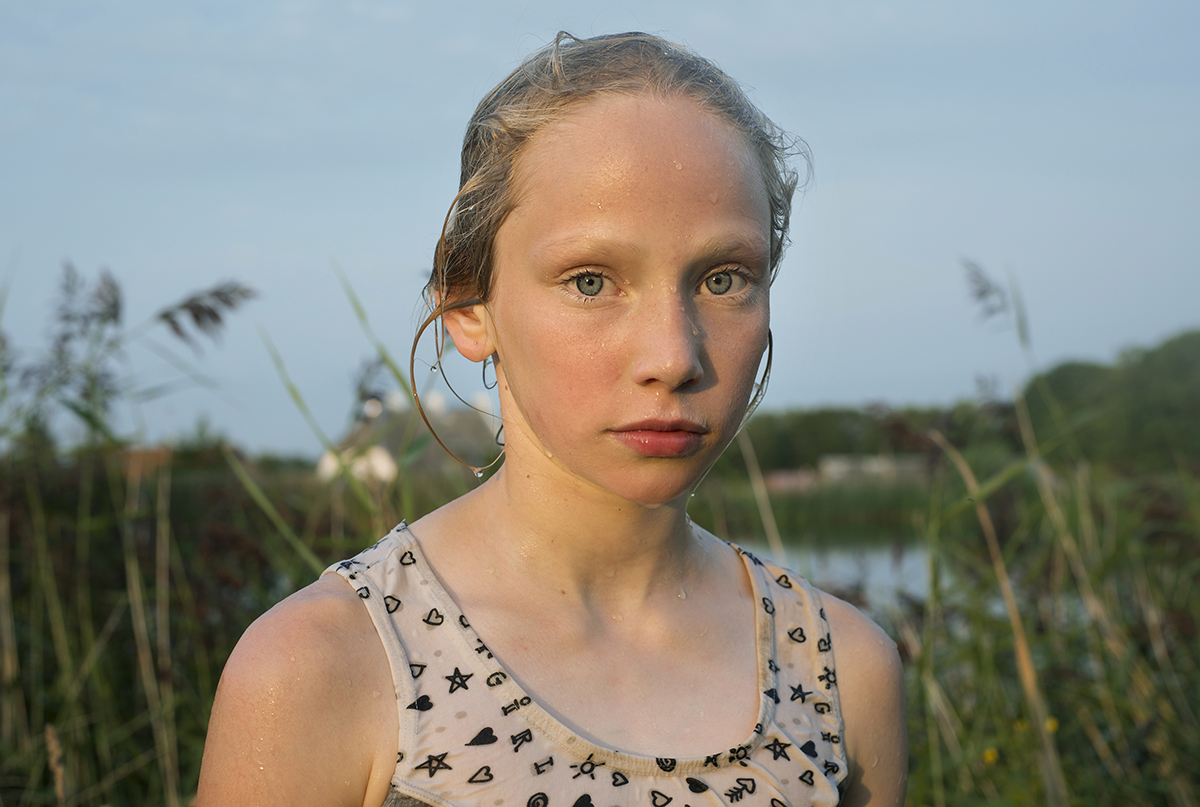 SHIFTING STANCES
James Russell Cant, Lee Brodhurst-Hooper, Paola Leonardi, Yiannis Katsaris, Beata Stencel
Shifting Stances presents the work of 5 contemporary European photographers working with the themes of identity and social changes against a landscape of socio-political uncertainty in Europe.
Divided To The Ocean by James Russell Cant presents portraits of individuals who have migrated to England by sea.
Using the sea and the tide as metaphors, this work considers the divisions of time, place, self and a potential for melancholy inherent in the process of migration. The images are composites made over a period of time spanning high water. Ebbing and flowing, these, the actual seas crossed on arrival, both connect and divide the subjects from their land of origin.
This Is How Low You Brought Me, For I Am In Love With You is an ongoing series through which Yiannis Katsaris, a UK based Greek photographer, questions his relationship with his homeland. Photographed over the past 10 years, this series composes a lyrical expression of love toward Greece, seen through the eyes of an expatriate, who questions his identity in relation to the evolving socio-political scenario, contemplating whether the separation from his homeland has made him into just another visiting tourist.
In Borderlands: The Edges Of EuropePaola Leonardihas meticulously documented remote areas where the European Union ends.Since 2012 Leonardi has followed on foot the boundaries traced on maps, focusing on the connection between people and territory and the significance of trans-national and transcultural identities, exploring the relevance of European identity and its relationship with concepts of home and belonging, memory and territory.
Beata Stencel depicts the fragile transition between childhood and adolescence.
Shot in the small village of Pelci, in Latvia, the series centres on the main character Leva,  documenting how her surroundings shape her identity and how place of belonging and events affect the individual, within the context of a country, Latvia, often abandoned by young people who emigrate looking for work.
Lee Brodhurst-Hooper's Sea Change depicts the evolving social economic landscape of Folkestone's next generation of inhabitants.
Started in 2016 – just a few months after the Brexit vote, in which 62.2% decided to leave. Sea Change portrays a diverse community of people from incoming artists attracted by the lower cost of living, refugees who have ended up in the port town only 30 miles from Calais, and locals who have lived in Folkestone for generations.
Along with Dover, Folkestone is located at the gateway to the European Union, there is a definite feeling of change happening, seasides like Folkestone were once Victorian holiday meccas, but social deprivation and cuts mean they are now fighting to evolve, re-evaluate and find a purpose.
Shifting Stances is an exhibition curated by Paola Leonardi and Luca Lo Sicco
Museo Palazzo Riso
Via Vittorio Emanuele, 365, 90134 Palermo PA, Italy
28 June 2019 – 2 December 2019
Vivian Maier: Colour Photographs
An exhibition of lesser-known colour works by Vivian Maier (1926 -2009), many on display in the UK for the first time, will open at Huxley-Parlour Gallery.
Vivian Maier was a professional nanny who worked for more than 40 years for families on Chicago's North Shore. In her spare time she would wander the streets of Chicago and New York, photographing fragments of everyday urban life, with spontaneity, empathy and insight. Although unknown in her lifetime, her photographic corpus was discovered in 2007, consisting of more than 100,000 negatives.
Dating from 1960 to 1984, the works in the exhibition depict street scenes of Chicago and New York, as well as including a number of her enigmatic, staged self-portraits. Maier's colour work was made during the last 30 years of her life when she began to work with a 35-millimetre camera. During this time she produced roughly 40,000 Ektachrome colour slides. Her colour work become increasingly more abstract than her earlier black and white photography, as she focused her lens on texture and pattern as well as on found objects, newspapers and graffiti. The photographs on display not only demonstrate Maier's eye for composition, but also reveal her understanding of the subtleties of colour harmony within a frame.
"Maier was an early poet of colour photography. You can see in her photographs that she was a quick study of human behaviour, of the unfolding moment, the flash of a gesture, or the mood of a facial expression—brief events that turned the quotidian life of the street into a revelation for her."  Joel Meyerowitz from the foreword of Vivian Maier: The Colour Work (Harper Collins 2019).
Maier died at the age of 83 and left behind in excess of 150,00 photographic images – in the form of prints as well as negatives, transparencies and rolls of undeveloped film. This vast body of work might have been lost or destroyed if not for the chance acquisition by John Maloof in 2007 of cache of negatives, prints, contact sheets, and unprocessed rolls of film, which were seized from a storage locker when Maier fell behind on the rent. As a result of this acquisition, Maier's work is now receiving international critical acclaim and has been exhibited in museums and galleries internationally since 2010. The 2013 documentary Finding Vivian Maier was nominated for an Academy Award.
Huxley-Parlour Gallery
3-5 Swallow Street, London, W1B 4DE
Monday – Saturday, 10.00 – 17.30
Admission free
31 July – 14 September 2019
Shutter Hub have been invited to create the main festival exhibition for the Fourth Edition of Festival Pil'Ours this summer, and will help deliver events that will form the basis for the festival's progression and inspiration. We are proud to be exhibiting an inclusive movement of 145 female photographers showing 435 images. Supporting each other and promoting their own work at the same time – this is how it should be, collaboration and community are key.
It is not only time to think about the festival, its direction, and what is needed, but also an opportunity for us to reflect on the work of women in the 21st Century. We welcome the opportunity to celebrate contemporary work by female photographers from the UK, Ireland, France, the Netherlands, Germany, Spain, Italy, Cyprus, Israel, Hong Kong, Bolivia, Brazil, United States, Canada and Australia.
Festival Pil'Ours
La Place Jules Robriquet, Forum Port La Vie, Saint-Gilles Croix de Vie, Pays de la Loire, France
Open 24/7
1 July 2019 – 31 August 2019
This major exhibition will examine the relationship between photographers, photography and the British seaside from the 1850s to the present. It is Turner Contemporary's first ever photography exhibition.
As well as featuring the work of eminent photographers including Jane Bown, Henri Cartier Bresson, Vanley Burke, Anna Fox, Susan Hiller, Paul Nash, and Ingrid Pollard, the curators have included rich and often unknown work from across photography's history, including Raymond Lawson's remarkable chronicle of family life in Whitstable.
Enzo Ragazzini captures the anarchy of the 1970 Isle of Wight festival, while Stuart Griffiths makes a bleak narrative of the 1990 rave scene in Brighton. Daniel Meadows, Barry Lewis and Dafydd Jones all photographed at Butlins in the 1970s and Grace Robertson records the raucous goings-on of a women's' day out to the coast in the 1950s.   Composer Benjamin Britten and tenor Peter Pears, partners in music and in life, created a haven by the sea that they preserved in photographs.
Images of hotel life, the beach, the holiday camp, dressing up and dressing down, wild waves and coastlines all combine to create a rich picture of the British seaside.
Turner Contemporary
Margate, Kent, CT9 1HG
Saturday 25th May – Sunday 8th September
Urban Impulses: Latin American Photography From 1959 to 2016.
Urban Impulses embraces half a century of Latin American photography, from 1959 to 2016, through more than two hundred images selected from the extensive collection of Leticia and Stanislas Poniatowski. Featuring the work of over seventy photographers and artists, the exhibition includes well-known names such as Alberto Korda (1928-2001, Cuba), Graciela Iturbide (b.1942, Mexico) and Sergio Larrain (1931-2012, Chile), as well as lesser known and emerging practitioners such as Eduardo Longoni (b. 1973, Argentina) and Beatriz Jaramillo (b.1955, Colombia).
Offering a diversity of artistic approaches, from street documentary to collage, the show traces a constellation of significant historical events that have marked the region: the Cuban revolution, military dictatorships in Argentina, Brazil, Chile, and Paraguay, along with mass social movements which, in still unconsolidated democracies, have given way to repression. Daily resistance to oppression has been a part of the agenda of many artists in the exhibition, and activism in both the artistic and political fields have been manifested in and through the spaces of the urban street. Here a hybrid iconography emerges where photography exists in tandem with other media of mass circulation such as graphics, photo-copying and print media, often involving the marking, cutting and defacement of images where the notion of appearance and disappearance exist in tandem.
The exhibition is curated into two distinct but complementary themes: Shouts and Pop-ular. Shouts considers photography's role not only in documenting identities and presences, but also to explore absences: in the face of kidnappings and forced disappearances carried out by authoritarian regimes, photography has been a weapon against silence. Public spaces and the city walls have also played an important role: when pen and paper, laws and rights, courts and judges have failed to obtain justice, the walls of the cities have taken on a life of their own. And photographers have portrayed these walls, covered with the slogans and cries of protest of those demanding political, social, and economic recognition, and reflecting the anger and cynicism, the hopes and frustrations of the cities' residents.
The Photographers' Gallery
16–18 Ramillies Street, London, W1F 7LW
14 June –6 October 2019
Liz Johnson Artur: If You Know the Beginning, The End Is No Trouble
For her first solo show in the UK, Russian-Ghanaian artist Liz Johnson Artur presents new sculptural works incorporating photographs selected from her substantial archive of images documenting the lives of people from the African diaspora.
Artur has taken photographs across Europe, America, Africa and the Caribbean for more than three decades. She calls this ongoing project the Black Balloon Archive, alluding to a 1970 song lyric by Syl Johnson that describes a black balloon 'dancing' in the sky, which is how Artur imagines her own movement when taking photographs.
This exhibition focuses on London, where Artur has lived since 1991, capturing the richness and complexity of Black British life. "What I do is people," Artur says of her work. "But it's those people who are my neighbours. And it's those people who I don't see represented anywhere."
In the Main Gallery, four hanging and floor-based bamboo cane structures host a body of images taken across the city, including in Peckham Rye, at black-majority churches and at non-binary club nights. One section focuses on still life images taken in the artist's London studio, which is home to a wealth of reference books, vinyl records and magazines.
Artur shoots exclusively on film, and here her images are printed at various sizes, materialised using traditional photographic techniques onto paper as well as applications onto fabric, tracing paper and cardboard. Artur uses these different techniques in the workbooks she has regularly made since she first picked up a camera, and the exhibition functions as an expanded version of these ongoing journals.
The sculptural structures provide a backdrop for an integrated programme of events, in which artists working across music, poetry and theatre create intergenerational collaboration, performance and discussion. An off-site event at Peckhamplex cinema and a collaboration with Theatre Peckham extend this programme beyond the gallery building. In parallel, ongoing SLG projects respond to and engage with the exhibition, including recording women's oral histories.
The Black Balloon Archive started from Artur's very personal desire to connect with people. She now sees the work as characterising a perspective that is "missing when it comes to representing and occupying common ground."
Artur's exhibition at the South London Gallery follows her first museum show, opening in May 2019 at the Brooklyn Museum, New York.
South London Gallery
65-67 Peckham Rd, London SE5 8UH

Friday 14th June – Thursday 1st September
Misbehaving Bodies: Jo Spence and Oreet Ashery
Wellcome Collection presents 'Jo Spence and Oreet Ashery: Misbehaving Bodies', a major new exhibition which brings together two artists who explore the representation of chronic illness and experiences of care. Through their work, and an accompanying live programme, the exhibition foregrounds health diversity and challenges our understanding of 'untypical' bodies, reflecting on how illness can disrupt and shape the way we think about the body, family and identity.
Influential photographer Jo Spence's (1934–92) work documents her diagnosis of breast cancer and subsequent healthcare regime throughout the 1980s. Her raw and confrontational photographs will be shown alongside Oreet Ashery's (b. 1966) award-winning miniseries 'Revisiting Genesis', 2016, which explores death and dying in the digital era.
Together the artists question how we look beyond a patient's diagnosis and articulate a more complex understanding of illness and life-limiting conditions.
In autumn 2019, a new Wellcome film commission by Ashery exploring the recent death of her father will be displayed in the exhibition. The work raises questions around the representation of death and dying in the era of the selfie.
Wellcome Collection
183 Euston Rd, London NW1 2BE
30 May 2019—26 January 2020
New Photographers Guild: Still Searching…
'Still Searching…' is the fourth annual exhibition by the New Photographers Guild. Over the course of the last six months each of five participating artists have made work in response to the theme of 'Worship'. The photographs on display showcase a multifaceted approach to picture making by a diverse group of young and emergent photographic artists based in Scotland.
Simona Ciocarlan is a Romanian visual artist and photographer based in Glasgow. Simona's work explores the relationship and impact between traditions and the modern world, investigating how our perceptions over the world are influenced by cultural heritage.
Aga Paulina Mlynczak is a Polish artist based in Glasgow. A project delves into memories in order to isolate and identify qualities that made her believe in the divine or experience the sublime in childhood. 'Ghost in a Shell' introduces religious symbolism to concepts of self-love/self-sabotage, providing an alternative spiritual but secular narrative.
Carmel Pia is an artist based in Glasgow. Her work dedicates importance and gives time to the in-between spaces in our lives using photography, painting and printmaking. For the New Photographers Guild, Pia explores the infrastructure of the built environment and its relationship with the natural.
Paul Reich's work focuses on his own curiosities about the world around him, rooted in an interest for storytelling. His current work is a personal look at his own relationship by considering the meeting of the conscious and subconscious in the act of making photographs.
Ilisa Stack primarily uses social documentary and environmental portraiture in her practice as a means of visual story telling. For the project living grief Ilisa uses in-camera double exposures to express her intimate personal conflicts of emotions in relation to her father's recent terminal cancer diagnosis.
The New Photographers Guild is a mentored photography programme preparing recent graduates for professional life beyond education led by Elaine Livingstone, photographer, Claire Stewart, photography lecturer and James Pfaff, photographer and artist, in association with Street Level Photoworks.
Street Level Photoworks
Trongate 103, Glasgow G1 5HD
4th July – 11th August 2019
---
Not a Shutter Hub member yet? Join here for opportunities to promote your work online and in exhibitions, access selected opportunities, events, seminars and workshops, meet up and share photographic experiences, and become part of our growing community…