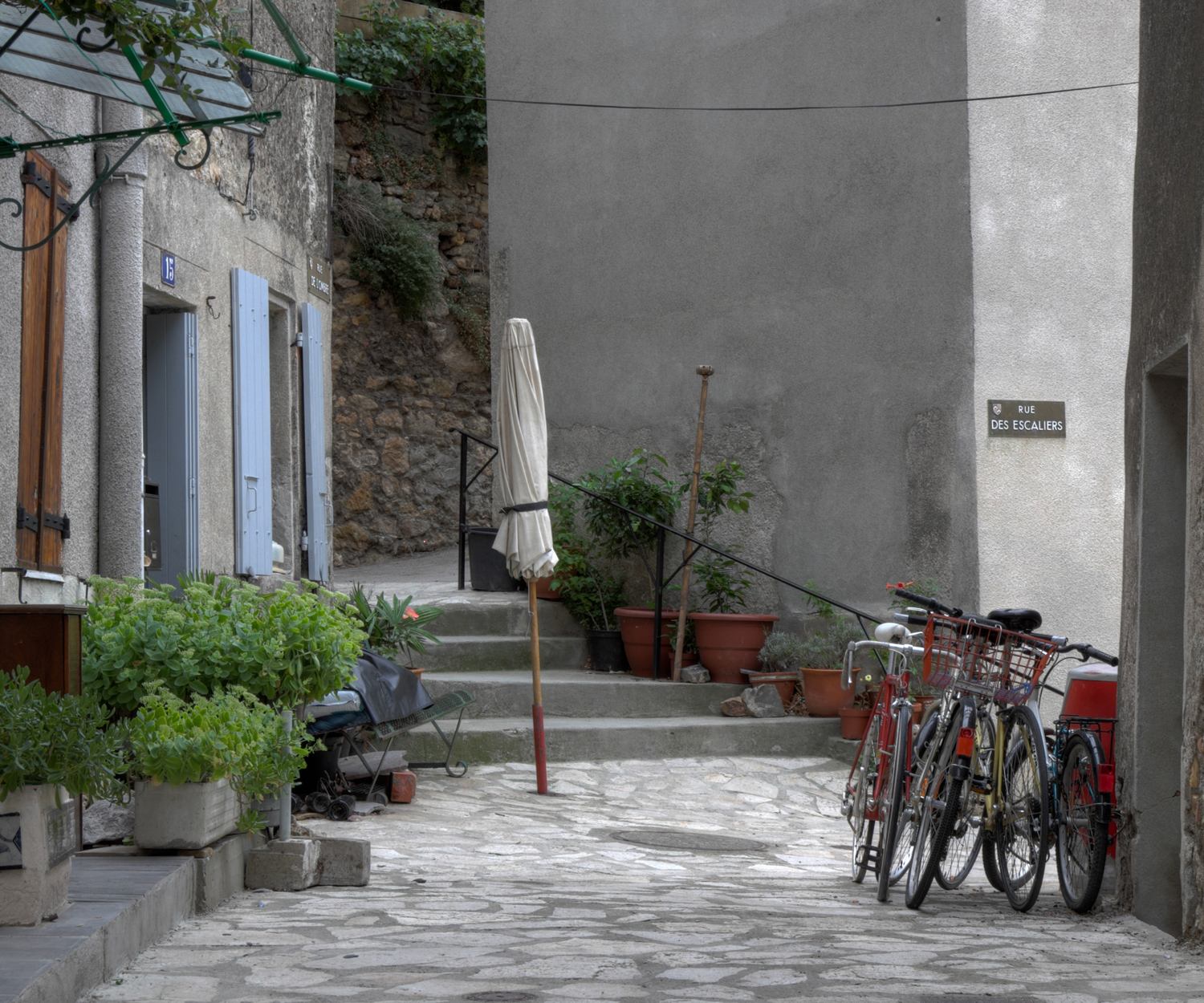 Shutter Hub member Holger Martin has shown works at both our Place and Open exhibitions earlier this year. He has now produced a book in collaboration with Nottingham based writer Wayne Burrows, which documents an early morning perambulation of Durban-Corbières, France. Holger Martin's photographs accompanied by short meditative commentaries by Burrows provide a sort of vicarious tour of the streets, alleys and doorways of this historical village.
The photographs, bereft of the sight of human beings, have the effect of focusing the attention on the architectural spaces, colours and textures which are particular to these streets. In turn the apparently ordinary looking scenes have a sense of expectation about them, as a theatre stage awaiting its actors to enter. Holger Martin explains:
These photographs were made in Durban Corbières in France in August 2013. Over a number of days during one week, I went out in the morning around 8am. During those mornings, the place had a quiet serene atmosphere to it. Not many people were out, while you would see the occasional person walking about or sitting in small outside areas and gardens, maybe having breakfast. Not at all touristy, an alive and lived-in medieval town centre, containing a mix of houses ranging from just renovated to completely derelict. I used a tripod and quite a slow process, so I was at each location for a while, taking in the streetscape.
The accompanying text provides a very personal response to the photography, immediate and with a sense that the writer is himself entering in to the image to view it from the inside out. The style wisely avoids being overly descriptive, instead providing a lyrical interpretation rather than an explanation. On the other hand we are offered here and there some hints at the history and culture of the region which are welcome because this places the village in context. One is left wondering about the people who have inhabited these scenes over the centuries. Holger Martin says of the collaboration between himself and Wayne Burrows:
In conversation and through notes, Wayne and I exchanged what I experienced when taking the photos, passing on the things that the camera cannot see. What I heard, what it felt like, what I knew about the history of the place. Having never been in Durban, Wayne took away the photographs and my notes, added his own research and produced the accompanying text, providing subtle but in no way definitive guidance to the viewer, which in turn offers others and me a different way to look at the work.
This book provides an evocative record of the feel and atmosphere of the substance of this place, beyond the lives if its inhabitants: perhaps a contemplation on the passing of time. You can buy the book here.
Durban-Corbières

44 pages: hardcover: colour

£45
You can see more of Holger Martin's work at his Shutter Hub profile, and find out more by visiting his website.