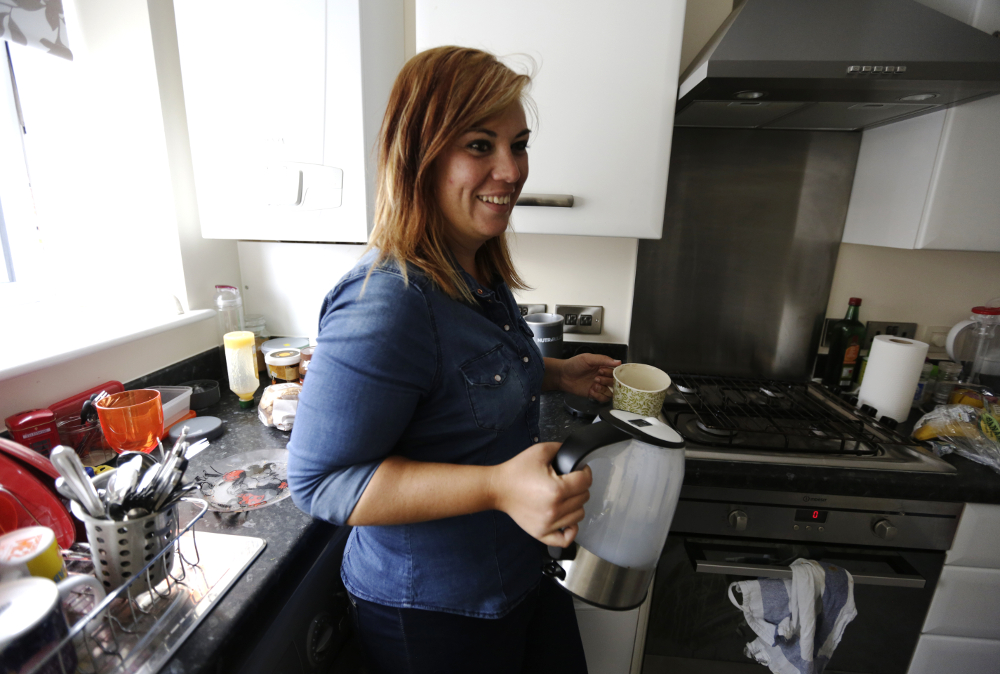 Susana de Dios is a Spanish photographer living and working in the UK. Her work explores issues of immigration, identity and belonging through portrait and documentary photography. We met Susana through a portfolio review at Format International Photography Festival this year. Susana spent the months following the Brexit vote travelling the country talking to and photographing Eurpoeans living in the UK, work which has culminated in the project At Home. We thought her work was important and needed to be shared more widely, so we invited Susana to share her project in her own words…
I met Shutter Hub's creative development director Karen Harvey at the Derby Format International Photography festival. She kindly took the time to review my most recent work at the time – a photodocumentary project called "At Home" that I had just completed – and gave me invaluable insight and advice on how to best present it and take it forward.
Karen also invited me to join the Shutter Hub community and we have been in touch ever since. Having the support and wealth of knowledge that Karen and her team provide has really helped me expand my vision and is a continued source of inspiration in my work.
"At Home" was conceived after the vote to leave the European Union on the 23rd June, 2016. In the months that followed, and up until the triggering of Article 50 officially signalling the intention to exit, I travelled the country to talk to and photograph the people directly affected by a decision on which most of them didn't have a say.
Originally presented in black and white to reflect the anxious mood at the time, I gradually moved to colour as this allowed the detail of their surroundings to add to their own stories, helping the viewer identify with the subjects at a more intimate level.
Although essentially a documentary of others, this was also a project born out of a need to try to process and make sense of the referendum result and what it meant for me personally.
On reflection, it was also a way to try to distance myself from what was happening around me and wasn't yet prepared to face – the camera between my subjects and myself serving as a protective barrier behind which to detach, observe and document whilst avoiding introspection.
However, as the project began taking shape, it was through the stories of the people I photographed that I was finally able to confront and deal with what Brexit meant to me, my identity as an immigrant and my place in British society.
These are some of those stories:
Simona
"I cried when I found out about the result of the referendum, for me it was a sign of regression. I think the idea of controlling people's freedom of movement between countries is unnatural and unnecessary."
Simona comes from Italy and moved to the UK in 2009. She is studying a BA in Music Performance in one of the country's leading music schools and collaborates regularly with musicians, singer-songwriters and orchestras in many festivals across the country.
The uncertainty that Brexit has brought to EU nationals in the UK has changed her way of seeing a future in this country both for her husband and herself.
She told me that they had both worked really hard to achieve what they have now. They felt settled and saw their home and their future here, but Brexit has now turned all that upside down and not knowing what was going to happen is making them feel very vulnerable.
Since the vote, they can sense an air of hostility towards immigrants and immigration in general, and are worried that the current political rhetoric hasn't addressed this problem so far. They feel let down in this respect, but very much heartened by the support and understanding they have had from their British friends.
Jadwiga
"I am very worried that the wave of hate will continue and that it will get worse when we actually leave the EU. It will affect innocent people, who work hard, and that is really unfair."
Jadwiga is Polish and moved to the UK in 2010. She soon found employment, first as a warehouse worker, then as a part-time teacher and finally as a personal development coordinator for an organization that helps individuals struggling with homelessness and mental health problems.
For Jadwiga Brexit was "like a slap in the face". She sensed the effects overnight and, according to her, the situation totally flipped. She has heard some upsetting stories from the Polish community in her area, incidents such as Polish people not being served well at stores, cashiers being unpleasant to them and generally a sense of hostility that makes her suddenly feel not welcome.
However, she refuses to let Brexit change her perception and is holding on to the many acts of kindness she has received from her British friends and co-workers, particularly one she experienced from her manager, who the day after the referendum went out and bought all his foreign workers flowers to show his appreciation.
This showed Jadwiga that she is still appreciated for who she is and for her contribution. "I belong here" she told me, "this is my home".
Anna
"If leaving the EU really is the best for the country then so be it, it is up to them. It was my decision to come to the UK and I respect and have adapted to the culture because I believe it is the right thing to do. I would expect the same of anyone coming to live in my country."
Anna comes from Spain and has lived in the UK since 2008. Since she arrived, Anna has worked in the hospitality sector and later in human resources and sales for various companies. In 2015 she retrained as a personal coach and now runs her own business helping people work through their emotions to lead happier, healthier and more fulfilling lives.
Brexit hasn't particularly affected Anna's life so far. She acknowledges that there is a lot of confusion at the moment and that nobody really knows how it is going to turn out. This doesn't worry her however, and she is happy and content in this country and always tries to focus on the positive.
Since the referendum she has felt more support and kindness from British people than ever before, something that has reaffirmed her belief that despite everything that's happened since June last year this where she feels at home.
Anette
"A lot of concepts have been muddled: immigrant, refugee, asylum seeker, it is all totally muddled in some people's imaginations. To some the stereotypical immigrant is poor, milking the system, doesn't speak the language and probably has a different religion or different beliefs. But I don't fit into any of these categories and most EU nationals here don't either."
Anette comes from Germany and met her British partner while on holiday in Bali. Her background is in Sociology and Politics but in Germany she worked as a travel editor for the online version of a national newspaper.
When she first came to the UK, Anette felt very much at home – happy because she was with her partner, accepted as the person she is by her neighbours and safe and protected as no one questioned her right to be here. Her legal status was secure, she blended in and felt accepted for who she was.
She saw the result of the referendum coming but that it still felt like a "kick in the teeth". To her, Theresa May's speech at the Tory conference was shockingly hostile and xenophobic, and her infamous dictum "A citizen of the world is a citizen of nowhere" was the complete opposite of her philosophy of life and her conviction that you can make pretty much any place in the world your home – if others let you.
As a result of the Leave vote she now feels rejected, no longer welcome and as alienated from this country as never before. As she put it: "A bit homeless, really."
Simon
"Some people say that the Leave vote was a vote of punishment against Cameron and the Tories, but I think the voters are only punishing themselves. I see no positives at all in this situation. Things seem to have calmed down but you can already see some repercussions."
Simon was born in the UK to an English father and a Spanish mother. Although British by birth, he identifies more with his Spanish side. He holds a Bachelor of Arts in English and Spanish from Oxford University and a PhD in Spanish Theatre from Queen Mary University of London.
Simon has travelled between the two countries his whole life. In 2008 he moved to Spain and began working for a theatre company in Madrid. In 2013 he returned to the UK to work as a university lecturer, a position he still holds now.
Simon has always felt like an outsider, even though he was born here and lived here on and off for 20 years. The EU referendum has done nothing but reinforce this feeling for him.
When he returned to the UK from Spain at age 13 he was bullied as the Spanish kid, even though he was English, looked English and spoke fluent English. And yet, he was different.
For Simon, the referendum feels like that all over again, a rejection of what is different.
In the months I spent photographing EU nationals and listening to their stories, the predominant theme seemed to be that for an immigrant the concept of home is rarely static.
When we move away and leave behind the comfort and security of our country of birth – our original home – we start constructing another identity for ourselves. An identity in which flexibility and adaptability become the essential building blocks, and that can't be forged successfully without a strong sense of belonging.
The Brexit vote has shaken that sense of belonging for many and has made us really question, perhaps for the first time, our place in the world. Do we belong in this country? Where is "home"?
Going forward, I would like to keep looking for answers to those questions and expand on the conversation I started with 'At Home'. I want to revisit some of the people I met and capture their current experience, one year on.
I am particularly interested in exploring ideas around resilience and the reshaping of identity. Looking to the future, and given our current social and political reality, for those of us living in Britain what is the way forward? How do we redefine our place in British society? Perhaps more importantly, a year after everything changed for us, as immigrants what have we learnt about ourselves?
Susana has now begun work on her follow-up to the project, revisiting some of the people she met – read more here.
All images © Susana de Dios
Do you have a favourite photographer you would like to see featured in one of our Close Up features? Or maybe you have a series of work you'd like to share? Send us an email to submissions@shutterhub.org.uk
---
Not a Shutter Hub member yet? Join here for opportunities to promote your work online and in exhibitions, access selected opportunities, events, seminars and workshops, meet up and share photographic experiences, and become part of our growing community…