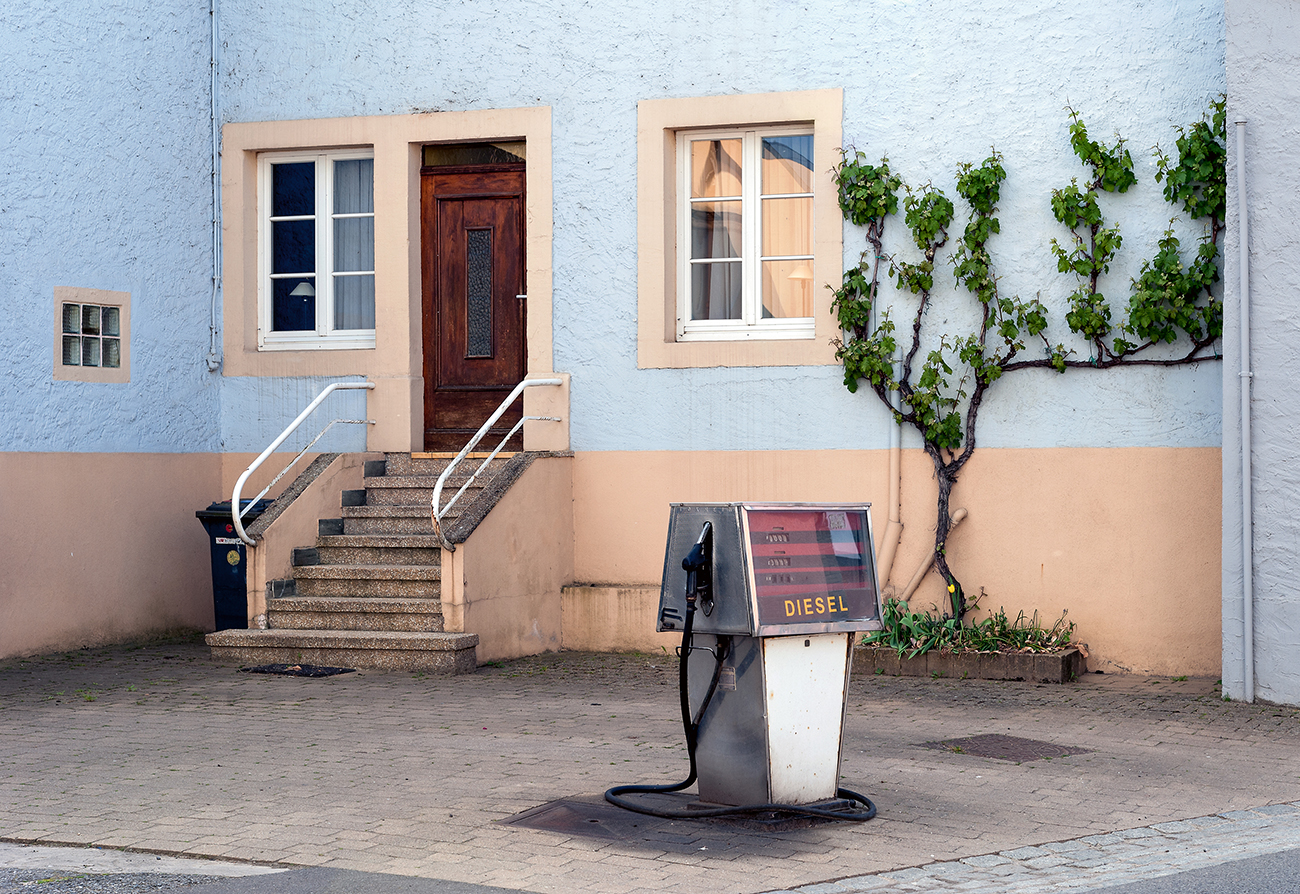 Schengen is a Luxembourgish wine-growing village that borders on Germany and France. In 1985, the first agreement to eliminate inner- European border controls was signed here, in the very heart of Europe. Today, in the period of the refugee crisis, this agreement has literally reached its limits. Ruth Stoltenberg was raised in this three-country border region and addresses the effects of the opening of the borders on the culture and everyday life of the people who live there. Do houses and front gardens reveal national identities? Or does this region shaped by wine-growing and agriculture have its own cross-national charm?
One of my favourite books from 2018, Shengen. This most significant but inconsequential place, seen through the knowing eyes of photographer Ruth Stoltenberg.
Shutter Hub have exhibited Stoltenberg's work three times during 2018, twice in London, once in Amsterdam.
It's the straight lines and quirky angles that make it for me, and the houses. Nothing looks real, it's often hard to tell the difference between the model village buildings, and the plants look like some kind of intricately formed plasticine.
Textures and colours. An exaggerated version of the suburban that could not just be anywhere, but everywhere.
It's a surprise to turn the page and see a person, a small girl cycling up hill. So, Shengen is inhabited. A real place, not a 'Portmerion' for the Prisoner.
The use of juxtaposition in sequencing is a joy. Every page turned discloses another comparison or revelation, some subtle, some less so.
I wonder if, at night, all of these objects come alive, shuffle a few steps left, a few steps right. The rounded bushes and pointed trees swap gardens, wondering if anyone will ever notice. No borders, freedom to move, freedom to be.
Schengen by Ruth Stoltenberg
Published by Kehrer Verlag
Hardcover
16.5 x 22.5 cm
112 pages 71 colour illustrations
ISBN 978-3-86828-886-5
Schengen was reviewed for Shutter Hub by Karen Harvey