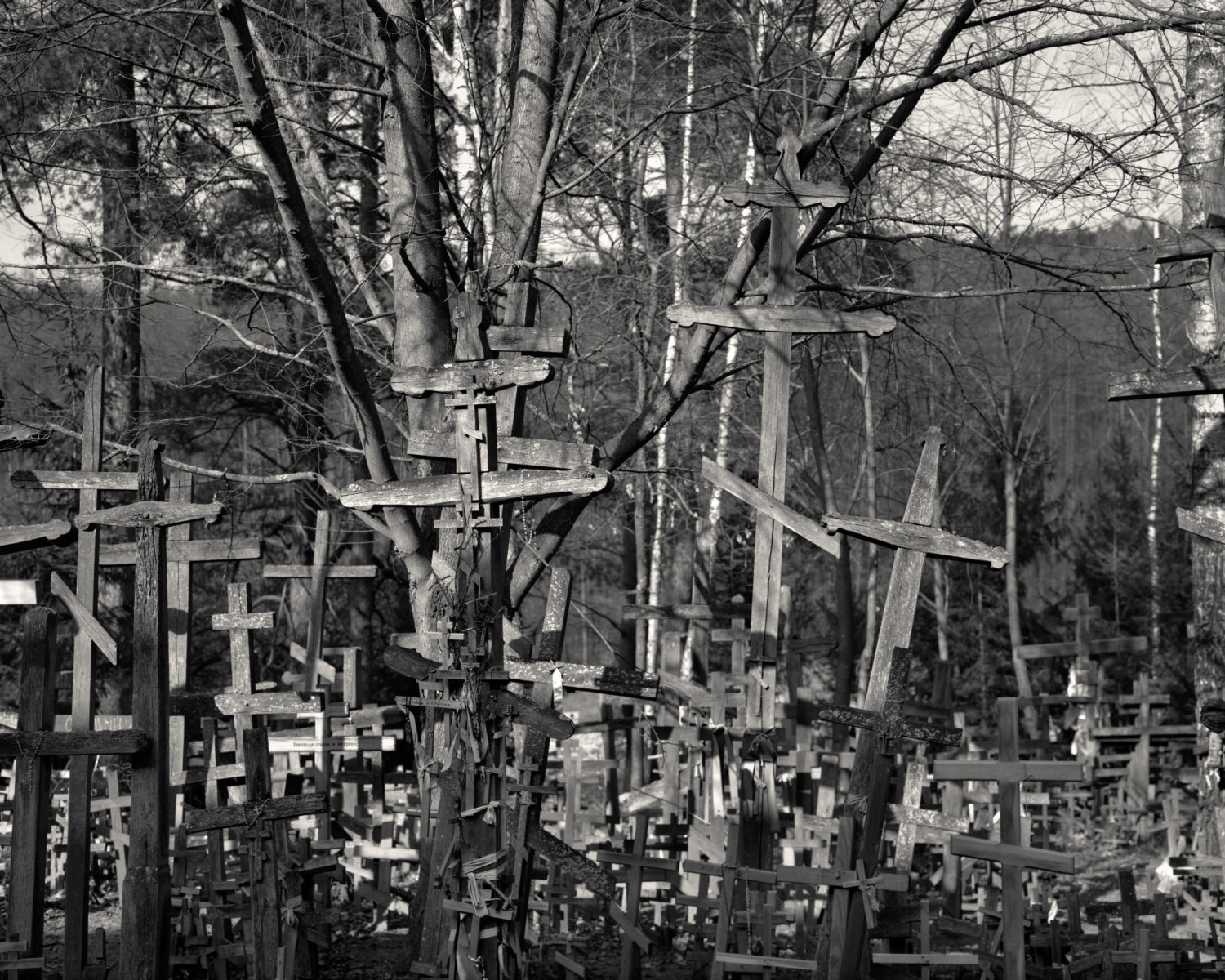 Ex-Voto is the culmination of a five-year photographic journey to Catholic pilgrimage sites in Ballyvourney, Ireland, Mount Grabarka, Poland, and Lourdes, France by award-winning photographer Alys Tomlinson. The book's title, Ex-Voto, refers to the physical offerings given in order to fulfil a vow – humble objects such as handmade wooden crosses and pages torn from notebooks – which connect the pilgrim with the landscape. The project comprises of black and white portraits of pilgrims, landscapes of the sites and still-lifes of the ex-voto objects, captured on large format film. Shot with an objective gaze, the images appear untethered from contemporary life and out of time, whilst evoking both the stillness and spirituality present at these sites of great contemplation.
Ballyvourney, Mount Grabarka, and Lourdes are pilgrim sites whose origins go back to the 6th, the 13th, and the 19th centuries respectfully. The narrative drawing the faithful to Ballyvourney involves an early Christian woman's hunt for nine white deer; to Mount Grabarka, the miraculous curing of a cholera outbreak by holy waters and the removal of an icon of Jesus from a church for safekeeping in a hilltop forest; and Lourdes, a young girl's visions of Mary in a grotto. Belief and faith in these narratives draw modern-day believers, whose pilgrimage signals both their belonging to a community and an act of faith.
'It is a difficult undertaking, this visual divination of belief. In her reflective, rational, but deeply attentive approach, Alys Tomlinson evokes the silence and the stillness at the core of the spiritual life, but also its mystery and its simplicity, the one inextricably bound up with the other. It pays to spend time with these stark, mysterious images. They go to the very heart of things unseen'. Sean O'Hagan
Ex-Voto is a truly beautiful book that feels very special. Every aspect is deeply considered, informed and of significance, from the gold font reminiscent of sacred text, the simplicity of the layout, through to the choice of accompanying text.The rich, striking images absorb you – portraits that are at once arresting with their open, engaging gaze and calming in the serenity of each sitter. The Ex-Votos themselves, whether they be ornate rosary beads, tiny scraps of paper or simple scratches into the rocks, are documented faithfully and with care.
The rich, tonally perfect landscapes and natural details from the sites complement and enhance the experience, help us to feel as though we are part of the journey.
Although of course all images are interpreted differently by those who look upon them, it feels particularly pertinent with Ex-Voto. Other than the choices made in photography and design, the photographer offers no explanations, no captions. We know these photographs were made in Poland, Ireland and France, but they could easily have been taken in the same, somewhat other-worldly, place. A place we may have visited, a place that feels timeless. This is a book that I think will truly mean something very different to every viewer, drawing upon their own upbringing and experience.
Ex-Voto by Alys Tomlinson
GOST Books
Published March 2019
232 x 290mm portrait
98 pp, 47 duotone illustrations
Hardback
Essays by Dr Rowan Cerys Tomlinson, Professor John Eade and Sean O'Hagan
ISBN 978-1-910401-27-9
Ex-Voto was reviewed for Shutter Hub by Jayne Lloyd.
You can buy Ex-Voto here.
---
Shutter Hub are dedicated to only sharing content that we feel is relevant and of interest to our readers. For full details and our disclaimer please refer to our Terms and Conditions here.
---
Not a Shutter Hub member yet? Join here for opportunities to promote your work online and in exhibitions, access selected opportunities, events, seminars and workshops, meet up and share photographic experiences, and become part of our growing community…