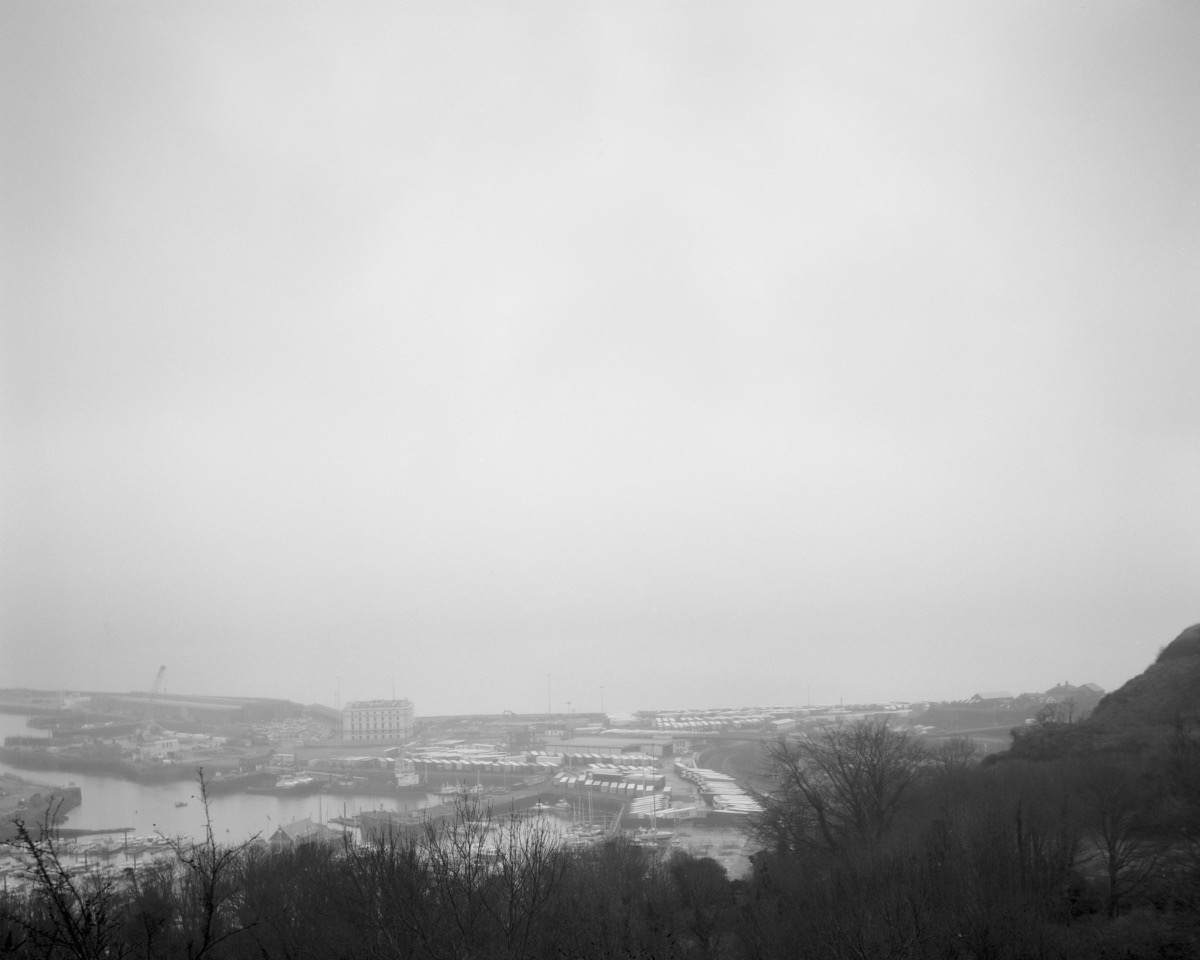 Shutter Hub member Mal Woolford recently took part in a Shutter Hub Surgery, and shared work from his new exhibition, Still still far wide, with us. We loved the work, and wanted to share it, and the thinking and development behind it, so invited Mal along to give us a 'behind the scenes' look at the project…
While I've been busy preparing for the first showing of Still still far wide in Dover, I realised I'd lost sight of how the project evolved. At Karen's prompting during our Shutter Hub Surgery together I agreed it would be useful to re-visit the origins and development of the project. If I look back on where this project came from, I might take heart that the next project isn't so far away.
At the outset, I was at the point of approaching portfolio reviews with images which I'd simply gathered along the way by applying simple strategies.
The strategies I was trying included:
photographing wherever I happen to be [carrying a camera everywhere, no bag, no lens cap]

letting the camera offer me what it sees [really liberating]

creating relationships in the frame [shooting panoramic]

shooting more [placing no restrictions on the amount of film I used, getting into a regular darkroom/lightroom routine, making space and time]
and it turned out, most powerfully:
opening up to showing the images.
If you're a Shutter Hub member like me, you're probably already wise to this, but switching my approach from trying to control too few images to being open and transparent with many more images has been so positive.
The first round of portfolio reviews I went to were entirely contradictory. It was a challenge to present images which weren't conceived as sets with the hope of conveying some sense that I had some potential with the medium, while I was still finding my feet, let alone walking. "Use one camera, one film, one print size" versus "explore more, follow your instincts". I chose the path of open profusion. The more you make, the more options there are, the more directions and possibilities there are. Let the images tell you where you need to go.
A conversation with some other London-based photographers turned up the idea of exploring Dover. We were searching for a common theme. I'd just resolved to look for subjects in my immediate surroundings so the idea broke my self-imposed restriction. The thought of making multiple trips to a town I had no relationship with with no brief wasn't very appealing. I joined the recce with the intention to see what the camera sees and to respond to what I see for one day only. We split off on our separate ways.
I'd found that the later scenes of Shakespeare's tragedy King Lear are set in Dover so thought I might find some local resonance between the politically polarised United Kingdom of today and Lear's divided realm. A necrotic Albion of sorts.
I also had a feeling that if I could find that resonance it would suit shooting in large format. So I promptly forgot how to mark my exposed sheets to avoid double-exposure and marched off in the opposite direction to what I later learned is Shakespeare Cliff. In the rain.
While the 5×4 camera is hard on my technique, it does bring people to talk to me when they see something out of the 1950s on a tripod and the slow process of shooting with it. And that's how I made my first connection with a local Dovorian. A conversation in the rain which became a messaging correspondence and an introduction to Barry O'Brien of Dover Tales and a highly active member of Dover's arts community.
A second visit, and again I went in the wrong direction. We were heading into winter and the camera looked down on a fog-bound Sunday stillness. Articulated lorries parked like a military build-up. I could sense an ancient historic pattern somewhere just outside my peripheral vision.
With more research, I found that the Eurotunnel connecting the UK with France runs directly beneath Shakespeare Cliff. Layers and layers of resonance.
While I was most definitely someone DFL (Down From London), I resolved to make the project as if I were local. I drove to meet Barry in the worst snow of the year, photographed the cliff in stormy conditions and this third trip gave me the core imagery I'd build on.
Over the next three months, I recruited a local Lear (Chris Burke) a young Cordelia through Dover Youth Theatre (Rhianna Jacobs), a crown-maker, shot with them one day a weekend, shot solo the next day and repeated four or five times. The more I narrowed my area of activity to half a square of an Ordnance Survey map, the more the images seemed to align themselves with a theme of estrangement. It may have been on my mind, but it also seemed to be in the air.
As an example, a small image of a spider web spun across a chrysalis has become a key to the project for me. As the moth emerges, so it will be caught before it can fly. What better image for the predicament of an emerging generation now?
As I prepare to show the images for the first time, in Dover, to the people who helped create them, I feel a turning point. I don't think there will be a single definitive way to show the images. A 'final' sequence. It will be a performance of some of the possible images in a room. Hopefully an open encounter.
Still still far wide opens with a Private View on Saturday 15 September at 7pm at MyGallery, 3 Waterloo Crescent, Dover, CT16 1LA. Free tickets available here.
The exhibition is accompanied by a sound design by Haresh Patel based on field recordings and music recording with flautist Paul Cheneour on location in Dover during the shoot.
The exhibition continues at weekends 1pm-6pm Saturdays and Sundays, closing on Sunday 30 September.