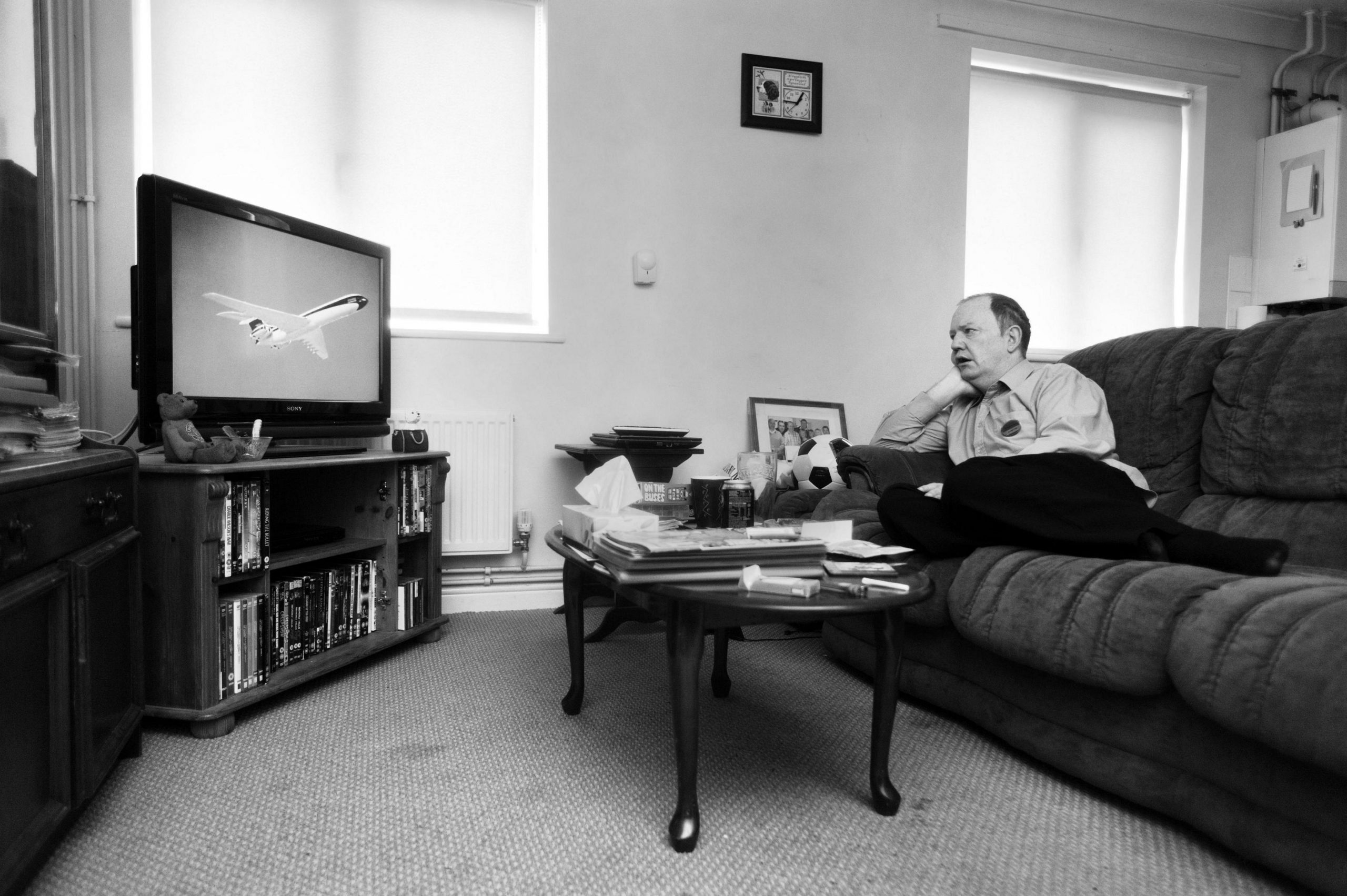 JA Mortram is the creator of Small Town Inertia, a series of photographs and texts which offer a detailed portrait of people from his local community in rural Norfolk. We speak to him about his work and how he sees it…
Who are you?
Jim Mortram, I'm principle carer for my Mother and within the time I have free from caring duties, I work on long form social documentary stories within my local community.
When did you first discover your interest in photography (or art in general)?
Prior to my returning home to care for my Mother, I was in the middle of studying Fine Art painting, my studies were cut short by becoming her carer, however the passion I had for visual media remained a constant throughout my life.
I was young when I made the decision to return home and though I have zero regrets of that decision, I'd no idea how tough my life would get, caring, it's a hard role, especially when caring for a loved one.
I split it into two distinct paths, one, taught me more about empathy, patience and life than any other experience within life, the other, was a road that was fraught with stress, isolation, pressure, a very shaping journey, it tempered me in experiencing first hand what it is to exist somewhat outside the norms of life, to be taken to the edges and also, in just how important it is to look, listen and care for those around you, life is not singularly about the self.
Cumulatively the experiences of caring, witnessing a lot of pain, suffering, erode and stretch the self, something always gives. About a decade ago I hit that breaking point and though able to continue my caring duties, I just shut down, within the eye of that particular storm and had a few really rough years.
Everything changed when a friend loaned me a camera, encouraging me to get out of the house whenever I could and make some photographs. I took the opportunity and in truth discovered the one thing that felt like my true self, in a very real way, photography saved my life and that's a debt I'm continuously attempting to repay.
How did you first start Small Town Inertia as a project, and how did you settle on the format and how you wanted to present it?
The starting point was the decision to dedicate all my photographic work solely to documentary, which was a very organic, natural event, I gravitated to the one genre that felt most natural.
I knew in no way was I concerned with making art, I wanted solely to document stories, lives, to be a conduit for those around me. It's always been important to be highly aware of context and to never present images as an opportunity for viewers to hand their own prejudices or misunderstanding upon, it was always a very natural, obvious and essential aspect of my photographic work, to include testimony, as a defence against misinterpretation and also, to allow a platform for those depicted within the photographs to share their lives, it always felt very natural to enable this and inexcusable to not put the effort and time in to facilitate that context.
Also, a huge part of long form, is being there, as a human being, not singularly as a documenter or a photographer but really being there as a person, listening, caring, giving a damn, attempting to learn and understand, that process retains some humanity within any relationship, so within the frame of a really long project, to divorce oneself from feelings, compassion, not only would render any hope of evolution of trust impossible, it would render any hope of intimacy, of the disappearance of the camera, any work produced would be tainted with that divide and when you're working on a story, it's imperative to do all you can to do the best job you can, ensuring the photographs are not imprisoned within an ego fuelled limbo, telling more about the photographer than moment, I just figure, the person you are, enable the photographs you'll make, so I've never thought of myself as 'photographer' or any label really, I just do what I do and be who I am, part of that, or maybe a by product of that, is I make photographs and share stories.
The series is definitely one where the text is intrinsic to the work as a whole. Do you feel that it's important to always provide context for your photography or is this approach specific to this project? Do you see yourself working in different ways for future projects?
It really is at the mercy of the context, a story without the moorings of context, is never going to amount to much of a story. Certainly when I make non story based work, there is less of a requirement of swathes of text based information, if the photographs are moment orientated, landscape, architectural, street work, the context can, one hopes, be self contained within the resulting frames.
The people who feature in Small Town Inertia provide you with a remarkable level of access to their personal stories and homes. Can you explain a bit about this interaction and how you see the relationship between you and the people in Small Town Inertia? Do you see yourself as taking part in the ongoing stories, or just reflecting them?
I meet peoples as strangers, they new to myself and I to them and as with any relationship, you're party to the seed of opportunity, often it works and evolves, in truth, I've always experienced it as a part of my life, never apart from it.
Do I take part in the lives of those I document, for sure, in certain ways, just as they do mine, certainly within the arena of trust, of sharing, talking, listening and caring, it's just the way I have always felt a community should be, you have to be receptive to those around you, interested, open, have desire to understand, to allow yourself to be illuminated.
I've kept in touch with everyone I have ever photographed within the documentary series, I guess the question is, why wouldn't I?
The content of Small Town Inertia is really particular and personal to those people in it. On the other hand, for the viewer it prompts wider reflections about the problems they face (for example problems with mental health, housing, debt, and prejudice). How do you see these two elements in your work, or do you see them as separate?
All of it, it's the life and lives of those around me and from personal experiences, I can relate to many of the stresses within their lives. I've always been driven by the desire to do as much as I can to enable and empower those willing to share their experiences of life.
How has your work with the individual participants in Small Town Inertia changed your outlook on the world in general?
Not really, I've never been the sort of person that liked to experience life with my head in the sand. Life and the many systems and strata we exist within, are hard and often brutal, under that pressure, though, people are capable of the most incredible bravery and endurance.
What do you think people would be surprised to find out about your work?
I honestly have no idea.
What are you planning to do next?
More.
Where do you see yourself in 10 years time?
Making photographs.
You can follow the progress of Small Town Inertia here.
Is there someone that you'd really like to see us interview on Shutter Hub? Drop us a line and let us know!