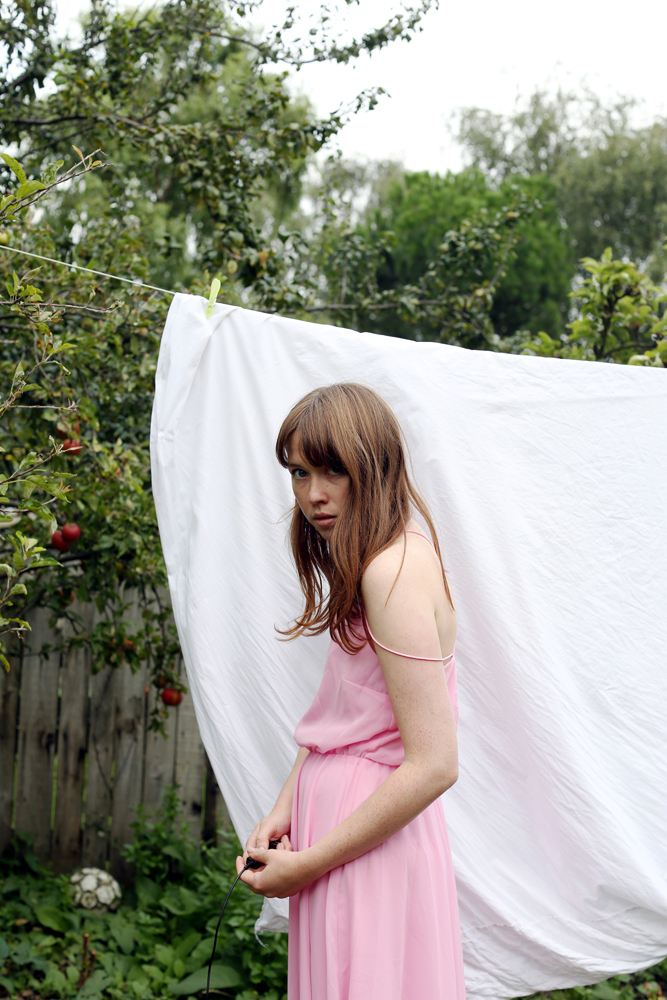 Shutter Hub were at Format International Photography Festival Portfolio Review this year, as sponsors of the Shutter Hub Prize, and delivering Professional Development sessions as part of the Portfolio Review. It was also a great chance to meet some emerging photographers and find out more about their work. As a result we're going to be running a series of interviews and features with those artists. Imogen Freeland was announced as winner of the John E Wright Award at the festival, and we speak with her about her inspiration, methods, Portfolio Reviews, and more…
Who are you?
I'm a Fine art photographer based in London. I recently graduated with a Masters in Photography at London College of Communication. My recent work challenges photography as a collaborative process and interrogates the relationship between artist and subject, while questioning ideas of representation.
Tell us a bit about the work/series of works you submitted at this year's FORMAT Festival.
I took along my most recent body of work, Your Companion in Silence, which is a visual essay about connection, communication and control. It began 8 months after my boyfriend of 5 years broke up with me over Facebook chat and I watched his life carry on without me online. I saw when he went on a night out, watched the football and four months and nine days after our messenger conversation breaking up with me, I learnt he had met someone else.
Online I saw my friends moving on, meeting people, getting engaged. I found out that my friend Louise had died via a comment posted on her Facebook page and I realised I was watching life pass me by behind glass. I wanted to take back control.
I started by meeting Katharine, someone I knew from school. We'd barely spoken in the past and I wanted to explore our relationship away from the online. She'd posted up a number of pictures, of a single black dress. In each photo it appeared in a different location, hanging in a cupboard or sprawled across her bed. Going to her house to find out about the dress had seemed, at the time, like a valid enough excuse to ask to photograph her. The project stemmed from there. I found a way to meet people, to try and find some clarity within my relationships, friends and acquaintances, while using photography as a platform for us to collaborate.
The project emerged from an attempt to take control of a difficult time that I had little to no say over and allowed me to turn it into a positive journey. The result is an attempt to document the awkwardness and poignancy of human relationships in the age of the Internet, exploring the spaces between reality and representation, as the role of artist and subject shift from collaboration to conflict.
Your Companion in Silence, is an extremely personal project, is text a familiar tool you are used to working with?
Since I can remember, I've used my work as a way to make sense of life. My other major body of work The Modern Crisis of the Self – was made at a time when I was extremely unwell. I felt isolated and frustrated in my own body and the work was an emotional response. In particular the project is interested in inspiring thought about the confines of urban environments, isolation and perceptions of the naturally changing female form.
Your Companion in Silence, was the first time that I've used text alongside my photographs and it feels like it's now become something quite fundamental to my approach that I plan to continue to work with as a tool to attempt to deconstruct the function of the image in order to question ideas of representation and collaboration.
The text accompanying your book Your Companion In Silence, explains how the series was a way of circumventing social media, and the barriers which it can throw up between the real and online worlds. How do you feel about the place of social media in the modern world now having completed the book, and also what effect do you feel that it has in particular on artists who use it?
I think I've always been quite aware of how isolating and detrimental the effect of social media can be, but I've had an incredible response to the book and have found that most people seem to relate to my experiences. I hope that the book is able to open this subject up to further dialogue, as I think it's something we should try to be more aware of in general.
I acknowledge the effect of social media on artists as an incredible platform for self-promotion; it's a great way to get your work seen. However in general I'm not sure what this does for our creative selves, as we are constantly comparing ourselves to one another's successes. There seems to be so much narcissism online and as a result so many feelings of inadequacy – that go unseen.
How did you first get in to photography?
I was first properly introduced to photography when I was 9 years old, and my parents converted our spare room into a dark room. I was given an Olympus OM1 and my sister taught me to process film in my parent's wardrobe. I guess it was so bizarre and exciting to me then, I was hooked.
What inspires you?
I've always been hugely inspired by notions of painting and traditional portraiture, I loved artists like Edward Hopper when I was a child and was always inspired by how he managed to create such emotive narrative in his compositions. I love the work of Leigh Ledare and find the subject of authorship and collaboration extremely interesting, it's also something that's really fundamental to my work now.
I come from a large family of creatives, my dad's an architect, one of my sister's is a painter and my brother a film maker, but I've always felt we all have a really similar visual style to one another. I guess we were brought up with similar influences, but I've always found that really fascinating and it's actually something I'm starting to explore in my latest project.
How did you feel about winning the award?
I'm really flattered to have been chosen for the award. It's incredibly encouraging and rewarding to know that others have acknowledged and understood my work. It was such a brilliant surprise and I feel very grateful.
What made you want to go to FORMAT?
I was really interested in a lot of the reviewers at Format festival this year and for me it was really all about timing with my own work. It's great to have a finished body of work and it was really exciting to have the opportunity to be able to go down and meet some great photographers and influential figures in the field.
Have you entered your work for competitions before, and if so do you think it has been worthwhile?
Competitions can be difficult, as they can sometimes be quite costly to enter and so it's hard to apply for them all, but I did receive a Honourable Mention in the International Photography Awards a few years ago and have recently been put forward for a few competitions this year, which feels quite exciting. I do think they can be a fantastic way to gain some recognition from the industry and get your work seen, so in many ways it is worth it.
How do you feel about Portfolio Reviews in general, and how easy is it to have someone else critique your work?
I find Portfolio reviews incredibly constructive and it was really encouraging to get such great feedback from all the reviewers. It's a fantastic way to meet people and make contacts and I think it's extremely important to be open to someone else critiquing your work. I once had someone criticise my work quite harshly, but in many ways it was one of the most important reviews I ever had as in the end, it was very reaffirming and reminded me how much I do believe in my own work – I think that's really important too. Constructive criticism and honest comments are always useful. In general I think Portfolio Reviews are a great way to learn about the industry.
What are your hopes for the future, and for yourself?
At the moment I'm in the process of publishing my book and I'm really excited to get it ready for public release. I've also just started a new project and it feels really refreshing to be working on something new. I plan to continue making work and I'd love to start doing some residencies that allow me to keep pushing the boundaries of my own practice.
Imogen Freeland is a member of Shutter Hub who has recently had work featured on The Photographers' Gallery, and she is looking forward some exciting events which are in the pipeline this year, including talk of exhibiting in China and USA. You can see more of Imogen Freeland's work at her website.
Is there someone that you'd really like to see us interview on Shutter Hub? Drop us a line and let us know!