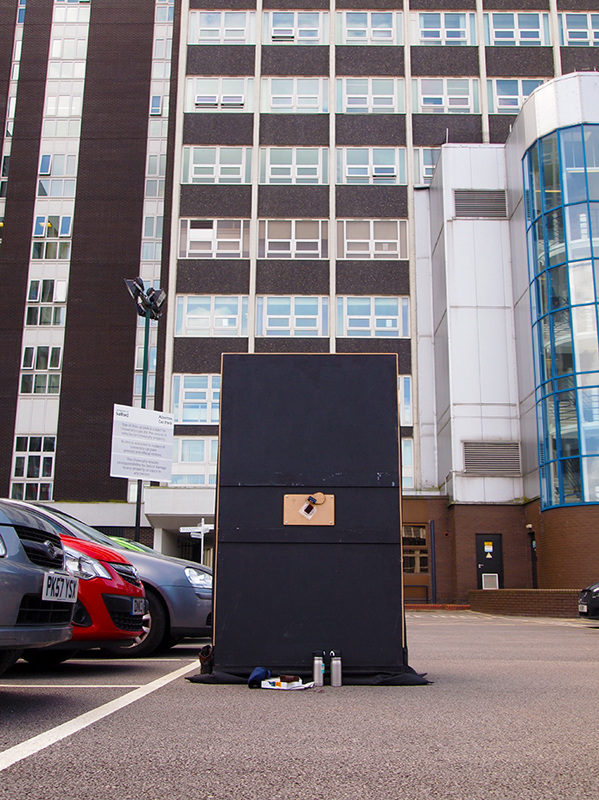 Artists Lizzie King & Craig Tattersall have been working on a commission for the University of Salford, comprising of images created with a 'Human Sized Camera' and a 'room camera', to be housed in their permanent art collection. The project is named Allerton to New Adelphi. They explain:
The University is closing their current arts facility and building a new purpose built arts center. Using a human sized camera, built by the artists, a series of three 64"X30" images were created documenting the old arts building depicting the front of the building, the hallway, and the studios.
Using a room on the same campus as the old arts building, a room was turned into a camera to take a photograph of the new building under construction. The photograph is made up of 45 8"X10" sheets of Ilford Multigrade IV black and white photographic paper pieced together to create a photograph that depicts New Adelphi in its setting showing the surrounding buildings of Salford and Manchester City Center. The photograph picks up on the Beetham Tower (Hilton hotel), Manchester Town Hall, The Football Museum, and other prominent landmarks within these cities.
These works will be displayed in the entrance of New Adelphi, the new arts building of The University of Salford, in March 2016. The artists plan to use the camera again, and are currently developing further proposals for its use. You can find further information here.
Do you have photography news or events to share? Let us know at submissions@shutterhub.org.uk.