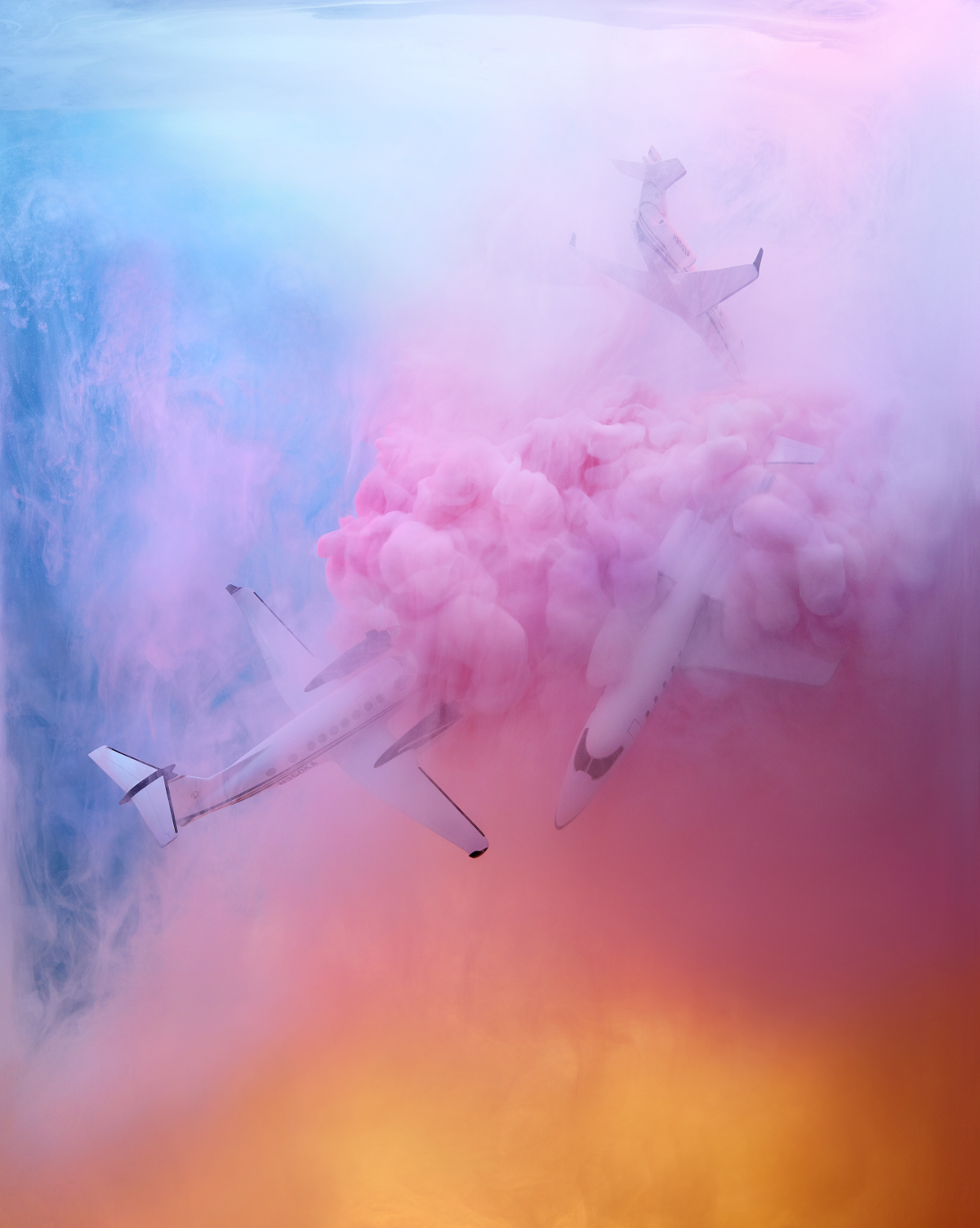 LaChapelle: Good News For Modern Man
The Groninger Museum is proud to announce a large-scale exhibition of US artist David LaChapelle. Opening 21 April 2018, LACHAPELLE: Good News for Modern Man allows visitors to experience an expansive survey of work by photographer David LaChapelle. The exhibition offers over 70 significant pieces from various periods of the artist's image-making career in a vast narrative. The exhibit travels three decades of a transformative visual journey to reveal the thought-provoking and groundbreaking imagery, which contributes to LaChapelle's position as one of the world's most influential photographers. Fully aware of the artistic artifice, LaChapelle's work is distinguished by its ability to relate and dialogue with the manifestations of western civilization over vast themes from the classical renaissance to the future.
David LaChapelle (b. 1963, Hartford, Connecticut) began his career showing in galleries in New York City's East Village. In 1984 he was hired by Andy Warhol to make pictures for Interview magazine. LaChapelle's innovative approach established the artist as one of the world's most influential living photographers. His remarkable portraits, stage and film works of celebrities and culture have become iconic archetypes of America in the 21st Century. A keystone of the monumental Good News For Modern Man exhibition is the series The Deluge, which marked the beginning of a personal renaissance for LaChapelle. Inspired by a 2006 visit to the Sistine Chapel, the artist shifted his focus from editorial commissions and returned to communicating his own intuitive concepts. The title image of The Deluge series, by the same name (at over seven metres wide) brings Michelangelo's tableaux to life in the modern age.
Other exhibition highlights include Earth Laughs in Flowers (2008–2011), a series linking the traditional theme of vanitas to contemporary consumer society. The Gas Stations and Land Scape series (2013) examine the detracting relationship of industry and nature. Also on display will be LaChapelle's newest series New World (2006-2017), in which LaChapelle returns to his unique analogue photographic process. The New Yorker describes this new body of work, "pressing toward the utopian, abandoning more sordid conceits for something arrantly sacred."
21 April 2018 – 28 October 2018
Groninger Museum, The Netherlands
Phil Lavery – Exploring the Liminal
Shutter Hub's Phil Lavery will be holding a solo exhibition at the Patriothall Gallery in Edinburgh this September.
Exploring the Liminal will run from 8th to 23rd September 2018, with a private view on 7th September.
Phil Lavery is a visual artist living and working on the west coast of Scotland. His career has included architecture, interior and graphic design, 3D visualisation and digital media. But, throughout it all, has been photography.
Drawn to geometry, proportion and light, he sees abstraction as a way to explore the hidden stories of things and believes that beauty can be found anywhere – if you look close enough.
The exhibition will feature work from Phil's series' In Praise of Shadows and In The Broken Places.
In Praise Of Shadows is an interrogation of the interaction of natural light and shadow on the surfaces and geometric shapes found in interiors and in particular, the corridors, stairs and other between spaces of buildings where art is displayed, or made. His obsession with liminal spaces goes back to when, as an architecture student in the 70's, he realised that buildings could be conceived like a poem, a novel, or a piece of music, with a backstory, a narrative and a message. And so, he became fascinated with entrances, seeing the linear process of entering a building as an opportunity to slowly reveal its story. Corridors and stairs then became places where this narrative could be further developed over time. Perhaps, it is these lost stories he is still searching for in his various transitional spaces projects.
In April 2016 Phil had a heart attack, which strangely, also affected his eyes, leaving him with a very reduced area of focus – a bit like looking at the world through a macro lens. It is this personal experience that is the subject of his series In The Broken Places where he searches for beauty in those places, or things, that have played, or continue to play, a part in his treatment and recovery and found himself, yet again, exploring the liminal.
8th – 23rd September 2018. Open 12pm – 5pm daily, closed Mondays and Tuesdays.
Private View: 7th September, 6pm to 8pm.
Patriothall Gallery, Edinburgh
Chrystel Lebas – Regarding Nature
Regarding Nature is an exhibition which tells some big stories about landscape. Through the eyes both of French photographer Chrystel Lebas and her scientist predecessors in the early 20th century, it focusses on the plants and landscapes of the North Norfolk coast. It traces the development of intensive study, via the development of British Ecology and the Wildlife Trusts, to the acute vision of the contemporary artist. And the exhibits and the accompanying programme, document some of the subtle changes to the coastal environment over a hundred years.
Regarding Nature features spectacular panoramic photographs, and photograms by French photographer Chrystel Lebas. Chrystel's plant and landscape studies have followed in the wake of scientist Sir Edward James Salisbury, whose documentation of the topography and coastal plants in Norfolk was part of the impetus for founding the British Ecological Society in the early 20th Century. Chrystel's work has not only paralleled this initial research but gone beyond it to contribute a whole new spectacular interpretation of plant detail in these subtle marsh landscapes. There is also an underlying story revealed of the complex interactions which influence landscape change.
Dusk, when nature gradually changes colour and takes on a new atmosphere, is for Lebas the best moment of the day, which she captures with long exposure times and a panoramic camera. This gives her pictures a breath-taking stillness and a certain melancholy.
The dramatic coastal end ecological changes that have happened since the area was recorded scientifically some 100 years ago are explored in a programme of discussions and field trips accompanying the exhibition in conjunction with the Norfolk Wildlife Trust and the British Ecological Society.
23 June 2018 – 16 September 2018
GroundWork, King's Lynn
In Focus: Scottish Photography
In Focus: Scottish Photography opens on the 7th July, showcasing over 50 artworks from the City Art Centre's photographic collections, many of which will be displayed for the first time. Scotland, and Edinburgh especially, has played a central role in the history of fine art photography since the mid 19th century. The pioneering work of Edinburgh duo David Octavius Hill and Robert Adamson helped to lay the foundations of this art form in the 1840s, inspiring subsequent generations to explore both its documentary potential and aesthetic possibilities.
In Focus: Scottish Photography showcases the City Art Centre's photographic collections, charting the development of fine art photography in Scotland from the 19th century to present day. The exhibition features work by a range of historic and contemporary artists, including Hill and Adamson, Thomas Begbie, Joseph McKenzie, David Williams, Maud Sulter, Wendy McMurdo, Calum Colvin, Christine Borland and Dalziel + Scullion.
In Focus: Scottish Photography is part of a series of collection-based exhibitions which have been taking place on the Lower Ground Floor of the City Art Centre, which is owned and managed by the City of Edinburgh Council, since its redevelopment in 2014. These exhibitions showcase different aspects of the Fine Art collection exploring a variety of time periods, artistic media and subject areas. It also features as part of the Edinburgh Art Festival 18 which begins on 26th July 2018. There will also be a number of associated events focusing on photography skills and the history of the discipline, including lectures by artist Erik Petrie and International Photography Curator for the National Galleries of Scotland, Anne Lyden. 
7 July 2018 – 12 May 2019. Open 7 days a week 10am to 5pm, free admission.
City Art Centre, Edinburgh
The Museum of London explores London after dark, in its major photography exhibition, London Nights. Using a unique fusion of historical, conceptual and contemporary imagery, nocturnal London will be explored like never before; from the evening commute, to the glittering club scene and the city's darker underbelly. The photography will reflect every corner of London from the brightly lit centre to the outer reaches of the city.
London Nights merges together over 200 pieces of work from some of the best photographers, both past and present, including Nick Turpin, Rut Blees Luxemburg, Tish Murtha, Bill Brandt and Alvin Langdon Coburn; drawing from the museum's own extensive photographs collection and a number of significant loans.
London Nights delves into the dark through three sections:
London Illuminated – From the early 19th century to today, London Illuminated explores the bright lights of the capital and reflects on how artificial light can transform the aesthetic of the city after dark.
Dark Matters – Traversing the capital's unknown, Dark Matters sets foot into a world of darkness, and explores themes of threat and vulnerability, both real and imagined.
Switch on Switch Off – The final part of the exhibition, Switch On Switch Off, shows people interacting with the night, whether that be following commuters on their way home, to work and into the fast paced world of London's nightlife. 
In addition to the exhibition, the Museum of London will be hosting two free displays which explore the city after dark through the eyes of its residents.
11 May 2018 – 11 November 2018
Museum of London
Modern Nature – British Photographs from the Hyman Collection
For the first time in human history, more people are living in urban environments than in the countryside, yet the impulse to seek out nature remains as strong as ever. This new exhibition of photographs by leading British photographers such as Shirley Baker, Bill Brandt, Anna Fox, Chris Killip and Tony Ray-Jones explores our evolving relationship with the natural world and how this shapes individuals and communities.
Drawn from the collection of Claire and James Hyman, which comprises more than 3,000 photographs ranging from conceptual compositions to documentary-style works, Modern Nature will include around 60 photographs taken since the end of the Second World War, through the beginnings of de-industrialisation to the present day. It will explore the merging of urban and rural landscapes, the rapid expansion of cities and the increasingly intrusive management of the countryside.
A number of photographs on display, including The Caravan Gallery's quizzical views of urban centres and Chris Shaw's 'Weeds of Wallasey' series (2007–12), capture the ways in which nature infiltrates the city. Others, such as Mark Power's 'The Shipping Forecast' series (1993–6) and Marketa Luskacova's NE Seaside (1978) images document trips out to the coast and countryside, driven by the sometimes powerful need to escape urban life. They are by turns poetic and humorous, occasionally absurd.
A strand running through the exhibition will look at how children reclaim space for play and exploration, exemplified through works including Daniel Meadows's National Portrait (Three Boys and a Pigeon) (1974), Jo Spence's 'Gypsies' series (1974) and Paul Hill's Legs over High Tor (1975).
13 July 2018 – 22 April 2019
The Hepworth, Wakefield
For the first time, Tate Modern tells the intertwined stories of photography and abstract art.
Shape of Light is the first major exhibition to explore the relationship between the two, spanning the century from the 1910s to the present day. It brings to life the innovation and originality of photographers over this period, and shows how they responded and contributed to the development of abstraction.  
Key photographs are brought together from pioneers including Man Ray and Alfred Stieglitz, major contemporary artists such as Barbara Kasten and Thomas Ruff, right up to exciting new work by Antony Cairns, Maya Rochat and Daisuke Yokota, made especially for the exhibition.
2 May 2018 – 14 October 2018
Tate Modern, London
CAMA Gallery of Iranian art presents an exhibition of photographs by prestigious Iranian film directors.
Time Lapse features the work of Cannes Film Festival award-winning directors Jafar Panahi and Abbas Kiarostami, Cannes Film festival award nominee Nasser Taghvai, award-winning documentary maker Kamran Shirdel, San Sebastian International Film Festival award-winning director Majid Barzegar,World Press Photo award-winning Cinematographer Seifollah Samadian and celebrated actor and Cairo film festival award-winning director Hamid Jebeli.
Director Jafar Panahi, associated with the Iranian new wave movement, won the Caméra d'Or at the 1995 Cannes Film Festival for his film The White Balloon, the first major award won by an Iranian film at Cannes. Panahi made headlines recently as he was unable to attend the Cannes film festival after having been placed under house arrest and given a twenty-year ban on speaking to the media or directing any films. In spite of this the director has managed to secretly shoot several films, including Closed Curtain which was smuggled to Cannes in a USB drive hidden inside a cake.
Time Lapse celebrates Iranian cinema and its international reach, and simultaneously demonstrates the talent of the directors, stretching beyond dynamic filmmaking to the creation of fine art.
The exhibition will be on display at CAMA London from 7th – 30th of September 2018. A panel discussion, centered on Iranian film, photography and the art market will take place on 7th of September at 6pm featuring: Iain Robertson, Head of Art Business Studies at Sotheby's Institute of Art, David Campany, Writer, Curator, Artist and Teacher at the University of Westminster, Adriaan van Heerden, Award-Winning International Fine Art Photographer, Mahmoud Kalari, Iranian Cinematographer, Screenwriter, Film Director and Photographer, Seifollah Samadian, Iranian Director and Cinematographer, Majid Barzegar, Iranian Filmmaker, Director, Producer, and Writer.
CAMA Gallery aims to be a leading force in the growth and expansion of the art industry in Iran and the Middle East. CAMA London is the only gallery of Iranian art in the UK's capital, and aims to provide a politically neutral platform on which to showcase the wealth of artistic talent in Iran. CAMA presents all genres of Modern and Contemporary Iranian art in international exhibitions and online, and offers Iranian artists exposure and global recognition.
7 September 2018 – 2 October 2018
CAMA London: 19 Dacre Street, London, SW1H 0DJ